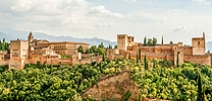 The neighborhood of La Alhambra is one of the most emblematic areas of the city where you can enjoy a magnificent journey through the past centuries have been part of the history of Granada. Starting with the magnificent monument that has this city, you can stroll around the neighborhood know the different granadinos cármenes (granadinas typical houses with attached green area and garden). Guests can also enjoy the Casa-Museo Manuel de Falla that will transport you to the golden age that most influenced the city of Granada.
Also, you can enjoy one of the best dining areas in the city where you can taste the best local foods Granada, enjoy the Arab baths preserved as in his time and enjoy superb views of the city.
For all this, it is no wonder, it is the neighborhood and the most visited monument in Spain. All this does not leave you indifferent customer passing through the wonderful neighborhood of La Alhambra.