Characteristics

▪ 7 maximum of guests
▪ 130 sq meters area
▪ 3 Bedrooms
▪ 3 Bathrooms
▪ 2 floor
▪ Private Terrace
▪ Elevator
▪ Air conditioning
▪ Heating
▪ Internet
▪ Cot


Zaragoza IV Apartment in Seville

VFT/SE/03842

Zaragoza IV is an apartment of great quality both in its materials and finishes (kitchen, windows, doors, etc) as in its furniture, all designed and oriented to seek the maximum comfort of our guests.

The entrance hall of the apartment serves as a distribution area. On the left side there is a large kitchen, perfect for preparing great lunches or dinners, with space to cook comfortably and with a table in the center ideal for breakfast.

If we walk across the hall, we enter a beautiful room, large, spacious and most of all, elegant. A perfect space for relaxation and rest, where no noise is to disturb our tranquility.

In the left area of the house there are two bedrooms, one with a single bed of 0.90 x 1.90 and the other with a double bed of 1.50 x 2.00. Also, this second bedroom has a bathroom suite room. There is also a second independent bathroom.

On the second floor there is to be found the third bedroom, with two beds of 0.90 x 2.00, bathroom en suite and the exit to the large private terrace.

The private terrace is about 90 m2 in size and is all covered by artificial grass and furnished with furniture and garden plants. It is perfect to enjoy the sun and the climate of Seville to the fullest.

The apartment is located at street Zaragoza number 62, perhaps the most expensive and exclusive area in the center of Seville. It is just in front of the Plaza Nueva (the most important in the city), a step away from the Cathedral, the Giralda, the Alcazar Palace, etc.

In the surroundings of the apartment there are numerous shops, some supermarkets, small tapas and wine bars and magnificent restaurants where you can enjoy the best local cuisine.

Living room
Kitchen
Bedroom 1

▪

Sofa


▪

Sofa bed


▪

Oven


▪

Microwave


▪

Washing machine


▪

Coffee Maker


▪

Kettle


▪

Fridge


▪

dryer


▪

Side table


▪

Double bed


▪

Bed linens and towels

Bedroom 2
Bedroom 3
Bathroom 1

▪

2 single beds


▪

Bed linens and towels


▪

Bed


▪

Bed linens and towels


▪

W.C


▪

Washbasin


▪

Bathtub

Bathroom 2
Bathroom 3

▪

W.C


▪

Washbasin


▪

Shower


▪

W.C


▪

Washbasin


▪

Shower

El Arenal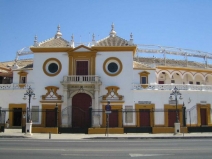 Located in the city centre and, at the same time, on the banks of Guadalquivir River, El Arenal quarter is one of the quarters of Seville with more Andalusian tradition. Since it can be found in the old part of the city, it has witnessed first-hand many events in Seville history, because of having had one of the most important ports in the world during the 16th and 17th centuries, thanks to the discovery of America and the resulting trade with India.
El Arenal is, without a doubt, one of the most traditional and characteristic quarters in Seville. Furthermore, it is nowadays a busy and meeting place for people from Seville, since it is the quarter par excellence devoted to bullfighting, religious devotion, religious brotherhoods and Semana Santa (Holy Week) and these constitute the most significant features of this place.
This zone is home to such symbolic buildings as the La Maestranza bullring, the Torre del Oro tower, the Arenal market, the Torre de la Plata tower and the La Maestranza theatre. In this zone you can enjoy leisure activities, mostly all the ones regarding the world of the Spanish bullfighting, opera, theatre and religious brotherhoods.
While walking around this quarter, tourist can take the opportunity to get to know better part of the history of our city by visiting other places of touristic interest, namely La Hermandad de la Santa Caridad church or the Atarazanas (medieval shipyard). Finally, thanks to its central location, you will be able to find within a very short walking distance the Cathedral and the Giralda tower, must-see places if you come to spend a few days in Seville.
Availability
Request more information
We are interested on your opinion

Tell us about your experience

We only accept reviews from real guests who have stayed in this apartment, so it must be indicated the e-mail which with you made ​​the booking.

Apartment Zaragoza IV in Seville

Reviews

Average rating from

10

Reviews:

Alison

▼




February 2019

The location and quality of the property was excellent

Lourdes

▼




February 2019

Apartamento genial para conocer Sevilla
La ubicación es perfecta para conocer Sevilla, muy céntrico con todo lo principal cerca. El apartamento se encuentra además muy limpio, cuidado, muy acogedor y con una terraza en el piso superior que resulta perfecta para disfrutar del sol sevillano. Buena atención por parte del personal que entrega las llaves y en general todo muy cómodo.

Manel

▼




February 2019

L´appartement est super beau et super bien placé (5 min de la cathédrale et 8 min de l´Alcazar), très propre et très bien équipé , il est vraiment fidèle aux photos mise en ligne.
Le seul petit bémol, si je dois en donné un c´est l´isolation phonique avec la rue principale qui impacte uniquement la chambre donnant sur cette rue, du coup pour nous c´étais un petit peu bruyant car c´est la chambre qu´il nous fallait avec les bébés mais ça ne nous a pas empêché de dormir quand même. RAS pour les deux autres chambres en terme de bruit !!!

Shoeb

▼




January 2019

Location and comfort

Khalid Alahmadi

▼




January 2019

Best place in Seville. Every thing: comfortable, clean, spacious and in an excellent location.

Ana-Isabel

▼




December 2018

Tolle Wohnung in sehr guter Lage
Die Wohnung hat drei Schlafzimmer und drei Bäder, ideal für eine große Familie oder Freunden. Grosses Wohnzimmer und Küche. Die Lage ist perfekt um die Stadt zu erkunden, eine Straße weiter ist die Plaza Nueva mit der Tramhaltestelle. Cafés und Restaurants sind in der Seitenstraße, ideal. Die Schlüsselübergabe war kein Problem, das Personal war freundlich und zuvorkommend. Sehr gerne kommen wir wieder.

Abdulaziz

▼




November 2018

Great Location

Graham

▼




October 2018

Great place in a fabulous location. Everything was in easy reach. The apartment was spotlessly clean, well furnished and decorated. Having a roof garden was a treat in the middle of a city. Definitely want to return.

Raffaele

▼




October 2018

Fantastic Place!!!Muchas gracias Lola!

Eduardo

▼




August 2018

I truely recommend this apartment, very neat and good and great location. It was very wonderful. Thanks for the hospitality and making extra special for our visit. It was very good. Thanks

The different payment methods Genteel-Home offers for booking and renting apartments are exposed above.