Characteristics

▪ 5 maximum of guests
▪ 65 sq meters area
▪ 2 Bedrooms
▪ 2 Bathrooms
▪ 3 floor
▪ Elevator
▪ Air conditioning
▪ Heating
▪ Internet
▪ Cot


Pajaritos II Apartment in Seville

CTC-2018186656

Beautiful apartment, modern and elegant, located in Santa Cruz neighborhood, in the heart of Seville.

Pajaritos II is a relaxing, fresh space, sunny all day, to enjoy an unforgettable stay in Seville.

Upon entering, we directly face a beautiful, clear and diaphanous living room, in which there is a double sofa bed (1.40 x 1.90 meters), plasma TV, etc. Attached to the living room we find a beautiful integrated kitchen, with quality furniture, fully equipped with everything you need. Following the corridor we find the bedrooms, one of them with a double bed of 1.50 x 1.90 meters and a bathroom en suite, and the other one with two single beds of 0.90 x 2.00 meters each, both bedrooms with lots of natural light. The other bathroom has an independent access.

Pajaritos Street is located in the heart of Santa Cruz, perhaps the most beautiful area of ​​the city, at the same time the oldest and most historic. The apartment itself is very quiet at any time of the day, though in the surroundings you will find small food shops, typical sevillian bars, restaurants and many people, both visitors and Sevillians, as well as, of course, all the monuments and attractions of the city, just a few minutes walking from the apartment.

Living room
Bedroom 1
Bedroom 2

▪

Sofa bed


▪

Plasma TV


▪

Dining table


▪

2 single beds


▪

Bed linens and towels


▪

Wardrobe


▪

Double bed


▪

Bed linens and towels


▪

Wardrobe

Bathroom 1
Bathroom 2
Kitchen

▪

Shower


▪

W.C


▪

Washing machine


▪

Shower


▪

W.C


▪

Oven


▪

Microwave


▪

Mixer


▪

Toaster


▪

Coffee Maker


▪

induction plates

Santa Cruz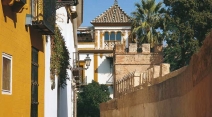 Santa Cruz is the most popular quarter in Seville and it has its origins in the old Jewish quarter of Seville. This quarter was inhabited by the Jews ever since Seville was recaptured by Ferdinand III, King of Castile, until these were ejected in the 15th century.
Located in the center of Seville, Santa Cruz quarter reaches down to the Cathedral, the gardens of the Alcázar (palace) and Jardines de Murillo (Murillo gardens). It is, therefore, a landmark and a touristic zone and it is accessible through Mateos Gago street, the most touristic and commercial street of the quarter.
While having a walk in this zone, you can get to know more about its history, by contemplating the Moorish and Jewish features that so characterize this place. Furthermore, you can go into the narrow streets, which run in an irregular criss-cross pattern and lead to the patios sevillanos (traditional Sevillian patios) or squares, such as Plaza de la Alianza or Plaza de doña Elvira.
During your stay in Santa Cruz quarter, you will feel like you belong here, Andalusia, since you will find yourself surrounded by Andalusian style houses and a pleasant and joyful atmosphere so typical of this region. Nearby places to visit are the Giralda tower, Patio de los Naranjos (orange tree courtyard), the Alcázar (palace), Archivo de Indias (archive of Indies) and the Palacio Arzobispal (archbishop's palace). On the adjacent streets Iglesia de Santa María la Blanca (Santa María la Blanca church), los Jardines de Murillo (Murillo gardens) y el Hospital de los Venerables (baroque hospital) can be found.
Availability
Request more information
We are interested on your opinion

Tell us about your experience

We only accept reviews from real guests who have stayed in this apartment, so it must be indicated the e-mail which with you made ​​the booking.

Apartment Pajaritos II in Seville

Reviews

Average rating from

9

Reviews:

Andrea

▼




January 2019

Ubicación

Barbara

▼




December 2018

La ubicación, el estado del apartamento en general es perfecto.
Lo peor es tener el check out tan temprano. (11:00 a.m). Durante un viaje de ocio, tener que abandonar el alojamiento tan pronto es un gran inconveniente. Al tratarse de un apartamento, esperas éste tipo de comodidades a diferencia de un hotel. Las 11:00 de la mañana es muy mala hora para tener que salir con maletas. Limita mucho el viaje.

---

Genteel-Home

Estimada Barbara, muchas gracias por su comentario. Nos alegra saber que les ha gustado el apartamento en todos los aspectos, especialmente por su céntrica ubicación y el magnífico estado de sus instalaciones. Sobre la hora del check out, entendemos que a veces es necesario salir un poco más tarde, y nosotros lo concedemos siempre que la disponibilidad nos lo permite. Sin embargo, piense que a diferencia de un hotel, usted estuvo alojada en un apartamento de 65m2, por lo que necesitamos unas horas para limpiar y preparar el apartamento para que los siguientes clientes puedan disponer del mismo a partir de las 15h, hora del check in. En cualquier caso, esperamos que haya podido disfrutar de su estancia. Saludos

Jose Salvador

▼




October 2018

Todo, nos gusto todo,las camas comodisimas,el silencio nocturno,y a pesar del calor exterior,dentro con el aire que funcionaba muy bien estabamos estupendamente, estaba todo muy limpio y lleno de detalles.
Nos costo encontrar la calle

Evgenii

▼




October 2018

location rather good organization of arriving
a lot of small things were missed - soap and shampoo, soap/shampoo shelves in shower the 2 persons dinner table in the 2 bedroom apartment?? It seems one of remote control for A/C was lost and the remain one was introduced as a ´shared´ remote control... what is it?

Varun

▼




September 2018

Great apartment with great facilities.
It could be nice if the hosts can visit the apartment atleast once in every 2nd day to refill stuffs like toilet paper and clear the garbage basket as we did not know where to throw the rubbish.

---

Genteel-Home

Dear Varun, thank you for your comment. We are glad to know that you liked the apartment in all aspects, especially his central location and his complete equipment to spend a pleasant stay visiting Seville with all the comforts. We appreciate your suggestions, we always leave for the first days several toilet paper, salt, vinegar, dishwasher tablets, oil, etc., and we indicate where is the nearest supermarket so that you can buy what you need for your stay. Likewise, our check in colleagues always tell to our guests where they can throw the rubish, so we apologize if in your case our colleague forgot to tell it. It has been a pleasure to have stayed with you. Regards

Fernando Sanchez

▼




September 2018

Buena opcion pero muchas penalizaciones. Ubicacion, limpieza de la habitacion y confortabilidad.
Se nos hizo una penalizacion de 30 euros por llegar despues de media noche, fue algo de lo que no nos dimos cuenta hasta que llego la confirmacion de reserva.

---

Genteel-Home

Lamentamos su disconformidad sobre el suplemento por late check in, pero viene claramente especificado en la web antes de realizar la reserva y al momento de realizarla, se le vuelve a notificar mediante un correo de confirmación. Como indicamos, nuestro horario de entrada habitual es de 15h a 21h, debiendo despalzarse una compañera exclusivamente para atenderles fuera de su horario de trabajo después de esta hora una compañera nuestra, de ahí el suplemento que se indica. Además, como podrá comprobar, el suplemento es de 30 euros si la entrada es de 21 a 00h, siendo después de medianoche de 50 euros, por lo que nuestra compañera tuvo el detalle de cobrarles menos de lo indicado. Esperamos sepan entenderlo y que a pesar de ello hayan podido disfrutar de su estancia en Sevilla. Saludos

Paulo

▼




August 2018

Excelente localização e conforto. O apartamento é muito confortável.
O elevador estava avariado.

Bernard

▼




August 2018

l´etablissement est idéalement situe.

Hammou

▼




July 2018

We spent a nice vacation at SEVILLE the host was kind and on time we didn´t have any problem or whatever i recommend you 200% Genteel Home Francos Pajaritos II

The different payment methods Genteel-Home offers for booking and renting apartments are exposed above.