Characteristics

▪ 13 maximum of guests
▪ 300 sq meters area
▪ 5 Bedrooms
▪ 4 Bathrooms
▪ Private Terrace
▪ Elevator
▪ Air conditioning
▪ Heating
▪ Internet


Magdalena House in Seville

Recently refurbished manor house located in the center of Seville. With high quality furnishment and decoration, this property can accommodate in comfort up to 10 people. It has a private terrace , five bedrooms and four bathrooms distributed over three levels .

Downstairs you'll find a spacious living room with all kind of amenities, a practical fully equipped kitchen and a bathroom.
On the first floor are four of the five double bedrooms, one with its own dressing room, and two bathrooms.
Finally, in the upper level is the fifth bedroom with a bathroom en suite included and the access to the 40sqm private terrace, furnished with garden furniture and ideal to relax.

The situation of the house is superb, in the center of the city, with a few walking distance of major attractions such as the Cathedral and La Giralda. Its location , combined with its high quality furnishings and facilities, make this home the best possible choice to enjoy a peaceful and carefree stay in the beautiful Seville.

Living room
Kitchen
Bedroom 1

▪

Plasma TV


▪

Dining room


▪

Sofa


▪

Washing machine


▪

Refrigerator and freezer


▪

Vitroceramic hob


▪

Coffee Maker


▪

dryer


▪

Double bed


▪

Wardrobe

Bedroom 2
Bedroom 3
Bedroom 4

▪

Double bed


▪

Wardrobe


▪

2 single beds


▪

Wardrobe


▪

2 single beds


▪

Wardrobe

Bedroom 5
Bathroom 1
Bathroom 2

▪

2 single beds


▪

Wardrobe


▪

Bed linens and towels


▪

Bathtub


▪

Bed linens and towels

Bathroom 3
Bathroom 4

▪

Bathtub


▪

Bed linens and towels


▪

Bed linens and towels


▪

Shower

Encarnación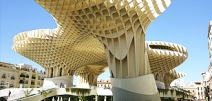 The centre of Seville is an outstanding place to stay in, not only because of how convenient it is, but because of its joyful and nice atmosphere that can be enjoyed at any time of the day. Furthermore, the wide offer of restaurants and pubs allows the tourist to taste our well-known tapas. The tapeo is a concept that everybody who comes to Seville should get used to with, and there is a wide variety of possibilities in the centre of this city so that you have the possibility to choose whatever suits you best.
The apartments located in this zone are very renowned and unique, since everything you may need, restaurants and pubs can be found there so that nothing stops you from finding the nature of the Andalusian lifestyle. Thanks to its location, this part of the city plays an important role during Semana Santa (Holy Week), since all the religious processions pass this zone because of it being one of the places included in the official itinerary. Furthermore, if you wish to go shopping, you can go from Plaza Nueva square to La Campana, and you will pass Sierpes street and its adjoining streets (Tetuán, Cuna, Rioja,…), where you can find a number of shops.
The streets located in the city centre display typical Andalusian features and having a walk down them is something that every single traveller who comes to Seville should experience. While having a walk, you can tell how the narrow streets lead into beautiful squares, which are meeting points for people from Seville. Worth mentioning are the Plaza del Duque square and Plaza de la Encarnación square, which make their way among the narrow streets that surround them. As for the latter, it is worth highlighting the Metropol Parasol, popularly known as the "mushrooms of the Encarnación square". This is a building that flies over the place and is home to several installations, such as the scenic overlook, where you can contemplate wonderful views of the city of Seville.
Within a few minutes, you will be able to visit other places of touristic interest, such as the Cathedral of Seville or the Giralda tower, that are places to be visited by every single tourist who comes to Seville, since both of them beside the "mushrooms" and the Torre del Oro tower define the skyline of Seville.
Availability
This apartment is part of a building with several similar, so it may not be available. Please, check the availability for your dates or if we have already confirmed it, continue with the reservation process.
Apartment special conditions

• Amount for reservation: 20% of total price

• Balance due payment: by cash on arrival

• Damage deposit: 250€

• Cancellation Policy: The reservation deposit is refunded if is found e replacement for your reservation

• Extra charges: 50€ for the final cleaning.

• Check-in and check-out: in principle the checkin is from 15h and the checkout until 11h. Time flexibility provided that any other reservation were affected (consult with the owner)

• Parking: Genteel Home has an agreement with the closest parking situated at Genil street where our clients enjoy reduced rates.

• Other additional services:

- Internet FREE
- Crib FREE
- Transfer (to check it with Genteel Home)
Request more information
We are interested on your opinion

Tell us about your experience

We only accept reviews from real guests who have stayed in this apartment, so it must be indicated the e-mail which with you made ​​the booking.

House Magdalena in Seville

Reviews

Average rating from

5

Reviews:

Emma Woods O´Reilly

▼




May 2016

An absolutely wonderful experience in Sevilla and no better place to have stayed, the house is beautiful, fully equipped, all mod cons but in an old traditional building that has been completely remodelled inside. The owner Yolanda couldn´t have been nicer, there were 9 of us but I was staying til the evening of the day of departure & she let me use the house til it was time for me to go at no extra cost. The genteel homes staff were friendly & efficient, making everything seamless. Couldn´t recommend it more highly!

Randy Crabtree


June 2015

We enjoyed our stay. The house was very spacious and beautiful. It was centrally located and within walking distance to everything we wanted to see. I would highly recommend anyone going to visit Seville to stay here.

Adi


April 2015

I truly recommend this house! We were a family of 10 - 3 couples and 4 kids and it accommodated us perfectly. The house is spacious and has all the amenities that are needed for a great stay. The owner was very nice and accommodating to our requests. The location of the house is perfect - everything is within walking distance, including two grocery stores (one of them on the same street, about 2 minute walk). There is a parking structure near by, although I would not recommend renting a car - in the city itself, everything is within walking distance and there is a great train system to get you to the nearby cities. Again, great place to stay - highly recommended!!!

Billy Kirkpatrick


April 2015

Beautiful home, in the heart of Seville, one minute from the Eva Bus Station that takes you to Portugal, right in the heart of it and one minute from the river.
We were met at the airport by Jose our driver and he was so helpful, he drove us quickly to the house. At the house we were greeted by Yolanda, a very helpful and welcoming lady. We loved the house, very opulent and quiet given it´s central location. The beds were so comfortable too. Everything in the house was just like home. I would highly recommend this home to anyone, it is well equipped, private and beautiful. I would book it again when I return to Seville. During our stay Jose and Yolanda were more than happy to give us information by text, just a wonderful pair of nice people. We departed Seville driven by Jose to Portugal, I would also recommend this as an option to anyone. Thank you Jose and Yolanda.

Tamra


November 2014

Everything about this house worked for us. Clean and well appointed. LOCATION and amenities was excellent for our group with no car. Will definitaly recommend!!!

The different payment methods Genteel-Home offers for booking and renting apartments are exposed above.