Characteristics

▪ 4 maximum of guests
▪ 60 sq meters area
▪ 1 Bedroom
▪ 1 Bathroom
▪ Private Terrace
▪ Agreement with a public parking nearby
▪ Elevator
▪ Air conditioning
▪ Heating
▪ Internet
▪ Cot


Transport nearby

Taxi: Calle Alemanes, Pza. del Duque, Pza. Nueva.

Bus: C5, 10, 11, 12, 15, 16, 20, 24, 27, 32.

Metro: Puerta Jerez

Tram: T1

Genteel Catedral III Penthouse in Seville

A/SE/00186

This magnificent apartment is ideal for a luxury stay while visiting Seville. It is a magnificent apartment with an excellent location just in front of the Cathedral of Seville and also next to the Alcázar and the monument called Archivo de Indias, which form an ensemble declared World Heritage. This is a beautiful, very traditional area with all the facilities: excellent restaurants to taste the typical Sevillian cuisine, many cafes, charming artisan little shops, a shopping area...

Genteel Catedral III is a penthouse that occupies the third floor of a beautiful building situated at Alemanes street and composed of three apartments on different floors.

The apartment has been completely renovated and equipped into detail, with new top-quality furniture and appliances. There is a double bedroom with two large beds, a complete bathroom, a fully equipped kitchen and a bright living room with a dining area. The living room has a comfortable double sofa bed which provides the apartment with capacity for up to four people comfortably. From the living room there is an access to a magnificent private terrace offering stunning views of the Cathedral: a real privilege for a holiday in Seville.

Living room
Bedroom 1
Bathroom 1

▪

Sofa bed


▪

TV


▪

2 single beds


▪

Bed linens and towels


▪

Bathtub


▪

W.C

Kitchen

▪

Vitroceramic hob


▪

Refrigerator and freezer


▪

Microwave


▪

Coffee Maker


▪

Toaster


▪

Washing machine


▪

Flat iron and ironing board

Santa Cruz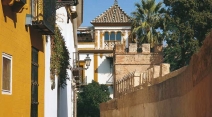 Santa Cruz is the most popular quarter in Seville and it has its origins in the old Jewish quarter of Seville. This quarter was inhabited by the Jews ever since Seville was recaptured by Ferdinand III, King of Castile, until these were ejected in the 15th century.
Located in the center of Seville, Santa Cruz quarter reaches down to the Cathedral, the gardens of the Alcázar (palace) and Jardines de Murillo (Murillo gardens). It is, therefore, a landmark and a touristic zone and it is accessible through Mateos Gago street, the most touristic and commercial street of the quarter.
While having a walk in this zone, you can get to know more about its history, by contemplating the Moorish and Jewish features that so characterize this place. Furthermore, you can go into the narrow streets, which run in an irregular criss-cross pattern and lead to the patios sevillanos (traditional Sevillian patios) or squares, such as Plaza de la Alianza or Plaza de doña Elvira.
During your stay in Santa Cruz quarter, you will feel like you belong here, Andalusia, since you will find yourself surrounded by Andalusian style houses and a pleasant and joyful atmosphere so typical of this region. Nearby places to visit are the Giralda tower, Patio de los Naranjos (orange tree courtyard), the Alcázar (palace), Archivo de Indias (archive of Indies) and the Palacio Arzobispal (archbishop's palace). On the adjacent streets Iglesia de Santa María la Blanca (Santa María la Blanca church), los Jardines de Murillo (Murillo gardens) y el Hospital de los Venerables (baroque hospital) can be found.
Availability
Apartment special conditions

- To formalise the booking is necessary the payment of the 30% of the total that has to be paid by credit card.

- The balance due will be charged from your credit card minimum fifteen days upon arrival.

- The damage deposit will be retained from a valid credit card whose details will have to be provided to the person who'll receive you.

- Check-in and Check-out time: in principle the check-in is from 15h and the check out until 11h. Time flexibility adjusts to availability.

* The Check –in team will charge a supplement of 30€ for entries after 21h and 50€ for entries after 24h.
Request more information
We are interested on your opinion

Tell us about your experience

We only accept reviews from real guests who have stayed in this apartment, so it must be indicated the e-mail which with you made ​​the booking.

Penthouse Genteel Catedral III in Seville

Reviews

Average rating from

32

Reviews:

Charlotte

▼




December 2018

Location was amazing, and the host Jaime was very friendly and helpful.

Li

▼




November 2018

位置非常非常好,晚上推窗正对面就是大教堂,非常美,周边吃饭 逛景点很方便,公寓所在老城区非常有味道值得步行逛逛,晚上12点到达公寓,工作人员一直在等我们,还细心的讲解了房内注意事项
酒店浴室设施略老旧,不过不影响使用,总体来说很满意

Pedro Leitao

▼




November 2018

Fantástico. Limpeza, localização.
Muito barulho de manhã cedo.

Ye

▼




November 2018

地段好

Santosh

▼




November 2018

Excellent centrally located, no need of great walk or rent a car.. Terasse adds to the beauty. Excellent location, terasse. Overall smaller room for 4

Javier Vadillo

▼




November 2018

Lo céntrico del alojamiento muy bien ubicado

Alejandro

▼




October 2018

La ubicación. La mejor. Céntrico. Y en frente de la catedral.
Deberían decorar mejor el piso. Aprovechar su ubicación para ofrecer algo más cómodo y nuevo.

Minjie

▼




October 2018

位置优越 就在大教堂边上 员工热情 提供了很多帮助 设施齐全 环境整洁 非常好的入住体验

Lin

▼




October 2018

The location and view from terrace
Slightly aged room facility

Anónimo

▼




October 2018

Location
Beds super hard, uncomfortable, no covers on the duvets. No toilet paper, no soap in bathroom Did not look like the photo´s that were posted

Stefan

▼




October 2018

Service und Lage perfekt

Fernando

▼




September 2018

Maravillosa estancia. La atención por parte de Jaime y su predisposición a la hora de hacer el check in, la perfecta ubicación y las inmejorables vistas desde la terraza son lo mas destacado de este apartamento. A parte, de la limpieza y prestaciones que ofrece.
Únicamente, a modo de sugerencia, una botella de agua en la nevera no hubiera venida nada mal con el calor que hacía.

Cathy Ota

▼




September 2018

Apartment was really nice. Great location. Lovely to have a balcony to sit out on.

Olivier

▼




September 2018

Superbe emplacement devant la cathédrale, avec une belle terrasse.

Massimo

▼




September 2018

Ottima posizione, vista stupenda sulla cattedrale

Elyna

▼




August 2018

The location is to die for. The Seville Cathedral will be in your face! The balcony and the terrace view is postcard perfect; Insta-worthy. Day and night view just breathtaking. Taxis right outside. Checking in process was swift. Communication via WhatsApp was swift too. 10/10 for location.
But only 2/10 for the apartment itself, which is a real shame. Inside is very dated. Very. Old-fashioned. Feels like it´s missing avocado coloured bathroom set and furry toilet seat warmer. Kitchen is very cramped, in 70s style. One bathroom, which is in the bedroom and that makes it inconvenient for people to go in and out when others are asleep. Old, dated bathroom that did not feel clean. The only storage space is in the bedroom and the inside smell old. There are folded blankets in there that looked dumped and unhygienic. The apartment´s dimensions make it suitable for 2 people, although there is a sofa bed. There´s a lot of potential for this apartment. It just needs modernising. We spent so much time outside despite the heat of the summer so that we´d be really tired to think about the apartment when we get back and just sleep. The rooftop terrace view of the cathedral is like in the photo. But the chairs/tables are not set up. We weren´t sure if we had to set up ourself. Everytime our hearts sink when thinking about the apartment, we looked or went outside to the balcony to cheer up. The money that we paid was for the location and view.

Elisabeth

▼




August 2018

Emplacement spectaculaire!!!!! Tout était parfait ! La terrasse le clou de l'appartement et l'accueil de J'aime parfait. On reviendra

Anónimo

▼




August 2018

Un bilocale molto molto carino, ben arredato e con tutto l'occorrente, oltre ad una posizione eccellente con una terrazza vista cattedrale, indimenticabile!!!

Robin

▼




August 2018

Sehr schönes Apartment direkt mit an der Kathedrale gelegen. Alle Sehenswürdigkeiten sind gut zu Fuß erreichbar. Das Apartment ist geräumig, hat gutes WLAN und die Betten sind groß und bequem.

Silvia

▼




August 2018

Uno splendido appartamento nel cuore di Siviglia, fantastico il terrazzo al piano superiore, personale al check in molto disponibile.

Jim & Corinne Bailey

▼




December 2017

A bijoux apartment with a superb terrace, well located in the centre of Seville with bars and restaurants close by.

Arian

▼




June 2017

Parfaite situation et excellent confort

Apafi Ana

▼




June 2016

Perfect location, perfect choice, perfect alternative to a hotel for stays that are longer than just a few days.

Paul Denholm

▼




April 2016

Fantastic apartment in an unbeatable location. We loved the decor and felt very comfortable here. Being so close to everything made it an ideal base for our stay in Seville. Lots of excellent restaurants just a short walk away and right in the heart of the city and all of its amazing sights. Breathtaking view from the balcony and roof terrace. Would come back here in a heartbeat!

Barry

▼




November 2015

Apartment is in a amazing location, you could not get better.
Probably more suited to a couple rather than 4 people.
It is very clean and has everything you would need. bars and restaurants within 5 minute walk.
We will book again when we return.

Kathleen McElhinney

▼




August 2015

Location was excellent and the view was amazing. We had an excellent stay and would return to this apartment in the future.

Siggi Gudergan

▼




June 2015

The location of this apartment is fantastic and the views to the Cathedral are amazing. The rooms in the apartment are clean and great with comfortable furnishing and all you need when you stay. The balcony is fantastic to have breakfast (unless you just walk down to one of the many restaurants) and to have wine and cheese in the evening. Overall, just a great place.

Miguel Ruz

▼




June 2015

El apartamento esta equipado con todo lo necesario para pasar unos días en familia, su ubicación es inmejorable, con vistas directas a la Catedral que con la iluminación nocturna es realmente impresinante. El trato del personal de Genteel-Home fue muy bueno, y nos explicaron gustosamente sitios que visitar, comer, así como donde podiamos ir a la compra

Deb Hamacher


May 2015

My husband and I rented this apartment for 4 nights in April and we so glad we did. Great location, wonderful apartment with everything you need, including a washing machine which came in handy during our 25 days in Spain. It was a great alternative to a hotel and we would do this again. Our contact was ready for our arrival and met us at the apartment and explained everything. Good company that you can trust.

Sharad Gupta


April 2015

Amazing location and beautiful apartment. Located amidst restaurant/ bars, bang opposite to the Cathedral and close to all the major sights. The balcony/ small terrace is the best part. The taxi stand is right outside the main door.

Had a comfortable stay with my wife and 2yr old son. Would definitely recommend.

Santiago


March 2015

La localización es fabulosa. El apartamento está prácticamente nuevo. La cama comodísima con varios tipos de almohadas, y el sofá-cama muy bueno.
La terraza es muy amplia con unas vistas inmejorables, eso sí, cuando haga calor en Sevilla habrá que salir sólo por la noche a la terraza.
Un poquito de ruido debido a las campanadas de la catedral, pero soportable.
Volvería.

Scott Fassett


March 2015

We loved our stay at the Genteel Catedral III Penthouse in Seville. The view of the Cathedral was amazing - beautiful at night when the tower is bathed in golden light. The balcony is very spacious, with a nice table for enjoying a drink or meal al fresco. In February, sunlight floods the apartment, and with the front and back doors open, a gentle breeze flows through the space.

The interior is decorated tastefully, with plenty of room to relax in the living room area. The bedroom has a door for privacy, which is great if another person wants to watch TV or work in the living room. The beds were firm twin mattresses. The temperature was very comfortable, as we could adjust the central heating and cooling without any problems. The bathroom was very nice, and shower was always hot. The kitchen was a bit small, but we adapted to it, cooking many delicious meals during our month-long stay.

The location is right in the heart of the old city, overlooking Calle Alemanas and Av de la Constitucion, the main street where all the action is. All the major events and celebrations march right past this apartment, including the Seville Marathon, street parades and protests, street musicians, religious processions and the daily sound of horse drawn carriages.

We would highly recommend this flat to anyone who wants to experience a luxury apartment in a centrally located area of Seville.

The different payment methods Genteel-Home offers for booking and renting apartments are exposed above.