Characteristics

▪ 6 maximum of guests
▪ 100 sq meters area
▪ 2 Bedrooms
▪ 2 Bathrooms
▪ 3 floor
▪ Private Terrace
▪ Agreement with a public parking nearby
▪ Elevator
▪ Air conditioning
▪ Heating
▪ Internet
▪ Cot


Cabildo II Penthouse in Seville

VFT/SE/01536

Magnificent duplex located just in the heart of Seville, next to The Cathedral.

Placed in a quiet and centrical street, Cabildo II apartment is truly a deal for a special stay in this magical city. It's just a step from The Cathedral and Giralda, as from the commercial area, restaurants, etc. The most privileged and exclusive area in the city.

It's a beautiful duplex from where you can access from the second floor, where there's the first bedroom with a double bed and a complete bathroom, with access to the private terrace -perfectly accommodated with garden furniture. It's the perfect place to enjoy the wonderful weather of Seville and relax surrounded by the daily routine of the city.

On the first floor there's the living room, luminous thanks to its balconies and dining space. It disposes of a divan convertible into two comfortable individual beds, giving the apartment capacity to accommodate up to six people in total comfort. Also in this floor is placed the second bedroom with two individual beds and the other complete bathroom. The kitchen, fully equipped will allow you to give it a full use.

A true luxury which will make your stay an unforgettable experience.

Living room
Bedroom 1
Bedroom 2

▪

Sofa


▪

Dining room


▪

Plasma TV


▪

Double bed


▪

Bed linens and towels


▪

Wardrobe


▪

2 single beds


▪

Bed linens and towels


▪

Wardrobe

Bathroom 1
Bathroom 2
Kitchen

▪

Shower


▪

W.C


▪

Shower


▪

W.C


▪

Washing machine


▪

Dish washer


▪

Vitroceramic hob


▪

Fridge


▪

Coffee Maker


▪

Juicer


▪

Toaster


▪

Microwave


▪

Kettle

El Arenal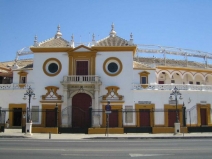 Located in the city centre and, at the same time, on the banks of Guadalquivir River, El Arenal quarter is one of the quarters of Seville with more Andalusian tradition. Since it can be found in the old part of the city, it has witnessed first-hand many events in Seville history, because of having had one of the most important ports in the world during the 16th and 17th centuries, thanks to the discovery of America and the resulting trade with India.
El Arenal is, without a doubt, one of the most traditional and characteristic quarters in Seville. Furthermore, it is nowadays a busy and meeting place for people from Seville, since it is the quarter par excellence devoted to bullfighting, religious devotion, religious brotherhoods and Semana Santa (Holy Week) and these constitute the most significant features of this place.
This zone is home to such symbolic buildings as the La Maestranza bullring, the Torre del Oro tower, the Arenal market, the Torre de la Plata tower and the La Maestranza theatre. In this zone you can enjoy leisure activities, mostly all the ones regarding the world of the Spanish bullfighting, opera, theatre and religious brotherhoods.
While walking around this quarter, tourist can take the opportunity to get to know better part of the history of our city by visiting other places of touristic interest, namely La Hermandad de la Santa Caridad church or the Atarazanas (medieval shipyard). Finally, thanks to its central location, you will be able to find within a very short walking distance the Cathedral and the Giralda tower, must-see places if you come to spend a few days in Seville.
Availability
Apartment special conditions

- To formalise the booking is necessary the payment of the 30% of the total that has to be paid by credit card.

- The balance due will be charged from your credit card minimum fifteen days upon arrival.

- The damage deposit will be retained from a valid credit card whose details will have to be provided to the person who'll receive you.

- Check-in and Check-out time: in principle the check-in is from 15h and the check out until 11h. Time flexibility adjusts to availability.

* The Check –in team will charge a supplement of 30€ for entries after 21h and 50€ for entries after 24h.
Request more information
We are interested on your opinion

Tell us about your experience

We only accept reviews from real guests who have stayed in this apartment, so it must be indicated the e-mail which with you made ​​the booking.

Penthouse Cabildo II in Seville

Reviews

Average rating from

27

Reviews:

Angeles

▼




August 2018

El apartamento era estupendo. La decoración preciosa.

Ruben

▼




August 2018

La ubicación es estupenda.

Sergio

▼




August 2018

Excelente.... ubicación, limpieza, confort , vistas, exterior...etc..

Jeong Eun Lee

▼




August 2018

완벽한 호텔
깨끗하고 욕실 수압과 물빠짐 다좋으며 냉방 온수 다 완벽함. 아침마다 문앞에 빵과 물을 걸어두는 센스, 지하1층에서 커피 티 우유 쥬스 과일을 즐길수있게 준비해두는 정성이 매우 돋보임. 무엇보다 솔광장 1분거리라는 위치가 최고임. 아이를 데리고 다녀야해서 위치가 아주 중요한데 솔광장과 가깝다는게 최고의 장점임. 그외 시설과 리셉션의 친절함도 만족스럽고, 스페인 4곳의 호텔중에 가성비 최고의 호텔이었음. 부킹닷컴에서 점수가 높은 이유가 있었음. 참, 침대가 거의 슈퍼킹수준으로 넓어서 부부와 초1 아이 한명이 같이 자도 될정도임.

Matteo

▼




August 2018

Casa molto bella e pulita, in zona centrale
Qualche problema per il parcheggio e aria condizionata rumorosa

Fernando

▼




August 2018

apartamento com todas as comodidades necessárias e excelente localização.

Valérie

▼




July 2018

très bon séjour à Séville
la situation géographique, l´espace dans l appartement, l´équipement neuf et la propreté et la terrasse privée de l´appartement donnant directement sur la chambre, avec un beau salon et un auvent pour se protéger de la chaleur de l´été.
la climatisation est tellement bruyante qu´on ne peut pas la mettre la nuit dans la chambre, donc on a dormi avec les fenêtres ouvertes (en plein mois de juillet) et c´est bruyant dehors puisque la chambre parentale donne sur une petite place en bas avec des restau et bars.

Susana

▼




July 2018

AGRADEVEL E SITUADO NUMA BOA ZONA

Adeline

▼




July 2018

Top! Situation exceptionnelle: à quelques mètres de la cathédrale. Équipement neuf et décoration soignée.

Raimundo

▼




July 2018

Impecable y muy bien ubicado. Todo perfecto (Limpieza, comodidad y ubicacion).

Eva

▼




July 2018

Un apartamento perfecto, con la mejor ubicación posible. Impecablemente limpio y decorado. Agradabilísima terraza para disfrutar de las vistas a la Catedral. 100% recomendable. Repetiremos

Bud Colligan

▼




May 2018

We stayed for 6 weeks in this apartment. Overall, on a scale of 1 - 5, we would give it a 3.5. First, the positive points:

- Location is superb a block from the cathedral and Avenida Constitution.
- The living room and dining room are spacious and there is great natural light.
- Staff responds quickly and is courteous.
- If you´re planning a short stay and will be mostly eating out, this apartment´s location and amenities are great (note: there is no oven).

The negative:

- We stayed in two Genteel Homes properties in Sevilla and in both cases, we were the ones having to ensure cleaning, identifying towels/kitchen items/mats missing as well as locks and drape cords broken, sinks backed up, and seals on toilets leaking. We expected a luxury apartment from Genteel Homes would have a checklist of items and staff would ensure these things were taken care of BEFORE guests arrive.
- The apartment is not well vented in bathrooms and kitchen and there is a light sewer smell in the upstairs bathroom.
- The online pictures for this apartment are dated. There are no trees on the patio, no rug in the living room, etc. The walls are mostly empty.
- Upon arriving, we turned on the air vent in the kitchen and soot came out all over the counter. There was dust a 1/2 inch thick on top of the kitchen cabinets. We requested the apartment be cleaned again, and it was promptly done. But these are basic issues and should not be resolved by the clients once they arrive!

As another review noted, this apartment is not accessible for people with a handicap, in a wheelchair, or elderly. Even with an elevator to the third floor, there is a step up onto the patio, a step down onto the landing at the front door, and a steep staircase in the house to the lower floor.

We appreciated the kindness of staff, which was responsive on most items.

---

Genteel-Home

Dear Mr. Colligan, First at all, I want to thank you for your stay and to have taken the time to share your experience. We are always very careful with cleanliness. Sometimes, especially in high season, it is possible that we miss any detail. In any case, we have thoroughly reviewed the entire apartment, solving the small details you mention. For us, the satisfaction of our customers is paramount. For this reason we have attended to your requests, providing extra utensils with which the apartment did not count. All the staff, who have indeed always been very attentive to your claims, send greetings and we hope you will return soon. Best wishes, Mr Colligan, we hope host you again in future occasions. Genteel-Home

Malcolm Richings

▼




November 2017

This apartment is not suitable for elderly or disabled due to the 22 steep staircase down to the living room

---

Genteel-Home

Dear Malcom, thank you very much for your comment. We regret that you have had difficulties with the stairs. These are straight (not curved) and wide staircases, but it is true that if you can not walk well, they are an impediment. The truth is that we can not indicate that the apartment is not suitable for elderly people or things like that, because we have hosted in this apartment people over 80 who have had no problem using the stairs. We limit ourselves to describe correctly the apartment and its characteristics, but it must be the guests who decides if the apartment suits him. In any case thank you very much for your review.

Sheila Sloan

▼




October 2017

We loved the Penthouse apartment! It was very clean, very comfortable and perfectly located.

The staff was wonderful about communicating, meeting us and introducing us to the apartment.

We couldn´t ask for more!

María José

▼




May 2017

¡Simplemente maravilloso! Un ático lujoso en pleno centro de Sevilla. Aunque éramos un grupo de cuatro personas, resulta muy cómodo para cinco o seis. Completamente renovado y muy silencioso. Tal como se ve en las fotografías e impecablemente limpio. El trato con el equipo de GenteelHome tanto previo a la reserva como durante la recogida y devolución de las llaves fue magnífico y siempre estuvieron disponibles para resolver dudas. A destacar la impresionante terraza en la que tanto disfrutamos por la noche tomando una cervecita, comiendo helado y charlando. No dudaría en volver y recomiendo tanto el apartamento como el equipo. ¡Seguro que no será mi último alquiler con vosotros! Gracias especialmente a Mar por sus atenciones.

Judith Jimenez

▼




December 2016

We spent three weeks in this lovely apartment. Genteel company were easy to work with. We picked this unit for its location and it did not disappoint. Perfect for walking to all tourist sites, bars, restaurants. Clean. Well equipped. Elevator was good for bringing in luggage. Twenty steps inside the apartment might present as a difficulty for some. Pick up and drop off by Georgette and Mariano great.

John Rizzardi

▼




October 2016

We loved this apartment. It was perfect for our visit and everything worked very well. The location was ideal, and it was so convenient to everything that we needed or wanted to do. We really enjoyed the outdoor terrace, especially for afternoon resting before our evening activities. It was a little bit frustrating to have the elevator break down twice, but fortunately neither time was when we needed to move our luggage. The other excellent feature was the transfer service by ***** from the train station and to the airport. He was always on time and helpful with assistance with our bags and providing information.

luciano

▼




September 2016

Soggiorno stupendo. L´appartamento era perfetto in ogni particolare ed esattamente rispondente alle foto pubblicate. La posizione era perfetta ad un passo dalla cattedrale ed a due passi dal centro. Non si può chiedere di meglio. Il personale della società è sempre stato molto cortese ed efficiente. Sicuramente da ritornare

Catrin

▼




August 2016

Really enjoyable stay - we were met and greeted by a very friendly member of staff who gave us lots of useful local information and made sure the air con was on for us! VEry comfortable and clean and very central so easy to find all attractions and would definitely return

Marco

▼




June 2016

Ático muy cómodo, posicionado de forma excelente, limpio, espacioso. Recomendable.

Patrick

▼




May 2016

Appartement très bien placé dans le centre historique de Seville à deux pas de la cathédrale.
Ville magnifique et pleine de vie et de charme.

Rok

▼




May 2016

Very nice place on excellent location!
Welcome by Benjamin very warm, detailed and professional!
Very nice experience.

Antonio Roldan

▼




April 2016

Piso espectacular, situacion inmejorable, servicio Genteel inpecable
Gracias

Christine Hübner

▼




March 2016

Great apartment directly in the city centre.

sabrina

▼




January 2016

Acceuil chaleureux...tres bon emplacement. ...tres propre...super 15/10...a recommender 😊

daniel gauthier

▼




January 2016

very nice appartement and very well located. The lady who hosted us(Rebecca) has been extremely nice and has given us a lot of usefull information.

Beatriz Caballero Rivas

▼




December 2015

El ático es perfecto en todos los sentidos, está en todo el centro de la mejor zona de Sevilla, tiene unas vistas inmejorables y una terraza muy grande. Además la decoración es exquisita y las camas muy cómodas. Recomiendo este ático y cuando vuelva a Sevilla lo reservaré de nuevo.

The different payment methods Genteel-Home offers for booking and renting apartments are exposed above.