Characteristics

▪ 6 maximum of guests
▪ 130 sq meters area
▪ 2 Bedrooms
▪ 2 Bathrooms
▪ Private Terrace
▪ Private parking
▪ Air conditioning
▪ Heating
▪ Internet
▪ Cot


Pedregalejo Apartment in Málaga

CTC-2018024069

Stunning house, right on the seashore with amazing views.

It is a magnificent renovated and furnished new house. It is located in one of the most exclusive places of the city of Málaga: Pedregalejo.

We access the house through the entrance hall and stairs will lead to the main floor. Just up the stairs we come to a beautiful lounge with a dining area and a sofa area (with double sofa bed) and TV, both connected with an incredible private terrace that has the Beach and the sea just below.

The feeling having breakfast, dinner or a snack and listening to the sound of the sea and the waves is relaxing and enlivening. A real luxury for the senses.

The kitchen is bordering the living room and it is fully equipped with everything you need.
On the same main floor is the master bedroom, with a double bed of 1.50 x 1.90, with ensuite bathroom and overlooking the terrace and the sea. The other bedroom facing the back street of the House is very bright and quiet. In addition there is another separate full bathroom.

Going up the second stairs, we reach a private terrace on the main floor, above we have another large private terrace, much larger than the other, with artificial grass, seating area with garden furniture, sun loungers to take the sun and unbeatable views over the sea and the beach.

Pedregalejo Beach is the most exclusive beach in Malaga. The area and the promenade are full of restaurants and bars to enjoy the best gastronomy in Malaga and Andalusia. It is a quiet place with unique essence of Malaga and the fishermen who inhabited and still inhabit that area of ​​the city.

The house and zone is a real privilege, perfect for those who want a very special vacation or find a haven of peace by the sea.

Living room
Bedroom 1
Bedroom 2

▪

Dining table


▪

Plasma TV


▪

Sofa bed


▪

Double bed


▪

Wardrobe


▪

Bed linens and towels


▪

Reading luminaire


▪

2 single beds


▪

Wardrobe


▪

Bed linens and towels


▪

Reading luminaire

Kitchen
Bathroom 1
Bathroom 2

▪

Coffee Maker


▪

Fridge


▪

Juicer


▪

Oven


▪

Fridge


▪

Kettle


▪

Washing machine


▪

Dish washer


▪

Flat iron and ironing board


▪

Vitroceramic hob


▪

Toaster


▪

oven-microwave


▪

W.C


▪

Washbasin


▪

Hair dryer


▪

Shower


▪

W.C


▪

Washbasin


▪

Shower

Pedregalejo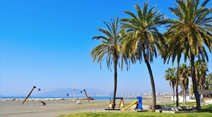 Pedregalejo, located in the east side of Malaga, is an old is fishing quarter that houses as well some of the summer residences of nineteenth and twentieth century bourgeoisie. Residential area as well as part of the night life, there are many bars on the streets and in the seaside, with day and night buses 10 away minutes from the city center.
In the neighborhood, predominate houses, spanish academies for foreigners and the best restaurants for fried fish and mediterrarean food, traditional of the zone. With an enviable pedestrian promenade, Pedregalejo is one of the most charming areas of Malaga.
Its almost private beaches, in the middle of the city, give a special romanticism to the area. Being 1200 meters in length and all flat, it is a perfect area to visit by bike.
All the servides close, in Malaga you can not miss eating a tapa of skewers on the seashore, and besure, there is no better enclave for that that Pedregalejo.
Availability
Request more information
We are interested on your opinion

Tell us about your experience

We only accept reviews from real guests who have stayed in this apartment, so it must be indicated the e-mail which with you made ​​the booking.

Apartment Pedregalejo in Málaga

Reviews

Average rating from

17

Reviews:

Olof

▼




December 2018

Fantastiskt läge

Natalie

▼




November 2018

Just as good as it looks in the photos. Excellent location with bars and restaurants nearby. We miss the view over the sea already! Hope to be back.

Derek

▼




November 2018

This is a great place to stay right on the beach. Amazing views. Good amenities and great service. Very speedy in communication. Smooth check in process.

Sebastien

▼




November 2018

Bonjour. Belinda qui travaille pour une agence nous a très bien accueillis. Très pro, elle nous a donné les bonnes adresses et les conseils pour que le séjour soit réussi. Le logement est grand, propre dans l´ensemble. Superbe vue, la terrasse est pour nous le point fort de cette maison face à la mer. Garage indispensable car difficile de trouver une place dans le quartier. Le logement est au premier rang, idéal pour la plage. au pied des restaurants et bars. A ce propos, ce logement est au dessus du restaurant "La Machina", peu dérangeant la journée, en revanche beaucoup de bruits pendant la nuit lorsque le commerce ferme sur les 1h à 2h du matin. Nous avons passé un bon séjour dans l´ensemble

---

Genteel-Home

Merci pour ton commentaire Sébastien. Nous aimons savoir que vous avez apprécié votre séjour dans notre appartement. Sur ce que vous nous avez dit à propos des problèmes de bruit, nous sommes désolés si cela a été ennuyeux. La zone centrale où se trouve notre appartement, entourée de bars et de restaurants, a beaucoup de vie, et si vous etes habitué à dormir avec les fenêtres ouvertes, cela peut être ennuyeux, mais si vous fermez les fenêtres, il n´y a pas de bruit à l´intérieur de l´appartement. Nous espérons que vous avez aimé Malaga.

Linda

▼




October 2018

Great apartment just as good as photos show . Fantastic seating area with view of sea whilst eating breakfast just so relaxing .Great location near to best beach in Malaga could not fault it. Really smooth check in very helpful lady met us

Sally

▼




October 2018

Excellent location, really stylish, right on the beach. Fabulous host - feat communication and lots of helpful local tips. First rate. Thanks so much for a fabulous stay. Great communication and help throughout. We hope to come back next year

Matt

▼




October 2018

Great flat with lovely terrace space overlooking the sea. Really good location on the beach, with lots of restaurants and bars within 2 mins walk. Muchas gracias por todo! Disfrutamos mucho de nuestro tiempo en Málaga, y gracias sobre todo a Belinda por sus recomendaciones de restaurantes cerca del piso.

Pernille

▼




October 2018

Beautiful location! Nice, clean, spacious appartment by a great beach. It's easy to go to the city centre by bus or taxi. We will be back! hank you for a wonderful stay! We all hope to come back❤️

Samantha

▼




October 2018

Absolutely amazing apartment! We have two young children and it was a perfect get away! The team were amazing!!! Absolutely amazing trip to Malaga and your apartment is beautiful! What a beautiful location and stunning views. We would like to say a special Thankyou to Belinda. She was amazing! We have two small babies and she went out her way to go and get high chairs for them and make our trip so much easier. We also asked advice upon going into Malaga shopping and she sent through shops and restaurants. She truely was amazing and an acet to your team! In terms of the response of cleanliness!

Zhumei

▼




September 2018

无敌海景房 离海边非常近 大露台可以边吃饭边欣赏海景 待在房间就不想出来 唯一停车有一点距 另外我们是晚班飞机 说可以延时到12点退房 但是打扫的人员11点就到了并一直请我们离开 这个不太好

---

Genteel-Home

Thank you very much for your review Zhuemei! It's great to know you had a pleasant stay and enjoyed your time in our apartment, the views from the terrace and its facilities! We are sorry we weren´t able to offer you a late chek out but this is only possible if we don´t have guests arriving the same day, what unfortunately was what happened on your check out day, so we had to prepare the apartment to have it ready for our next guests. We hope to see you again! Genteel Home Team

Eric

▼




September 2018

Wonderfully located house and a great stay for our family. Thank you again Rocio, it was an unforgettable trip.

Clare

▼




August 2018

Fabulous house in fantastic area. Definitely will go back.

Conor

▼




August 2018

We had a wonderful time at this property in Malaga. The location is truly amazing, looking into the beach having your morning coffee. Lots of outdoor space to relax in. It is a beautifully designed space and really added to the quality of our location. Hosts were fantastic and quick to respond with any query we had. Thank you, we hope to return!

Leah

▼




July 2018

Pedregalejo apartment is amazing! Even better than what it looks like in pictures. Also great host who communicated with us throughout the trip. The location is also perfect. We couldn't recommend staying here more :)

Ellie

▼




July 2018

This is a truly amazing destination - right on the beach and with many restaurants options. The house itself is beautiful, spotlessly clean and stylishly appointed. Two decks, no need for screens, no mosquitoes. You can listen to the waves 24/7. At the end of June we hardly used the AC because of soft, scented breezes although it is available. The beach is just beautiful. The neighborhood is small and authentic, the people were great. It won't surprise you to know we want to go back! We were there with our 13 yr old granddaughter and she loved it too. You won't be disappointed!

Julie

▼




June 2018

I have just arrived home after a lovely 3 night break at this gorgeous beach house. We were a group of 5 ladies and didn´t know the area at all but were very pleasantly surprised. The beachfront location was excellent and having breakfast with a gorgeous view was perfect. The roof top terrace was an added bonus and the apartment was spotless. The apartment is situated above a restaurant which I hadn´t realised but this wasn´t an issue for us at all. There was an abundance of local restaurants on our doorstep and the beach itself was a few steps from the front door. Thank you very much, I would highly recommend and will certainly be back again.

Tracy

▼




June 2018

This is a fantastic house in a great location and although we had a few little problems they were dealt with really quickly and efficiently. We would thoroughly recommend this house.Thank you for being a great host, the house was lovely.

The different payment methods Genteel-Home offers for booking and renting apartments are exposed above.