Characteristics

▪ 4 maximum of guests
▪ 60 sq meters area
▪ 1 Bedroom
▪ 1 Bathroom
▪ 4 floor
▪ Elevator
▪ Air conditioning
▪ Heating
▪ Internet
▪ Cot


Retiro I Apartment in Madrid

It is a superb apartment which is situated in Calle Academia, in the most exclusive neighborhood of Madrid: Los Jerónimos. The apartment has an unbeatable location; it is just a few meters from the Parque del Retiro and the Museo del Prado, Museo Thysenn or the Cortes Generales (General Courts). Puerta del Sol, Plaza Mayor, etc. are also just a few minutes walking from it. The street is very quiet during the day as well as during the night although the best shops of the city are really close to it (Calle Serrano) and the bars and restaurants are just a few meters passing through the the Paseo del Prado. Doubtlessly, its location is a remarkable privilege.

The apartment was first opened in autumn 2015. It is very bright because it is an external apartment which has large windows that cheer up and brighten every meter. The kitchen is totally equipped with the essentials and it is integrated in the living room. This one has a double sofa bed to host up to 4 people. Everything is decorated and well looked after. The bedroom has a double bed (1.50 x 2.00 m) with a dressing room and a full en suite bathroom.

The Apartment Retiro I is the perfect choice to anyone who wanted to enjoy a very special stay in the center of Madrid.

Living room
Bedroom 1
Kitchen

▪

Plasma TV


▪

Sofa bed


▪

Double bed


▪

Bed linens and towels


▪

Wardrobe


▪

Washing machine


▪

Coffee Maker


▪

Vitroceramic hob


▪

Fridge


▪

Toaster


▪

Microwave


▪

Juicer


▪

Flat iron and ironing board


▪

Cleaning products

Bathroom 1

▪

Shower


▪

W.C

Retiro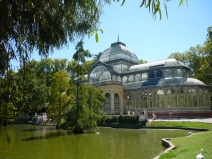 There are several reasons for what
stay in Retiro area in Madrid
to spend some days on holiday. We start explaining the History of this neighbourhood, as it's one of the most emblematic ones of the city, with thousands of attractions and placed just in the centre of the city.
Some of this attractions are, for example, the Botanic Gardens or The Retiro Park, which is a great park which occupy a wide part of this neighbourhood, and where we can walk and enjoy a fresh air and calm just in the centre of Madrid.
What to see in the centre of Madrid
The Retiro neighbourhood sets the limit with the centre district of the city through the Prado Promenade, so we could visit the
Prado Museum
, one of the best picture gallries of the world.
In the neighbourhood is also located the
Madrid Stock Exchange
, a really important building of the capital city.
Another places of this area of
Madrid
you can't miss are Plaza de Cibeles, The Velázquez Palace, Palacio de Cristal and the famous Puerta de Alcalá, which is one of the five royal gates that allowed, formerly, the access to Madrid.
Luxury apartments in The Retiro
An important thing of this neighbourhood is that, apart from its monuments and attractions, is really well placed being just in the centre of the city. Booking
luxury apartments in the Retiro neighbourhood
will open us the gates to visit not only this quarter, but the whole city.
Gastronomy of The Retiro
The retiro is a luxury neighbourhood of the city, and in its streets are placed clothes shops of prestigious brands and also famous restaurants in
Madrid
. Although there are also premises and bars where you can eat well and in a more economical way.
Availability
Request more information
We are interested on your opinion

Tell us about your experience

We only accept reviews from real guests who have stayed in this apartment, so it must be indicated the e-mail which with you made ​​the booking.

Apartment Retiro I in Madrid

Reviews

Average rating from

33

Reviews:

Nino

▼




December 2018

Amazing location next to the park with all attractions in close even walking proximity and nice reasonable size place in good condition. Host was very friendly and helpful always quick response. Had everything we need and no major complaints.

Ingrid

▼




December 2018

Quiet park location, good stay! great for summer
The location was just was we were looking for right across the street from the park! Lovely! Wifi was great, heating system kept us nice and warm, sofa bed good size ok view, comfy double bed. We did not use the TV or any other extra amenities we were mostly out and about but enjoyed our stay a lot. Kitchen stove worked great. Loved that we could walk a few steps to the Prado Museum. Perfect distance away from highly tourist area where construction was taken place and had Loud tractors and closed streets. This was a Quiet area, lovely we will come back in the summer time.
Main issue was hot water, it ran out! We had to wait to take showers my husband had to finish his shower with Freezing cold water and was extremely displeased. Maybe this is ok for summer but we got days of rain and 6 degrees Celsius.. not fun to have hot water run out on you in the middle of putting soap on. Cleanliness could improve, corners had some dust also underneath the bed and sofa. (I have an allergic child so I've become vigilant and check these kind of things) also coffee cups were stained and needed replacement. Other than that OK.

Olle

▼




November 2018

Inte värd sitt dyra pris
Bra läge vid Retiro-parken och El Prado-museet. Om man ska besöka konstmuseerna är det ett fantastiskt bra läge. Finns cafeer att fika på, 10 minuter till fina restauranger och butiker i Salamanca. Bra och personligt mottagande av personalen, som ordnade babysäng åt oss.
Lägenhet som hyrs ut av lägenhetsförmedlare. reception osv finns inte i huset utan per telefon (alltid tillgängliga dock!). Det saknades riktig matplats, istället åt vi vid en bardisk i pentryt på höga barstolar (det fanns bara tre stycken, vi hittade en fjärde efter två dagar). Balkongen var ett 40 cm smalt stuvutrymme som inte gick att sitta på. Grannen hade en hund som skällde konstant från 21 till 00. Inte värd sitt höga pris.

---

Genteel-Home

Dear Olle, thank you for your comment. We are glad to know that you liked the location of the apartment close to the Parque del Retiro, and that our staff would be of help and be available quickly to your needs. We are sorry that you did not find the kitchen bench until several days after your arrival, if you asked us we would have indicated you immediately where it is or have brought you another. Also, the apartment that you had booked is a 1 bedroom apartment where there is a balcony as is indicated, but no terrace where you can sit. The prices of our apartments vary depending on the season, demand, availability in the city, etc., so it is normal that prices are higher than usual in cases like yours where you have stayed in the international holiday weekend when the city is full. We are very sorry that the neighbor´s dog has bothered you, luckily it is not usual and our customers have not complained about it before. Regards

FcoMoT

▼




October 2018

Muy bien. Ubicado en Jeronimos que esta muy cerca de todo pero super tranquilo.
El parking no es tan cerca y a veces está no disponible.

María

▼




October 2018

Limpio y cama cómoda. Staff muy amable.
La cama era un poco pequeña y encajada. El wifi no funcionaba. Un poco caro para 1 noche.

Anónimo

▼




August 2018

Buena ubicación.
El aire acondicionado hacia mucho ruido, el secador estaba roto y falta horno en la cocina.

---

Genteel-Home

Estimado cliente, gracias por su comentario. Nos alegra saber que la ubicación del apartamento fue la adecuada para su estancia en Madrid. Informaremos a nuestros compañeros del departamento de incidencias para revisarlo y solucionarlo a la mayor brevedad. Lamentamos que no nos haya informado de ello durante su estancia ya que podríamos haber buscando una solución de inmediato. Respecto al horno, el equipamiento con el que cuenta cada apartamento viene indicado en la web de manera clara y visible. Sentimos las molestias que esto le hubiera podido causar. Saludos

alocids

▼




August 2018

Nous avons reçu les clés de l´appartement à l´heure convenue avec le louer (très disponible). Nous avons trouvé l´emplacement près du Retiro idéal pour visiter Madrid.

Rosanna

▼




August 2018

Posizione centralissima

Julie

▼




July 2018

Disappointing.
The apartment was not like the internet pictures - it was in fact much smaller , older, and dirtier. We were disappointed at lack of bedding and noise and lack of hot water for showers.

---

Genteel-Home

Dear Julie, the dimensions of each apartment are clearly reflected in the website, and the photo report was made just some months ago, so they faithfully show how the apartments are, which is new and recently renovated. Cleaning is an aspect that we take care of a lot and we have never had any other customer complaint about it before. Also, we leave a set of sheets and towels per person for their stay. If you had needed more, you could have communicated it to us so that we would have facilitated it, but you never communicated anything to us about it. Regards

Carina da Silva

▼




June 2018

A localização do apartamento é muito boa. Fica perto de todos os pontos importantes da cidade, facilmente alcançáveis a pé. O apartamento tem as comodidades necessárias para passar uns dias. Faltaram apenas almofadas confortáveis para o sofá-cama.
O maior problema é não ter garagem e o estacionamento na rua ser ridiculamente caro (cerca de 4€ por 2horas das 9h às 21h). Os parques subterrâneos compensam mais. Para quem não levar carro, o bus é a nenhum opção, já que o metro é muito sujo...

Adriana

▼




December 2017

En general muy cómodo y excelente ubicación, el retiro y el Museo del Prado al lado.
Tanto el sofá y la cama bastante confortable.
Bien equipado, con todo detalle.
Recomendable 100 %

Shosh

▼




October 2017

Apartment light and airy, we spent a week there,
Enjoying the great location close to Retiro Park and five minutes walk to prado. 10 minutes walk to the elegant Salamanca and 15 minutes to the train station.

Shel Haber

▼




October 2017

Lovely and comfortable apartment next to Retiro Park

Dennis Steh & Patricia Olive

▼




April 2017

Just loved this apartment in the Retiro neighborhood! Quiet, comfortable and secure - it even comes with a doorman. Well furnished and super clean. Equipped with everything we needed for a short stay. The Genteel staff is friendly and helpful. A strong recommendation.
Also liked the Academia Cafeteria across the street for a coffee and breakfast in the morning.

Jean-Marc

▼




January 2017

Appartement très agréable, très clair, bien agencé et idéalement situé à quelques pas du Musée du Prado, du Musée Thyssen-Bornemisza et du Parc du Retiro.

Cependant, nous estimons que l´isolation phonique par rapport à la circulation du boulevard Alfonso XII tout proche est insuffisante.

Isabel

▼




January 2017

El apartamento tiene una ubicacion excepcional. Puedes ir a todos los lugares de interes andando. Es acogedor y correcto para 4 personas. La zona es tranquila a pesar de estar en pleno centro. Sin duda nos alojaremos e este apartamento en nuestra próxima visita.

zahir

▼




December 2016

Belle appartement

Carlos Quesada

▼




November 2016

Excelente atención, ubicación y condiciones en general, recomendado ampliamente.

Nick Sinadinos

▼




October 2016

Exceptional location between Prado and El Retiro park. Sophisticated and quiet escape from the bustling energy of Madrid. Short walk to Barrio de Las Letras and even La Latina. Apartment has very nice furnishings, separate bedroom, squeaky clean bath, generous closet. Management seems very determined to make sure guests are comfortable.

gabriela

▼




October 2016

Hermosos apartamento en excelente ubicación. Calle muy tranquila y cerca de todo.
Muy bien equipado y todo en buenas condiciones.
Con mucha luz natural y una pequeña terraza desde donde se ve el parque del Retiro. El check in y check out fue muy sencillo y fueron muy amables. Lo recomendamos sinceramente!!

Baldev Bedi

▼




August 2016

Quality apartment in prime central location. Very adequately and tastefully furnished. Very secure. Great service and very courteous and professional staff.

Jacques Jansen

▼




July 2016

Excellent flat. Good location, clean, spacious with a nice big bathroom. Excellent value for money.

Jorge Tamayo

▼




June 2016

Un apartamento muy cómodo y muy bien presentado. Excelente localización.

marna fullerton

▼




May 2016

The apt was perfect for my needs! It was clean, the kitchen was a bit challenging, if one wanted to do breakfast or lunch---needed to borrow strainer and utensils from my daughter´s apt--to wash fruit and cook an egg etc. Location excellent, building a bit puzzling---is it for business and offices? I never saw other residents. Quiet neighborhood was great.

---

Genteel-Home

Dear Marna, First of all, thank you for taking the time to write a review to us as this is soemthing really helpful for the company. Regarding the kitchen items, there might be a confusion as it´s fully equipped; in fact, there´s a small cupboard with lots of utensils to give a maximum use to the kitchen. About the building, isn´t for business or offices but for apartment residents but it´s a high standard construction with respectful neighbours, effectively really calm. I´m glad you enjoy your stay and will be happy to accommodate at any other time you decide to visit our country!

Ana E Pérez

▼




May 2016

Excelente ubicación, uno de los mejores sectores de Madrid. Muy limpio y cómodo. Volveríamos a ocuparlo. Podrían mejorar la calidad de las toallas, secadora de pelo y el plan de TV cable ya que este ultimo es muy básico. De igual manera hace falta un TV en la habitación, que dejen bolsas para la basura y que haya platos mas grandes.

---

Genteel-Home

Buenas tardes Ana, Gracias por su comentario, este tipo de comunicación es muy provechoso para la mejora de la empresa. Nunca habíamos recibido queja alguna de la calidad de las toallas y secador de pelo pero por supuesto tomaremos nota de su sugerencias que de nuevo le agradecemos. Será un placer tenerla de nuevo como huésped en cualquier otra ocasión.

Mark and Linda Olson

▼




April 2016

We really enjoyed the apartment and it´s location. No negatives, all positive.

bradley westall

▼




March 2016

The apartment is excellent. The location could not be better. The street is very quiet, and we were a close walk to so many excellent attractions. The staff was great, very friendly and supportive.

Fonzy

▼




February 2016

Fantastico apartamento situado en la zona con mas monumentos emblematicos por metro cuadrado de España. Ideal para parejas, pequeña familia o viaje de negocios

Rosemary

▼




December 2015

Apartamento perfecto para conocer Madrid, justo detrás del museo del Prado y cerca de Atocha.tiene todo lo que necesitas.

Nora

▼




November 2015

Excelente ubicación, cómodo y limpio.

elena bachurina


June 2015

Fantastic, new, clean, central apartment.
Owner and the company are really kind.

I´ll be back next time.

Elena

Henri


May 2015

Je recommande vivement cet appartement, nous avons visiter tous les monuments à pied sans problème. L´appartement en soi est impeccable, propre, trés bien sonorisé et lumineux.
Nous avons vraiment profiter de l´appartement et si nous revenons à Madrid nous aimerions relouer cet appartement.

Marie


May 2015

Mon mari et moi avons passé un excellent séjour dans cet appartement. La décoration est tout simplement magnifique et de bon goût. C´est un appartement de qualité et totalement propre qui permet de profiter amplement des vacances en amoureux, nous avons visité tous les musées et autre monuments à pied et le parc Retiro aussi. C´est un appartement que je recommanderai fortement à mes amis ou famille puisqu´il se trouve aussi à côté de la gare de train Atocha.

The different payment methods Genteel-Home offers for booking and renting apartments are exposed above.