Characteristics

▪ 6 maximum of guests
▪ 200 sq meters area
▪ 3 Bedrooms
▪ 3 Bathrooms
▪ 2 floor
▪ Public parking near
▪ Elevator
▪ Air conditioning
▪ Heating
▪ Internet
▪ Cot


Palacio Apartment in Madrid

This is a great 200 sqm sized apartment, three bedrooms, two of them provided with a double bed and a bathroom inside for each one, and the third bedroom with a large single bed. There is an independent and fully equipped kitchen, a third complete and separated bathroom and a spacious living room divided into two spaces, one with a dining area fournished for 8 people and a large single bed folded up in a magnificent classic fourniture, and then another space fournished with sofas and a television, ideal for relax, with two balconies facing outside and great views. From these balconies you face the famous Plaza de Oriente and the Palacio Real, and also you can enjoy the unique views of the Prado gardens and the building of the Casa de Campo. A privileged sight, perfect for relaxing while being at the very centre of the city.

The district of Palacio is absolutely the best area in Madrid and you will find the Cathedral, the Teatro Real, the squares Plaza de la Ópera and Plaza de Oriente as well as an endless number of restaurants, coffees and terraces where you can taste and enjoy the best cuisine in the city.

Palacio is the perfect apartment for those who are looking for a very special stay in Madrid.

Bedroom 1
Bedroom 2
Bedroom 3

▪

Double bed


▪

Wardrobe


▪

Bed linens and towels


▪

Double bed


▪

Wardrobe


▪

Bed linens and towels


▪

Bed


▪

Wardrobe


▪

Bed linens and towels

Bathroom 1
Bathroom 2
Bathroom 3

▪

Shower


▪

W.C


▪

Shower


▪

W.C


▪

Shower


▪

W.C

Living room
Kitchen

▪

Sofa


▪

Plasma TV


▪

Dining table


▪

Trundle bed


▪

Bed


▪

Vitroceramic hob


▪

Fridge


▪

Dish washer


▪

Washing machine


▪

Microwave


▪

Oven


▪

Kettle


▪

Coffee Maker

Palacio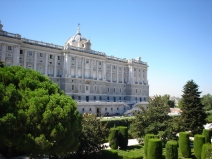 'Palacio' is undoubtedly the most visited and touristic zone of Madrid. Also known as the 'Madrid de los Austrias' for being the centre of activities and the residence of the Spanish kings of this dynasty. 'Palacio' area houses the most emblematic monuments and important places of the city: The Royal Palace, Plaza de Oriente, the Royal Theatre, the Opera Square, the Almudena Cathedral, etc.
It's a really quiet area of ​​central Madrid, although it has many bars and restaurants is no place for pubs, clubs or nightlife; quite the contrary, is an area with daytime life, full of tourists and very quiet and safe at night. In addition, numerous streets vehicular traffic is restricted to residents or are simply pedestrian.
Staying in an apartment in the 'Palacio' area in Madrid is a perfect choice for anyone who wants to know the culture and the city background, its History, its legends and its most ancient and traditional part. Habsburg monarchy was the most important dynasty of Spain, as they reigned more than three centuries during the richest and most splendid time Spain has ever known, the time when the Spanish Empire was also part of Europe and South America.
Availability
Request more information
We are interested on your opinion

Tell us about your experience

We only accept reviews from real guests who have stayed in this apartment, so it must be indicated the e-mail which with you made ​​the booking.

Apartment Palacio in Madrid

Reviews

Average rating from

34

Reviews:

Malizy

▼




January 2019

The apartment roomy enough for a family of 4+ with a breathtaking view for historic Madrid.
Our host was very helpful upon arrival. Check in and check out were very easy. The view of Palacio Real was amazing! And we had a great view from our apartment. I liked the amount of space in the apartment. It gave us the comfort we´re used to in a property when we´re in the states. Traveling with a party of four (one teen), we were all able to have some privacy.
The furniture and carpet need a deep cleaning. And the furniture looked like it was larger scale in the photos, not a bad thing just different from what I expected. The WiFi did not work in the bedrooms and we did receive enough towels (no washcloths) for our 4-day stay. The elevator was extremely small so taking luggage up and down was challenging so travel light.

Anónimo

▼




November 2018

Una vista impresionante, muy cómodo. Todo excelente.

Fran Wasoff

▼




October 2018

We have just returned from an excellent ten day stay at Apartment Palacio in Madrid. The flat was perfectly located, just across the street from the Palacio Real gardens, and was clean, spacious and beautifully appointed and well equipped with everything we needed. We particularly appreciated the very comfortable beds with crisp white bed linens. The staff were friendly, competent and efficient, answering all our queries right away. While the flat is located on a main road, it was not noisy when the windows were shut since there was effective sound proofing. In any case, all the bedrooms are at the rear of the flat and quiet. We would not hesitate to recommend this property.

Oddrun

▼




October 2018

Manglande klimaanlegg, skitne sittemøblar, fulle askebeger.

Elizabeth

▼




July 2018

Perfect location and size of apartment

Jannelle

▼




June 2018

Locations was outstanding!

Pierpaolo

▼




June 2018

Posizione eccellente e presenza di tre bagni.
Sul lato negativo, una stanza e un bagno non hanno finestre

Jutta

▼




June 2018

Perfekter Ausgangspunkt für Städte-Trip nach Madrid.
Super Lage direkt am Palast . Altstadt und Shopping Centrum fußläufig. Prado etc über U-Bahn gut zu erreichen. Ausstattung für 5 Erwachsene mit 3 Bädern incl Toiletten ideal. Schlafzimmer nach hinten raus ruhig. Sehr geräumiges Wohn- und Esszimmer zur Straße gelegen mit Blick auf Palast und Palastgarten. Alles liebevoll eingerichtet.
Größe des Wohn-Essbereichs sehr gut, Schlafzimmer etwas wenig Stellfläche, dafür aber großzügige Einbauschränke.

David

▼




June 2018

The only good is his location.
It is super noisy.. very small bathroom and very small rooms , only the living room was nice ... no view on the sleeping rooms , windows that do not close .. so prepare yourself not to sleep.. constant noise. NOT worth the money

Stegmeier

▼




February 2018

Vistas preciosas desde la sala, con una puesta del sol espectacular . Un poco molesta las obras en el inmueble.

Amanda Rivera

▼




November 2017

Mis amigas y yo nos encanto el departamento. Beatriz estuvo en contacto con nosotras y estuvo esperándonos el día que llegamos de Londres. El apartamento esta muy bien ubicada (al lado del Palacio Real y los jardines), muy amplio y precioso. Ojalá pronto podemos regresar.

Justine

▼




July 2017

The apartment has a beautiful view of the Royal Palace and its gardens as well as pretty sunsets. It had plenty of space for our family of four--my children each had their own room. There is a nice restaurant very close by as well as a little market and ice cream store next door. We loved our stay!

Anni

▼




October 2016

El lugar del apartamento y la vista al palacio es fantastico. Nos hemos sentido muy bien, como el apartamiento es limpio, comodo y todo
es muy bien organizado.

Zoriana Mangione

▼




September 2016

The apartment was exceptional! The location, comfort, conveniences and privacy were fantastic! Will definitely stay there again!

David McGlynn

▼




September 2016

We spent three weeks in Spain and Portugal in August of 2016 and the Apartment Palacio was, by far, the best place we stayed. It´s open, airy, with fantastic amenities, and a world-class view. Our photographs from the terrace look like postcards! The rooms are well appointed and the staff was incredibly helpful and friendly. It´s a wonderful apartment in every way.

Pernille Nielsen

▼




July 2016

Everything about the apartment was quality. Next time we are going to Madrid, we are sure to rent this apartment again.

Beatriz La Rosa

▼




May 2016

Ignacio Bonnet, the agent I dealt with, was extremely helpful. He received us at the apartment upon our arrival and showed us much courtesy. He also helped us with obtaining transportation to the Atocha station. I highly recommend the agency. The property was spotless.

John Hyde

▼




May 2016

Excellent apartment with great location overlooking Palacio Real gardens. Accommodation of great quality and comfort. Very clean and easy to manage. Welcome from agency staff very good and great organizing of transport to and from airport. Ideal for families and groups of friends.

Ann Kauffmann

▼




April 2016

Fabulous apartment!! Location was suberb!!
The apartment was lovely in every detail -- great decorating!

Ryan Zaki

▼




March 2016

Great Apartment & Location.

Very practical for a family trip.

ANACAR SENOSIAIN

▼




November 2015

Las vistas son fabulosas, el piso fantástico y está en una de las mejores zonas de Madrid, cerca de los edificios más emblemáticos y muy bien comunicado.

Esther Vázquez

▼




November 2015

Ubicación perfecta, apartamento ideal para grupos grandes porque tiene tres baños y un salón amplísimo. Todos coincidimos en destacar la comodidad de las camas. Las habitaciones no son muy grandes, pero en general es un apartamento excelente.

Vaish Jiménez

▼




October 2015

We visited Madrid on the week of Sept 26 to Oct 4th. and stayed at Apartment Palacio. The apartment is perfectly located, walking distance to the Opera metro station, and plenty of places, such as Palacio Real, Plaza España, Puerta del Sol, Plaza Mayor, Mercado San Miguel, etc. The apartment is confortable, with a beautiful view of Palacio Real, like in the pictures. It has plenty of space, and worked perfectly for us (6 adults). The bedrooms are not big, but have good closet space to put your things out of the way. The beds are comfortable, the towels and linens are good, there is all you need to prepare some food, if you feel like. We received great service from genteel-home. Consider this is an old building, and as such, to get to the apartment, there are some steps you will have to climb or go down, as the elevator does not leave you in the floor of the apartment. One of the bathrooms had a smell, that we need to let the water run to get it away, but it was reported, so, probably it will be taken care of. Overall, feel comfortable to rent and stay at this place!. We had a great time, and were blessed with great weather!

Valérie

▼




August 2015

Appartement très beau et bien placé. Conforme aux photos et à la description. Nous avons eu un problème de lave vaisselle et l´agence a pris en compte immédiatement le problème. Nous avons passé une agréable semaine. Toutes les chambres donnent sur une cour et sont donc très calmes. La vue du séjour est très dégagée. N´hésitez pas un instant.

Leo Baron

▼




August 2015

Great location with view to the Palacio Real and Gardens and very close to 2 Metro stations. We walked everywhere from the apt. The bedrooms are not air-conditioned however opening the windows at night let a strong pleasant cool breeze even in the middle of august.

José Carlos Martín

▼




June 2015

Todo un 10.
Trato, calidad,...
Perfecto!

Lourdes


May 2015

Una preciosidad de apartamento. La sensación de alojarse en todo un piso señorial de Madrid: todo un lujo

GILLES


February 2015

Très bel appartement à la situation idéale.
Le métro est à 10mn
Les chambres sont très calmes.
Tout était parfait, il manquait juste un tire bouchon pour déguster un Rioja, une sympathique voisine nous en a prêté un.

Mr Bennis


February 2015

appartement bien placé, vue magnifique sur le palacio, literie confortable, appartement bien équipé , trés propres.

Breda Lally


February 2015

What a wonderful apartment. My two sons and I spend a marvellous few days in Madrid beginning of February 2015 and I must say it was this apartment that really was the cherry on the cake. Madrid is a beautiful city but the location of this accommodation is perfect. 5 min walk to bus and Metro. Great restaurants, supermarkets and the Palace just a few minutes away. Also The Temple of Debod the only Egyptian temple outside Egypt is a short walk away. The Opera , Cafe Central for flamenco and others. Museums Prado etc a 30 min walk or a few mins by Metro. The apartment is beautifully furnished and bedrooms have own bathrooms and equipped with lovely bed linen for a great nights sleep and
towels. Very quiet no sounds . Thank you Ignacio for a great stay.

Maria


January 2015

The apartment far exceeded our expectations. The location was perfect - right in front of the Sabatini gardens and the Royal Palace. The apartment was absolutely beautiful; with nice furniture and recently renovated. It was also fairly big with decent size rooms (large closets), three full bathrooms and a very large living room (with spectacular views). It was also fully equipped and had a fairly spacious kitchen. I highly recommend it.

Harry ter Heide


November 2014

We spend a nice week in this apartment. The people of Genteel were very helpfull and friendly. The apartment is spacious and we had room enough for our group of 4. The apartment has 3 quiet bedrooms and 3 well equipped bathrooms, one with a bath. The view from the livingroom is unique. The aera is perfect . From here you can visit all the important sites, museums and shops. Also nice restaurants and opera nearby. The metrostatin Opera is only a few minutes walk. If we visit Madrid again we sure would like to stay here again.

Anna L. Mason


October 2014

The apartment is absolutely terrific! All high quality furniture, comfortable beds and the views of the Royal Palace from the living room were just amazing.
The agency was so helpful and the girls who received us were really kind and helpful. Thank you for everything, we enjoyed our stay so much we cannot wait to come back.

Iztiar


October 2014

Nos hemos alojado, 5 personas durante un fin de semana en este apartamento y ha sido una muy grata experiencia. La ubicación es muy buena, tal y como se ve en la foto esta en frente del palacio, y tiene dos parking muy cerca. El apartamento esta en muy buen estado según se ve en las fotos y el salón es enorme y con unas espectaculares vistas.

El trato por parte de la agencia tanto a la llegada como a la salida impecable. Un lugar totalmente recomendable.

The different payment methods Genteel-Home offers for booking and renting apartments are exposed above.