Characteristics

▪ 4 maximum of guests
▪ 50 sq meters area
▪ 1 Bedroom
▪ 1 Bathroom
▪ 4 floor
▪ Elevator
▪ Air conditioning
▪ Heating
▪ Internet


Cava Baja Apartment in Madrid

Beautiful and new apartment just in the city centre of Madrid, one of the most famous street in the city, Cava Baja.

It's a completely renovated apartment in October 2016. Everything is brand new: bathroom, kitchen, furnishings, etc. It composed of a bedroom, a complete independent bathroom, a beautiful living room with kitchen incorporated and a double sofa bed to give the apartment capacity for one more adults o two children.

The apartment is completely exterior and disposes of many natural light in all rooms.

Cava Baja street is one of the most famous streets in Madrid. It's located just in the city centre and in its surroundings there are many of the most famous restaurants in Madrid like La Posada de La Villa, an old 1642 inn, Las Cuevas de Luis Candelas -world-renowned-, La Taberna del Capitán Alatriste or "Casa Lucio", placed just down the apartment and known for its "broken eggs". The area is as well completely safe and is just a step from everything: Puerta del Sol, Plaza Mayor, etc.

Living room
Bedroom 1
Bathroom 1

▪

Sofa bed


▪

TV


▪

Double bed


▪

Wardrobe


▪

Bed linens and towels


▪

Shower


▪

W.C

Kitchen

▪

Fridge


▪

Vitroceramic hob


▪

Microwave


▪

Coffee Maker


▪

Washing machine


▪

Dish washer


▪

Toaster


▪

Juicer


▪

Flat iron and ironing board

Sol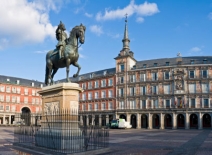 Renting an apartment in the
Sol district
is the same that spending a holiday in the heart of Madrid. This area is located between Gran Vía and Puerta del Sol, and is one of the most popular neighborhoods of the Spanish capital either for tourism or business. Find out everything you'll be able to do if you rent your apartment in the Sol area in Madrid!
Get into the History of Madrid
Sol quarter is the place that keeps the history of the city
. The famous Puerta del Sol is located in the
'zero kilometer'
from where all Spanish roads are born. Here is one of the most iconic buildings in the country: the 'Casa de Correos', and the famous monument
'El Oso y El Madroño
representing the Big Dipper.
In the Sol area there's also the
Plaza Mayor
, where you'll find 'La Casa de La Carnicería y Panadería', and many traditional bars where taste the best stew of Madrid, tripe and tapas.
Sol quarter: perfect for shopping and leisure
In its traditional picturesque streets has grown an important
commercial pole of the city
. In addition to the bars, restaurants and most exclusive accommodations, highlight the fashion and accessories shops of the trendiest designers of Madrid and the most famous Prêt-à-porter international stores.
On the other side,
Sol district also has great suggestions for leisure and nightlife
, with some of the best locals to go out as a couple or with friends.
Another areas in Madrid
Barrio de Sol
Barrio de Chamberí
Barrio de Malasaña
Barrio de Las Cortes
Barrio de Chueca
Barrio de Cuzco
Barrio de Embajadores
Barrio de Palacio
Barrio de Salamanca
Availability
Request more information
We are interested on your opinion

Tell us about your experience

We only accept reviews from real guests who have stayed in this apartment, so it must be indicated the e-mail which with you made ​​the booking.

Apartment Cava Baja in Madrid

Reviews

Average rating from

18

Reviews:

Anónimo

▼




December 2018

Location is perfect, walking distance to everything. Appartement is clean, modern, has everything you need and more.

동원 김

▼




November 2018

도착전에. 연 락은. 꼭 해야

Martina

▼




November 2018

Appartement mitten im Ausgehviertel
Super zentrale Lage in Wohnhaus mit Spaniern, ringsum viele tolle Kneipen und Restaurants, hell und modern eingerichtet, persönlicher Empfang, gutes WLAN, prima für zwei, etwas eng für vier Leute
Laut, da direkt an der Ausgehmeile Cava Baja, wo die ganze Nacht und jede Nacht eine Menge los ist. War im November kein Problem, weil man mit geschlossenen Fenstern schlafen kann, aber im Sommer... Ausziehcouch (ziemlich kurz und eng für zwei Leute) im Wohnzimmer war nicht hergerichtet, schmale Bettdecke für zwei, aber auf Nachfrage wurde noch eine zweite gebracht. Bad ziemlich klein, wenig Ablagefläche. Hätte insgesamt sauberer sein können, war aber okay.

Anónimo

▼




November 2018

El apartamento está bien ubicado.
Personal inexperto, decoración pobre, no revisado, suelo muy sucio, estresante, varios cosas rotas, si te dichas inundas el apartamento. Es caro, siempre me había hospedado en hoteles, primera experiencia en alquiler en apartamento vacacional....definitivamente vuelvo a los hoteles

---

Genteel-Home

Estimado cliente, en primer lugar lamentamos que haya firmado su comentario como "anónimo" y no nos facilitara los datos necesarios para comprobar su reserva y ver qué ha podido ocurrir en su caso llegar a tal insatisfacción y cómo podríamos haberle ayudado o haber solucionado los problemas que detectara. No entendemos la mayoría de las quejas que menciona. Nuestro personal es profesional y llevamos muchos años trabajando en el sector de los apartamentos turísticos, esforzándonos en satisfacer a nuestros clientes y darles el servicio que esperan, pero no sabemos qué ocurrió en su caso para tener dicha opinión. Respecto a la limpieza, es un aspecto que cuidamos mucho y tratamos que siempre nuestros apartamentos estén impolutos a la llegada de nuestros huéspedes, por lo que nos extraña mucho que el suelo estuviera muy sucio y no nos lo hiciera saber durante su estancia, al igual que con los desperfectos que comenta, de los cuales no nos ha comunicado nada ni usted durante su estancia ni los huéspedes posteriores que se han alojado, los cuales no han tenido problema alguno con la ducha. En cualquier caso, revisaremos con detalle todo el apartamento para solucionar cualquier problema que hubiere en el mismo. Nos alegra saber que, al menos, la ubicación fue de su agrado. Saludos

Luz Marina

▼




November 2018

Muy agradable. Perfecta ubicación.
La ropa del sofá cama no era la adecuada, muy incomodo organizarlo

Viviana

▼




November 2018

Muy cálido cómodo y muy bien ubicado.Muy amables en la recepcion

Morten

▼




October 2018

Utrolig fin belligenhet. Umulig å få det mer sentralt. Fantastisk med franske balkongdører i alle retninger. Lyst og lekkert. Anbefales på det varmeste. Vi kommer veldig gjerne tilbake. Vi vil ikke vurdere andre steder i Madrid.

Edward

▼




October 2018

A fun and delightful experience! Location was perfect, near all the best tapas restaurants and activities, walkable distance to the palace and the Prado. Very airy apartment. Landlord very gracious. Apt in a secure building. Found the furniture a little fragile in the apartment. Ok for us but if you were big people the chairs and couch would not have held up. The apartment was well stocked with everything else you needed.

Petra Bakica

▼




October 2018

I will reccomend this apartment to everyone who are visiting Madrid. Location is great, maybe 1 minute to Plaza Mayor. Street is full with Caffè and restauran. There is also supermarket near the corner. During the night it is calm and you can sleepe normaly. Apartment is new, clean and has all equipment you need. I am so ih love with this apartment.

Vladimir

▼




September 2018

Perfecto
Apartamento en el corazón de Madrid. La vista panorámica desde las ventanas (con pequeños balcones) le permite sentarse por la noche en el balcón con una copa de vino y observar la vida hirviente de Madrid. En general, nos gustó. No hubo sorpresas desagradables. Resultó que el apartamento estaba exactamente igual lo que en las fotos en website.
El sofá y las sillas son un poco incómodos.

Anónimo

▼




September 2018

Excellent. La situation géographique etait vraiment extraordinaire, je recommande franchement

Anónimo

▼




August 2018

Excellent. La situation géographique etait vraiment extraordinaire, je recommande franchement

Reesa

▼




July 2018

Amazing location, right within walking distance of a lot of the tourist attractions. The check-in and out was super smooth and the host was willing to meet me earlier so I wouldn't have to carry my luggage around. The view from the balconies were stunning. The apartment was well decorated and clean. I would highly recommend staying here.

Efrén

▼




June 2018

Very nice location, clean and modern apartment. I would definitely repeat

Ricardo

▼




October 2017

This is a really cute small one bedroom apartment right in the heart of the city. The property itself has been remodeled professionally, all spaces utilized in a clever way to be able to fit every single amenity imaginable. From 2 AC splits to washer/dryer, dual function oven, dishwasher and heaters.... you name it, the apartment has it. The corner unit offers abundant light and charming views, all sound proof windows open as a small balcony. The place is in a fantastic location, guests can walk to every single point of interest, Plaza Mayor, Mercado de San Miguel, Plaza Santa Ana, Sol, Gran Via... restaurants like Casa Lucio or Posada del Leon de Oro are basically downstairs and there is no bad place to eat in Cava Baja. Genteel Home reps were efficient and friendly, I was warmly greeted by Marilina, very sweet and welcoming -very important- super punctual. Beatriz maintained communication over email in a warm efficient manner. We loved the "core " of the product, and what Genteel Home has to offer. I must address some issues we did not love as much, I hope the feedback is of used for improvement.
As the apartment is not furnished with high quality furnishings -which is to be expected in short term rentals- periodic inspections are needed.
Wear and tear is showing and replacement of smaller items is needed.
All in all a great place to stay in a great location that I do recommend for couples on short stays provided some minor issues are addressed.

Shoushig Galian

▼




August 2017

My husband and I loved our apartment we arrived in Madrid and enjoyed staying in our apartment I have several health issues the apartment catered to all my needs it was in a beautiful area of Old Madrid made it accessible to see Plaza Payor Mercado St Miguel And Plaza Del Soli reccomendation this apartment with elevator service and the right amount of amenities it was perfect Thank You

Pascal

▼




February 2017

Très bel appartement en phase avec les photos du site, lumineux et confortable . Il est vraiment idéalement placé dans le centre ville mais Le seul point négatif : il est très loin d´être silencieux comme l´annonce le site, prévoir des "boules quies"pour ceux qui ont un sommeil léger. On y reviendra quand même avec plaisir.

---

Genteel-Home

Bonjour M. Merci beaucoup pour votre commentaire possitive. Nous sommes ravies que vous avez eu un bon séjour à l´appartement Cava Baja. L´appartement se trouve au quatrième étage et il est isolée acoustiquement. Il n´y a pas des discothèques ou bars à cocktails dans le sous-sol de l´immeuble, nous avons donc jamais reçu de plaintes de bruit. Par contre, j´ai vu qu´il y avait des travaux au route et il est possible que le bruit de ces travaux donnet plus des problèmes. Par contre, les travaux sont maintenant finís. Mes excuses pour les derangements. Bien sur, vos commentaires nous aident beaucoup à ameliorer, et nous serons ravies de vous loger la prochauin fois que vous visitez Madrid. Merci et à bientôt!

Hoke Thomas

▼




October 2016

A wonderful place in La Latina...only a couple of blocks from the Metro, and overlooking the main intersection at the location of "The Cross". Excellent accommodations. Double bed and sofa bed provided great sleeping space. The unit was new (we were the first occupants I think!) and offered a great access to the area. Many excellent restaurants for every taste and budget are within site of any of the four balconies. Definitely a place to enjoy days in Madrid.

The different payment methods Genteel-Home offers for booking and renting apartments are exposed above.