Seville travel guide: Santa Cruz quarter
11 septiembre, 2014
When you intend to visit Santa Cruz quarter during your visit to Seville you do it because you know that it is there where you will find the Giralda tower. The Giralda and the Cathedral, two birds with one stone. However, you will soon realize that there is much more than that, within the streets and the squares of the city, which leads you into the very heart of Seville and its history, and it makes you breeze its most pure essence.
Discovering Santa Cruz is to contemplate the Cathedral, but it is also to feel the freshness from the walls inside, to get surprised when running across a crocodile sculpture when we go through the courtyard of the Patio de los Naranjos, or maybe to imagine the sound of the hoofs from the horses from an old time bringing the riders up to the top of the Giralda through the ramps which form the structure of this tower.
Discovering Santa Cruz is to smell the iron from the chains which join the columns surrounding the Cathedral, and then feeling on the air at the Plaza del Triunfo the sound of a hidden guitar of a nameless artist who choose the most suitable place with the perfect acoustic for giving his music without the need to use a speaker.
Discovering Santa Cruz is to turn your back to the Giralda leaving the horse-drawn carriages and walking up through the street Mateos Gago just to enjoy a little cup of sweet wine in one of the multiple restaurants outside on the street.
Discovering Santa Cruz is to find the little hidden places: the Plaza de Santa Marta, the Plaza de Santa Cruz, the courtyards inside the halls full of plants and flowers. Many little oasis of silence, freshness, simplicity and shadow in the middle of tourists and activity.
Discovering Santa Cruz is to touch the white and fresh walls at the Judería quarter, feeling the paving under your feets , kissing on the passage called 'callejón del Agua' (as it is thought to bring good luck).
Discovering Santa Cruz is to get lost through the gardens at the Alcázar, to feel the History within its walls and filling your eyes with the beauty and inmensity of this palace. And then coming out to the Patio de Banderas to see again the Giralda throw the entry arch of this patio.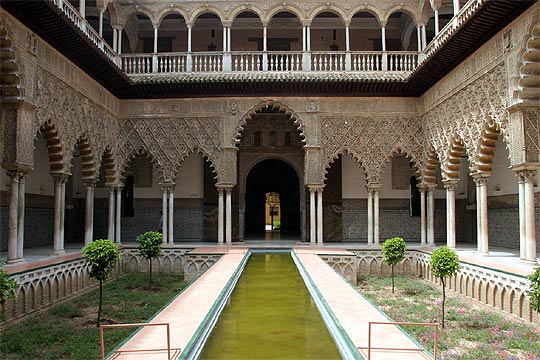 Discovering Santa Cruz is to smell the incense when walking by the streets seeing the traditional products -in some of the shops in the narrow streets leading into the church of El Salvador.
It is necessary to live and discover the heart of any place on its very essence. It is worthwhile to enjoy a stay in Seville in this environment. Genteel Home brings to you the best apartments and fantastic penthouses with an excellent location, comfort, elegance, light and great views. Come to discover Santa Cruz with Genteel Home.