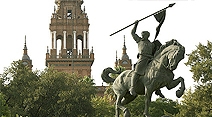 El Prado de San Sebastián is a privileged area of ​​Seville, whose main protagonist is Plaza de España, designed by the architect Anibal González, one of the main and most acclaimed monuments of the city. Built for the 1929 exhibition, it is visited daily by dozens of locals and tourists, to walk among its arches and to enjoy the colors drawn by the water from its fountain. Known worldwide for serving as scenario in films like Star Wars and Lawrence of Arabia, it attracts attention for its oval shape, simulating the form of an embrace, since its architect intended for visitors to always feel welcome for it.
It is in front of Plaza de España, serving as an anteroom, where is located Maria Luisa Park, one of the main green lungs of the city, and without a doubt the most beautiful one. Initially part of the private gardens of San Telmo Palace, they were donated to the city by the Infanta Maria Luisa. Among its many charms, fountains, statues and roundabouts, stand out Plaza de América, enclave of the Royal Pavilion, the Museum of Popular Arts and Customs and the Archaeological Museum. The three buildings were built by Anibal González for the Ibero-American exhibition of 1929, and since then they became an indispensable part of the city.
El Prado de San Sebastián is an essential area in the communications system of the city. Here it is located the Prado bus station and San Bernardo train station, place of arrival of many of the tourists who come daily to enjoy Seville. The majority of local buses also run through here, allowing sevillians and visitors to reach almost any place in the city. Finally, there is also the tram, to reach the city center in a few minutes.