Characteristics

▪ 4 maximum of guests
▪ 80 sq meters area
▪ 2 Bedrooms
▪ 2 Bathrooms
▪ 1 floor
▪ Agreement with a public parking nearby
▪ Elevator
▪ Air conditioning
▪ Heating
▪ Internet


Vinuesa I Apartment in Seville

VFT/SE/00525

Vinuesa is an interior apartment with high quality furnishings and simple decor is a mixture of traditional and modern, making this apartment a cozy place to enjoy a wonderful stay.
The lounge is very spacious and has a dining area and a sofa bed, which increases the capacity of the apartment five people. Each bedroom has two single beds and the kitchen is fully equipped with all the necessary utensils. The bathrooms are modern and practical, both with showers.
The location of this apartment is a luxury. Just a step, almost literally, is the Cathedral and a few metres away is the beautiful Royal Alcazar and the Archive of Indies, must visit places. The neighborhood of El Arenal is a lively district, so close to the commercial and tourist area that you'll be able to know Seville without a car or public transport. the best way to see the city is strolling through the streets and the most emblematic of the old Jewish quarter of the neighboring district of Santa Cruz, also located just minutes from the apartment.
Surely, Vinuesa I is a sure hit in respect of quality apartments.

Living room
Bedroom 1
Bedroom 2

▪

Sofa


▪

Plasma TV


▪

2 single beds


▪

Wardrobe


▪

Bed linens and towels


▪

2 single beds


▪

Wardrobe


▪

Bed linens and towels

Kitchen
Bathroom 1
Bathroom 2

▪

Flat iron and ironing board


▪

Toaster


▪

Coffee Maker


▪

Washing machine


▪

Dish washer


▪

Microwave


▪

Refrigerator and freezer


▪

Vitroceramic hob


▪

Juicer


▪

Shower


▪

Hair dryer


▪

W.C


▪

Shower


▪

W.C

El Arenal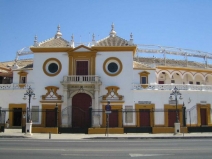 Located in the city centre and, at the same time, on the banks of Guadalquivir River, El Arenal quarter is one of the quarters of Seville with more Andalusian tradition. Since it can be found in the old part of the city, it has witnessed first-hand many events in Seville history, because of having had one of the most important ports in the world during the 16th and 17th centuries, thanks to the discovery of America and the resulting trade with India.
El Arenal is, without a doubt, one of the most traditional and characteristic quarters in Seville. Furthermore, it is nowadays a busy and meeting place for people from Seville, since it is the quarter par excellence devoted to bullfighting, religious devotion, religious brotherhoods and Semana Santa (Holy Week) and these constitute the most significant features of this place.
This zone is home to such symbolic buildings as the La Maestranza bullring, the Torre del Oro tower, the Arenal market, the Torre de la Plata tower and the La Maestranza theatre. In this zone you can enjoy leisure activities, mostly all the ones regarding the world of the Spanish bullfighting, opera, theatre and religious brotherhoods.
While walking around this quarter, tourist can take the opportunity to get to know better part of the history of our city by visiting other places of touristic interest, namely La Hermandad de la Santa Caridad church or the Atarazanas (medieval shipyard). Finally, thanks to its central location, you will be able to find within a very short walking distance the Cathedral and the Giralda tower, must-see places if you come to spend a few days in Seville.
Availability
Apartment special conditions

- To formalise the booking is necessary the payment of the 30% of the total that has to be paid by credit card.

- The balance due will be charged from your credit card minimum fifteen days upon arrival.

- The damage deposit will be retained from a valid credit card whose details will have to be provided to the person who'll receive you.

- Check-in and Check-out time: in principle the check-in is from 15h and the check out until 11h. Time flexibility adjusts to availability.

* The Check –in team will charge a supplement of 30€ for entries after 21h and 50€ for entries after 24h.
Request more information
We are interested on your opinion

Tell us about your experience

We only accept reviews from real guests who have stayed in this apartment, so it must be indicated the e-mail which with you made ​​the booking.

Apartment Vinuesa I in Seville

Reviews

Average rating from

35

Reviews:

Viacheslav

▼




January 2019

В Центре Сивилии
Очень удачное местоположение. В шаговой доступности (от 5 до 15 мин) все достопримечательности (стадион корриды, музей фламенко, площадь Испании, до собора вообще 3 мин пешком). За углом магазинчик carrefour, здесь же ресторанчики и пр. Апартаменты простые но довольно комфортные. Кухонных принадлежностей не хватило (мы встречали здесь Новый год :) - нам принесли дополнительно все что мы попросили :) Есть договоренность с парковкой что в 10 мин ходьбы, что не часто найдёшь в центре.
Ближайшая Парковка находится в 10 мин ходьбы, и подъехать на машине можно к апартаментам не всегда, перекрывают в праздники да и обычным вечером доехать тоже непросто

Victoria

▼




December 2018

Excelente ubicación y bien provisto de todo lo necesario. Bien amueblado y amplío.
Los colchones y almohadas muy duros incómodos, no se corresponden con la categoría que publicitan de apartamento de lujo. En otros apartamentos a partir de la tercera noche hacen una limpieza gratuita. Creo que el precio lo merece.

---

Genteel-Home

Estimada Victoria, gracias por su comentario. Nos alegra saber que la céntrica ubicación a pocos metros de la catedral fue de su agrado, al igual que su completo equipamiento y su decoración y amplitud. Respecto a la dureza de los colchones y almohadas, es un tema que es muy subjetivo, ya que lo que a muchos clientes puede parecerles comodísimo, a usted no se lo pareció. Son colchones y almohadas nuevas y en buen estado y no entendemos a qué se refiere con que "su dureza" no se corresponde con la categoría que publicitamos de apartamento de lujo. Por otro lado, sobre la limpieza no sabemos qué ofrecen otros apartamentos. Nosotros no ofrecemos servicios propios de hoteles (salvo que se contraten aparte) y el suplemento de limpieza que se paga corresponde al coste de limpieza final. Esperamos que a pesar de estos aspectos haya podido disfrutar de su estancia en Sevilla. Saludos

Jose Luis

▼




December 2018

Estupendo fin de semana. Situación y limpieza

Philippe

▼




November 2018

Très bonne situation géographique
Pas très bien isolé on entendait le bébé des voisins pleurer la nuit.

Margit

▼




November 2018

Sevilla isr eine Reise wert!!!
Die Lage ist sehr gut (mitten in der Altstadt und doch sehr ruhig). Die Raumaufteilung ist prima. Gemütlich und modern eingerichtet.
Leider gab es keine Terrasse :-(

Linda Prentice

▼




September 2018

It was a well appointed apartment with everything we needed. It was spacious and in a great position. Plenty of sights and restaurants around the apartment

María Mirta

▼




September 2018

Altamente recomendable!

Oussama

▼




September 2018

Emplacement / propreté / meme le café disponible .
check out à 11h pile ( femme de menage est arrivée à 10h55 ) . 2 ieme chambre à 2 matelas pas du tout confortables notamment si Adulte doit y passer la nuit .

Morgane

▼




August 2018

Agréable séjour en plein coeur de Séville
Appartement situé en centre ville, à côté de la cathédrale et de l´Alcazar Appartement spacieux, confortable et paisible Patio très joli et agréable Idéal pour un court séjour à Séville car tout peut se faire à pied
Parking à 15€/jour, mais il est impossible de se garer gratuitement en centre ville

sammifeng

▼




August 2018

公寓在一个有天井的四层小院儿里,虽然只有四层楼,但配得有电梯。塞维利亚古城的中心位置…闹中取静,干净整洁,位置相当便捷。到达时是一位美女亲自来送的钥匙,虽然让我们等了一会儿,但美女很热情的为我们介绍了房间的设施、周边的便利店和景点。很满意的一次住宿体验。

Samia

▼




July 2018

Bon emplacement et propreté.

Taegdong

▼




July 2018

Está limpio.
Está justo detrás de la catedral, por lo que puedes caminar fácilmente a cualquier lugar. Apartamento bien administrado, limpio y ordenado.

Benjamin Eastwood

▼




November 2017

We really enjoy the apartment and the location was stellar. Very satisfied with everything.

LUIS PONS ROMERO

▼




October 2017

ESTUPENDO, MUY RECOMENDABLE

Mircea

▼




February 2017

Very nicely furnished and equipped apartment, great customer support, many useful locations on the same street or nearby. Most Seville attractions reachable on an easy walk.
Thank you Genteel Home team!

FLORENCE

▼




November 2016

Appartement très bien situé (à deux pas de la cathédrale et de l´Alcazar). Sans surprise il correspond parfaitement à la description. L´équipe de Genteel est très agréable et disponible. Nous avons pu organiser notre transfert depuis l´aéroport ce qui est bien appréciable.

Carol Bader

▼




September 2016

Our Sevilla vacation rental happily exceeded our expectations. Well appointed and located in a prime location one block from the cathedral, the evening paseo (and Starbucks!), we felt immediately at home. The apartment looks like it does online, and was clean and very quiet. Our excellent driver Mariano and the management were welcoming and accommodating. It was just perfect for 4 adults in a magical city.

Jaime

▼




June 2016

100% recomebable, tanto por ubicación, confort e instalacioanes.
Las fotos son tal como muestra la página. Incluso estando en el mismo centro de Sevilla, la calidad del sueño fue inmejorable, facilitado por dar las ventanas hacia el patio interior.
La gente de la organizadión, puntual y atendiendo a nuestros comentarios.

Blanca

▼




March 2016

Precioso apartamento, con una ubicación excelente, muy céntrico.
Limpieza perfecta.
Rebeca, la txikita que nos recibió, encantadora.
Para recomendar con total confianza.
Muchas gracias por todo.
Estancia perfecta.

sophie SABATHIER

▼




January 2016

appartement conforme à sa présentation.

très propre et bien situé

Personnel agréable

Teresa

▼




November 2015

Ubicación perfecta, el apartamento estupendo y la atención del personal inmejorable.

Verity Holland

▼




October 2015

We really enjoyed our stay at Apartment Vinuesa. It is in a great location, walking distance to all the sights and lots of nice restaurants. There were 4 in our party and we felt there wad plenty of space in the apartment. We would recommend to others travelling to Seville.

Giorgio Liberatore

▼




October 2015

Muy buena ubication

William Cool

▼




October 2015

Very positive, the location was wonderful. The apartment was very nice and as advertised. We were very satisfied.

Diane

▼




June 2015

We were two mature women who spent the second week of May 2015 in this elegant,quiet,well equipped apartment.Perfect location ,doesn´t get any better.We walked everywhere.It was 41 C. Several days that week,but we were very comfortable .We got our groceries right across the street,and our favorite tapas place was also right across the street.We were vety impressed with the professional,friendly management team .

Peter Uria

▼




June 2015

We enjoyed our stay. There were 5 of us (3 adults and 2 children for these number of people it was a little small.

Katherine


May 2015

Vinuesa 1 Apartment in Seville was wonderful! Location perfect about 1-2 blocks from the Cathedral. Two bedroom, two bathroom which is hard to find. Quiet too considering it was in a busy part of town. The parking area (if you have a car) is a bit far, about half mile away. But once you are parked and have schlepped your suitcases to the apartment, it is smooth sailing! Highly recommended.

Rene


May 2015

Beautiful apartment located a few steps from the Cathedral and Alcazar. Plenty of space and modern conveniences, located in a beautiful building with an internal courtyard. A real home away from home with kitchen and laundry facilities. Wide selection of wonderful restaurants and tapas bars at the door step. The company arranged airport pick up and customer service by the whole team was friendly and very helpful. Highly recommended.

fulvia sangiorgi


April 2015

appartamento arredato con stile,spazioso e ideale per la mia famiglia composta da 5 adulti, posizione comodissima in quanto molto vicino alla cattedrale e a tutte le attrazioni della bellissima Siviglia. Consigliatissimo!!!

annie


January 2015

Appartement très agréable et idéalement placé (à côté de la cathédrale).
Il est très confortable, calme et très bien équipé, il est identique aux photos (un peu moins lumineux que sur les photos).
Nous reviendrons dans cet appartement, c´est certain.
Merci Maria pour votre gentillesse et votre disponibilité.

belen larretxi lopez


December 2014

super bien situado, todo estupendo equipamiento, atencion, etc..

Judy


October 2014

We enjoyed our stay at the Vinuesa apartment. It was clean, comfortable, well equipped and very well located. Walking distance to the main sites. The building was very quiet. Marian, who checked us in, was lovely.

Sue Senior


October 2014

We stayed here for 3 nights with my elderly mother and the location was perfect, very close to the cathedral and many interesting sights. The apartment was comfortable, clean and tidy although the beds were a little firmer than we´re used to! We were greeted as we arrived by Maria who was very friendly and helpful. I can certainly recommend the apartment as a pleasant stay in central Seville. My only suggestion would be that some shampoo and conditioner in the bathrooms would have been a welcome addition.

Denis Boulanger


August 2014

Great apartment. Very quiet. Very well located. Near main attractions, market etc. Accessible by foot.
Some minor defaults: no oven, Hard to connect to wifi network, knives in kitchen need to be sharpened.
I would recomend it to anyone.

Caroline Scott


July 2014

Absolutely great! The apartment is right next to the Cathedral and the entire area is so beautiful, we loved the Arenal neighbourhood. The apartment was at the height of everything: beds, kitchen, bathrooms, etc.
The living room was very comfortable and spacious. We had a small problem with the gateway and it was solved instantly. Thank you guys for everything!

The different payment methods Genteel-Home offers for booking and renting apartments are exposed above.