Characteristics

▪ 6 maximum of guests
▪ 80 sq meters area
▪ 2 Bedrooms
▪ 1 Bathroom
▪ 3 floor
▪ Agreement with a public parking nearby
▪ Elevator
▪ Air conditioning
▪ Heating
▪ Internet
▪ Cot


Transport nearby

Taxi: Pza. Nueva, Calle Adriano, Calle Reyes Católicos, Paseo Colón.

Bus: EA airport, C4, C5, 3, 40, 41.

Metro: Puerta Jerez

Tram: T1

Velarde Apartment in Seville

VFT/SE/00340

Velarde apartment is located in an unbeatable place in the centre of Seville, just a few steps from the Maestranza bull ring, at the traditional neighborhood called Arenal. It is a nice, beautiful area, where you feel invited to walk through the streets with much light and tradition, and then having a break to taste some traditional products in one of the restaurants and terraces nearby. It is a privileged place as it is located a few metres away from the Cathedral and the Alcazar palace, and you can also enjoy a nice walk by the Guadalquivir river and admire the beautiful landscape of the city.

Regarding the characteristics of the apartment, it has two double bedrooms: the first one with a comfortable double bed and the second one with two single beds folded up into a truckle bed. It has one complete remodeled bathroom with a great shower. There is a spacious and bright living room with a little and sunny interior balcony, and furnished with a double sofa-bed. another comfortable sofa and a dining area. Finally, the kitcken is fully equipped with all the necessary appliances and utensils.

Velarde is an ideal apartment for enjoying a luxury stay with all the comfort in one of the best areas in the centre of Seville.

Bedroom 1
Bedroom 2
Bathroom 1

▪

Double bed


▪

Wardrobe


▪

Bed linens and towels


▪

2 single beds


▪

Wardrobe


▪

W.C


▪

Shower


▪

Washbasin

Living room
Kitchen

▪

Sofa


▪

Sofa bed


▪

TV


▪

Dining room


▪

Refrigerator and freezer


▪

Coffee Maker


▪

Kettle


▪

Oven


▪

Dish washer


▪

Toaster


▪

Vitroceramic hob


▪

Microwave


▪

Flat iron and ironing board


▪

Washing machine

El Arenal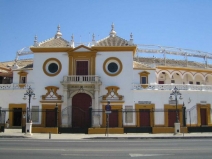 Located in the city centre and, at the same time, on the banks of Guadalquivir River, El Arenal quarter is one of the quarters of Seville with more Andalusian tradition. Since it can be found in the old part of the city, it has witnessed first-hand many events in Seville history, because of having had one of the most important ports in the world during the 16th and 17th centuries, thanks to the discovery of America and the resulting trade with India.
El Arenal is, without a doubt, one of the most traditional and characteristic quarters in Seville. Furthermore, it is nowadays a busy and meeting place for people from Seville, since it is the quarter par excellence devoted to bullfighting, religious devotion, religious brotherhoods and Semana Santa (Holy Week) and these constitute the most significant features of this place.
This zone is home to such symbolic buildings as the La Maestranza bullring, the Torre del Oro tower, the Arenal market, the Torre de la Plata tower and the La Maestranza theatre. In this zone you can enjoy leisure activities, mostly all the ones regarding the world of the Spanish bullfighting, opera, theatre and religious brotherhoods.
While walking around this quarter, tourist can take the opportunity to get to know better part of the history of our city by visiting other places of touristic interest, namely La Hermandad de la Santa Caridad church or the Atarazanas (medieval shipyard). Finally, thanks to its central location, you will be able to find within a very short walking distance the Cathedral and the Giralda tower, must-see places if you come to spend a few days in Seville.
Availability
Apartment special conditions

- To formalise the booking is necessary the payment of the 30% of the total that has to be paid by credit card.

- The balance due will be charged from your credit card minimum fifteen days upon arrival.

- The damage deposit will be retained from a valid credit card whose details will have to be provided to the person who'll receive you.

- Check-in and Check-out time: in principle the check-in is from 15h and the check out until 11h. Time flexibility adjusts to availability.

* The Check –in team will charge a supplement of 30€ for entries after 21h and 50€ for entries after 24h.
Request more information
We are interested on your opinion

Tell us about your experience

We only accept reviews from real guests who have stayed in this apartment, so it must be indicated the e-mail which with you made ​​the booking.

Apartment Velarde in Seville

Reviews

Average rating from

32

Reviews:

Edviges Aroreira

▼




January 2019

Beautiful apartment, great location, beds not that comfy
Leaving cakes, coffee and tea was a nice touch. The apartment is beautifully decorated and in a great location.
The beds weren´t comfortable at all. We thought there were two double rooms not one double and one twin. As the apartment was in a residential block, we couldn´t really complain when the builders started hammering next door at 8 am... One of the plugs came off its socket leaving the wires exposed...so the owner might want to check that out!

---

Genteel-Home

Dear Edviges, thank you for your comment. We are happy to know that you liked the apartment (although this is not appreciated in your ratings), especially for his central location and the comfort of the beds, as well as appreciate the small breakfast that we leave you on arrival.

Indeed, we do not understand your confusion regarding the type of beds, since this is clearly reflected in the characteristics of each one. In addition, when you confirmed your reservation we send you another email with additional information where a link appears where you can see photos and features only of the apartment you have booked. We understand that you have not read it. We are sorry that the noise of the neighbors could have bothered you, but we did not have proof that the neighbor was making renovations or any previous guest had informed us about it, so we assume that it has been something timely. Regards

Anónimo

▼




December 2018

Las fotos engañan mucho! Es mucho más pequeño de lo que parece

---

Genteel-Home

Estimado cliente, gracias por su comentario. Las fotos mostradas creemos que son muy fieles a la realidad, teniendo en cuenta que son un reportaje profesional de alta calidad, pero además se indica claramente los metros cuadrados de superficie que tiene el apartamento. En cualquier caso, esperamos que hayan podido disfrutar de su estancia en Sevilla. Saludos

Yaya Dominguez

▼




November 2018

Las instalaciones la ubicación

Yvelise

▼




September 2018

Bonne situation, appartement bien équipé, clim dans chaque chambre.
La literie des 2 lits jumeaux n'était pas top! Le balcon est vraiment petit! A peine pour fumer une cigarette, l'un après l'autre.

Arturo

▼




September 2018

Sevilla é maravilhosa, mas é preferível procurar outro alojamento.
Boa localização.O apartamento estava limpo.
A pessoa que nos veio entregar as chaves estava com pressa. As informações fornecidas foram escassas e algumas erradas(Era necessário pagar o parque de estacionamento a entrada e não fomos informados disto) Era difícil estacionar na rua para descarregar as malas e o parque ficava a cerca de 15 min. a pé. O banho era muito pequeno.

---

Genteel-Home

Caro Arturo, obrigado pelo seu comentário. Lamentamos a sua impressão sobre a sua experiência no nosso apartamento. Procuramos sempre receber nossos clientes com tranquilidade e gentileza, informando-os de tudo o que é necessário e solucionando todas as dúvidas que possam ter. Nós não sabemos se esse dia, devido a um evento específico, nosso parceiro estava com pressa do que o normal ou vários bilhetes foram acumulados ao mesmo tempo, mas em qualquer caso, vamos tomar medidas para resolver este problema e isso não acontecerá novamente. Dar um bom serviço aos nossos clientes é o nosso principal objetivo. Quanto ao pagamento do estacionamento, é verdade que normalmente o pagamento é feito após a partida, uma vez que eles confirmam o número de noites em que estiveram, mas sendo um estacionamento público fora de nós, não sabemos se esse dia mudou sua metodologia usual. Pedimos desculpas se isso causou algum inconveniente. Esperamos que, se regressar a Sevilha, fique num dos apartamentos Genteel Home e nos dê a oportunidade de melhorar a impressão que desta vez nos tiraram. Saudações

Patricia

▼




August 2018

a situation proche du centre ville, le calme de l´immeuble et un appartement plutôt agréable
l´accueil expéditif, appartement écrasant de chaleur à l´arrivée, une climatisation au fonctionnement eratique, pareil pour l´eau chaude, une terrasse qui est en fait un très petit balcon ce qui ne correspond pas au descriptif. équipement cuisine insuffisant, l´achat d´une cafetière électrique serait vraiment utile.

Hong Family

▼




August 2018

5분거리에 카르푸 익스프레스, 세비야대성당, 알카사르가 모두 있어서 걸어다니기 충분했어요. 투우장이 바로 옆에 위치해 있어요. 걸어서 1분 거리에 강이있어요. 스페인광장과 메트로폴 파라솔이 모두 걸어서 25분정도 걸려요. 구경하면서 오면 아이들과 함께 걸어올만 합니다. 어른3 아이3명이 함께 머물기에 딱 적당했어요. 2싱글베드, 1 더블베드, 1소파베드였어요. 세탁기 식기체척기 오븐 전기 레인지 모두 사용했는데 좋습니다.
30분전 10분전에 전화 통화 했는데도 열쇠 가지고 오시는 분이 늦게와서 기다려야했어요. 사전에 방 체크를 안하셨는지 바퀴 사체가 있었어요. 미리 에어컨 켜고 기다리면 좋을텐데 방이 시원해질때까지 오려걸렸어요(8월 폭염인지라) 그 이후엔 2박 잘 지냈습니다.

Junnior

▼




August 2018

Excelente Lugar muy bonito y comodo.
El lugar esta cerca de todos los puntos de interes.
No tiene parking cerca pero te reservan un puesto en un mercado relativamente cerca a unos 600 mts. pero afortunadamente consegui en frente y resolvi.

Cedric

▼




July 2018

Bel endroit pour séjourner et visiter le vieux Seville à pied...
La situation géographique, le calme de l´endroit, le balcon, la climatisation fonctionnelle, 2 chambres, la déco, le parking payant à 15 euros situé à 10 minutes à pied, la possibilité de se garer momentanément dans la rue de l´immeuble pour déposer les valises, la très bonne connection wifi, l'équipement de l´appartement, la literie qui est très bonne et c´est rare ! Photos conformes à la réalité.
L´appartement était propre mais le sol était simplement balayé, point de lavage, alors pour qui marche pied nu, c´est la plante des pieds noire en 2 minutes ! Et le chauffe eau qui ne fonctionnait pas toujours correctement, mais à part ca, super appart pour visiter Seville !

---

Genteel-Home

Cher Cedric, merci beaucoup pour vos commentaires. Nous sommes heureux de savoir que l´appartement a répondu à vos attentes et que vous avez passé un agréable séjour à Séville. Pour ce qui est de la propreté, nous verrons ce qui s´est passé, parce que c´est quelque chose que nous prenons très au sérieux et nous essayons toujours de garder nos appartements propres lorsque nos clients arrivent, en frottant le sol avec du détergent avant l´arrivée. Nous ne savons pas si, étant sans occuper les jours précédents, pourrait entrer de la poussière à travers une fenêtre. Nous nous excusons pour cela et nous prendrons les mesures nécessaires pour le résoudre et que cela ne se reproduira pas à l´avenir. Salutations

Yolanda

▼




June 2018

Lo mejor la Ubicación. Muy próximo a zona turística, a zonas de ocio y al barrio de Triana.
El segundo día no tuvimos conexión de wi-fi.

Camila Gubler

▼




June 2018

La ubicación, baño cómodo, con los implementos necesarios para una buena estancia. Todo muy correcto, la atención muy buena.
La puerta corredera del baño es que a veces se salía el agua de la ducha, pero en realidad es sólo por decir algo, porque muy bueno todo.

Liliana Wiedemann

▼




July 2017

Hola, si bien llegamos con algunas reservas respecto del personal y condiciones contractuales de Genteel Home, debo retractarme y decirles que fuimos muy bien recibidos, el departamento es tal cual lo muestran las fotografias y estaba limpio, la ropa blanca de buena calidad y el agente que nos recibió fue muy calida y nos informó de paseos y lugares para comer. Recomendable

Nemesio Vicuña

▼




June 2017

Nos agrado mucho el departamento, limpio y con buen gusto.

Maria

▼




June 2017

Óptimo apartamento y en condiziones estupendas

Peter Schumacher

▼




June 2017

It was a perfect stay in Sevilla.

Brigitte

▼




June 2017

Très bel appartement - très bien situé

BERNARDO

▼




May 2017

Superbe appartement, situé vraiment à côté de la plaza de toros et centre de Séville, pratique et facile d´accès, notamment pour la Feria. Très calme. Très bon accueil du personnel Genteel-Home. Nous le conseillons.

gerard VETTER

▼




February 2017

L´appartement TRES BIEN SITUE était conforme à l´annonce.Situé sur l´arrière du bâtiment côté cour, il était de ce fait moins lumineux que côté rue. Pour le nettoyage je ne peux porter d´appréciation, le nettoyage n´étant pas prévu pendant la durée de la location.De ce fait la moyenne de 6,75 n´est pas exacte, sans le nettoyage elle est de 9.

---

Genteel-Home

Merci beaucoup pour votre commentaire positive, M. Vetter. Nous sommes ravies que vous avez eu une bonne experience à l´appartement Velarde. C´est vrai qu´il donne sur l´interieur, mais il n´y a pas des murs ou des élements qui empeche la rentrée de lumière. Au contraire, il est assez lumineux. Le nettoyage etait fait à votre arrivée et il y avait une autre au moitié de séjour, mais comment vous avez parti, pas un umprevu, tôt, le ménage ne pouvais pas se faire. Nous serons ravies de vous loger dans le futur, vous êtes un client très gentil! Merci pour votre séjour, à bientôt

Lindsay Williams

▼




September 2016

The apartment is very comfortable with lovely bed and pillows. The Flat is well furnished with good quality appliances - everything worked well and we had no problems. The flat itself is on a quiet street with excellent location for the centre of Seville.
The overall decoration is very modern, clean and bright. I would highly recommend this accommodation.

Françoise LUNEL

▼




August 2016

A good place to stay in Sevilla.
Very good location.
Nice place. Well equiped.
Nice welcome by Genteel Home staff.
I recommend this place.

Nadia

▼




August 2016

Très bel appartement,très moderne , bien équipé et surtout très bien situé, on peut tout faire à pied.
un grand merci à Esther pour son accueil chaleureux.
L´agence est de toute confiance avec une très bonne communication avant notre arrivée, je n´hésiterai pas à louer chez eux pour d´autres visites en Espagne.
Nadia
Cannes . France

Isabelle

▼




April 2016

Une équipe adorable, prévenante et efficace !
Un appartement tel que décrit, très propre et au calme.
Merci beaucoup !!!

michael hurwitz

▼




January 2016

Very pleasant and well equipped apartment in a great location for exploring the old town as well as being near many good places to eat.

Carol B

▼




January 2016

We stayed in the Apartment Velarde for 4 weeks in Dec 2015. The check in/out were very well handled. The apartment was comfortable and quiet. The beds in both bedrooms were very comfortable, the shower was good with plenty of hot water and the heaters also worked well. The apartment was smaller than it looked in the pictures but the size wasn´t a problem for us. It looks onto a courtyard and has only small windows but it was still bright and in warmer weather this would help keep it cool. The kitchen was equipped with the basics for cooking. The location was great - easy walking to most of the sites and close to markets and restaurants. The restaurant recommends we were given were good.

Therese

▼




August 2015

Very nice and clean apartment perfectly located close to the Cathedral. Friendley, well informed, English speaking staff met up with us and gave us all the information we needed and answered all our questions. Well equipped kitchen, cool and nice despite the outdoor temperature of 38 C, wifi functions perfectly in every room. We, a family of 4, had a great 4 nights stay.

Phil Merkow

▼




July 2015

We loved our stay. Helpful staff. Excellent location. Would gladly return.

Louise


May 2015

Very well located. Clean, comfortable and quiet. They could have supplied a bar of soap for the shower. Would have no problem recommending this flat.

Stefano


May 2015

Buena posiciòn, lindo el piso, solamente un problema de limpieza resolvido ràpidamente...

jose maria


April 2015

Apartamento muy buen comunicado, limpio y en perfectas condiciiones

Peggy Linton


March 2015

It was a spacious, bright apartment with all that you could need or want for a pleasant stay. One suggestion would be to have a notebook with information of markets, restaurants, attractions near the apartment. We enjoyed our stay in your apartment and city!

Muriel


January 2015

Nous recommandons vivement l´agence et l´appartement qui nous a parfaitement convenu. L´appartement était très confortable, hyper bien équipé et nous avons été très satisfaits de la manière dont les responsables de l´agence ont répondu à nos demandes : disponibilité, fiabilité, flexibilité pour l´heure de départ ... Nous ne manquerons pas de passer par cette agence lors d´un prochain séjour en Espagne. Merci pour tout !

Gema Sánchez


December 2014

Muy bien equipado y cerca de todos los lugares de interés turístico

The different payment methods Genteel-Home offers for booking and renting apartments are exposed above.