Characteristics

▪ 3 maximum of guests
▪ 40 sq meters area
▪ 1 Bedroom
▪ 1 Bathroom
▪ 3 floor
▪ Private Terrace
▪ Agreement with a public parking nearby
▪ Elevator
▪ Air conditioning
▪ Heating
▪ Internet
▪ Cot


Transport nearby

Taxi: Calle Imagen (Pza. Encarnación), Calle Martín Villa, Calle Trajano, Pza. del Duque.

Bus: 10, 11, 12, 13, 14, 15, 16, 20, 24, 27, 32, C5.

Metro: Puerta de Jerez.

Tram: T1 Plaza Nueva.

Santa Marta Apartment in Seville

VFT/SE/01239

Santa Marta apartment is located in a lovely corner in Seville, in a passageway next to Santa Marta square. It is a lively, quiet and safe area where you can breathe the nice atmosphere while walking through the narrow streets or going to the wide variety of coffees and restaurants nearby. It is located a few metres away from the main shopping streets in the city, and two steps from the Encarnación square, where you will find the famous building Metrosol Parasol (better known as 'las setas').

The apartment is completely remodeled, decorated along an elegant, modern line putting much care into it. It has one bedroom with a comfortable double bed and a complete bathroom with a modern shower. In the living room there is a dining area, a great sofa and a beautiful vintage-style seat, but the thing that attracts more attention is undoubtedly the television, which has an illumination system on the background to allow a better view. The living room has a lovely balcony facing an internal area in the building, so that you can enjoy a quiet breakfast or any moment in the day with total peace. Finally, there is a moder and fully equipped kitchen connected to the living room.

The ideal apartment for couples who want to enjoy Seville from one of the most central and beautiful corners comfortably.

Living room
Bedroom 1
Bathroom 1

▪

Dining room


▪

Plasma TV


▪

Sofa bed


▪

Bed linens and towels


▪

Double bed


▪

Shower


▪

W.C

Kitchen

▪

Fridge


▪

Kettle


▪

Dish washer


▪

Washing machine


▪

Microwave


▪

Flat iron and ironing board


▪

Coffee Maker


▪

Juicer

Encarnación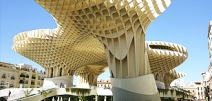 The centre of Seville is an outstanding place to stay in, not only because of how convenient it is, but because of its joyful and nice atmosphere that can be enjoyed at any time of the day. Furthermore, the wide offer of restaurants and pubs allows the tourist to taste our well-known tapas. The tapeo is a concept that everybody who comes to Seville should get used to with, and there is a wide variety of possibilities in the centre of this city so that you have the possibility to choose whatever suits you best.
The apartments located in this zone are very renowned and unique, since everything you may need, restaurants and pubs can be found there so that nothing stops you from finding the nature of the Andalusian lifestyle. Thanks to its location, this part of the city plays an important role during Semana Santa (Holy Week), since all the religious processions pass this zone because of it being one of the places included in the official itinerary. Furthermore, if you wish to go shopping, you can go from Plaza Nueva square to La Campana, and you will pass Sierpes street and its adjoining streets (Tetuán, Cuna, Rioja,…), where you can find a number of shops.
The streets located in the city centre display typical Andalusian features and having a walk down them is something that every single traveller who comes to Seville should experience. While having a walk, you can tell how the narrow streets lead into beautiful squares, which are meeting points for people from Seville. Worth mentioning are the Plaza del Duque square and Plaza de la Encarnación square, which make their way among the narrow streets that surround them. As for the latter, it is worth highlighting the Metropol Parasol, popularly known as the "mushrooms of the Encarnación square". This is a building that flies over the place and is home to several installations, such as the scenic overlook, where you can contemplate wonderful views of the city of Seville.
Within a few minutes, you will be able to visit other places of touristic interest, such as the Cathedral of Seville or the Giralda tower, that are places to be visited by every single tourist who comes to Seville, since both of them beside the "mushrooms" and the Torre del Oro tower define the skyline of Seville.
Availability
Apartment special conditions

- To formalise the booking is necessary the payment of the 30% of the total that has to be paid by credit card.

- The balance due will be charged from your credit card minimum fifteen days upon arrival.

- The damage deposit will be retained from a valid credit card whose details will have to be provided to the person who'll receive you.

- Check-in and Check-out time: in principle the check-in is from 15h and the check out until 11h. Time flexibility adjusts to availability.

* The Check –in team will charge a supplement of 30€ for entries after 21h and 50€ for entries after 24h.
Request more information
We are interested on your opinion

Tell us about your experience

We only accept reviews from real guests who have stayed in this apartment, so it must be indicated the e-mail which with you made ​​the booking.

Apartment Santa Marta in Seville

Reviews

Average rating from

28

Reviews:

Fouad

▼




December 2018

Tous un séjour excellent . Le Personel au petit soins et adorable . L emplacement magnifique.
Le seul petit soucis la connections internet malgré leur intervention cela a marché 1jour sur deux

MIGUEL ANGEL

▼




October 2018

Perfecto. Ubicación excelente

Adele

▼




October 2018

Tout était parfait ! Bon accueil, propreté, l´appartement est bien situé pas loin du centre historique et restaurants.

DOTTRIPS

▼




October 2018

La ubicación y el diseño del apartamento, esta bellisimo!

Riannon

▼




September 2018

Great air conditioning, host lovely.
No parking included, had a bit of difficulty finding apartment, power kept tripping.

---

Genteel-Home

Dear Riannon, thank you for your comment. We are glad to know that you liked the apartment and we have been able to help you enjoy your stay in Seville. As indicated, we do not have private parking, and since the apartment is located in the heart of the old town of Seville, it is not possible to park on the street. However, as indicated and we inform you previously, there is a public parking 300 meters from your apartment with which we have agreed a special price for our customers of 15€/day. Regards

Estefanía

▼




August 2018

Un nidito de amor estupendo.❤️
Hemos pasado una semana en Sevilla y la verdad es que a sido fantastica gracias a la ubicación del apartamento. Excelente. Y la comodidad, la limpieza y la decoración no han podido ser mejor. Estamos muy contentos de haber elegido este apartamento y por supuesto si volvemos a Sevilla no dudaré en alojarme aquí. Me he sentido como en casa.

Louise

▼




July 2018

City stay in Seville what an amazing property. It was like home from home could not fault our stay at all . Great location great property will be going back soon . Robert & louise

Alba

▼




June 2018

La ubicación del apartamento es excelente, está cerca de todos los lugares céntricos. Además el apartamento tiene todos los detalles y cosas que pueda necesitar (incluso mucho más de lo que puedas imaginar), tiene de todo y es un apartamento muy agradable y limpio.

Michael Rayner

▼




November 2017

Lovely apartmentgrear facilities. Great location. Avery small downside the bathroom sink was. Bit small but did not foul our stay there. Would highly recommended this apartment and Genteel Homes

Marleen

▼




October 2017

The apartment is great. We stayed for nine nights. Not so very spacious, but there´s room enough for two. It´s bright and clean. The doubble bed is good. There´ everything you need, with a fully equipped kitchen. The windows and the small balcony are facing a courtyard, so it´s very quiet and save. The location is perfect, just in the middle of the old town. You can start your day with a cup of coffee downstairs at a very nice terrace. I will highly recommend this apartment to other people!

Peter connon

▼




October 2017

Very nice apt. Would like to rent again

Keith

▼




October 2016

Superb location, yet quiet and undisturbed, near main pedestrian streets, 10 mins to Cathedral etc.
All equipment you need, cleaning materials too!
Would stay here again.

Mike Maloney

▼




September 2016

Great apartment for a couple. Clean, nicely decorated. Great location. Friendly greeting staff. Apartment exactly as advertised.

Carol Lazzeri & Frank Casey

▼




June 2016

This beautiful little apartment is located in an excellent and safe location! And the Genteel staff and owner were very responsive to our needs. We would go back in a heartbeat !!!

ROGER W HARRIS

▼




April 2016

Excellent all round. Taxi and meeting arrangement perfect.
All staff very welcoming, cheerful and courteous.

Jon F.

▼




March 2016

We stayed in this apartment for almost four weeks in February. It is on the third floor in a four story building with an elevator. It faces a courtyard with a small balcony so it is very quiet.
The location is fantastic, very central and walking distance to everything we needed. We did not enter a taxi, bus or a train the entire time we were there.
The apartment is very recently renovated, it is very modern and clean. The kitchen is very functional, we cooked many good meals there, it has an induction stovetop and even a Nespresso machine. The dishwasher was a big plus for us.
The owner was super responsive when we had an issue with the washing machine and had it fixed immediately.
Could not be happier with our stay there, and cannot really find anything negative to say.
Thank you!

J Lawrence

▼




February 2016

This small apartment works perfectly for a short break, but the fact that it also has a washing machine and dishwasher makes it an option for a longer stay. It is newly fitted out with modern bathroom, large fridge freezer etc. Although on a courtyard this is quiet, partly because the entrances are locked at night. Being on the top floor means you get plenty of light & morning sun. Great restaurants and cafes everywhere - La Pepona (opposite) is amazing, don´t miss it.

Renzo Villa

▼




January 2016

L´appartamento, pur piccolo, dispone di ogni comodità, ed è assai curato e piacevole. Pulitissimo e assolutamente silenzioso. Il soggiorno è stato molto piacevole: la vicinanza con il mercato e tutto il centro di Siviglia è stata particolarmente apprezzata.

FRANCK GUERY

▼




October 2015

trés joli apt bien situé

Shannon L. Bieberdorf


June 2015

This apartment was SUPER. It had new appliances, it was modern, very nicely furnished, and very convenient. Maria met us at the apartment and explained everything. This apartment really spoiled us for our other apartments we stayed in. Downstairs there is a small bar with outside seating which is great to enjoy in the early evenings.

Cheryl gibbons


May 2015

This is a very good apartment very light & lovely to sit on the balcony very clean & great location
Bathroom is small but has good fittings
We would stay there on our return.

Rocío


May 2015

Apartamento pequeño pero con todo lo necesario para pasar una agradable estancia. Situado inmejorablemente en una plaza agradable muy céntrica, pero en una calle peatonal y silenciosa. A la catedral hay unos 10 min a pie! Està cerca de todo. Roa atención de la agencia perfecta desde el primer contacto. Repetiremos seguro.

Nancie Cordeau


April 2015

All perfect

Barbara Burton


April 2015

We rented this lovely apartment for a week in March 2015. Both Ignacio and Maria were courteous, prompt and efficient. It was the simplest and easiest check in and out of any apartment we have rented thus far. The apartment was clean, quiet and well organised. Beds are a matter of personal taste and needs. This apartment has an extra-firm bed.
The central location makes it an an easy walk not only to the Alcazar and the cathedral, but also to Seville's many other historic sites, parks and cultural venues such as Teatro de la Maestranza and the art museum. But it also enables you to live in a Sevillean neighbourhood rather than a tourist enclave and enjoy many interesting walks in old Seville.
It is very close to the Mercado de la Encarnacion with its cornucopia of fresh fruits and vegetables, seafood, cheese and olives. And to Calle Regina, with 3 good food shops: a specialty food and wine shop (with better recommendations and lower prices than Cortes Ingles), a bakery and an organic food store.
We hope to return to Seville and would rent from Ignacio and Genteel Homes again.

analia


January 2015

Muy confortable el apartamento y su ubicación es excelente.
No tuve ningún inconveniente, funcionó todo bien.
si tuviera que agregar algo...en mi caso, como vine de 16 hs de vuelo llegué tarde y...no había té o café para tomar algo como para refrescarme ej..shampú..crema enjuague...como para salir de apuro...y descansar.

M. Carmen


December 2014

Apartamento muy bonito y muy bien equipado con una situacion inmejorable. Solo falto algun detalle por revisar y la cama un poco pequeña.

Isabelle Nault


November 2014

Very nice apartment, perfect location in the center of Seville, walking distance to the main attractions, restaurants and supermarket. The apartment was clean, quiet, and nicely decorated, equipped with luxury furnitures and apparels. It even had a Nespresso machine! Maria greeted us, was helpful in recommending us good addresses and remained available during our stay if we had questions. We recommend without any hesitation this apartment.

Stanley Cooper


October 2014

Me and partner had the most wonderful time at Santa Marta! We loved everything about the apartment: it was tastefully decorated, so bright and clean and the location was excellent. We recommend it for sure.

The different payment methods Genteel-Home offers for booking and renting apartments are exposed above.