Characteristics

▪ 5 maximum of guests
▪ 100 sq meters area
▪ 2 Bedrooms
▪ 1 Bathroom
▪ 1 floor
▪ Private parking
▪ Elevator
▪ Air conditioning
▪ Heating
▪ Internet


Santa Cruz Apartment in Seville

CTC-2017001942

This spacious over 100 square meters is completely exterior, the luminosity one of its main appeals. It's furnished with top quality furniture and decorated in a careful and thoughtful way.

It has two double bedrooms, both with a double bed, a large dining room that can accommodate an extra bed on request, a complete bathroom with tub and shower and a kitchen with all the utensils you may need.

The apartment is located in the main square of Santa Cruz, the heart of the famous district that gives its name. As if being in one of the most iconic and beautiful downtown neighborhoods were not enough, a few minutes away you can find La Giralda, The Cathedral and the Royal Alcazar, mandatory stops for any visitor. A short distance, it's also placed the main shopping and restaurants area.

Undoubtedly, the Barrio de Santa Cruz in Seville is a place with as much History as beauty so this apartment is ideal for insight into the city and enjoy a relaxing and complete stay in the purest Sevillian style.

Living room
Bedroom 1
Bedroom 2

▪

Sofa bed


▪

Plasma TV


▪

Dining room


▪

Double bed


▪

Bed linen


▪

Wardrobe


▪

Double bed


▪

Bed linen


▪

Wardrobe

Kitchen
Bathroom 1

▪

Flat iron and ironing board


▪

Toaster


▪

Microwave


▪

Refrigerator and freezer


▪

Coffee Maker

Santa Cruz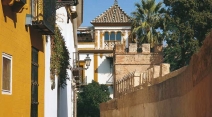 Santa Cruz is the most popular quarter in Seville and it has its origins in the old Jewish quarter of Seville. This quarter was inhabited by the Jews ever since Seville was recaptured by Ferdinand III, King of Castile, until these were ejected in the 15th century.
Located in the center of Seville, Santa Cruz quarter reaches down to the Cathedral, the gardens of the Alcázar (palace) and Jardines de Murillo (Murillo gardens). It is, therefore, a landmark and a touristic zone and it is accessible through Mateos Gago street, the most touristic and commercial street of the quarter.
While having a walk in this zone, you can get to know more about its history, by contemplating the Moorish and Jewish features that so characterize this place. Furthermore, you can go into the narrow streets, which run in an irregular criss-cross pattern and lead to the patios sevillanos (traditional Sevillian patios) or squares, such as Plaza de la Alianza or Plaza de doña Elvira.
During your stay in Santa Cruz quarter, you will feel like you belong here, Andalusia, since you will find yourself surrounded by Andalusian style houses and a pleasant and joyful atmosphere so typical of this region. Nearby places to visit are the Giralda tower, Patio de los Naranjos (orange tree courtyard), the Alcázar (palace), Archivo de Indias (archive of Indies) and the Palacio Arzobispal (archbishop's palace). On the adjacent streets Iglesia de Santa María la Blanca (Santa María la Blanca church), los Jardines de Murillo (Murillo gardens) y el Hospital de los Venerables (baroque hospital) can be found.
Availability
Request more information
We are interested on your opinion

Tell us about your experience

We only accept reviews from real guests who have stayed in this apartment, so it must be indicated the e-mail which with you made ​​the booking.

Apartment Santa Cruz in Seville

Reviews

Average rating from

9

Reviews:

Edward and Mary Ann Amdur

▼




June 2017

We stayed for four nights at Apartment Santa Cruz. The location could not be better for tourist or other purposes. The apartment is wonderful, as I envision in my imagination of what it would be like to live in Spain. Views of beautiful flowers and trees, a small, beautiful plaza, next to Jardines Murillo and the Alcazar. Well functioning air conditioning which is key in Sevilla. We had a problem with our credit card in the reservation prior to arrival, but that was taken care of. Mariano picked us up at the station, and he arranged a driver to take us to the airport. Overall, a great experience.

Donna demaree

▼




November 2016

This may have been the best apartment I´ve ever rented! Incredibly spacious - 2 complete bedrooms at either end of the apt so plenty of privacy. Kitchen was large and well equipped, as was the bathroom (loads of towels, linens, etc.) Incredible location - less than 5 minutes to the Cathedral and Royal Alcazar - and I´m not a fast walker. The owner, Mariano, is a delight - picked us up at train station, arranged a cab for our early morning departure, and came over at a moment´s notice when we had problems with the hot water. I cannot recommend this property highly enough!!!!

corinne

▼




March 2016

Emplacement idéal.

Paola Sinigaglia

▼




March 2016

Beautifull apartment in beautifull location. Best solution for your stay in Seville

JOSE FERNANDO SOLER PENALBA

▼




December 2015

SEVILLA TIENE UN COLOR ESPECIAL. La verdad es que nuestra estancia fue magnífica y parte de culpa la tuvo la buena ubicación del apartamento. Pienso que la designación del mismo es fundamental para poder disfrutar o no de toda la ciudad. Gracias MARIANO por su amabilidad y por la confianza demostrada con nosotros. Un abrazo y hasta siempre.

Mark & Julie


February 2015

My wife and I stayed in this lovely apartment for 3 nights in February, the owner Mariano met us at the airport and even though his English was limited we still could understand and communicated with ease. The location was great just 5 minutes walk from the Cathedral and other great sights, nearby there was a vast choice of restaurants serving what we think is the best tapas in Spain.
This is a city that we would visit again and this apartment would also be my first choice. We were only two but the apartment is of good size for four people with two suitably sized double bedrooms both away from each other at opposite ends of the apartment giving more privacy if you are with friends or if you have kids they are sleeping far enough away to allow you a good night sleep. The kitchen is of a galley layout and could be a little crowded if more than two people were preparing food or drinks however the shared lounge dinning area was of good size. The Wi-Fi was fast and reliable and the heating/air conditioning was easy to control and very good. We did not find any faults with this apartment, however we could not find the button to open the gate to exit the court yard and had to use the key, this is only a problem when checking out as you have to leave the keys in the apartment, so I had to open the gate and then went back to the apartment to leave the keys behind.

Rod Elliott


December 2014

We were delighted with our 4 night stay in the Santa Cruz apartment when we took a recent city beak in Seville. It´s perfectly located to enjoy the historic area whilst at the same time being quietly located in its own gated setting. The apartment itself was very clean and well appointed with ample room. We were met on arrival and given all the help and information we needed to settle in. If we go back to Seville I would certainly stay here again.

Jane Carr


October 2014

What a beautiful apartment, it was so tasteful, and spacious. We loved the furniture, it definitely appealed to our style. The location was ideal, right in the middle of the most historical and interesting part of Seville, yet once inside the courtyard it was so peaceful and quiet. We could not have picked a better place to stay. Mariano who met us was charming and we could not have wished for a better introduction to Seville. We have to return.

Holly Morris


June 2014

Our stay was perfect and special, above all thanks to this cozy apartment. We really love it, it is very spacious and illuminated, which transmits a lot of happiness. In addition to this, it is charming and tastefully decorated and very clean.
Regarding the location, it is great! We could visit all the monuments and tourist attractions without taking any transport. Besides, this area is very historical, so we enjoy this environment while staying here. I totally recommend it!

The different payment methods Genteel-Home offers for booking and renting apartments are exposed above.