Characteristics

▪ 6 maximum of guests
▪ 90 sq meters area
▪ 2 Bedrooms
▪ 2 Bathrooms
▪ 5 floor
▪ Agreement with a public parking nearby
▪ Elevator
▪ Air conditioning
▪ Heating
▪ Internet
▪ Cot


Transport nearby

Taxi: Calle San Pablo, Calle Reyes Católicos, Pza. Nueva, Calle Marqués de Paradas.

Bus: EA airport, C5, 3, 40, 41, 43.

Metro: Puerta Jerez

Tram: T1

San Pablo Apartment in Seville

CTC-201665770

San Pablo apartment in Seville is the perfect place to stay while visiting the city. It has an unbeatable location, on a privileged area at Seville's city-center, a few steps from the Cathedral and the Giralda tower. In addition, it is surrounded many shopping streets and many facilities for public transport. All the surrounding area is a very elegant, funny and safe area where you can find a wide variety of typical restaurants and terrasses which bring you into a nice atmosphere. This beautiful place with two bedrooms and two private bathrooms is located on a 5th floor and it's prepared to host 6 guests. In the first bedroom there is a double bed which measures 2m long x 1,5m large, it has a big window facing outside which makes this room very bright. The second bedroom has two single beds folded in a modern and twin structure easily convertible. It also has a private bathroom and two windows facing outside. The living-room is spacious and there is much light coming inside from a big window facing outside which offers a great view of the city. There is a big chaise-longue sofa and a very elegant chaise-longue single chair which provides the whole room with a distinguished point. The kitchen is connected with the living-room and it is perfectly equiped with all the appliances and utensils necessaries. There is also a table and five chairs, and all the ensemble has an elegant and sophisticated desing.

In the entrance you have 7 steps and then you get to the lift

Living room
Bedroom 1
Bedroom 2

▪

Sofa bed


▪

Library


▪

Dining room


▪

2 single beds


▪

Wardrobe


▪

Double bed


▪

Wardrobe

Bathroom 1
Bathroom 2
Kitchen

▪

Shower


▪

W.C


▪

Shower


▪

W.C


▪

Microwave


▪

Oven


▪

Refrigerator and freezer


▪

Dish washer


▪

Washing machine


▪

Vitroceramic hob


▪

Coffee Maker

El Arenal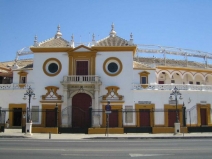 Located in the city centre and, at the same time, on the banks of Guadalquivir River, El Arenal quarter is one of the quarters of Seville with more Andalusian tradition. Since it can be found in the old part of the city, it has witnessed first-hand many events in Seville history, because of having had one of the most important ports in the world during the 16th and 17th centuries, thanks to the discovery of America and the resulting trade with India.
El Arenal is, without a doubt, one of the most traditional and characteristic quarters in Seville. Furthermore, it is nowadays a busy and meeting place for people from Seville, since it is the quarter par excellence devoted to bullfighting, religious devotion, religious brotherhoods and Semana Santa (Holy Week) and these constitute the most significant features of this place.
This zone is home to such symbolic buildings as the La Maestranza bullring, the Torre del Oro tower, the Arenal market, the Torre de la Plata tower and the La Maestranza theatre. In this zone you can enjoy leisure activities, mostly all the ones regarding the world of the Spanish bullfighting, opera, theatre and religious brotherhoods.
While walking around this quarter, tourist can take the opportunity to get to know better part of the history of our city by visiting other places of touristic interest, namely La Hermandad de la Santa Caridad church or the Atarazanas (medieval shipyard). Finally, thanks to its central location, you will be able to find within a very short walking distance the Cathedral and the Giralda tower, must-see places if you come to spend a few days in Seville.
Availability
Apartment special conditions

- To formalise the booking is necessary the payment of the 30% of the total that has to be paid by credit card.

- The balance due will be charged from your credit card minimum fifteen days upon arrival.

- The damage deposit will be retained from a valid credit card whose details will have to be provided to the person who'll receive you.

- Check-in and Check-out time: in principle the check-in is from 15h and the check out until 11h. Time flexibility adjusts to availability.

* The Check –in team will charge a supplement of 30€ for entries after 21h and 50€ for entries after 24h.
Request more information
We are interested on your opinion

Tell us about your experience

We only accept reviews from real guests who have stayed in this apartment, so it must be indicated the e-mail which with you made ​​the booking.

Apartment San Pablo in Seville

Reviews

Average rating from

34

Reviews:

Karim

▼




January 2019

We liked our stay and the apartment was a good choice that has the potential to be excellent
The location is very central, lift is a plus and there is a public garage and huge super market right next to the door of the building
The heating system is not efficient, cleanliness of the bathroom, kitchen and bedsheets must be improved.

---

Genteel-Home

Dear Karim, thank you for your comment. We are very sorry to see that the apartment has not met your expectations. We did not know that the heating had problems and you did not notify us during your stay nothing about this problem to be able to send you a technician, but we will check itand we will solve it in case it have problems. We are also sorry that the cleaning has not been to your liking, it is an aspect that we take care of with a lot of detail and is usually very well valued by our guests, but we will work to continue improving in this aspect. We are glad to know that you at least liked the location. Regards

Maria del Puerto

▼




December 2018

La ubicación y lo completo que está de todo.
Las duchas atascadas. En un dormitorio, el lavabo está en el mismo y no en el baño.

---

Genteel-Home

Estimada María del Puerto, muchas gracias por su comentario. Nos alegra mucho saber que les ha gustado el apartamento en cuanto a su céntrica ubicación y su completo equipamiento, aunque ello no se vea reflejado en las bajas puntuaciones que nos ha otorgado en diferentes aspectos. Revisaremos el tema de las duchas que nos comenta para solucionar el problema a la mayor brevedad. Nos hubiera gustado que nos hubiera informado de dicho problema durante su estancia para solucionárselo inmediatamente y no tras su salida, pero no nos informó de ello. Esperamos en cualquier caso que hayan disfrutado de su estancia en Sevilla. Saludos

guillermo_f

▼




November 2018

Excelente opción en Sevilla. La ubicación es ideal.... estas cerca de todo.El departamento tiene una cocina supercompleta y las camas son muy cómodas. Tiene bidet cosa difícil de encontrar en Europa. Se portaron muy bien con nosotros ya que nos permitieron quedarnos un rato más del check out sin cargo y estábamos con niños y una persona discapacitada. Permanentemente nos consultaban si estaba todo bien o si necesitábamos algo. Muy agradable en trato
El acceso es un poco complicado pues hay que tomar dos ascensores porque se entra a través de otro edificio pero no es significativo. En esa terraza Intermedia se deposita la basura del edificio lo que hacía olor desagradable pero solo ahí...en el departamento estaba impecable

Diana

▼




November 2018

Everything there. The stay was just perfect!!!

Daniel

▼




November 2018

Alojamiento con posibilidades. La ubicación es muy buena al tenerlo todo a mano sin necesidad de usar el coche. La calidad en general del alojamiento en buena; mobiliario del salón, cocina, baño, armarios en dormitorio.
Al encontrarse en pleno centro de Sevilla , el parking que hay en la zona es caro. A pesar de la buena presencia que transmite el alojamiento encontramos pequeñas incidencias: mando a distancia del TV no funcionaba bien, el rociador de la ducha del baño principal estaba suelto y un punto de luz del dormitorio 2 no funcionaba

---

Genteel-Home

Estimado Daniel, gracias por su comentario. Nos alegra saber que les ha gustado la céntrica ubicación y la calidad del apartamento. Como bien ocurre en la mayoría de ciudades, aparcar en el centro de Sevilla es muy dificíl, y no contamos con parking privado, por lo que ofrecemos acuerdos con parkings públicos cercanos al precio de 15€/día. Lamentamos leer que ha encontrado pequeñas incidencias de las cuales no teníamos constancia, y que por supuesto revisaremos tras su salida para solucionarlas inmediatamente. Lamentamos que estos pequeños detalles hayan influido en su percepción general respecto a su apartamento. Saludos

Pasqualina

▼




October 2018

Appartamento bellissimo con vista mozzafiato, , completamente accessoriato . Situato al centro , negozi raggiungibili in 2 minuti a piedi . Portieri gentilissimi , non appartenenti alla gestione dell'appartamento, in grado di dare consigli e completamente disponibili per qualsiasi esigenza
L'appartamento è lasciato in gestione ad un'agenzia la quale non risulta per niente reperibile . Abbiamo alloggiato in 6, secondo quanto riportato in descrizione oltre ad un letto matrimoniale e 2 letti singoli spettava un divano letto per 2 posti , purtroppo oltre ad essere rivestito in pelle ( soggiornando ad agosto non era per niente adatto al clima estivo di Siviglia) una parte di esso ( per l'esattezza una piazza del letto ) era frutto di una 'combinazione' di 2 pouf il cui allineamento non era per niente stabile

Ajay

▼




October 2018

Location , spacious , safe , modern

Sergio Agudelo

▼




September 2018

Ubicación, limpieza y el piso muy chulo.

Enrique Bastero

▼




September 2018

La ubicación ideal para recorrer el centro de Sevilla. Restaurantes muy cerca y variados
No había nada que no me gustará en especial. Por decir algo la zona de aparcamiento excasa. Y el parking caro.

Nuria

▼




September 2018

La cama, la cocina y la ubicacion estupendas.
Perfecto para cuatro personas, para mas cantidad muy incomodos los baños. El de la habitacion pequeña muy raro. La amplitud de las fotos sobre todo de la habitacion pequeña no se correspondian a la realidad.

---

Genteel-Home

Estimada Nuria, gracias por su comentario. Nos alegra saber que les ha gustado la comodidad de las camas, el completo equipamiento de la cocina y por supuesto, su céntrica ubicación. El apartamento que reservaron tiene 90m2 de superficie y cuenta con dos dormitorios, lo que lo hace ideal para 4 personas, pero también tiene un sofá cama doble en el salón para que la capacidad total del apartamento sea hasta 6 personas, contando además ambos dormitorios con baño privado, lo que lo convierte, a nuestro parecer, en una opción muy buena tanto para familias como grupos de amigos. Saludos

Valentina

▼




August 2018

Well equippedand pleasant apartment
We had to wait 30 minutes for the keys, having previously set the arrival time and we couldn´t understand why.

---

Genteel-Home

Dear Valentina, thank you very much for your comment. We are glad to know that you have enjoyed the apartment. On the other hand, we would like to apologize for the delay of my colleague on arrival. That day we had several check-ins at the same time and that is why our colleague arrived a few minutes later than the scheduled time. Although this usually does not happen, sometimes it is inevitable. In any case, we apologize again and we will work to improve in this aspect. Regards

Hamza

▼




August 2018

Un séjour génératif dans un appartement confortable. Il y avait un problème mineur avec la transmission des c´lefs, mais rien d´important.

Hamza

▼




August 2018

Un séjour génial dans un appartement confortable

catherine & philippe

▼




February 2017

Appartement superbe et très bien situé. Toutes les visites pouvant se faire à pied et tous les commerces étant à proximité.
Chambres ne donnant pas sur la rue ce qui permet de dormir dans un calme total.
Très bon accueil et disponibilité du personnel de Genteel Home.

Justina Martínez

▼




November 2016

Genial todo, principalmente la situación, impresionante. Hubo un par de incidencias que nos las resolvieron rápidamente.

Manuel

▼




November 2016

Precioso apartamento y bien situado y comunicado

---

Genteel-Home

Gracias por sus amables palabras y su puntuación. Creo que ha habido un problema al sumar la puntuación de localización pero no hay problema. Esperamos verle pronto por Sevilla de nuevo.

Nicola Thompson

▼




October 2016

Perfect location in easy walking distance of all Seville attractions yet safe and peaceful. Flat immaculate and very well presented, exactly as described. Great breakfast cafés and well-stocked supermarkets right on the doorstep. Thoroughly recommend.

Martine

▼




September 2016

Appartement très agréable et très bien situé.

Priscilla

▼




August 2016

Séjour d´une semaine avec 5 occupants, l´appartement est tout juste ce qu´il nous fallait et correspond au descriptif. Situé en plein centre ville nous avions tout à proximité (restaurants, magasins, bus...). Les différentes places à visiter sont magnifiques, il est possible de manger dehors pour pas cher. Les sorties nocturnes faisant parties intégrantes de la vie espagnole sont sympathiques pour se détendre. Le personnel de Genteel Home est vraiment très sympathique je réserverai à l´avenir de nouveau avec cette agence pour les prochaines vacances.

Pauline Brook

▼




May 2016

We really enjoyed our stay. The apartment was of a very high quality and had everything we needed. The member of staff who welcomed us was so helpful giving us lots of information. When we had a small problem with the shower it was dealt with immediately. Thank you for all your help and care

Thierry

▼




April 2016

Appartement conforme au descriptif.
Excellente situation : dans le centre mais au calme.
Toutes les visites de Séville peuvent être réalisées à pied à partir du lieu de résidence.

Mary Passannante

▼




April 2016

We loved this apartment. Such a great location. Walkable to everything we wanted to see. Close to great shopping. Seemed very safe and was so quiet.

Tilmann

▼




November 2015

Good situated Apartment. Close to all major sights. Friendly staff. Cooking equipment could be improved.

Francesco

▼




September 2015

Beautiful apartment in a very elegant quartier of Sevilla.

Davina

▼




August 2015

Well located apartment with all the amenities you need to make your stay a pleasant stay. Great view and a well designed, super functional airco system are two of the highlights of the apartment.

Didier


May 2015

We spent a very nice week in this apartment. Design, furnitures, particular high level floor which is rare in Sevilla and gives a nice view and feeling of fresh atmosphere. The location is very close to the center. What is also important to note, it is a quiet location as the apartment is not directly on the street.

Ana


May 2015

Situado en pleno centro de Sevilla. Muy acogedor. Luminoso. Mobiliario y detalles de muy buen gusto. Totalmente recomendado.

patricia


May 2015

Très bel appartement, spacieux, propre et confortable. Situé à proximité des rues commerçantes et à 10 mn de la cathédral.
Très bon accueil de Maria ainsi que de Juan à l´aéroport.

Marcel Beermann


April 2015

Dutch:
Prima appartement, van alle gemakken voorzien, goed gelegen in het centrum en vanwaar je overal naar alle bezienswaardigheden kunt lopen.
Enige minpunt was de rioollucht die in de kleine slaapkamer hing. Hopelijk wordt dat snel verholpen. Verder een aanrader dit appartement.
English: Nice appartment in the centre of Sevilla, equipped with all comforts. You can walk to all places of interest. The only disadvantage was the sewer air in the small bedroom. Hopefully it is repaired soon. Further highly recommended this apartment.

Joaquín


April 2015

Apartamento muy cómodo y luminoso.
Ubicación ideal para ver procesiones de Semana Santa.
Al lado de un gran supermercado lo cual facilitó aún más la estancia.
Volveremos el próximo año.

Jean Bocock


April 2015

Spacious and quiet apartment in the Arenal area. Supermarket and bakeries nearby for breakfast supplies. Walking distance to all main sites. Good bus connections. All arrangements worked very smoothly and Maria was very helpful in greeting us at the flat and showing us how everything worked. Maybe a folder for guests to leave local maps and other tourist information might be useful? Second bedroom might be a bit cramped for 2 adults: we were just a couple. Would recommend this flat and we hope to return.

Paz Martin


February 2015

Comodo apartamento, luminoso, moderno y centrico. Tanto Ignacio como Maria estuvieron en todo momento pendientes de que la estancia alli fuera agradable. Muy recomendable

Alberto


December 2014

El apartamento está muy bien situado, es cómodo, tranquilo y está muy bien equipado. Es la primera vez que viajo hospedándome en un apartamento turístico y he de decir que la experiencia ha sido positiva. Respecto a la empresa que lo gestiona ha cumplido de forma eficaz y eficiente con todo lo acordado. Tanto yo como mi mujer y mis hijos, nos hemos sentido bien en la casa.

Marcia Müller


October 2014

I must confess I´m a bit exigent but this property fulfilled my expectations. We stayed four people in total comfort, we could walk to The Cathedral and main sights without needing a car and the apartment was in perfect conditions, really nice and welcoming. I´ll definitely book it again if I come back to Seville, something I hope it´ll be soon.

The different payment methods Genteel-Home offers for booking and renting apartments are exposed above.