Characteristics

▪ 6 maximum of guests
▪ 80 sq meters area
▪ 2 Bedrooms
▪ 2 Bathrooms
▪ 1 floor
▪ Public parking near
▪ Elevator
▪ Air conditioning
▪ Heating
▪ Internet
▪ Cot


Transport nearby

Taxi: Pza. de la Alfalfa, Calle Sta. María la Blanca, Calle Alemanes, Pza. del Duque, Pza. Nueva.

Bus: C5, 10, 11, 12, 15, 16, 20, 24, 27, 32.

Metro: Puerta Jerez

Tram: T1

San Isidoro Apartment in Seville

VFT/SE/00330

This beautiful place as an enviable location, at one of the narrow streets which compose Seville's old downtown, in the heart of Santa Cruz district. It is a safe, calm area, but at the same time there is much activity surrounding it: many little shops of traditional and handmade products, as well as many restaurants and terraces where you can enjoy from a great moment while tasting some of the specialities of Seville's cuisine. The main touristic attractions are located a few metres away from the apartment, as the Cathedral and the Giralda tower, El Salvado square with the magnificent church of San Isidoro, the city hall and the Plaza Nueva.

San Isidoro apartment is carefully decorated within a harmonious, elegant style. It is a bright place as there are some large windows facing two interior courtyards, which transform the whole apartment into this perfect oasis of peace and light. There are two double bedrooms with one private and complete bathroom each one. One of these bedrooms has a double bed, and there is a window facing one of the interior courtyards. The second bedroom has two single beds, and there is also a window facing the other interior courtyard. The living-room is spacious and bright with large windows in both sides of the room, and there is a dining-room set with one table and chairs for six people. There is a double sofa-bed which provides the apartment with capacity for 6 guests. Finally, the kitchen is fully equipped and there is another large window facing also an interior courtyard.

Bedroom 1
Bedroom 2
Bathroom 1

▪

Double bed


▪

Wardrobe


▪

Bed linens and towels


▪

2 single beds


▪

Wardrobe


▪

Bed linens and towels


▪

Bathtub


▪

W.C

Bathroom 2
Living room
Kitchen

▪

W.C


▪

Bathtub


▪

Hair dryer


▪

Dining room


▪

TV


▪

Sofa bed


▪

Refrigerator and freezer


▪

Microwave


▪

Oven


▪

Washing machine


▪

Vitroceramic hob


▪

Flat iron and ironing board

Santa Cruz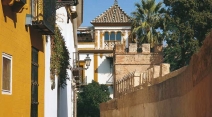 Santa Cruz is the most popular quarter in Seville and it has its origins in the old Jewish quarter of Seville. This quarter was inhabited by the Jews ever since Seville was recaptured by Ferdinand III, King of Castile, until these were ejected in the 15th century.
Located in the center of Seville, Santa Cruz quarter reaches down to the Cathedral, the gardens of the Alcázar (palace) and Jardines de Murillo (Murillo gardens). It is, therefore, a landmark and a touristic zone and it is accessible through Mateos Gago street, the most touristic and commercial street of the quarter.
While having a walk in this zone, you can get to know more about its history, by contemplating the Moorish and Jewish features that so characterize this place. Furthermore, you can go into the narrow streets, which run in an irregular criss-cross pattern and lead to the patios sevillanos (traditional Sevillian patios) or squares, such as Plaza de la Alianza or Plaza de doña Elvira.
During your stay in Santa Cruz quarter, you will feel like you belong here, Andalusia, since you will find yourself surrounded by Andalusian style houses and a pleasant and joyful atmosphere so typical of this region. Nearby places to visit are the Giralda tower, Patio de los Naranjos (orange tree courtyard), the Alcázar (palace), Archivo de Indias (archive of Indies) and the Palacio Arzobispal (archbishop's palace). On the adjacent streets Iglesia de Santa María la Blanca (Santa María la Blanca church), los Jardines de Murillo (Murillo gardens) y el Hospital de los Venerables (baroque hospital) can be found.
Availability
Apartment special conditions

- To formalise the booking is necessary the payment of the 30% of the total that has to be paid by credit card.

- The balance due will be charged from your credit card minimum fifteen days upon arrival.

- The damage deposit will be retained from a valid credit card whose details will have to be provided to the person who'll receive you.

- Check-in and Check-out time: in principle the check-in is from 15h and the check out until 11h. Time flexibility adjusts to availability.

* The Check –in team will charge a supplement of 30€ for entries after 21h and 50€ for entries after 24h.
Request more information
We are interested on your opinion

Tell us about your experience

We only accept reviews from real guests who have stayed in this apartment, so it must be indicated the e-mail which with you made ​​the booking.

Apartment San Isidoro in Seville

Reviews

Average rating from

31

Reviews:

Antonio

▼




November 2018

Sensación agridulce.
La localización era buena, céntrica. El alojamiento estaba limpio.
Nos pidieron sacar la basura. Nos dijeron que nos iban a mandar información sobre restaurantes en Sevilla y no fue así.

Paula

▼




October 2018

Muy bonita Sevilla ,pero demasiado lejos. La ubicación,es excelente,esta muy cerca de todos los puntos importantes que hay que visitar

Walter

▼




October 2017

Everything was just perfect.

Jeanne Hannon

▼




October 2017

We enjoyed the apartment very much. It is in a superb convenient location. Beds comfortable, showers great, quiet location. A/C not very reliable, several very warm nights until late. A room fan would be an enormous help. The kitchen is a bit small, but manageable. Very happy to have washing machine and soap. Only one dish towel provided - would have liked two. Mid week linen refresh was nice, unexpected. Only tough issue had nothing to do with the apt - there is a very ill baby in the complex who is obviously in great pain/discomfort, cried often and it was just so sad for any who heard it. We felt grief for the family as it must be so difficult...we didn´t use second bedroom except to store suitcases.

GUSTAVO

▼




September 2017

Todo resultó fantastico!!

Valérie

▼




August 2017

appartement très bien situé, tout peut se faire à pied. Une bodega au pied de l´immeuble qui sert de bonnes tapas. Tout est parfait
L´appartement est très calme et bien équipé

Matthias

▼




June 2017

The appartment is a fantastic place to discover the city of Seville, located right in the old town. You have short distances to go for the Cathedral, the arena, the palace. But please don´t bring a car, there is no place to leave it and hardly a way to even reach the appartment for dropping off the luggage.
The appartment is large enough for 4. The windows look either to the first or to second patio. It´s a quite and recreative place. The air conditioning ist very efficient. The management is very, very friendly and helpful.
We enjoyed our stay very much and are planning to return to the appartment.

Frank Paveck

▼




May 2017

The two bedroom apartment was perfect for us; two adults (60´s) and our two grown children (20´s). The apartment and entire building is very modern, quite luxurious, tidy and clean and everything in the apartment that we required was available and working. The central location was absolutely fabulous for us ... close to the Cathedral, Alcazar and a reasonable walk (25 mins) from the train station. The apartment is a good size with lots of room to eat at the dining table or sit and relax in the living room. The neighbourhood is good with many grocery stores and restaurants close by.
Genteel was organized and efficient. Booking went smoothly and information from them was clear and accurate. We had no issues with the apartment so we had no contact with them in Seville except on arrival which Genteel handled promptly and professionally. They also provided a list of potential restaurants some of which we sampled and were quite pleased.
We were very happy with the apartment and all arrangements.

Vicente

▼




May 2017

El apartamento en si es acogedor, aunque no hemos utilizado La Cocina y por tanto no se puede valorar.
Lo que si he de hacer una crítica o queja con el fin de que puedan solucionar, es que en el cuarto de las dos camas la que está pegada a la ventana, hace mucho ruido de muelles siendo incómodo por si despiertas a los demás. Respecto al baño de este mismo cuarto tuvimos la desagradable experiencia que al volver por la tarde hacia olor a alcantarilla y que supongo venían de la calle.

---

Genteel-Home

Gracias por su comentario, por supuesto las críticas constructivas son siempre bien acogidas. Queríamos puntualizar que nos han sorprendido sus palabras sobre la cama ya que los colchones son nuevos -fueron comprados hace pocos meses- y no son de muelles. Por supuesto lo revisaremos detenidamente, pues quizá el ruido fuese debido a algún desajuste del somier, algo de fácil solución. En cuanto al olor, entendemos que sería algo puntual efectivamente proveniente del exterior, ya que a su salida el personal de checkin y el de limpieza revisaron la propiedad y no detectaron ningún olor desagradable.

David MacLean

▼




March 2017

We thoroughly enjoyed our stay in this apartment. It is in a great location to explore all the main sites of Seville. It was clean and comfortable and well equipped for our month long stay. Genteel staff were more than helpful and response to our needs.

Marco Persello

▼




January 2017

A really nice apartment in the heart of Sevilla.
It was clean, quiet and near to some supermarkets.
We had to ask for some more supplies (pans and pots), but the staff was so kind and they brought them the really next day.

Beverly

▼




December 2016

Great location. The apartment was in excellent condition. Teresa welcomed us and gave us great advice on what to see and do. Although the apartment is in quite a busy area in terms of bars and cafes, the noise can´t be heard inside. A place to return to!

PAUL BARTLETT

▼




December 2016

We greatly enjoyed our visit to Seville. The Alfalfa area is ideal, being near to local shops, supermarkets and taxi rank whilst within easy walking distance to the central attractions. We arrived 15 minutes early but the Genteel staff member there waiting for us. She spoke excellent English and was efficient and helpful. Breakfast was at one of the cafés in Alfalfa square a minutes walk away which also offered a choice of restaurants for tapas or other meals. Our stay was only for 4 days so not a lot of time for cooking but we bought a brace of partridges in the nearby market at Encarnación square to take with us. The flat itself was perfect - quiet and comfortable, thoughtfully furnished and decorated and good wifi connection. The patios on the ground floor were well kept with atractive plants and a lift to the floors above. We hope to return soon for a longer stay.

Yves

▼




November 2016

malgré un petit dégât d´eau qui a été vite réglé par le personnel de Genteel, l´appartement était tel que présenté sur le site et situé à distance de marche de toutes les principales attractions touristiques. Quelques napperons de table à rafraîchir

Anna

▼




November 2016

We had a fantastic stay in Apartment San Isidoro. It´s close enough to all the main attractions but in more of a ´locals´ area which we prefer. The apartment was spotless, really comfortable and nice and quiet at night.

I´d definitely stay there again. Thanks, Genteel Home!

Antonio

▼




October 2016

Raccomandato
Tutto ok

MARIA Amedei

▼




October 2016

E´ la seconda volta che scegliamo Genteel e come sempre non ci delude per la qualità dei loro appartamenti.

Ansgar Forderer

▼




May 2016

bel appartement, situation idéale dans le centre historique

V Foley

▼




April 2016

Great apartment in great location.

Isabelle

▼




March 2016

Appartement très agréable, fonctionnel avec une accessibilité immédiate dans le centre. Nous remercions Rebecca et José pour leur accueil.

Marisa López Villalba

▼




January 2016

Nos ha gustado mucho el apartamento, es cómodo, agradable y espacioso y está en una zona céntrica sin agobios. Aunque no creo que sea problema del apartamento sino de la casa, hay malos olores que probablemente vengan de las tuberías, lo que impide que podamos calificarlo como excelente. Estupenda la atención del personal, GRACIAS

ennio

▼




October 2015

great location, silent, very comfortable,wi fi very good

Huguette et Christian

▼




October 2015

très bien situé au coeur de ville. Appartement calme et agréable.

Deepa

▼




July 2015

This is an excellent flat, very convenient in terms of location. It is well equipped for a city break, i.e. we mainly ate out but used the kitchen for drinks and snacks. The local cafes and bars (particularly Bar Alfalfa) are wonderful.

Marty


May 2015

This is one of the nicest apartments likely to be found in Seville. It is in a recently remodeled building in a very safe area, near to shops and restaurants and within a 10 minute walk to the Cathedral, Alcazar, and a fabulous shopping area. The apartment itself is quite modern with all the amenities. A taxi stand is half a block away and cabs are always available. We would definitely stay there again.

Stella


May 2015

Spacious, well equipped apartment in a great location with cafes, restaurants, bars and a supermarket in the surrounding streets. Accessed through a beautiful courtyard and on a quiet street, the apartment is within walking distance of all the main sights in Seville. I would have no hesitation in recommending San Isidoro.

rachael traub


May 2015

charming, quiet apartment in a great location. Easy walk to many of Seville´s main attractions including the cathedral, alcazar and the metropol parasol.

marc wasserman


May 2015

The location was superb; right in the middle of all he beauty and action but in the back of the building away from the noise. The kitchen and baths were excellent. all in all a very comfortable stay.

ANA MARIA HERNAN-GOMEZ


December 2014

LA ESTANCIA HA SIDO MUY AGRADABLE. SITUACION INMEJORABLE. VOLVEREMOS

Marc


November 2014

Très bel appartement, très bien situé pour visiter Séville à pied. À recommander!

Martina Gálvez


October 2014

Mi marido y yo nos fijamos en este apartamento desde que empezamos a buscar alojamiento en Sevilla y me alegro de que no dudásemos en reservarlo. Pasamos una semana maravillosa y los niños se sintieron como en casa.
El estado del apartamento era inmejorable al igual que su situación, justamente en el centro.
Por último mencionar el exquisito trato por parte de la agencia que nos ayudó en todo lo que necesitamos.
¡Muchas gracias por todo!

The different payment methods Genteel-Home offers for booking and renting apartments are exposed above.