Characteristics

▪ 3 maximum of guests
▪ 55 sq meters area
▪ 1 Bedroom
▪ 1 Bathroom
▪ 4 floor
▪ Agreement with a public parking nearby
▪ Elevator
▪ Air conditioning
▪ Heating
▪ Internet
▪ Cot


Transport nearby

Taxi: Pza. Nueva, Calle Adriano, Calle Reyes Católicos, Paseo Colón.

Bus: EA aeropuerto, C4, C5, 3, 40, 41.

Metro: Puerta Jerez

Tranvía: T1

Penthouse Velarde Penthouse in Seville

VFT/SE/00790

This apartment is located in one of the most beautiful zones of Seville. The Arenal area is a traditional complex of beautiful and luminuos streets where you can feel the tradition and the great atmosphere of the historic center. Here you will find many traditional restaurants, bars for typical 'tapas' and artisan shops while walking through the streets between the river Guadalquivir and the Cathedral.

Velarde II is a beautiful apartment located on a fourth floor in a building, where there is an elevator to the third floor and some stairs to this top floor. The apartment has been reformed, fully equipped and tastefully decorated. It has one double bedroom with two large beds and a complete bathroom connected to this room. From a little windoy in this room we can even see the Cathedral and the Giralda tower. There is a spacious living room with a sofa and some other chairs, and there is also a nice dining area. The kitchen is fully equipped with all the appliances and necessary utensils.

This is a beautiful apartment within an unbeatable situation, undoubtedly a very good choice when visiting Seville.

Bedroom 1
Bathroom 1
Living room

▪

2 single beds


▪

Dressing room


▪

Bed linens and towels


▪

W.C


▪

Shower


▪

Sofa bed


▪

Dining room

Kitchen

▪

Coffee Maker


▪

Kettle


▪

Vitroceramic hob


▪

Refrigerator and freezer


▪

Washing machine


▪

Toaster


▪

Microwave

El Arenal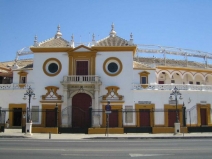 Located in the city centre and, at the same time, on the banks of Guadalquivir River, El Arenal quarter is one of the quarters of Seville with more Andalusian tradition. Since it can be found in the old part of the city, it has witnessed first-hand many events in Seville history, because of having had one of the most important ports in the world during the 16th and 17th centuries, thanks to the discovery of America and the resulting trade with India.
El Arenal is, without a doubt, one of the most traditional and characteristic quarters in Seville. Furthermore, it is nowadays a busy and meeting place for people from Seville, since it is the quarter par excellence devoted to bullfighting, religious devotion, religious brotherhoods and Semana Santa (Holy Week) and these constitute the most significant features of this place.
This zone is home to such symbolic buildings as the La Maestranza bullring, the Torre del Oro tower, the Arenal market, the Torre de la Plata tower and the La Maestranza theatre. In this zone you can enjoy leisure activities, mostly all the ones regarding the world of the Spanish bullfighting, opera, theatre and religious brotherhoods.
While walking around this quarter, tourist can take the opportunity to get to know better part of the history of our city by visiting other places of touristic interest, namely La Hermandad de la Santa Caridad church or the Atarazanas (medieval shipyard). Finally, thanks to its central location, you will be able to find within a very short walking distance the Cathedral and the Giralda tower, must-see places if you come to spend a few days in Seville.
Availability
Apartment special conditions

- To formalise the booking is necessary the payment of the 30% of the total that has to be paid by credit card.

- The balance due will be charged from your credit card minimum fifteen days upon arrival.

- The damage deposit will be retained from a valid credit card whose details will have to be provided to the person who'll receive you.

- Check-in and Check-out time: in principle the check-in is from 15h and the check out until 11h. Time flexibility adjusts to availability.

* The Check –in team will charge a supplement of 30€ for entries after 21h and 50€ for entries after 24h.
Request more information
We are interested on your opinion

Tell us about your experience

We only accept reviews from real guests who have stayed in this apartment, so it must be indicated the e-mail which with you made ​​the booking.

Penthouse Penthouse Velarde in Seville

Reviews

Average rating from

22

Reviews:

Carlos

▼




February 2019

Excelente lugar para conocer Sevilla. Ubicación Distribución de espacio Limpieza

Yaya Dominguez

▼




November 2018

Las instalaciones la ubicación

Laura

▼




November 2018

Fab location and comfortable but a little basic for us and a little cramped for a family of 4. Lola was amazing!!
Parts of the apartment not very clean. A cigarette butt under the bed!!! Mini ants in the bathroom, kitchen and bedroom. A little basic, but ok for a short stay.

---

Genteel-Home

Dear Laura, thank you for your comment. We are happy to know that you have enjoyed your stay in the apartment, mainly because of his central location. We are asorry to read that you found the cleaning could be better, it is a very important aspect for us and we will certainly work so that it does not happen again. We´re sorry for the inconvinience. Regards

Javier

▼




November 2018

Lugar perfecto para estar en Sevilla. El Depto es amplio , luminoso, buenas camas, instalaciones perfectas y muy cerca de todo el centro.
El baño es un poco pequeñín, pero igual estaba perfecto

Giuseppe

▼




November 2018

Posizione ottima.
Il divano letto scomodo, l´appartamento non è per quattro persone..il bagno è nella stanza matrimoniale..non va bene.

---

Genteel-Home

Caro Giuseppe, grazie per il tuo commento. Riteniamo che l´appartamento non abbia soddisfatto le tue aspettative ad eccezione della sua posizione centrale. L´appartamento ha una superficie di 55 m², come è chiaramente indicato, composto da una camera da letto e un divano letto doppio nel soggiorno, che controlleremo per vedere se c´è qualche problema con il non rilevato finora. In effetti, il bagno è privato nella camera da letto, quindi potrebbe essere più adatto per le famiglie che per le coppie di amici. In ogni caso, ti abbiamo inviato una email quando hai effettuato la prenotazione con un link al nostro sito web dove è possibile vedere le foto e le descrizioni dell´appartamento, dove è chiaramente indicato che il bagno è all´interno della camera da letto. Comprendiamo che non hai letto quell´e-mail. Ci scusiamo per l´inconveniente e speriamo che in futuro possiamo offrirti una maggiore soddisfazione se ci dai una seconda possibilità di soggiornare in uno dei nostri appartamenti. Saluti

Juan Carlos

▼




November 2018

Amplitud, decoración e inmejorable ubicación.
Baño muy pequeño. Situado en un 4° piso, el último hay que subirlo por escalera pues no llega el ascensor.

Alberto

▼




October 2018

Excelente apartamento en el centro de Sevilla.
El alojamiento en sí y su situación. Un apartamento muy agradable, cómodo y decorado con gusto. Muy bien situado a escasos metros del centro histórico de Sevilla.
Nos resultó incómodo la consigna para el equipaje, nos ofrecieron el servicio pero en otro edificio bastante alejado lo que nos resultó incómodo.

Rachid

▼




September 2018

On a bien apprécié l´emplacement de l´appartement du Genteel Home Velarde.
Pas de vue et salle de bain trop petite

---

Genteel-Home

Cher Rachid, merci pour ton commentaire. Nous sommes heureux de savoir que vous avez apprécié l´emplacement central de l´appartement. En ce qui concerne les aspects négatifs mentionnés, l'appartement que vous avez réservé est un grenier d'une chambre de 55m2 comme indiqué clairement, et nous pensons que l'absence de vues vous a déçu, mais nous ne comprenons pas si vous pensiez que le L´appartement a des vues en raison d´une confusion avec un autre appartement. Salutations

Estefanía

▼




August 2018

La ubicación perfecta. En el apartamento hay de todo.

Niamh

▼




July 2018

Great location for a short break, near all the main points of interest and the river walk.
Location was great, it had everything we needed. Great sheets and towels, new bathroom and kitchen. Guide books provided and good recommendations for eating out. Coffee and dish cleaning items also provided which was great.
Nothing we didn´t like here but here are some suggestions to make it perfect. Would be great to use a table and chairs on the roof top terrace at night, there is a great view of the Cathedral there. Should have mosquito nets on windows. Would be nice to have a spare stool for small child to eat at the table and prefer not to have a glass dining table when children are staying, they like to make noise with it, table mats might fix that.

Ming

▼




July 2018

투우장이 바로 옆으로 보이는 위치이고 황금의탑이 가깝습니다. 안락한 인테리어로 나쁘지 않았습니다. 에어컨이 방마다 있어서 정말 시원하게 생활했습니다. 세탁기나 냉장고 주방용품과 화장실등 시설이 오래되지 않아서 사용하기 좋았습니다.
4인 가족이 지내는데 큰 어려움은 없었지만 작은 편입니다. 4인이 캐리어를 풀고 지내기에 살짝 좁아서 불편했습니다. 세비야에 도착하기전 호스트와 연락은 필수로 사전에 전화통화를 했지만 다른 곳에서 열쇠를 가져다 주기때문에 길가에서 기다리기 조금 불편했습니다 :(

Attilio

▼




June 2018

Posizione fantastica, appartamento curato. Abbiamo aspettato una buona mezz´ora la consegna delle chiavi, nonostante gli accordi presi.

Francesca

▼




June 2018

Abbiamo soggiornato in questo appartamento con la mia famiglia eravamo 4, siamo stati benissimo, la posizione è fantastica vicinissima a tutte le attrazioni principali di siviglia proprio dietro il museo del toro, in pochi minuti si raggiunge la cattedrale che si vede illuminata dalla finestra la sera. l´appartamento è dotato di 2 letti singoli uniti con bagno in camera e un divano letto facile da aprire, cucina dotata di tutto per cucinare, la ragazza che ci ha consegnato le chiavi è stata molto gentile ci ha spiegato tutto. lo consiglierò ancora!!

niracha

▼




July 2017

Tres beau séjour à Séville. Appartement agréable. Tbien situé. Terrasse non aménagée malheureusement. Bcp de fourmis dans la salle de bain. Accueil sympathique.

---

Genteel-Home

Merci de votre commentaire. Nous sommes heureux du bon accueil que vous avez réçu. Nous vous rappelons que vous avez réservé l´appartement sans terrasse, mais de toute façon, vous avez eu accès au toit commun qui ne faisait pas partie de l´appartement que vous avez réservé. on espère vous révoir une prochaine fois.

piergiovanni

▼




December 2016

Tutto bene.

EVELYNE

▼




September 2016

CET APPARTEMENT EST TRES BIEN, TRES BIEN PLACE, CALME.
NOUS SOUHAITONS REVENIR A SEVILLE L´ANNEE PROCHAINE POUR 3 SEMAINES, 1 MOIS AU MOIS D´AVRIL MAI... POUVEZ VOUS NOUS DONNER LE TARIF POUR CETTE DUREE ? NOUS CONNAISSONS GENTEEL HOME, AVONS DEJA LOUE L´AN DERNIER APPARTEMENT SAN PABLO.

FRANCOISE

▼




September 2016

Appartement très agréable, spacieux et bien équipé. Convient parfaitement aux couples. Calme.
Nous avons juste regretté que l´immense terrasse commune ne soit pas aménagée

Paul Vincelli

▼




September 2016

Very enjoyable stay, great staff.

Paloma garcia gonzalez

▼




July 2016

Magnifica atencion personal

Vo

▼




May 2016

Very close to main attractions.
The apartment is clean and is situated in a quiet place.

nathalie

▼




May 2016

parfait

Belen

▼




December 2015

Me ha gustado la experiencia desde un apartamento ya que en mis otras instancias en Sevilla había estado en hoteles. Repetiria

The different payment methods Genteel-Home offers for booking and renting apartments are exposed above.