Characteristics

▪ 5 maximum of guests
▪ 70 sq meters area
▪ 2 Bedrooms
▪ 2 Bathrooms
▪ 1 floor
▪ Agreement with a public parking nearby
▪ Elevator
▪ Air conditioning
▪ Heating
▪ Internet
▪ Cot


Mateos Gago II Apartment in Seville

VFT/SE/00734

Mateos Gago II is an exclusive apartment, fully renovated and furnished to the highest standards. It is located on Calle Angeles, corner of Mateos Gago, a privileged place in the neighborhood of Santa Cruz, near the Cathedral and the Jewish Quarter.

The apartment is divided into a bright living room we find upon entering, with dining table and sofa bed. Through a hall, we get to the kitchen, completely new and equipped to the smallest detail. It has two double bedrooms, one with double bed and one with twin beds, high quality mattresses that guarantee the rest of our guests. It has two bathrooms, one with bath and one with shower.

It is definitely a perfect place that invites relaxation. Ideally located, it is the ideal place to meet Seville.

Living room
Bedroom 1
Bedroom 2

▪

Sofa


▪

Sofa bed


▪

Dining table


▪

TV


▪

Double bed


▪

Bed linens and towels


▪

Wardrobe


▪

2 single beds


▪

Bed linen


▪

Wardrobe

Bathroom 1
Bathroom 2
Kitchen

▪

Bathtub


▪

W.C


▪

Hair dryer


▪

Shower


▪

W.C


▪

Coffee Maker


▪

Fridge


▪

Dish washer


▪

Washing machine


▪

Microwave


▪

Oven


▪

Vitroceramic hob


▪

Freezer


▪

Kettle


▪

Toaster

Santa Cruz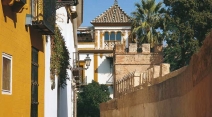 Santa Cruz is the most popular quarter in Seville and it has its origins in the old Jewish quarter of Seville. This quarter was inhabited by the Jews ever since Seville was recaptured by Ferdinand III, King of Castile, until these were ejected in the 15th century.
Located in the center of Seville, Santa Cruz quarter reaches down to the Cathedral, the gardens of the Alcázar (palace) and Jardines de Murillo (Murillo gardens). It is, therefore, a landmark and a touristic zone and it is accessible through Mateos Gago street, the most touristic and commercial street of the quarter.
While having a walk in this zone, you can get to know more about its history, by contemplating the Moorish and Jewish features that so characterize this place. Furthermore, you can go into the narrow streets, which run in an irregular criss-cross pattern and lead to the patios sevillanos (traditional Sevillian patios) or squares, such as Plaza de la Alianza or Plaza de doña Elvira.
During your stay in Santa Cruz quarter, you will feel like you belong here, Andalusia, since you will find yourself surrounded by Andalusian style houses and a pleasant and joyful atmosphere so typical of this region. Nearby places to visit are the Giralda tower, Patio de los Naranjos (orange tree courtyard), the Alcázar (palace), Archivo de Indias (archive of Indies) and the Palacio Arzobispal (archbishop's palace). On the adjacent streets Iglesia de Santa María la Blanca (Santa María la Blanca church), los Jardines de Murillo (Murillo gardens) y el Hospital de los Venerables (baroque hospital) can be found.
Availability
Request more information
We are interested on your opinion

Tell us about your experience

We only accept reviews from real guests who have stayed in this apartment, so it must be indicated the e-mail which with you made ​​the booking.

Apartment Mateos Gago II in Seville

Reviews

Average rating from

27

Reviews:

Lorena

▼




February 2019

Es hermoso el departamento. La ubicacion es perfecta. La procima vez vuelvo al mismo departamento. La atencion de la persona q nos recibio super amable

Danfeng

▼




January 2019

Great location, friendly and helpful staff, helped us book the seats for Flamingo show (since we don´t speak Spanish). Room is clean and well-equipped.

Haijun

▼




January 2019

比较满意
交通方便,位于主要景点,楼下很多酒吧餐厅

Qi

▼




December 2018

location ok, overpriced, no lights in the hallway that I cannot aim my key at the lock.

No reception, no lights in the hallway, old sheets and towels

---

Genteel-Home

Dear Qi, our prices vary depending on the season and occupation in the city, but you knew since the time of booking what was the price of your reservation, you may have chosen other cheaper accommodations if you wanted. It is also announced clearly in the conditions that our establishments are tourist apartments, not hotels, and that we do not have reception in the building. On the other hand, indicate that there is light in the hallway, is next to the elevator and very visible, so we are surprised that they did not find it and had problems to open the lock. Our sheets and towels are new, but in any case we will check for your there would have been a specific problem in this aspect in your reservation. We are sorry not having been able to meet your expectations, but we do not agree with your comments and find them unjustified. In any case we will continue working to improve and achieve a better satisfaction of all our customers. Regards

CArual

▼




December 2018

La posizione è centralissima a qualche minuto dalla Cattedrale. La struttura è moderna e pulita.
Le camere da letto sono piccole. La dotazione di carta igienica è ridotta, l´abbiamo richiesta scrivendo all´indirizzo e-mail che ci era stato indicato in caso di necessità, ma nessuno ha risposto. Prezzo al di sopra della media.

Darren

▼




December 2018

Comfortable stay in perfect location.
Location was perfect. Beds and showers were fine. We had enough space. Everything we hoped for. very comfortable stay.
A little milk in the fridge perhaps would have been nice. A few more towels. TV with English channels.

michelle

▼




November 2018

Could´ve been less steps to get to the elevator with our luggages. Essentially have to walk 2 floors up to get to the elevator.

Mahesh

▼




November 2018

Good but could do better.
Clean comfortable apartment. With some adjustments could be excellent. Excellent location.
Very difficult to find. No signs anywhere so didn't know where we were. Air conditioner did not work. Some facility to store luggage would be good. Had to pay extra for that.

---

Genteel-Home

Dear Maesh, thank you for your comment. We are pleased to know that you have liked the comfort and cleanliness of the apartment, as well as his central location a few meters from the cathedral. Indeed, the apartment is not signposted from the street, since it is not possible as it happens with hotels because it is a tourist apartment located in a residential building. In any case, you have the exact address of your apartment in your confirmation of the reservation and in the messages that we have sent you previous to your arrival. Regarding the air conditioning, we had no notice of any problem, and if you had informed us during your stay we could have sent you a technician to solve it. In any case, we will check it immediately in case there is a problem. We are sorry not to have been able to store your bags, but it was not possible since we did not have a physical reception, and that day there was an entrance from another reservation and therefore we could not let you leave later than usual because we needed to clean and prepare the apartment for the next reservation, that is why, in cases like this, we recommend a luggage company that does not belong to us but is very close to your apartment, where you can store your luggage for as long as you need. Regards

morison

▼




November 2018

Parfait ! À recommander +++
Emplacement idéal, plein centre ville à moins de 5 min de la cathédrale ! Design, propreté et confort de l´appartement

DAC1933

▼




October 2018

Enjoyable. The sitting area was a good size.
Because there were no outside views from Windows and no access to an outside sitting area, it did feel a bit shut-in.

Diana

▼




October 2018

Hidden Gem! Super clean!
The location was fantastic, in the hub of Barrio Santa Cruz. Quiet upstairs apartment with full kitchen and 2 bathrooms. Very clean, easy check in, plenty of closet space. Great air conditioner.
The 2nd bedroom was quite small.

hhyong

▼




September 2018

Location is good, especially for those who want to be right next to restaurants & bars.
The floor of apartment not squeaky clean upon check in.. sandy and sticky. The bed sheets are worn and thin... 2nd night use bed sheets become uncomfortable and below expectation. Towels are worn, grayish... WC faucet got stuck and had to manually lifted each use.Otherwise, no problem with location and general development of this city center apartment block.

---

Genteel-Home

Dear hhyong, we are pleased to know that you liked the excellent location of the apartment in the heart of the city, and the general state of the facilities. However, we have to tell you that there is no misleading as you are accusing. In Genteel Home Santa Cruz we have three apartments located in the same building, but with different characteristics and decorations. We can only choose one as the main one to be shown in the searches that clients make in booking, and this photo is the one that booking shows in the reservations confirmations. There are many apartments that have as their main image a photo of the apartment, and obviously that does not mean that the clients will stay in the Giralda. In addition, you should have seen the photos belonging to the booked apartment, and we will send you a link before your arrival where you can see pictures and features of the apartment you have booked, so we do not understand what your complaint is. Regarding cleanliness, we are sorry that you had that opinion. The cleaning is an aspect that we take care of a lot and all the sheets and towels are new and perfectly clean, so we find it very strange everything that indicates. In addition, we have verified that none of these complaints were notified to our incident department, for which, regrettably, we did not have proof to prove it and solve it at that time. Regards

Laurence

▼




August 2018

l´emplacement est exceptionnel, confortable
Il manque du linge pour la cuisine (essuyer la vaisselle et les mains).

山水相逢风无影

▼




August 2018

位置太好了,走到大教堂2分钟,皇宫5分钟,吉他之家看弗拉明戈5分钟,西班牙广场20分钟,都市阳台20分钟。周围非常热闹,都是餐馆酒馆,都很好吃。
两个卧室比较小

Franco

▼




August 2018

Posizione fantastica, a due passi dall´Alcazar e dalla Cattedrale e dal Barrio più vivace di Sivilglia
appartamento con due stanze ma in una a malapena ci entravano i due letti figuriamoci le valigie

---

Genteel-Home

Dear Franco, thank you for your comment. We are glad to know that you have appreciated the central location of the apartment. About your comment about the dimensions of the rooms, in the pictures you can clearly see how they are, as it is indicated that the 2 bedroom apartment you booked has 70m2 of surface area with capacity for up to 6 people, being you only 4 people . Thank you for staying with Genteel Home. Regards

Mar Hervás

▼




July 2018

Fantástico! Todo fenomenal y la ubicación no podía ser mejor

Luis

▼




July 2018

la ubicación espectacular el apartamento muy lindo y comodo
el apartamento muy bueno lo único que tuvimos un poco de problema con el aire acondicionado

Eric

▼




June 2018

Great apartment in a great neighborhood. Clean modern near everything you would want to see in Seville. If you are arriving by car it is a little complicated because the streets are very narrow in this neighborhood. However, the host was very helpful in locating nearby parking in an area that was easier to access. Once you get in to the apartment you will be thrilled with the location. Walk out the front door to great restaurants, Cathedral, Etc. Loved the apartment thanks for being such a great host.

Sunny

▼




June 2018

Excellent location in the heart of old city, spacious 2 bedroom, 2 bathroom apartment with modern amenities.

Nicole et Michèle

▼




March 2018

Nous avons beaucoup apprécié cet appartement, surtout son emplacement et son confort. Cependant, l´absence d´un four conventionnel dans la cuisine nous a ennuyé.

---

Genteel-Home

Bonjour Nicole et Michèle, Merci beaucoup pour votre commentaire. Nous sommes très heureux parce que vous avez apprécié l´appartement et que vous avez profite de Sevilla. Nous sommes étonnés par vos observations sur le four. La cuisine est entièrement équipée et dispose bien sûr d´un nouveau four, comme le reste de la cuisine et de l´appartement. Aussi, Reyes, la personne qui vous a reçu, elle vous a expliqué le fonctionnement du four. Nous espérons que vous reviendrez bientôt. Cordialement Genteel-Home

DAVID GEBLEUX

▼




March 2018

Bel appartement, bien équipé et très bien situé en plein coeur du quartier touristique de Séville.
Il est noter le bruit des canalisations d´eaux usées au niveau de la grande chambre, le manque de luminosité (qui peut être un avantage en cas de forte chaleur) et la propreté douteuse des draps (présence de cheveux...)

---

Genteel-Home

Bonjour M. Gebleux, Merci beaucoup pour votre commentaire, pour nous c´est très important et cela nous aide à nous améliorer. Nous avons déjà examiné la canalisation de la salle de bain en suite et nous avons transmis l´information au service de nettoyage. Nous sommes heureux de savoir que vous avez passé de beaux jours à Séville et nous espérons vous revoir bientôt. Cordialement, Genteel-Home

Kathy Maiuri

▼




October 2017

The apartment was large and very nice. We were a couple but it would definitely accommodate 4-6. Although we could not use the terrace due to the heat, it is was a nice addition. However, the furniture needs replacement. Location was absolutely wonderful. Matteo Gaga is packed with restaurants and you are close to everything. I would suggest more than two towel for a two bedroom apartment.

Janet S

▼




October 2017

Excellent location. Comfortable pull out sofa. Theresa was lovely abd oriented us to the apartment on site. Shower water temperature was variable.

Philippe

▼




September 2017

Très bel appartement, à deux pas de la Giralda. Confortable et bien équipé.

Shabnam oreizi

▼




September 2017

Great apartment, excellent location, very tastefully decorated , newly remodeled clean ,ac worked great

Ines Dubrulle

▼




May 2017

Appartement extrêmement bien situé et très calme. Bien valorisé en terme d´espace, presque trop car on a tendance à se cogner dans les portes ! Il manque un peu de fenêtres vers l´extérieur mais nous n´avons pas beaucoup été la ! Personnel très aidant et gentil .

Xavier

▼




August 2016

Bonjour, nous avons effectué ( en aout) un séjour de 12 nuits en famille (2 adultes et 2 adolescents) et nous en avons été pleinement satisfaits. La description correspond à la réalité. L´appartement était propre voir neuf, bien équipé en électro-ménager , il y avait même les produits pour les machines à laver( vaisselle et linge). L´appartement est bien insonorisé, nous n´entendions pas les bruits des restaurants à Tapas alentour et à peine entendions-nous les cloches de la Giralda pourtant pas loin. L´appartement est bien climatisé ce qui était agréable en plein mois d´août. L´accueil de Reyes a été chaleureux et sympathique. A la fin de notre première semaine le linge (serviettes et draps) a été changé et les lits ont été faits. Nous recommandons vivement cet appartement.

The different payment methods Genteel-Home offers for booking and renting apartments are exposed above.