Characteristics

▪ 4 maximum of guests
▪ 75 sq meters area
▪ 2 Bedrooms
▪ 1 Bathroom
▪ 2 floor
▪ Private Terrace
▪ Agreement with a public parking nearby
▪ Elevator
▪ Air conditioning
▪ Heating
▪ Internet
▪ Cot


Transport nearby

Taxi: Calle Alemanes, Pza. del Duque, Pza. Nueva.

Bus: C5, 10, 11, 12, 15, 16, 20, 24, 27, 32.

Metro: Puerta Jerez

Tram: T1

Genteel Catedral Terrace II Apartment in Seville

A/SE/00186

This apartment is an exclusive accommodation in Seville. It has an unbeatable location facing the Cathedral of Seville, in a magnificent area with beautiful surroundings. Apart from the Cathedral, you will be near from all the main sights of the city: the charming streets of Santa Cruz area, the Alcazar Royal Palace, the beautiful Arenal area, the Maestranza bullring... It is the ideal location, with also a wide variety of traditional restaurants and shops nearby.

Genteel Catedral Terrace II is on the second floor of an elegant and beautiful building composed of three apartments, one in each different floor, and it is located at Alemanes street in Seville.

The apartment is completely new and it has been tastefully decorated and furnished with top quality materials. There are two double bedrooms: one with a double bed and another one with two large single beds -and the possibility to set an extra single bed- and a great window facing the Cathedral. There is a comfortable and elegant living room with a double sofa-bed and a dining area, and there is a complete bathroom and a fully equipped kitchen. This apartment also benefits from a great private terrace, with access from outside the apartment, on the roof of the building, which is also provided with garden furniture and offers stunning views of the Cathedral. This is an ideal private space to relax while being in the very heart of the city.

Bedroom 1
Bedroom 2
Bathroom 1

▪

Double bed


▪

Wardrobe


▪

Bed linens and towels


▪

2 single beds


▪

Wardrobe


▪

Bed linens and towels


▪

Bathtub


▪

W.C

Living room
Kitchen

▪

Sofa


▪

TV


▪

Dining room


▪

Coffee Maker


▪

Refrigerator and freezer


▪

Washing machine


▪

Toaster


▪

Vitroceramic hob


▪

Flat iron and ironing board


▪

Kettle

Santa Cruz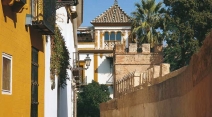 Santa Cruz is the most popular quarter in Seville and it has its origins in the old Jewish quarter of Seville. This quarter was inhabited by the Jews ever since Seville was recaptured by Ferdinand III, King of Castile, until these were ejected in the 15th century.
Located in the center of Seville, Santa Cruz quarter reaches down to the Cathedral, the gardens of the Alcázar (palace) and Jardines de Murillo (Murillo gardens). It is, therefore, a landmark and a touristic zone and it is accessible through Mateos Gago street, the most touristic and commercial street of the quarter.
While having a walk in this zone, you can get to know more about its history, by contemplating the Moorish and Jewish features that so characterize this place. Furthermore, you can go into the narrow streets, which run in an irregular criss-cross pattern and lead to the patios sevillanos (traditional Sevillian patios) or squares, such as Plaza de la Alianza or Plaza de doña Elvira.
During your stay in Santa Cruz quarter, you will feel like you belong here, Andalusia, since you will find yourself surrounded by Andalusian style houses and a pleasant and joyful atmosphere so typical of this region. Nearby places to visit are the Giralda tower, Patio de los Naranjos (orange tree courtyard), the Alcázar (palace), Archivo de Indias (archive of Indies) and the Palacio Arzobispal (archbishop's palace). On the adjacent streets Iglesia de Santa María la Blanca (Santa María la Blanca church), los Jardines de Murillo (Murillo gardens) y el Hospital de los Venerables (baroque hospital) can be found.
Availability
Apartment special conditions

- To formalise the booking is necessary the payment of the 30% of the total that has to be paid by credit card.

- The balance due will be charged from your credit card minimum fifteen days upon arrival.

- The damage deposit will be retained from a valid credit card whose details will have to be provided to the person who'll receive you.

- Check-in and Check-out time: in principle the check-in is from 15h and the check out until 11h. Time flexibility adjusts to availability.

* The Check –in team will charge a supplement of 30€ for entries after 21h and 50€ for entries after 24h.
Request more information
We are interested on your opinion

Tell us about your experience

We only accept reviews from real guests who have stayed in this apartment, so it must be indicated the e-mail which with you made ​​the booking.

Apartment Genteel Catedral Terrace II in Seville

Reviews

Average rating from

30

Reviews:

Alexander

▼




January 2019

Perfekte Lage!!!!

Francisca

▼




December 2018

La ubicación genial y las vistas. Muy confortable.
El aseo lo podrían reformar, plato ducha mejor que bañera.

Charlotte

▼




December 2018

Location was amazing, and the host Jaime was very friendly and helpful.

Anónimo

▼




November 2018

Loved the location right in the middle of everything & the view of the Cathedral was amazing. The terrace was a added bonus! The apartment had everything we needed! Highly recommend

Steffen

▼




November 2018

Perfect location. Close to everything. Nice roof top terrace with direct amazing view of the cathedral which is illuminated at night. Loved our time there. The elevator takes you to the 3rd floor and from there only a short staircase to the roof top. Jaimie was waiting for us at the entrance, very helpful and efficient.
Not a problem, but people should know that the roof top terrace is divided in two areas where two different appartments have their own terrace, but they are still next to each other. The room facing the street has a little bit of noise, not a problem for us though.

Gun

▼




October 2018

Vi är mycket nöjda med hela vistelsen.Fri guid ger en guldkant och lätt att hitta en engelsktalande
Incheckningen och bemötandet.Bra info. av tjejen som mötte upp.Snyggt och rent.Terrasen var fantastisk.Bra utrustat. Snabba svar på frågor om parkering , incheckning och betalning.Betyder så mycket!

Jan

▼




October 2018

Zauberhafte Aussicht auf Kathedrale und Giralda. Zentraler geht nicht.

Jean-philippe Dantan

▼




August 2018

Tout excellent

Stephen

▼




August 2018

Fine, no wow factor.
Location was amazing! Right in the centre, walking distance to all the sights. Michelin plate (not star) restaurant downstairs and lots of cafes and shops around.
Apartment is starting to look old and shabby. Beds were basic and not comfortable. Kitchen facilities were basic - most apartments now offer modern coffee machines but Genteel provides an old-style coffee filter machine with no filter paper!

Stephane

▼




August 2018

Great location....mais la terrasse n´est pas privative
La terrasse ne fait pas partie de l´appartement. L´appartement est au 2eme alors que la terrasse est au 4eme !

---

Genteel-Home

Cher Stéphane, merci beaucoup pour votre commentaire. Effectivement, la terrasse n´est pas à l´intérieur de l´appartement, mais cela est déjà expliqué et précisé dans les caractéristiques de l´appartement. Par contre, nous ne comprenons pas ce que vous voulez dire lorsque vous dites que la terrasse n'est pas privée. C´est faux, les trois appartements de Genteel Home Catedral ont une terrasse privée, en aucun cas la terrasse de chaque appartement n´est partagée avec les autres locataires. Salutations

Herbert Zohn

▼




March 2018

Dear Jaime...we enjoyed you cathedral apartment in Seville very much. The apartment was well equipped, comfortable and quiet considering the ceantral location. The once-weekly maid was excellent. The Genteel office was always helpful..and most important Seville is beautiful, with patient, helpful people everywhere. We loved the flamenco performances we attended, the wonderful sightseeing and the many carried shops we browsed in (and bought lovely items to remember our visit.). Herb Zohn

Nathalie

▼




November 2017

We had a fantastic weekend in Seville as the flat is in the best possible location. The staff was very helpful. I couldn´t recommend the flat more.

Voula Paolone

▼




October 2017

Best location ever, basic apartment that includes everything, pleasantly surprised. Easy check in with friendly staff. Nice roof top terrace too.

Noelle

▼




June 2017

¨l´annonce est en tout point conforme, appartement très bien équipé, superbement bien placé, et une terrasse privative en toiture, avec vue sur la cathédrale, magnifiquement éclairée, à la nuit tombée.

Clara

▼




June 2017

The apartment was clean and the terrace was great. However, the beds were not comfortable, and the kitchen was really empty : we had to go buy garbage bags and extra toilet paper, and we couldn´t really cook because there was nothing to dry the dishes. The fact that the toilet is inside the only bathroom is not practical neither when sharing this space with 6 friends.

---

Genteel-Home

Dear Clara, first of all we would like to thank you for taking the time to review your stay with us. We always try to have everything prepared for the arrival of our guests. Your comments about things of our service that should be improved are appreciated, but we would also like to remind you that we do have customer service department which can be contacted if you need any help. We wish you would have contacted our team during your stay as we were able to provide you things were missing. Hope your stay in our apartment was otherwise enjoyable and hope to welcome you again in near future.

jeremie

▼




May 2017

GENIAL et idéalement placé

BORJA

▼




April 2017

Todo Perfecto

Stephane

▼




November 2016

Very nice

karine

▼




June 2016

Sejour magnifique dans un logement situé idéalement dans la magnifique ville de seville. Appartement très confortable avec une vue imprenable sur la cathédrale.

Karine

▼




May 2016

Appartement idéalement placé, juste à coté de la cathédrale. La vue depuis la terrasse est superbe. Dommage que les ustensiles de cuisine soient limités.

---

Genteel-Home

Merci beaucoup pour votre commentaire, Mme. Je suis heureusse que vous aviez bien aimé l´appartement et nous serons ravies de vous loger dans une autre occassion. Nous avons révisé et augmenté le menage de cuisine. Merci beaucoup pour nous aider à améliorer. À très bientôt!

laurence

▼




March 2016

l´emplacement est ideal avec le réveil au son des cloches
l´accueil a été génial avec plein de bons conseils
rien a dire au niveau de la propreté
les éponges, le liquide vaisselle et le papier wc fournis c´est plutôt rare
la propreté rien a redire
un super resto au pied de l´appart et le starbuck au coin de la rue;

Andreas Sipos

▼




October 2015

Un bonito apartemento en una excelente ubicacion en el centro. Todo cerca estan monumentos, museos, restaurantes y eventos culturales.

Hugh Abbott

▼




October 2015

Perfect location, decent apartment with lovely roof terrace. Only quibble: broken ironing board and clothes hanger and no clothes line on terrace.Cleaning 10, but we had to pay 40 euros for it.

RJ

▼




July 2015

Great location! Nice place to stay except for only one bathroom for 7 seven people to share, but manageable based on our creative with schedule for taking turns.

Carol Herity

▼




June 2015

The apartment is located centrally to the historic part of the city which makes it possible to explore by foot. Sun terrace is accessed via a couple of short flights of stairs, but at night made this a perfect way to enjoy Seville.

Anick


May 2015

Appartement extrêmement bien situé , la vue sur la cathédrale depuis la terrasse privative est splendide, l´appartement est très propre ,la salle de bains n´est pas neuve mais fonctionnelle;et l´accueil parfait. Nous avons passé un très agréable séjour à cinq. Je recommande cette location.

karen pringle


April 2015

Wonderful location exceptional view from the rooftop terrace , an absolute gem.

karen pringle


April 2015

Wonderful apartment in spectacular location with a breathtaking rooftop terrace.Lift for those who would require one,handy if returning laden with shopping.Wead an amazing time in Seville made all the more so by our accommodation.Many Thanks, genteel appartments.

Susan


March 2015

This was a wonderful place to stay in Seville right next door to the lovely Cathedral. It was in a great location in the city center convenient to everything. The flat was clean, spacious, and beautifully decorated. I would highly recommend it!!

Patricia


March 2015

Una estancia excelente. Desde el primer momento Jaime nos espero hasta la llegada a la vivienda y muy amablemente nos explicó todo nos dejo su teléfono para que le llamásemos si teníamos algún problema. Que no lo hubo.
Lo mejor es la ubicación del piso, la calle muy tranquila tanto por el día como por la noche.

The different payment methods Genteel-Home offers for booking and renting apartments are exposed above.