Characteristics

▪ 4 maximum of guests
▪ 70 sq meters area
▪ 2 Bedrooms
▪ 1 Bathroom
▪ 1 floor
▪ Private Terrace
▪ Agreement with a public parking nearby
▪ Elevator
▪ Air conditioning
▪ Heating
▪ Internet
▪ Cot


Transport nearby

Taxi: Calle Alemanes, Pza. del Duque, Pza. Nueva.

Bus: C5, 10, 11, 12, 15, 16, 20, 24, 27, 32.

Metro: Puerta Jerez

Tram: T1

Genteel Catedral I Apartment in Seville

A/SE/00186

This apartment is located in an exceptional place in Seville, right in front of the Cathedral of Seville. We will also find from a short walking distance other main sights like the Alcazar Palace or the monument called Archivo de Indias. It is a beautiful area with a great atmosphere and with all the amenities: a wide variety of restaurants, some little traditional 'tapas' bars and artisan shops, the main commercial streets and shopping area in the center, as well as a good connection with public transports.

Genteel Catedral I is one of the three apartments which compose a gorgeous building at Alemanes street in Seville, and it is situated on the first floor.

The apartment is composed of two bedrooms, the first one with a double bed and the second one with two single beds and the possibility to have an extra single bed. There is a comfortable double sofa-bed in the living room which provides the apartment with capacity for up to seven people staying comfortably. The elegant living room is a lovely area tastefully decorated, and it has great windows offering unique views of the Cathedral. There is a complete bathroom, a fully equipped kitchen and a private interior patio provided with garden furniture. This apartment also benefits from a private terrace, with access from outside the apartment, on the roof of the building, which is also provided with garden furniture and offers stunning views of the Cathedral. This is an ideal private space to relax while being in the very heart of the city.

The apartment is completely remodeled and has been fully equipped with all the necessary in order to offer our guests a comfortable stay in this unique place in Seville.

Bedroom 1
Bedroom 2
Bathroom 1

▪

Double bed


▪

Wardrobe


▪

Bed linens and towels


▪

2 single beds


▪

Wardrobe


▪

Bathtub


▪

W.C

Living room
Kitchen

▪

Sofa


▪

TV


▪

Coffee Maker


▪

Fridge


▪

Washing machine


▪

Refrigerator and freezer


▪

Toaster


▪

Vitroceramic hob


▪

Flat iron and ironing board


▪

Kettle

Santa Cruz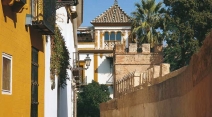 Santa Cruz is the most popular quarter in Seville and it has its origins in the old Jewish quarter of Seville. This quarter was inhabited by the Jews ever since Seville was recaptured by Ferdinand III, King of Castile, until these were ejected in the 15th century.
Located in the center of Seville, Santa Cruz quarter reaches down to the Cathedral, the gardens of the Alcázar (palace) and Jardines de Murillo (Murillo gardens). It is, therefore, a landmark and a touristic zone and it is accessible through Mateos Gago street, the most touristic and commercial street of the quarter.
While having a walk in this zone, you can get to know more about its history, by contemplating the Moorish and Jewish features that so characterize this place. Furthermore, you can go into the narrow streets, which run in an irregular criss-cross pattern and lead to the patios sevillanos (traditional Sevillian patios) or squares, such as Plaza de la Alianza or Plaza de doña Elvira.
During your stay in Santa Cruz quarter, you will feel like you belong here, Andalusia, since you will find yourself surrounded by Andalusian style houses and a pleasant and joyful atmosphere so typical of this region. Nearby places to visit are the Giralda tower, Patio de los Naranjos (orange tree courtyard), the Alcázar (palace), Archivo de Indias (archive of Indies) and the Palacio Arzobispal (archbishop's palace). On the adjacent streets Iglesia de Santa María la Blanca (Santa María la Blanca church), los Jardines de Murillo (Murillo gardens) y el Hospital de los Venerables (baroque hospital) can be found.
Availability
Apartment special conditions

- To formalise the booking is necessary the payment of the 30% of the total that has to be paid by credit card.

- The balance due will be charged from your credit card minimum fifteen days upon arrival.

- The damage deposit will be retained from a valid credit card whose details will have to be provided to the person who'll receive you.

- Check-in and Check-out time: in principle the check-in is from 15h and the check out until 11h. Time flexibility adjusts to availability.

* The Check –in team will charge a supplement of 30€ for entries after 22h and 50€ for entries after 24h.
Request more information
We are interested on your opinion

Tell us about your experience

We only accept reviews from real guests who have stayed in this apartment, so it must be indicated the e-mail which with you made ​​the booking.

Apartment Genteel Catedral I in Seville

Reviews

Average rating from

29

Reviews:

Manuel Galiano

▼




December 2018

La ubicación, la relación calidad - precio, y el personal muy amable y atento.

Roydon

▼




December 2018

Great location with awesome view of cathedral. Comfortable apartment with rooftop terrace access. Clean. Good communication
Nothing bad really except maybe early morning Cathedral bells!

Srna

▼




November 2018

Fabulous location and great host!
Jaime, the host, was very helpful. There were extra towels and bed covers. The elevator in the building was a great help with the luggage.
The bathroom needs a little bit of love and care.

Wendy

▼




November 2018

The location was wonderful. They kindly installed a bike rack for us as made having bikes convenient.
The apartment was not cleaned during the stay and toilet rolls not provided.

---

Genteel-Home

Dear Wendy, thank you for your comment. We are very surprised by the score you have left us, because as you comment the location is wonderful to be in front of the cathedral and we even gave you a solution installing a bike rack exclusively for you, giving a solution to your need.

We manage tourist apartments, so we do not have hotel services such as daily cleaning or change of sheets and towels daily. We think it is something obvious and common to tourist apartments. We do not even charge a final cleaning fee like in other apartments, but the apartment was perfectly clean upon arrival and we provided cleaning products. Unlike hotels, we try that our guests have much more freedom and privacy in our apartments, as if they were in their own homes. On the other hand, we leave in the arrival of our customers basic products to facilitate the first days of their stay, such as coffee, sugar, oil, vinegar, dishwasher tablets and toilet paper, and we indicate where the nearest supermarket is so that they can acquire everything they need.

It is a pity that these details have influenced your perception of your stay. Regards

Andrea

▼




October 2018

Der Standort ist perfekt
Teils riecht es nicht so gut

Anne Willie

▼




September 2018

Four of us recently stayed in Apartment Genteel Catedral I in Seville. The location is as they say, unbeatable! You are in the heart of this beautiful city, with a small, but handy rooftop terrace. What we all disagreed with, was there photos and there description. Completely remodeled, does not mean recently. The apartment is very tired, in need of a paint, and the bathroom needs an extensive do over. The bath tub has a good sized chip in it, as does the sink. The cabinetry for the sinks, in grubby, cracked and the veneer peeling. The tiled floor is just soiled. Some of the furniture was not as shown in the photos. Bedside tables were sharp cornered, metal filing cabinets, and headboards were shabby. Bedding was all IKEA, as was a lot of the furnishings.
Over our four days in Seville, we kept seeing signs, outside apartments, showing symbols of keys. When we asked about them at the tourist information, we were informed they were ratings for accommodation. Ours had 1 key!
This apartment could be terrific, with some time and money spent on it, and elevated to a totally different level. We usually use Airbnb, and have had huge success all over the world, this is our first time using Genteel Homes, and I have to say, when researching them, there was very little information on them.
So Genteel Homes, you have a diamond in the rough, do it some justice and make it sparkle.

Isabel

▼




September 2018

Lo bueno la ubicación. Lo malo la bulla

---

Genteel-Home

Estimada Isabel, gracias por su comentario. Nos parece realmente sorprendente tanto su comentario como su valoración. El apartamento que ha reservado ciertamente tiene una ubicación inigualable, justo en frente de la catedral, por lo que no podría ser más idónea para visitar la ciudad. Sin embargo, y a pesar de mencionarlo como lo mejor de su estancia, nos valora con un 7,5 en este aspecto.... En cuanto a "la bulla" como lo negativo, ciertamente seguro que hay zonas más tranquilas en Sevilla, pero difícilmente se puede tener tranquilidad total lejos del bullicio y el ruido y estar en pleno centro histórico junto a la catedral. No le aconsejamos venir en Semana Santa entonces :) Saludos.

Daniele

▼




September 2018

Fantastique, une situation de rêve. Appartement spacieux. Accueil parfait. La terrasse sur le toit est tout simplement magique le soir. Nous gardons l adresse précieusement !

Kelly

▼




September 2018

The location is amazing and everything is literally a stones throw away. The roof terrace overlooking the Cathedral was breathtaking and the pictures don't do it justice. The apartment was very clean and we were really pleased with it and would recommend it to others without a doubt.
Finding the parking space at the rear of the property was a massive downside to start of our holiday. The rep was ill so we had no confirmation of how to get to it. We spoke to a very friendly lady but the language barrier meant we couldn't communicate clearly enough to get a post code for our Sat Nav which led to the actual parking space. After 2 hours of driving around Seville we finally found it but only because some of the group went by foot. The parking space is difficult to manoeuvre in and out off and we damaged our hire car on the garage door when we opened the boot as it is extremely low.

Anthony

▼




September 2018

Perfectly located apartment, right in the heart of Seville. We spent a couple of days exploring the city. At night we relaxed on the wonderful communal roof terrace.
The experience overall was excellent.

Trevor

▼




September 2018

Great central location, perfect for exploring the sights of Seville.

Swati

▼




September 2018

Lovely, perfect location!
The location is perfect... walking distance to all city centre areas. It has a lovely local vibe and spacious apartment (apart from the kitchen, but we hardly used it with ample restaurants in the area and surrounding areas). The owner contacted me prior to check in and allowed us to check in early and check out late, as the next guest were not arriving till the evening. Therefore made our stay comforting as we had an early morning arrival and late evening flight back. The host gave many recommendations for tapas, bars and places to visit. I would definitely recommend this apartment for a short stay in Seville, it's perfect.
Kitchen was small. Bathroom shower could be Better.

Amal

▼




August 2018

Jaime était aux petits soins, agréable, joignable et de bon conseil et l appartement très bien situé.
Impossibilité de se garer dans la rue; pas moyen de déposer une personne ayant des difficultés à se déplacer. Bien que motorisés , nous avons été obligés de nous garer loin et de prendre un taxi pour faire 400m.

---

Genteel-Home

Cher Amal, merci beaucoup pour ton aimable commentaire. Nous sommes heureux de savoir que vous avez aimé l´emplacement unique en face de la cathédrale et la gentillesse de notre personnel. En effet, au cœur de Séville, à quelques mètres de la cathédrale, il n'est pas possible de se garer dans la rue, étant donné qu'il se trouve pratiquement dans tout le centre de Séville, car de nombreuses rues sont également piétonnes. Cela est logiquement hors de notre contrôle.

Aaminah

▼




August 2018

Perfect location!
Apartment was in the perfect location right opposite Seville Cathedral. Great atmosphere around the area, everything is within walking distance. Apartment was clean, comfortable and I would stay here again.
Both bathroom and kitchen could do with an update.

Peter

▼




June 2018

Sehr gute Lage! Alles Sehenswürdigkeiten kann man bequem zu Fuß erreichen. Die Dachterrase bietet einen spektakulären Blick auf die Kathedrale. Die Schlüsselübergabe lief problemlos.
Wir hatten das Appartement in der ersten Etage. Unterhalb ist ein Restaurant/Bar daher ist es abends doch sehr laut.

Antonio

▼




June 2018

Ubicación y vistas excepcionales. Terraza increíble con vistas a la caredral, por la noche un buen sitio para tomarse algo. El trato con el personal muy bien. Una estancia en general muy agradable.
Limpieza y algunos detalles del apartamento que se veían ya con mucho uso. Al ser un edificio antiguo, olían mucho las tuberías.

Pauline Watt

▼




November 2017

This was our second time at Genteel Cathedral. The apartment could not be in a better situation being right next to the cathedral and most places of interest within walking distance. It is simply but well-furnished and comfortable for four adults with a large twin bedroom and a smaller double, a large lounge/dining room and small kitchen. It is clean, light and airy - we would gladly return.

Jennifer Hippo

▼




October 2017

The first floor apartment was amazing! The location was perfect and so close to most everything in the city. The view was phenomenal! I loved that we had the interior courtyard area for when it got too hot to be on the roof deck. The rooms and bathroom were good and the balcony was perfect with a view of the cathedral.

Sonya

▼




June 2017

AC was broken and it was 35 degrees whilst there. Jaimie provided wonderful service by providing Genteel Catedral 3 for the first 2 nights and sourcing some fans. He also provided another apartment 2 days later for the rest of our stay as the whole unit needed replacing and could not be done till the following week.
His service was 100 % Plus - he did everything he could to help and prompt and friendly with all calls for help.
It was unfortunate this happened as it dampened our enthusiasm for Seville and it was so hot but we realise it was not reported prior to the company u til we arrived and discovered it.

---

Genteel-Home

Dear Sonya, thank you very much for taking the time of sharing your wonderful review. We always try to give the best service possible to our customers and help them with anything they need although there might be things that are our from out control, like sadly was in your case. However, we´re really glad that you still enjoyed your stay. The a/c machines have already been renewed and they work fine now. We hope to see you again very soon!

Karine Lemoine Errotaberea

▼




May 2017

Un super logement plein centre. Je recommande vivement.

Jane Crawford

▼




May 2017

An amazing location with a roof terrace reached by elevator that had incredible views. Apartment was clean and pleasant but not luxurious - a little tired in places and fairly basic overall. This was our first visit to Seville and we will definitely come back, but would look for a higher spec property - felt the cost did not reflect the quality although we realised there was a premium for the very central location.
Beds were not very comfortable.

---

Genteel-Home

We appreciate that you´ve taken the time to write this review. All opinions are respected and we thank you for sharing yours. We just wanted to point your bed review out: as you correctly stated in your suggestions, they´re effectively new. We´re sorry you didn´t find them comfortable as we perfectly understand that mattresses are something personal and each person has their own taste. In any case, thank you again for your words.

Angela De Rose

▼




September 2016

Our family´s stay at your apartment was perfect. Location was incredible with breathtaking views of the cathedral. The apartment was very tastefully decorated, cosy and very well maintained. Hostess was very pleasant and helpful. Very highly recommended. Thank you :)

David

▼




December 2015

Love, love, loved it! The location was perfect. We looked out our balcony over the orange trees to the cathedral. We enjoyed the street sounds of happy people and the clip-clop of the horses pulling carriages through the streets. We walked to the bullring, the market at Triana, and the Real Alcazar. Many restaurants in the area and shopping nearby. Next time in Seville I won´t even look anywhere else.

Sally Annette

▼




October 2015

Loved the apartment - perfectly located, spacious, clean and comfortable. I was very impressed. The staff were very friendly and helpful as well, even offering recommendations for places to eat. Was really handy to be able to book transfers to & from the airport.

Dion Gallant

▼




June 2015

Amazing location but very hard to get to by car due to narrow one way streets. Better to walk or take a taxi to the apartment.

Beautiful view of the cathedral from the balcony.

Staff is friendly and helpful.

Virginia


May 2015

Three of us shared the apartment for four days. With the Cathedral directly across the way and lively bars/restaurants on the street below, we could not have had a better location. The living room and main bedroom look out at the active street alongside the Cathedral. The second bedroom is in the back and opens out onto a small terrace. We felt very much at home. A couple of recommendations to make it even more attractive: Ensure maintenance is done in a timely way, i.e., we found the pulley for the window shutter in the living room to be just about separated from the wall, and the bathroom (while certainly adequate) could benefit from a fresh coat of paint. Perhaps a small matter, but it would be good to have the instructions for the washing machine, which appeared to have a gazillion different settings! Having offered these few suggestions, I would like to underline that the apartment is spacious and very comfortable. Bottomline, we truly enjoyed our stay and definitely recommend this apartment to other travelers.

madeleine


March 2015

appartement très bien situé confortable bonne literie seuls bémols pas beaucoup de vaisselle et pas assez de chaises (nous étions 5) nous recommandons cet appartement avec une vue imprenable sur la cathédrale de Séville et le joli quartier de santa cruz à 2 pas

Gabriela


February 2015

Solo puedo decir que el piso era maravilloso, recién estrenado y la ubicación podría decir que el mejor sitio de Sevilla.
Muy agradable la persona que nos atendió y nos supo explicar muchos sitios en los que acertó.
Repetiríamos seguro.

Agnes


January 2015

Appartement très fonctionnel, très agréable, neuf. idéalement placé au pied de la Cathédrale. Taxi/commerces au pied de l´immeuble. Idéal pour famille.

The different payment methods Genteel-Home offers for booking and renting apartments are exposed above.