Characteristics

▪ 7 maximum of guests
▪ 140 sq meters area
▪ 3 Bedrooms
▪ 2 Bathrooms
▪ Private Terrace
▪ Agreement with a public parking nearby
▪ Air conditioning
▪ Heating
▪ Internet
▪ Cot


Transport nearby

Taxi: Pza. Nueva, Calle Adriano, Calle Reyes Católicos, Paseo Colón.

Bus: EA aeropuerto, C4, C5, 3, 40, 41.

Metro: Puerta Jerez

Tranvía: T1

Galera Terrace House in Seville

CTC-2017160177

It is a historic house completely renovated, which one reflects the style of Seville at the end of the 19th century. It has elements of the year 1885 in its doors, irons and tiles, of great cultural and historical value. Everything has been rehabilitated and designed new, but always keeping the style and the classic setup of this type of House.

The House is organized on 4 floors. On the ground floor there is an entrance that leads to the staircase and a comfortable exterior room, with two single beds of 0.90 x 2.00 and a full bathroom en suite. Through the beautiful staircase with vintage tiles, we access to the first floor where there are two bedrooms, both exterior, one of them with a double bed of 1.50 x 1.90 and the other one with two single beds of 0.90 x 1.90. Moreover, on the same floor there is a fully bathroom.

On the third floor is the kitchen, where you encounter a beautiful private patio, completely new and provided with everything that you need, as well as a beautiful outdoor lounge, decorated in detail, with seating area and dining area. It also has a comfortable double sofa bed for 2 people.

On the top floor we find the private terrace, with artificial turf, garden furniture and an outside shower to cool off if we are basking in the sun. Also on the same terrace, there is a small and beautiful kitchen that it allows us to servicing there, so it is not neccesary to go down stairs, as well a small toilet to make more comfortable.

Calle Galera is located in the heart of Arenal, perhaps the best area in the center of Seville. The House is a few meters from the Plaza de la Maestranza, the Theater, the Torre del Oro, and a few minutes from the Cathedral, the Giralda or the Alcázar. Although this street is pedestrian and very quiet, in the surroundings of the Casa there are numerous restaurants and typical bars of Seville, with exquisite Andalusian tapas and the best wines. There is also a supermarket nearby and numerous small food stores.

Living room
Bedroom 1
Bedroom 2

▪

Dining table


▪

Sofa bed


▪

reading chair


▪

Plasma TV


▪

2 single beds


▪

Bed linens and towels


▪

2 single beds


▪

Bed linens and towels

Bedroom 3
Bathroom 1
Bathroom 2

▪

Double bed


▪

Bed linens and towels


▪

Shower


▪

W.C


▪

Hair dryer


▪

Shower


▪

W.C

Kitchen

▪

Vitroceramic hob


▪

Refrigerator and freezer


▪

Coffee Maker


▪

Kettle


▪

Oven


▪

Microwave


▪

Dish washer


▪

Washing machine


▪

Toaster

El Arenal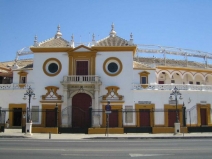 Located in the city centre and, at the same time, on the banks of Guadalquivir River, El Arenal quarter is one of the quarters of Seville with more Andalusian tradition. Since it can be found in the old part of the city, it has witnessed first-hand many events in Seville history, because of having had one of the most important ports in the world during the 16th and 17th centuries, thanks to the discovery of America and the resulting trade with India.
El Arenal is, without a doubt, one of the most traditional and characteristic quarters in Seville. Furthermore, it is nowadays a busy and meeting place for people from Seville, since it is the quarter par excellence devoted to bullfighting, religious devotion, religious brotherhoods and Semana Santa (Holy Week) and these constitute the most significant features of this place.
This zone is home to such symbolic buildings as the La Maestranza bullring, the Torre del Oro tower, the Arenal market, the Torre de la Plata tower and the La Maestranza theatre. In this zone you can enjoy leisure activities, mostly all the ones regarding the world of the Spanish bullfighting, opera, theatre and religious brotherhoods.
While walking around this quarter, tourist can take the opportunity to get to know better part of the history of our city by visiting other places of touristic interest, namely La Hermandad de la Santa Caridad church or the Atarazanas (medieval shipyard). Finally, thanks to its central location, you will be able to find within a very short walking distance the Cathedral and the Giralda tower, must-see places if you come to spend a few days in Seville.
Availability
Request more information
We are interested on your opinion

Tell us about your experience

We only accept reviews from real guests who have stayed in this apartment, so it must be indicated the e-mail which with you made ​​the booking.

House Galera Terrace in Seville

Reviews

Average rating from

13

Reviews:

Anna

▼




January 2019

It was an excellent and very enjoyable stay.
The location was perfect. The beds were very comfortable.
It would have been better if basics are left in the kitchen for example like coffee tea and milk and water in the fridge for the first night. It would also be a good idea to place a mirror in the double bedroom upstairs.

Mohd Sharedza

▼




November 2018

3 storeys house with a lift inside!! so easy to take heavy things to upstairs

Beatriz

▼




November 2018

La ubicación (estás cerca de todo), la limpieza, la comodidad de las camas, la terraza.. En general el apartamento está genial.
Por poner un pero, el tamaño de alguna de las habitaciones, y las escaleras

Arantxa

▼




November 2018

Casa acogedora, una situación inmejorable, lo recomiendo al 100%

Marlieke

▼




October 2018

Perfect. Top locatie in de wijk El Arenal. Rustige straat, geen last van verkeer. En toch om de hoek van alle barretjes en restaurantjes.

Anónimo

▼




September 2018

Decoração muito bem escolhida
De nao poder usar o elevador e ter muitas escadas um pouco dificeis de subir sobretudo com crianças

---

Genteel-Home

Prezado cliente, obrigado pelo seu comentário. Ficamos felizes em saber que você gostou do apartamento, especialmente da decoração, que tentamos escolher com muito detalhe para dar personalidade. Nós sentimos o inconveniente causado por não poder usar o elevador, mas teve um desarranjo específico, com a má sorte de coincidir com sua permanência, e nós estávamos esperando para o técnico para resolver isto. Esperamos que, apesar disso, você tenha aproveitado a sua estadia em casa e em Sevilha. Obrigado por ter ficado com a gente. Saudações

brigitte BROU

▼




August 2018

très belle maison de ville dans quartier calme, bien située avec toutes les commodités à proximité : commerces, parking, sites à visiter, dommage le marché couvert était fermé pendant le mois d´août. location parfaitement équipée avec une très belle déco, les 4 étages ne sont pas un problème puisqu´il y a un ascenseur bien apprécié pour les bagages. la climatisation a été indispensable étant donné les températures caniculaires. nous reviendrons avec grand plaisir dans cette belle ville de Séville que nous visitions pour la 3e fois et nous recommandons fortement la Galera Terrace. Merci encore à l´équipe Genteel home pour sa patience avec toutes mes questions. Brigitte.

Susan

▼




August 2018

Beautiful comfortable and indulgent stay- thankyiu
Beautifully furnished, lots of room, rooftop dining area, not far from attractions and shopping, everyone had a bed! No sofa beds or blowup beds Lovely place to enjoy the area but just to relax in after lots of sightseeing. It was fantastic. Would definitely stay again

Ignacio Soto

▼




August 2018

El alojamiento perfecto para una estancia extraordinaria en Sevilla. El edificio en si mismo y la ubicación perfecta para la necesidad del viaje.

Svetlana

▼




July 2018

Оазис в центре города
Апартаменты расположены в самом центре. Фактически квартира оказалась 4-х этажной, с собственным лифтом! Спальни на 1-2 этажах, с отдельными ванными и туалетными комнатами, третий этаж - гостиная и кухня, в которой было все, что необходимо для приготовления пищи + комфортная зона отдыха/ Четвертый этаж - потрясающая терраса, на которой каждый вечер мы приятно общались, попивая вино и играя с детьми в настольные игры. Однозначно рекомендую!

Luz Marina

▼




June 2018

El apartamento limpio y con buena ubicación. Tiene ascensor para desplazarte por las 3 plantas y el ático. Fuimos con niños y estuvimos muy cómodos. Muy recomendable

Katrien

▼




June 2018

Het was niet mogelijk om bagage enkele uren te laten staan

mariona

▼




June 2018

Todo perfecto. El único pero, es que si son personas mayores o con niños no es tan aconsejable ya que hay muchas escaleras.

The different payment methods Genteel-Home offers for booking and renting apartments are exposed above.