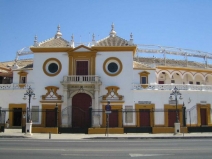 Located in the city centre and, at the same time, on the banks of Guadalquivir River, El Arenal quarter is one of the quarters of Seville with more Andalusian tradition. Since it can be found in the old part of the city, it has witnessed first-hand many events in Seville history, because of having had one of the most important ports in the world during the 16th and 17th centuries, thanks to the discovery of America and the resulting trade with India.
El Arenal is, without a doubt, one of the most traditional and characteristic quarters in Seville. Furthermore, it is nowadays a busy and meeting place for people from Seville, since it is the quarter par excellence devoted to bullfighting, religious devotion, religious brotherhoods and Semana Santa (Holy Week) and these constitute the most significant features of this place.
This zone is home to such symbolic buildings as the La Maestranza bullring, the Torre del Oro tower, the Arenal market, the Torre de la Plata tower and the La Maestranza theatre. In this zone you can enjoy leisure activities, mostly all the ones regarding the world of the Spanish bullfighting, opera, theatre and religious brotherhoods.
While walking around this quarter, tourist can take the opportunity to get to know better part of the history of our city by visiting other places of touristic interest, namely La Hermandad de la Santa Caridad church or the Atarazanas (medieval shipyard). Finally, thanks to its central location, you will be able to find within a very short walking distance the Cathedral and the Giralda tower, must-see places if you come to spend a few days in Seville.