Characteristics

▪ 8 maximum of guests
▪ 120 sq meters area
▪ 3 Bedrooms
▪ 2 Bathrooms
▪ 2 floor
▪ Private Terrace
▪ Public parking near
▪ Elevator
▪ Air conditioning
▪ Heating
▪ Internet
▪ Cot


Francos Terrace V Penthouse in Seville

CTC-2017126487

Francos V Terrace is an apartment of modern design, as well as confortable. Located in the top floor of an exclusive building situated in the street Francos. It is a two-floor apartment. In the first one, and once through the front door, we access a confortable living room with a double sofa bed, for two people, as well a modern kitchen fully equipped, which is accessible from the living room. Also in the first floor are located two bedrooms and a separated bathroom.

In the first floor, it is directly accessible another room with a independent bathroom and two private terraces, both furnished with garden furniture, perfect to enjoy the sun and weather of Seville.

The apartment is located in Francos street number 23, a privileged spot in the center of Seville, completely safe and just a few steps away from the Cathedral and the Giralda. Also in the area, there are plenty of shops of the best brands, as well as some of the best bars and restaurants in the city, where you can enjoy the best cuisine.

Bedroom 1
Bedroom 2
Bedroom 3

▪

2 single beds


▪

Built-in closet


▪

reading chair


▪

Bed linens and towels


▪

2 single beds


▪

Built-in closet


▪

Bed linens and towels


▪

Double bed


▪

Reading luminaire


▪

desk


▪

Plasma TV


▪

Dressing room


▪

Bed linens and towels


▪

Sofa

Living room
Kitchen
Bathroom 1

▪

Side table


▪

Dining table


▪

Sofa bed


▪

Smart TV


▪

Coffee Maker


▪

Toaster


▪

Oven


▪

Kettle


▪

Dish washer


▪

Microwave


▪

Refrigerator and freezer


▪

Flat iron and ironing board


▪

induction plates


▪

Cleaning products


▪

Juicer


▪

vacuum cleaner


▪

W.C


▪

Shower


▪

Hair dryer

Bathroom 2
Laundry (Terrace)

▪

W.C


▪

Shower


▪

Hair dryer


▪

Washing machine


▪

Clothes horse

Santa Cruz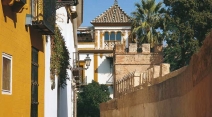 Santa Cruz is the most popular quarter in Seville and it has its origins in the old Jewish quarter of Seville. This quarter was inhabited by the Jews ever since Seville was recaptured by Ferdinand III, King of Castile, until these were ejected in the 15th century.
Located in the center of Seville, Santa Cruz quarter reaches down to the Cathedral, the gardens of the Alcázar (palace) and Jardines de Murillo (Murillo gardens). It is, therefore, a landmark and a touristic zone and it is accessible through Mateos Gago street, the most touristic and commercial street of the quarter.
While having a walk in this zone, you can get to know more about its history, by contemplating the Moorish and Jewish features that so characterize this place. Furthermore, you can go into the narrow streets, which run in an irregular criss-cross pattern and lead to the patios sevillanos (traditional Sevillian patios) or squares, such as Plaza de la Alianza or Plaza de doña Elvira.
During your stay in Santa Cruz quarter, you will feel like you belong here, Andalusia, since you will find yourself surrounded by Andalusian style houses and a pleasant and joyful atmosphere so typical of this region. Nearby places to visit are the Giralda tower, Patio de los Naranjos (orange tree courtyard), the Alcázar (palace), Archivo de Indias (archive of Indies) and the Palacio Arzobispal (archbishop's palace). On the adjacent streets Iglesia de Santa María la Blanca (Santa María la Blanca church), los Jardines de Murillo (Murillo gardens) y el Hospital de los Venerables (baroque hospital) can be found.
Availability
Request more information
We are interested on your opinion

Tell us about your experience

We only accept reviews from real guests who have stayed in this apartment, so it must be indicated the e-mail which with you made ​​the booking.

Penthouse Francos Terrace V in Seville

Reviews

Average rating from

20

Reviews:

Nadja

▼




January 2019

AWESOME STAY. Highly recommend the Roof Top Appartment. Sehr modern und die Dachterrasse ist einfach toll gewesen!

Kelly

▼




January 2019

Great location, it's so close to everything you need! The host/management is very responsive and quick. Comfortable stay. Can be a bit noisy as night but Seville is a night life city, so that's expected.

Megan

▼




January 2019

You can´t beat the location; it is great! The rooftop terraces were wonderful and my friends and I had the best time in Sevilla!

Juan Carlos

▼




January 2019

Todo muy bien

Sudipta

▼




December 2018

Clean, smart, Genteel Home Francos has everything you could ever need. We had the most amazing time in the apartment. The location was brilliant. It was in the heart of the city and really easy to get to places. The apartment was clean, luxurious and i would recommend this place to anybody. When i come to Seville again, i will most definitely book this place again. Thanks so much.

Nikita

▼




November 2018

Overall a good house and best location. The only annoying part was the annoying neighbor. The stairs are bit squeaky and will make sound when climbing down. The minute you climb down the annoying neighbor will knock on the wall.( even at 9 am ). And the host was very quick in writing me the email saying that neighbour are complaining( and was slow in responding to the question I aksed). If the host´s stairs are squeaky what am I suppose to do? Also the neighbor watches the TV very loud and one of the room we could clearly hear the television ( and this is around 11.45 pm).

---

Genteel-Home

Thank you for your review Nikita. We have pt a lot of effort in the decoration, and do our best to give the nicest welcoming to our guests. First of all I want to apollogize for the inconnviniences caused for the neigbour, she ie very sensitive to the noyse, and we have been told she is looking for a solution. And I beg your pardon, again, for not answering you sooner (you wrote me at 10 pm and and I replayed you at 9 am) I gave you another telephone number just in case I couldn´t answer my phone when I wrote you the day after you checked in, so it´s a pity you didn´t try on that one. We are pleased to know you have appreciated the location and facilities of our apartment, and hope you have a good memories from your trip to Seville.

Sonja

▼




November 2018

Excellent location. Well equipped apartment. Lots of lovely places to eat nearby. Highly recommend for a fabulous trip to Seville.

▼




November 2018

Marie Claude

▼




November 2018

Appartement idéalement situé pour visiter Séville, tout se fait à pied. Il est très bien équipé, la literie est confortable et plutôt calme pour un logement en plein cœur de ville. Le seul dérangement est la voisine qui se plaint du bruit que font les locataires de Pablo... sinon l'appartement est idéal. Le plus : les deux superbes terrasses avec vue sur la Giralda.

Maria

▼




October 2018

Fantastic accommodation in a great location!

Camille

▼




August 2018

L´appartement est moderne, comfortable et idéalement situé en plein cœur de Séville. Pablo est très gentil. Je le recommande.

Elizabeth

▼




August 2018

An overall great apartment and experience. This apartment is absolutely beautiful and the best part was the rooftop terrace....we sat outside to enjoy some wine a couple of nights and it was completely enjoyable. Last but not least, the location of this apartment is (Website hidden by Airbnb) is close to everything, basically a 5 to 10 minute walk to most tourist sites. Would recommend to everyone!

Kacey

▼




August 2018

The location was perfect and the apartment was immaculate and very modern. Make sure you download a map before you go as navigating the streets for the first time can be a challenge. Amazing views in all directions from the terrace, especially at night.

Philippe

▼




August 2018

Appart idéalement situé. Super literie , 2 terrasses dont une solarium avec douche , équipement très important ( 2 wifi, machines linge et vaisselle, ...) Super déco

Antony

▼




August 2018

Great location. Met early before check in time by host. Gave us great tips on free walking tour and good places to eat . Apartment in fantastic spot. Easy walking to all sights. Apartment has huge terrace and roof terrace which was one of main attractions. My teenage daughters loved the roof terrace for sun bathing. Overall great stay and would highly recommend

Vista

▼




August 2018

My family of 7 and I spent three days at this great apartment & I could not have better things to say about the apartment and our whole experience: All the staff we were put in contact with were so incredibly helpful, kind and very easily accessible. We were not able to call them upon arrival as necessary because we didn´t have easy access to a phone. The whole team were kind enough to work around this. We were given a ton of helpful information regarding Seville upon arrival and even purchased tickets to a Flamenco show (which, by the way, was nothing short of amazing - even the stubborn and often bored 13 year old boy in our family was awe-struck. Go to this! It´s definitely recommended!) The apartment was filled perfectly with amenities: the kitchen is stocked nicely with cookware, the bathrooms have soap and body wash, and the beds are incredibly comfortable. The terrace at this apartment was incredible! Such a great space for the 8 of us to relax in the evenings but still be able to enjoy the air and sounds of Seville. Arguably, the best part of this apartment was its location. We were in the heart of Seville - right in the mix of great shops, a little supermarket or two, wonderful restaurants and tapas bars, and major tourist attractions. We were so close to everything that I could spend the whole night going from restaurant to restaurant to shop to bar to restaurant in 6" heels and be completely okay with it.

Marco

▼




August 2018

Very nice apartment equipped with everything you need. Pretty noisy during the night if you sleep with open windows (but you can use air conditioning and close your windows). The position is very central, a throw stone from everything and the terrace on the top is beautiful. In my apartment experiences I usually look for houses with stronger identities and personalities; but if you look for a very functional apartment very well positioned, this apartment is for you.

Manuel Gomez

▼




July 2018

Extraordinary apartment, superb location and impeccable service. My family and I spent 1 1/2 months in Seville and lived in Francos 23 during our stay. We had such a wonderful time and not complaints about the apartment. The terrace is to die for and the views of the city are phenomenal. Genteel is also a great company. When you need anything they fix it or take care of it in a snap. We very much look forward to returning to Seville.

Sophia

▼




July 2018

Location is great. Decor of the place is wonderful. Roof top terrace is a bonus.
Everything about the place is wonderful. However on the top floor bedroom, there were a ton of ants in the bed, pillow cases and bed sheets. We have to literally take off all the bed sheets and remove the ants so as to have a good sleep. It was gross. Later on in the day we found more ants in the bottom floor bathroom. Don´t know where they came from. But this made the stay uncomfortable.

---

Genteel-Home

Dear Sophia, thank you for your comments. We are happy to know that you liked the apartment, especially for his central location, his beautiful decoration, and his great terrace. We are sorry for the incident that you comment with the ants. This is the first time we have this problem and we assume that it is because the previous guests left scraps of food in the kitchen or in the bedroom. In any case, we appreciate that you have informed us of this and we have already solve it. Regards

Amanda

▼




January 2018

Thank you very much Ovi! We will come back to this wonderful apartment. We love Sevilla and its weather.
Again, thank you very much! Everything was perfect.

The different payment methods Genteel-Home offers for booking and renting apartments are exposed above.