Characteristics

▪ 4 maximum of guests
▪ 80 sq meters area
▪ 2 Bedrooms
▪ 3 Bathrooms
▪ Private Terrace
▪ Agreement with a public parking nearby
▪ Air conditioning
▪ Heating
▪ Internet


Transport nearby

Taxi: Pza. de la Alfalfa, Calle Sta. María la Blanca, Calle Alemanes, Pza. del Duque, Pza. Nueva.

Bus: C5, 10, 11, 12, 15, 16, 20, 24, 27, 32.

Metro: Puerta Jerez

Tram: T1

Francos IV Apartment in Seville

VFT/SE/00979

Cosy brand new triplex with private terrace, perfect for 4 people.

Francos IV apartment is in a prime area of ​​Seville, in the Barrio de Santa Cruz, a few meters from the Cathedral and next to the shopping area. It is a vibrant and lively street, but the apartment is completely quiet. It is accessed through a typical Seville courtyard that insulates acoustically everyday city.

On the ground floor is the living room, which gives access to the kitchen, completely new and equipped to the smallest detail. Also on this floor there is a small toilet. Upstairs we find the bedroom with a double bed and a bathroom en suite. On the second floor is the twin beds and a bathroom also en suite. Upstairs, we have access to the private terrace equipped with garden furniture, a perfect place to relax and enjoy the great weather of Seville.

A perfect place for a quiet and comfortable stay in the heart of Seville.

Living room
Bedroom 1
Bedroom 2

▪

Sofa


▪

Plasma TV


▪

Double bed


▪

Bed linens and towels


▪

2 single beds


▪

Bed linens and towels

Toilet
Bathroom 1
Bathroom 2

▪

W.C


▪

Shower


▪

W.C


▪

W.C


▪

Shower

Kitchen

▪

Coffee Maker


▪

oven-microwave


▪

Washing machine


▪

Vitroceramic hob


▪

Toaster


▪

Refrigerator and freezer

Santa Cruz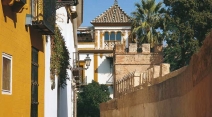 Santa Cruz is the most popular quarter in Seville and it has its origins in the old Jewish quarter of Seville. This quarter was inhabited by the Jews ever since Seville was recaptured by Ferdinand III, King of Castile, until these were ejected in the 15th century.
Located in the center of Seville, Santa Cruz quarter reaches down to the Cathedral, the gardens of the Alcázar (palace) and Jardines de Murillo (Murillo gardens). It is, therefore, a landmark and a touristic zone and it is accessible through Mateos Gago street, the most touristic and commercial street of the quarter.
While having a walk in this zone, you can get to know more about its history, by contemplating the Moorish and Jewish features that so characterize this place. Furthermore, you can go into the narrow streets, which run in an irregular criss-cross pattern and lead to the patios sevillanos (traditional Sevillian patios) or squares, such as Plaza de la Alianza or Plaza de doña Elvira.
During your stay in Santa Cruz quarter, you will feel like you belong here, Andalusia, since you will find yourself surrounded by Andalusian style houses and a pleasant and joyful atmosphere so typical of this region. Nearby places to visit are the Giralda tower, Patio de los Naranjos (orange tree courtyard), the Alcázar (palace), Archivo de Indias (archive of Indies) and the Palacio Arzobispal (archbishop's palace). On the adjacent streets Iglesia de Santa María la Blanca (Santa María la Blanca church), los Jardines de Murillo (Murillo gardens) y el Hospital de los Venerables (baroque hospital) can be found.
Availability
Apartment special conditions

- To formalise the booking is necessary the payment of the 30% of the total that has to be paid by credit card.

- The balance due will be charged from your credit card minimum fifteen days upon arrival.

- The damage deposit will be retained from a valid credit card whose details will have to be provided to the person who'll receive you.

- Check-in and Check-out time: in principle the check-in is from 15h and the check out until 11h. Time flexibility adjusts to availability.

* The Check –in team will charge a supplement of 30€ for entries after 21h and 50€ for entries after 24h.
Request more information
We are interested on your opinion

Tell us about your experience

We only accept reviews from real guests who have stayed in this apartment, so it must be indicated the e-mail which with you made ​​the booking.

Apartment Francos IV in Seville

Reviews

Average rating from

19

Reviews:

Balle_

▼




January 2019

La ubicación

Sue

▼




January 2019

The location was excellent for shopping and restaurants. Only 5 minutes walk down the street to the Cathedral. The accommodation was very quiet despite being on a busy street. The beds were comfortable and the kitchen was well equipped although rather small.
The main light in the first bedroom did not work. The heating in the bedroom at the top of the house did not work, so we had to have the heating in the bedroom below on full with the doors open to the stairs until we went to bed, so that the heat rose up to the top bedroom. These are things that could easily be fixed.

Anónimo

▼




November 2018

Merveilleux séjour au Seville. Maison très originale tout en hauteur (3 étages!) avec une décoration moderne et soignée. Au cœur du vieux Séville, à l´angle de deux petites rues typiques semi piétonnes . Très bon accueil (merci Lola!) .
On entend un peu les bruits de la rue (mais nous n´avons pas été gênés). Adapté familles ou amis sans enfants en bas âge (escaliers en marbre).

Yan

▼




October 2018

YAN

▼




October 2018

住了三晚,位置超级好,房东也很nice,楼上下一共三层,每层都有独立卫生间,楼顶的露台可以晾衣服。下次有机会还去住
卫生间洗漱用品无法摆放。

Yolanda Pujol

▼




September 2018

Tot!!! Ha estat genial!!
Hi havia formigues

Kelvin

▼




August 2018

Lovely centralgreat value for money. Very Central location.
Beds were the most uncomfortable i have ever slept in, Mattress was so terribly hard

Nuno

▼




July 2018

Boas condições gerais do alojamento, tinha de tudo, desde o pó de café até o pó para lavar a roupa. Como se tivesse-mos em casa.
A Cama de casal tinha um vale que nos puxava para o centro, era muito desconfortável .

monique

▼




March 2017

Bonjour très satisfaite de notre location : très calme dans le centre nous avons visité Seville à pied.
Nous recommandons cette location.
Cordialement
PS Super le taxi pour le transfert!!!

Luis de Paz

▼




February 2017

Muy bien el apartamento y muy bien situado. Ideal para dos matrimonios o un matrimonio con hijos. Muy bien la privacidad de las habitaciones, y fantástica la terraza.

Jane Bines

▼




November 2016

This apartment is perfectly situated for exploring Seville. It´s a home from home with everything you need to relax after a busy day sightseeing. We were easily able to stop in for a siesta mid afternoon. The kitchen is well equipped-you could cook a meal or just have a cup of tea.

Jan

▼




September 2016

Lovely apartment in a perfect location. Very comfortable beds. There are lots of stairs to get from the kitchen to the roof patio so you might need a few trips if you were planning a meal outside, but we didn´t find this a problem. (The patio itself doesn´t have a view of the city as its surrounded by buildings.) Useful things like washing powder were provided. Genteel-home were very easy to deal with and I would use them again.

Isabel

▼




September 2016

L appartement est très bien situé
Très agréable, propre
Une adresse a retenir

Patrice

▼




August 2016

Appartement très sympa et très bien situé, à deux pas de la Cathédrale (proche d´un supermarché). Accueil très chaleureux de la part d´Estelle de Genteel Home. Je tiens d'ailleurs à remercier toute l´équipe qui est géniale et très serviable. Un merci tout particulier à Elena avec qui j´ai correspondu par mail avant notre arrivée à Séville et à Luis (de l´agence de Grenade) qui a géré pour nous les billets pour La Alhambra. Vous pouvez louer par le biais de Genteel Home en toute confiance !

Wendy Welsh

▼




June 2016

The apartment was comfortable, clean , well appointed and a great location. Very small kitchen not very suitable for cooking however eating out in Seville was great. We had some great advice about restaurants from Victor who met us at the apartment. It was a bit hot to use the private terrace in the daytime but very usable at night.
Communication with Genteel was very good and all went smoothly.

Beatriz

▼




June 2016

Estupenda estancia en un apartamento totalmente céntrico y con unas caracteristicas excepcionales. El personal super amable y sus indcaciones imprescindibles para una estancia de 10.

Jean cooper

▼




May 2016

the apartment was very clean, the position could not be better for all the attractions. The only draw back is that the terrace is up three flights of stairs and that the furniture on the terrace was soaking wet having been left out in the rain, I did mention this, but we were left to try and dry it out, so the terrace was in usable for days.

Elsa More

▼




February 2016

We loved staying at the Francos IV apartment. The location is excellent a safe, quite pedestrian street, walking distance to pretty much everything we wanted to see.

The apartment has all marble floors so it maintains itself quite cool, especially in the winter time.

We would definitely stay here again and recommend it to anyone that doesn´t mind stairs since the bedrooms are on the 2nd and 3rd stories.

Terry Lazaron

▼




January 2016

A great place right in the heart of Sevilla but quiet and comfortable

The different payment methods Genteel-Home offers for booking and renting apartments are exposed above.