Characteristics

▪ 6 maximum of guests
▪ 80 sq meters area
▪ 2 Bedrooms
▪ 2 Bathrooms
▪ Private Terrace
▪ Agreement with a public parking nearby
▪ Air conditioning
▪ Heating
▪ Internet
▪ Cot


Don Pelayo Apartment in Seville

VFT/SE/01277

Fantastic duplex apartment with two private terraces in the heart of Seville.

It was inaugurated in August 2015 and is located in the street Don Pelayo, a few meters from the Cathedral, the Alcazar and the Archivo de Indias, a great place in the heart of the city.

To access to the apartment yiou have to going up a small flight of stairs. It is a duplex in which in the first floor is the first bedroom, a bathroom, a lovely living room and fully equipped kitchen. The second floor has the second bedroom, a bathroom and two private terraces, one with 25 m2, with living and dining area, and the other, about 10 m2, is settle with two hammocks, perfect for sunbathing.

Don Pelayo Street is in the heart of El Arenal, perhaps the best downtown area, completely safe and lively during the day. Around the apartment are many restaurants, tapas bars and terraces, most of them with wide reputation in Seville.

Living room
Bedroom 1
Bedroom 2

▪

Dining room


▪

Plasma TV


▪

Sofa bed


▪

Double bed


▪

Bed linens and towels


▪

2 single beds


▪

Bed linens and towels

Bathroom 1
Bathroom 2
Kitchen

▪

Shower


▪

W.C


▪

Shower


▪

W.C


▪

Washing machine


▪

Microwave


▪

Toaster


▪

Coffee Maker


▪

Oven


▪

Refrigerator and freezer


▪

Dish washer

El Arenal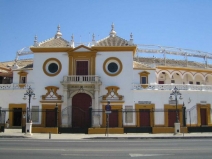 Located in the city centre and, at the same time, on the banks of Guadalquivir River, El Arenal quarter is one of the quarters of Seville with more Andalusian tradition. Since it can be found in the old part of the city, it has witnessed first-hand many events in Seville history, because of having had one of the most important ports in the world during the 16th and 17th centuries, thanks to the discovery of America and the resulting trade with India.
El Arenal is, without a doubt, one of the most traditional and characteristic quarters in Seville. Furthermore, it is nowadays a busy and meeting place for people from Seville, since it is the quarter par excellence devoted to bullfighting, religious devotion, religious brotherhoods and Semana Santa (Holy Week) and these constitute the most significant features of this place.
This zone is home to such symbolic buildings as the La Maestranza bullring, the Torre del Oro tower, the Arenal market, the Torre de la Plata tower and the La Maestranza theatre. In this zone you can enjoy leisure activities, mostly all the ones regarding the world of the Spanish bullfighting, opera, theatre and religious brotherhoods.
While walking around this quarter, tourist can take the opportunity to get to know better part of the history of our city by visiting other places of touristic interest, namely La Hermandad de la Santa Caridad church or the Atarazanas (medieval shipyard). Finally, thanks to its central location, you will be able to find within a very short walking distance the Cathedral and the Giralda tower, must-see places if you come to spend a few days in Seville.
Availability
Apartment special conditions

- To formalise the booking is necessary the payment of the 30% of the total that has to be paid by credit card.

- The balance due will be charged from your credit card minimum fifteen days upon arrival.

- The damage deposit will be retained from a valid credit card whose details will have to be provided to the person who'll receive you.

- Check-in and Check-out time: in principle the check-in is from 15h and the check out until 11h. Time flexibility adjusts to availability.

* The Check –in team will charge a supplement of 30€ for entries after 21h and 50€ for entries after 24h.
Request more information
We are interested on your opinion

Tell us about your experience

We only accept reviews from real guests who have stayed in this apartment, so it must be indicated the e-mail which with you made ​​the booking.

Apartment Don Pelayo in Seville

Reviews

Average rating from

31

Reviews:

Yazad Engineer

▼




January 2019

Very nice and spacious and clean apartment. Located in the centre. All the facilities provided were great.

Suzy

▼




January 2019

Appartement parfaitement bien situé et au calme.
le fait que le logement soit au 3 et 4 étage sans ascenseur .....les mauvaises odeurs, le mauvais équipement de la cuisine. pas de tv dans la chambre du haut..

Nelson Luis

▼




January 2019

Localização perfeita, muito próxima das principais atrações. Apartamento moderno e muito agradável. Tem um terraço muito bom, com mesa e cadeiras. O apartamento tem um convenio com um estacionamento publico próximo do local.
O apartamento fica no segundo e não tem elevador o que para as pessoas que tem dificuldade de locomoção pode ser um problema. Poderia ter uma secadora de roupas.

Palma Selva Parrilla

▼




December 2018

Me encantó la ubicación sus vistas y limpieza. Decorado con muy buen gusto.
Olía un poco la entrada, yo creo que era por tema de tuberías.

Julen

▼




December 2018

Muy recomendable apartamento en el centro de Sevilla.
La cocina espaciosa, los dos dormitorios tranquilos y cómodos. La terraza muy bonita.
El colchón del sofá-cama no era muy cómodo.

C_well

▼




November 2018

We all enjoyed our break and the apartment is in such a good location.
It was convenient to plan our arrival because of the transfer company recommended from Host. The driver was able to communicate with Host allowing us to check in at an earlier time due to the possession around the area.
More information in relation to use of appliances and location for fuse box in the apartment would have been helpful. Unfortunately electricity was tripped due to blown light bulbs and we were running downstairs trying to locate the fuse box. We waited until 9am to call the emergency number.

Anónimo

▼




November 2018

I like it's location, right next to centre.
The flat has been done cheaply, the layout was odd, things didn't make sense like the en-suite bedroom had twin beds instead of a double bed. The bedroom with the twin beds has access to the roof terrace but the sliding door lock was broken so the children had to sleep in the sofa bed in the living room. There were no smoke detectors, when I pointed it out to the staff, the answer was "they had never had a problem before"

Pirkko

▼




November 2018

Upea terassillinen huoneisto kaupungin sydämessä. Erinomainen sijainti, upea terassi.
Wifi ei toiminut toisessa kerroksessa.

Rosa Pascual

▼




September 2018

La ubicación. El silencio de la calle. La atención de Ester, nuestra asesora. Vino un par de veces con el operario para solucionar los detalles. La terraza, aunque con el calor, no pudimos aprovecharla.
Lo negativo es subir la escalera. Personas mayores con maletas es un gran inconveniente. Extractor cocina no funcionaba. Deberían d haber revisado antes de la llegada, los stores y persiana del 2do.piso dúplex. Poco servicio de cocina.Faltaría un juego de café, unos tazones, unas servilletas y trapos de cocina.....

---

Genteel-Home

Estimada Rosa, muchas gracias por su comentario. Nos alegra saber que les ha gustado el apartamento, especialmente por su céntrica ubicación, su fantástica terraza (es una pena que no pudiera disfrutarla y relajarse en ella) y por la atención de nuestro personal. Ciertamente, como está especificado, se trata de un apartamento duplex, cuyas escaleras pueden suponer un problema para personas con movilidad reducida. Le agradecemos su sugerencia sobre cómo podemos mejorar. Lo tendremos en cuenta para ofrecer un equipamiento más completo aún a nuestros futuros clientes. Ha sido un placer haberles alojado. Saludos

Carlos Guillén

▼




September 2018

La ubicación y terraza y colchones y limpieza y la decoración
La hora de salida, demasiado temprano para poder aprovechar el domingo mañana ni sábado noche.

T. Dawn

▼




August 2018

Julia, the lady who met us for key handover very good, communication and organised. Even text me later to answer a question we had about a medical centre. Good location for exploring Seville for a few days, close to restaurants and all the sites. Spacious apartment quite newly refurb.
Didn´t like the steep quite dangerous steps within the apartment, didn´t realise it would be quite so separate from 2nd bedroom and terrace. Didn´t really use the terrace because of this. upstairs bedroom ensuite like a cupboard. Not very clean, lots of hair on floors and around the beds. bedding didn´t fit the beds properly so wake up to find slept partly on mattress. Read a couple of reviews before we went about a funny smell in the apartment - definately agree, almost like there´s a problem with the drains wafting through the apartment sometimes.

---

Genteel-Home

Dear T. Dawn, thank you very much for your comment. We are happy to know that you enjoyed the perfect location of the apartment, as well as the service offered by our staff. On the other hand, we are sorry to read that you could not make use of his magnificent terrace and that the stairs of the house were a serious inconvenience for you. That is why we indicate that this apartmentt is a duplex, but we have no other way to let our customers know the characteristics of it, since for other people this is not a problem. Regarding the cleaning, it is an aspect that we take care with much attention, so we will check what has happened in your case to improve in this aspect and that it does not happen again, since we work a lot so that our the apartment will be completly clean on the arrival of our guests and they feel like in your own home. Regards

María Dale

▼




August 2018

Lovely appartment in the centre. Location was great. Lots of stairs and no lift if you had problems with walking

Priscilla Pierre

▼




August 2018

La clim de l´étage est limite performante et fait disjoncter. Tout le reste parfait.

Olicb

▼




August 2018

Un séjour mi-figue mi-raisin.
L´emplacement est idéal pour visiter Séville. Le personnel est sympathique, disponible. L´appartement est bien équipé et très propre.
Si l´appartement est globalement agréable, des petits détails ont gâché le séjour: d´abord les plombs n´ont pas arrêté de sauter sans que nous sachions réellement pourquoi, soupçonnant l´utilisation de l´eau chaude. Ensuite, les stores d´une des chambres étaient cassés; nous l´avons signalé, une personne est venue réparer...en vain, les stores n´ont pas fonctionné. Gros inconvénient, la disposition des pièces: la deuxième chambre se trouvait à un étage supérieur, coincée entre les deux terrasses, accessible par un escalier bien dangereux pour des petits enfants (notre dernière a 4 ans). En outre, ce sont les stores de cette chambre qui ne fonctionnaient pas, la transformant en fournaise malgré une clim un peu molle. Bref, des petits tracas, pas bien graves mais pénibles hélas!

Marta Juliao

▼




August 2018

Best Location.
There was a bad smell, kitchen and bathroom.The cup in the bathroom needs to be washed.The blinds upstairs didnt work properly.The management was willing to fix. Too many stairs.

Bob & Barbara Gibb from Boston US

▼




November 2017

We enjoyed our stay at this apartment. The location was perfect for walking to the main attractions and restaurants in the area. The 2nd floor bedroom was great with two terraces and an awesome view of the Cathedral. I would stay here again if I return to Seville

Andrea

▼




October 2017

Great condo with perfect location. Very nice outdoor patio. Staff and living rooms were great. Just what we needed to enjoy our stay!

Paul Morgan

▼




April 2017

This apartment is perfect! The location is very central but quiet, which was great.
Everything was spotlessly clean and the provision of coffee, sugar, olive oil and vinegar, shower gel etc was a nice touch.
We loved the terrace and it was perfect for breakfast and pre dinner drinks.
We can´t recommend this place enough and will return.

Moya Walsh

▼




April 2017

We spent 6 nights in Apartment Don Pelayo. We fell in love with Seville. The apartment was perfectly situated on a small side street, steps from many restaurants and the Cathedral. The beds were very comfortable, the AC was efficient and the kitchen was well enough stocked.
Genteel staff were very helpful on check in and handled our requests for taxis to the train station on two occasions. The rooftop deck was wonderful for morning coffee and early evening relaxing before going out for dinner. There are a lot of steps up to the apartment which could be an issue for some people. Our only complaint was the shortage of towels...1 large, 1 small towel per person for six days. The street was quiet at night but on the weekend, there is a bar close by that presented a bit of a problem with noisy patrons. Would highly recommend La Bulla restaurant, two minutes from the apartment...the best meal we had in Seville. We want to come back!

Peter Boerman

▼




April 2017

Superb Appartment. Stairs were no problem and although the second bathroom is a bit small it was good to use. Location near the cathedral is perfect.

Louis de Grandpre

▼




February 2017

Great location, nice appartement, on the 2nd and 3rd floor, so lots of steps. views from rooftop terrasse are average. plenty of room for 4 adults with the 2 storey layout. Only disappointment, a small one, was the towels and pillows both were on the small side.

---

Genteel-Home

Dear Guest. Thank you so much for your positive valoration of Don Pelayo apartment. All team is glad you had a good experience with us. We have take note about your comment of the towels and pillows. They are standar size, but we will correct it if they are not big enough. We would be pleased to accomodate you in your next stay. See you soon!

KARINA

▼




October 2016

Appartement très bien situé.
Accueil sympathique.
Seul inconvénient pour 5 jours juste une grande serviette et une petite serviette par personne est insuffisant. Il faudrait augmenter le nombre de serviette selon le nombre de nuit.

---

Genteel-Home

Bonjour, Merci pour votre commentaire qui nous aide à améliorer. On n´a jamais reçu des plaintes sur le nombre de serviettes. Si nous avions demandé plus de serviettes nous aurions apporté plus de serviettes. Merci pour votre séjour et, bien sur, à bientôt! Très cordialement

Barbara Purton

▼




September 2016

We ordered pick up from airport & I received a text from Juan the day before to confirm this. We were early but he was there. Took us to office to leave our bags as early morning. Esther was waiting for us & we left our bags at the office & were told we could get into the apartment at 12 which was good. Very pleased with apartment & the terrace was a bonus. Very central for all sightseeing. We were able to check out later as no one was coming in that day. So thank you to Juan & Esther for a smooth check in etc.

Alexandra

▼




August 2016

Notre séjour à Seville, dans l´appartement Don Pelayo était parfait. Absolument rien à redire. Le logement était propre à notre arrivée. Le personnel de Genteelhome charmant. Le logement est très bien situé. Nous avons adoré notre séjour.

Ian Wones

▼




May 2016

The appartment location, cleanliness etc was first rate.

Could not praise staff enough for their co-operation in checking in and out and allowing us to stay on a few hours before checking out.

Pick up and return service to and from airport made it all so easy.

Sue Haygarth

▼




May 2016

The apartment Don Pelayo is in a great location, steps away from the Cathedral. Within 2 mins there are great tapas available.
the apartment is up two floors so heavy luggage will be challenging. everything is very clean and well presented. Ideal for a couple, but also workable for 4 persons. The lounge level bedroom and bathroom are the best option as the terrace level bathroom is extremely small with a compacting toilet (noise in the night when used) and a tight space to get into the shower. But everything worked and the roof terrace is a great place to relax. comfortable beds . very reasonably priced and the meeting arrangements worked and having a place to park for a minute or two whilst unloading and loading was a bonus. the car park is a short walk away and at 11 euros for 24 hrs, most reasonable for a city like Sevilla.

Bonnie Enns

▼




May 2016

The Don Pelayo apartment was very nice and the location was great. It was clean and the complimentary wine was a nice touch. The apartment was as advertised except for the number of stairs. Guests should be warned that there are a number of stairs to climb with your luggage. Over all I would give the apartment a 10 for quality, location, staff and cleaning. We much enjoyed our stay in Seville.

WILLIAM GLENN

▼




May 2016

Great location, beautiful city, ideal for a break.

Helen Harder

▼




April 2016

Obwohl die Wohnung sehr zentral liegt, ist die Umgebung sehr ruhig. Das Quartier el Arenal bietet kleine Geschäfte um Lebensmittel einzukaufen. Die Dachterrasse ist das grosse Highlight der Wohnung; ganztags sonnig und mit Blick auf die malerische Altstadt!

Jon

▼




March 2016

Excellent location. Several light bulbs were burned out making the apt a little dark. Could have used more towels for a 5 night stay. Other than these two items everything was great.

John Hart

▼




January 2016

Great place! Very good location, clean, very comfortable and great service and hospitality from Genteel.

The different payment methods Genteel-Home offers for booking and renting apartments are exposed above.