Characteristics

▪ 11 maximum of guests
▪ 230 sq meters area
▪ 5 Bedrooms
▪ 3 Bathrooms
▪ 4 floor
▪ Agreement with a public parking nearby
▪ Elevator
▪ Air conditioning
▪ Heating
▪ Internet
▪ Cot


Constitución Apartment in Seville

VFT/SE/00909

Amazing 220m sqm apartment placed in front of The Cathedral, Archive of Indies and Alcázar.

It's all distributed over the same floor: five bedrooms, three ones with a great size and the other two with a standard size, three complete independent bathrooms, a wide totally equipped kitchen and the best of the apartment: a spacious living room with a design living area and dining area. In addition, the living room includes large windows with fantastic views of The Cathedral, Archive of Indies, Old Post building, etc.

The location is the best one in Seville. The building is really exclusive and has entrances from Constitución avenue and from Almirantazgo Street. Just in front of it there's The Cathedral of Seville, The Royal Alcázar, The Archive of Indies and The Giralda. Undoubtely a luxury privileged location.

The apartment itself is quiet and you could rest perfectly as there are no discos or pubs in the surroundings. Even so, the zone is lively during the day, mixing the Sevillian social life with the great number of tourists. There are many tapas bars, the best restaurants in the city and plenty of little shops where you could get any product (food, drinks, fruit,…)

Living room
Bedroom 1
Bedroom 2

▪

TV


▪

Sofa


▪

Dining room


▪

Double bed


▪

Wardrobe


▪

Bed linens and towels


▪

2 single beds


▪

Wardrobe


▪

Bed linens and towels

Bedroom 3
Bedroom 4
Bedroom 5

▪

2 single beds


▪

Wardrobe


▪

Bed linens and towels


▪

Bed


▪

2 single beds


▪

Wardrobe


▪

Bed linens and towels


▪

2 single beds


▪

Wardrobe


▪

Bed linens and towels

Bathroom 1
Bathroom 2
Bathroom 3

▪

Bathtub


▪

W.C


▪

Bathtub


▪

W.C


▪

Bathtub


▪

W.C

Kitchen

▪

Coffee Maker


▪

Juicer


▪

Fridge


▪

Kettle


▪

Oven


▪

Washing machine


▪

Dish washer


▪

Microwave


▪

Flat iron and ironing board

El Arenal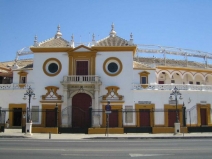 Located in the city centre and, at the same time, on the banks of Guadalquivir River, El Arenal quarter is one of the quarters of Seville with more Andalusian tradition. Since it can be found in the old part of the city, it has witnessed first-hand many events in Seville history, because of having had one of the most important ports in the world during the 16th and 17th centuries, thanks to the discovery of America and the resulting trade with India.
El Arenal is, without a doubt, one of the most traditional and characteristic quarters in Seville. Furthermore, it is nowadays a busy and meeting place for people from Seville, since it is the quarter par excellence devoted to bullfighting, religious devotion, religious brotherhoods and Semana Santa (Holy Week) and these constitute the most significant features of this place.
This zone is home to such symbolic buildings as the La Maestranza bullring, the Torre del Oro tower, the Arenal market, the Torre de la Plata tower and the La Maestranza theatre. In this zone you can enjoy leisure activities, mostly all the ones regarding the world of the Spanish bullfighting, opera, theatre and religious brotherhoods.
While walking around this quarter, tourist can take the opportunity to get to know better part of the history of our city by visiting other places of touristic interest, namely La Hermandad de la Santa Caridad church or the Atarazanas (medieval shipyard). Finally, thanks to its central location, you will be able to find within a very short walking distance the Cathedral and the Giralda tower, must-see places if you come to spend a few days in Seville.
Availability
Apartment special conditions

- To formalise the booking is necessary the payment of the 30% of the total that has to be paid by credit card.

- The balance due will be charged from your credit card minimum fifteen days upon arrival.

- The damage deposit will be retained from a valid credit card whose details will have to be provided to the person who'll receive you.

- Check-in and Check-out time: in principle the check-in is from 17h and the check out until 11h. Time flexibility adjusts to availability.

* The Check –in team will charge a supplement of 30€ for entries after 21h and 50€ for entries after 24h.
Request more information
We are interested on your opinion

Tell us about your experience

We only accept reviews from real guests who have stayed in this apartment, so it must be indicated the e-mail which with you made ​​the booking.

Apartment Constitución in Seville

Reviews

Average rating from

39

Reviews:

Yannick

▼




February 2019

Muchos gracias Genteelhome for letting us stay at this apartment. My 10 friends and I were amazed with the space provided. The location is perfect. Everything you want to see is within walking distance for here. All services that were promised were in place and the apartment is extremely spacious. I would recommend everyone to book this apartment for their Sevilla trip.

Kelly

▼




January 2019

This apartment was perfect for a group of 8. The location is perfect, situated in the heart of central Seville, directly across from the Cathedral. The best thing about this apartment was the location, perfectly situated in the heart of central Seville directly across from the Cathedral. The spacious apartment (with an elevator) was sufficient for our family of 8. There were 5 bedrooms and 3 bathrooms which is perfect for a large group, and often times difficult to find. Typically, when our group travels the last few end up with a cold shower, but the hot water supply was great and we all got a hot shower every morning before going to explore the city. The wifi worked perfectly too, which is important to our group. Furniture was comfortable, and it was nice to have a small balcony to catch some great views of Seville. There were some other great amenities; a washing machine, plenty of dishes/pots/pans and other kitchen utensils, and a large dining room table for us to eat and play board games in the evening. The only word of caution that I would offer is that there were many mosquitos in the apartment, which is unusual for winter time. My daughter ended up with MANY bites. Just be sure to bring bug spray! Other than that, I would recommend this apartment to my friends and family!

---

Genteel-Home

Thank you very much for such a lovely review Kelly! It's great to know you had a pleasant stay and enjoyed your time in our apartment, its location and facilities, and of course, the amazing views from the balcony! And thankyou for letting us know about the mosquitos problem, because do to your comment we have made an anti-mosquito and other bugs treatment, and now the problem is solved. We are at your disposal if you come back!

Cristina

▼




December 2018

We truly enjoyed our stay and would highly recommend the apartment to friends and family. The apartment was very clean, spacious, and wonderfully decorated. The location is superb! Overall a Wonderful experience!!

Anne

▼




December 2018

Great stay! Perfect location near the cathedral! Highly recommended

Sonia

▼




December 2018

We were a group of 6 women staying in the apartment. We loved the big sitting room with its large windows and balcony, comfy sofas and huge dining table. The apartment was spotless . There are three very nice large bedrooms and 2 smaller bedrooms. The location is stunning and we were able to walk everywhere easily. Communication was excellent and the host extremely accommodating. We would recommend this apartment without a doubt and would stay here again if we had the opportunity to come back to Seville . Seville is a gorgeous city.

Brian and Tracy

▼




November 2018

Wonderful, large, bright apartment right across the street from the Cathedral.

Marta

▼




November 2018

Great apartment right in front of the cathedral. It sleeps very comfortably 10 people. 3 very large rooms, other 2 rooms smaller but enough for 2 people. Very nice and large living room to relax a bit after visiting the wonderful city. We had an absolute great time during our family get together, and would recommend it to everyone!

Vivian

▼




October 2018

The apartment was in the perfect location. Across the street from 2 of the major sights and walking distance to everything. The apartment was very spacious and clean. It was perfect for our group. The hospitality from Genteelhome was by far the best I´ve experienced through through all my travel expreinces. I would definitely rent from them again and recommend them to all my friends. Genteelhome have set the bar high. They checked in with me at the beginning of my stay and after I checked out. I appreciated the subtle touches and recommendations they provided. I will definitely rent from Genteelhome when I return to Spain.

Thomas

▼




October 2018

Dikke aanrader! Great stay! Fabulous view!

Darline

▼




September 2018

This is a great location, I highly recommend it!! We were a big group of family members and we had a blast, its location is excellent since its accessible to everything. Rooms are big and comfortable with air conditioners in every room. The host are responsive and accessible 24hrs either via email or phone. We had an amazing time and experience!

Ana Laura

▼




August 2018

This apartment is STUNNING! It's very roomy and well situated, a view of the Cathedral can be enjoyed by opening any window in the apartment or by foot by literally crossing the street. The host was very helpful and provided us with a list of her favorite restaurants and gave us advise on free walking tours. The host was also very accessible and quick to respond to any inquiry or concern. We had a minor issue with the doorman, and they quickly addressed the situation, which made the rest of our stay pleasant. We were a family of 9, which included two senior citizens and a toddler, it was perfect! My son enjoyed having space to play and watch TV. Love this place & highly recommend it.

Fatima

▼




July 2018

This apartment is spacious, beautiful, and located in an extremely central location—steps away from lively restaurants and lovely historical destinations. It also had beautiful views of the cathedral and square. Take note that if you are arriving by car access is a bit tricky for unloading luggage, etc. it was a beautiful stay and we would come again

Hardeep

▼




July 2018

A beautiful spacious apartment right next to the cathedral, excellent central location - we never needed a taxi everything was accessible by walking. The apartment is very spacious with five rooms, and a large lounge and dining room for relaxing and eating together. You won't be disappointed, despite the central location the apartment itself was very quiet. We will definitely return if we ever come to Seville again

Irineu

▼




July 2018

Awesome place Great location All really good. We will come back!

Taylor

▼




June 2018

This apartment is very well located to see all of Sevilla. The apartment is spacious and very clean. We highly recommend this site. Thank you for being a great host. We enjoyed our stand and would recommend this to everyone.

gabrielle

▼




March 2018

Bel appartement en plein cœur de Séville. Tout y est accessible à pied, un vrai bonheur. L´ appartement est très fonctionnel, grand et lumineux (nous étions 8 adultes et 4 enfants dont 3 en bas age). Nous avons adoré notre séjour dans cet appartement qui a rempli toutes nos attentes.

Cristina Caballero

▼




November 2017

Un apartamento estupendo, muy cómodo para las 11 personas que estabamos! Luminoso y céntrico.

A. G. B.

▼




October 2017

Reservé el apartamento para los invitados a una boda. Quedaron todos, sin excepción, encantados. Cómodo, limpio, amplio, bien provisto (sobre todo la cocina y los baños). Una situación inmejorable.
Muy de agradecer la estupenda atención de la organización y la flexibilidad y comprensión tanto del dueño del apartamento como de Genteel Home.
Totalmente aconsejable.

Ana Rodas

▼




October 2017

Seviajamos en familia (8). Por Andalucia empezando en Sevilla. Estuvimos en el apartamento Constitución y nos pareció lindisimo, perfecto para nosotros, 4 habitaciones 3 baños.
Fueron 4 días maravillosos, el apartamento está en un lugar perfecto justo al lado de la catedral.
Gracias Genteel Home, hasta la próxima .

Maire Gould

▼




August 2017

The apartment is in a fantastic location, next to the Cathedral and Alcázar, and only a very short walk from the metro and bus (EA) to airport. It is also very large - and perfect for our group of ten.

The downsides... the pictures on the website make it look very plush, whereas the reality is that it is a little tired looking. Plus, one bedroom does not have air con and we also experienced issues whereby switching on even the TV, kettle or hob caused the electricity to switch off. Easy enough to reset, but a major cause of irritation when we were there. The lock on the door to the balcony was also faulty which meant that we had to leave it unlocked for periods during our visit.

The management company responded quickly to both "complaints", although neither were resolved to our satisfaction.

---

Genteel-Home

Dear Maire, thank you very much for your comment. For us it is very important and helps us to improve. Sincerely, our guests are always very satisfied with the apartment Constitución, and value the quality of furniture, floors, windows, doors, etc., this building is one of the best in all Seville and all apartments are very high quality. In any case, of course we care about your opinion and that you did not perceive it that way. The problem of electricity was solved quickly and was due to an excess of electric charge when there were many air conditioners in use at the same time as the oven, the cooking surface, etc. The other problem, with the window lock in the room was also resolved quickly. We are sorry that you were not totally satisfied and we hope that in a future occasion we could meet your expectations as the other guests.

Joelle Cosby

▼




July 2017

We were 3 families, a group of 10, the Apartment was located just across from the Cathedral - it could not have been any better located for our 3 day stay before we traveled to Ronda. I would recommend and we would stay again.

Ellen Thompson

▼




July 2017

The location is fabulous, easy walking distance to most attractions in city center. Close to shops, restaurants, river, cathedral, Alcazar, etc. The apartment is spacious and fit our three couples with room to spare. We loved having 3 full baths. Note that their is a washing machine and you hang your clothes to dry. TV is only in Spanish which was fine with me but the men missed English TV stations. Staff was great. We were met at the apartment and shown around and given recommendations for stores and restaurants. The person in charge from Genteel transfer was especially helpful the day we left. They were using a new taxi service for the transfer and he came personally to make sure it went smoothly. The new service didn´t come. The person in charge of Genteel arranged another taxi for part of our group and drove the rest of us in his personal vehicle to the airport.

Ebli

▼




May 2017

Super Lage, geräumig, alles OK

Hazel

▼




April 2017

My family had a marvellous break in Seville. Whilst it was still touristy we felt that we saw more of the real Spain over places like Madrid or Majorca. The apartment really suited us, plenty of space, light and airy, clean and well equipped. It was surrounded by many great restaurants which we took advantage of and enjoyed some very tasty meals. The only negative thing we could say is that perhaps it needed a little bit of TLC.

Beatrice

▼




February 2017

cafetière pour le petit déjeuner pour 2 personnes alors que nous étions 10 !
quelques révisions à effectuer : lavabo et wc bouché, stores qui n´ouvraient pas bien, pas de chauffage ni d´eau chaude à l´arrivée...
2 jeux de clés pour 5 couples, un peu juste pour s´organiser.

---

Genteel-Home

Chère Beatrice. Merci beaucoup pour votre valoration positive de l´appartement Constitución. Nous sommes ravies que vous aviez eu un bon séjour à Seville. Dans la cuisine il y avait deux cafetières, une petite pour 4 cafés et une grande pour 12 cafés. Il est possible que vous n´avez pas vu la grande? Un des 4 éviers etait bouché, mes excusses. Il a déjà eté fixé. Aussi le seul store qui ne ouvriait pas bien (il s´agit des problèmes qui arrivent avec l´ussage, mais on le fixe le meme jour, la reparation est simple). L´eau chaud et le chauffage sont toujours mis à l´arrivé. Par rapport au clès, on y laisse deux mais si vous demandez pour un troisième nous n´avons pas des problèmes en le laisser. Touttes vos comentaires nous aident à ameliorer. Merci beaucoup. Nous serons ravies de vous loger la prochain fois que vous decidez visiter Espagne. À bientôt!

ANNIE C

▼




February 2017

Très bel appartement, fidèle aux photos du site.
Il est propre, silencieux, la literie est excellente et l´emplacement idéal.
Le personnel de l´agence est très agréable.
Je recommande vivement l´agence Genteel-home et cet appartement.

Emanuela

▼




January 2017

Abbiamo soggiornato in questo appartamento con tutta la nostra famiglia.

L´appartamento è veramente in posizione strategica e comodissima. Meglio di questo non potevamo sperare.

Pur essendo in 10 persone gli spazi erano più che abbondanti e comodi per tutti. (ci voleva google Maps in casa per non perdersi!).

In casa non manca nulla. Asciugamani, coperte, culla, shampo, gel doccia, detersivi vari, moka, phon, wi-fi. Tutto. Lavatrice, Lavastoviglie, Aspirapolvere, ferro da stiro, ...

Pulizia molto buona.

Il personale dell´agenzia è stato veramente disponibile e pronto a risolvere qualsiasi problema insorgente.

Noi abbiamo utilizzato il Transfert della stessa agenzia dall´aeroporto all´appartamento ed il personale si è mostrato molto gentile e accogliente.

Se proprio dovessimo fare un appunto... direi che essendo un appartamento di una costruzione risalente ad occhio e croce a circa 40/50 anni fa, è evidente che sono state fatte alcune opere di ristrutturazione e ammodernamento della struttura (sia nelle opere murarie che di arredamento). Alcuni particolari magari potrebbero essere più curati per essere veramente al TOP... ma ... non si può certo non affermare che questa struttura è di livello molto buono. Quasi perfetto.

Soria

▼




November 2016

Superbe appartement, super emplacement. Appartement très propre. On a passé un merveilleux séjour à Séville. Esther est adorable et nous a vraiment bien acceuillies.
Tout était parfait. Il y a même un concierge vraiment très gentil.
Allez y les yeux fermés ( appartement de la constitution)

Georgeta

▼




November 2016

Très grand appartement ,situé au centre de Séville, propre et rapport qualité /prix très correct mais rien de luxueux.
Je tiens à remercier au personnel qui est intervenu immédiatement pour régler le problème de l eau chaude, un dimanche matin.

Paz García

▼




August 2016

Estancia inolvidable en Sevilla. Apartamento totalmente recomendable.

Group of 9

▼




August 2016

We stayed here for 4 nights. You CANNOT beat this location. We parked our car and walked everywhere from this apartment. It was perfect for 2 families with 5 kids (aged 9-15).

Reyes of Genteel Home greeted us at the apartment, and was very helpful in explaining parking location & arranging things with them. She provided some fabulous site tips and market recommendations.

For easiest parking upon first arrival, take Calle Dos de Mayo off of Paseo de Cristobal Colon and follow it on to Calle Almirantazgo (under the yellow arch). Once around the corner, there are 2 parking spots. If that fails, back into the little side street to unload luggage.

Don´t miss El Postigo, a local artisan market for some fabulous local souveniers.

Mani

▼




July 2016

Fabulous apartment! Loved everything about it.

Dominique

▼




May 2016

Tout a été parfait, à la hauteur de nos espérances.
emplacement idéal, appartement remarquable pour les 8 voyageurs que nous étions. Formidable !
Seul le concierge de l´immeuble pourrait être un peu plus souriant.

Aurelie

▼




March 2016

L appartement était très bien, idéalement situé à côté de nombreux monuments.

Leslie Brown

▼




March 2016

We absolutely loved everything about the apartment. It was clean, comfortably furnished, spacious and in the absolute best location. Everything about it was perfect.

Ana M Ferreira

▼




March 2016

the apartment is great, excellent location! the cleaning was also very good and the staff was nice in general.
we only have one negative point: there was no extra bath towels and we where there for a few nights!

Garbiñe

▼




February 2016

Muy bien situado, espacioso y limpio. El personal muy amable y con muy buena disponibilidad para agradar.
Una muy buena estancia en Sevilla.

Carmen

▼




January 2016

El piso es una maravilla, y la atención y todo.
Mi valoración es la mayor posible, en todo.

Nadia

▼




December 2015

Super situation
Personnel très agréable et disponible
Appartement propre et confortable

The different payment methods Genteel-Home offers for booking and renting apartments are exposed above.