Characteristics

▪ 4 maximum of guests
▪ 60 sq meters area
▪ 1 Bedroom
▪ 1 Bathroom
▪ Ground floor
▪ Agreement with a public parking nearby
▪ Elevator
▪ Air conditioning
▪ Heating
▪ Internet
▪ Swimming pool


Conde de Ibarra Apartment in Seville

VFT/SE/00725

Exclusive design apartment inaugurated on July 2015. It's placed just in Santa Cruz neighbourhood, in the old town of Seville, very close to the Alcázar, Cathedral,... The building includes as well with a communal swimming pool, a truly privilege just in the historic centre of the city. The pool is open form June 1st until September 15th.

The apartment is on the ground floor of the building, but even though it has sunlight, as the living room faces to a beautiful nice patio with garden; and the bedroom overlooks a completely private patio of the apartment, with exterior table and chairs.

With a 60sqm size, the apartment is composed of a bedroom with a queen size bed od 150cm x 200cm, a complete bathroom, a compeltely equipped kitchen and a beautiful living room with dinig room and a quality double sofa bed. *This property disposes of air conditioning only in the living room*.

Living room
Bedroom 1
Kitchen

▪

Sofa bed


▪

TV


▪

Dining room


▪

Double bed


▪

Bed linens and towels


▪

Wardrobe


▪

Washing machine


▪

Kettle


▪

Vitroceramic hob


▪

Coffee Maker


▪

Toaster


▪

Refrigerator and freezer


▪

Fridge

Bathroom 1

▪

Shower


▪

W.C

Santa Cruz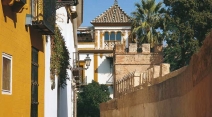 Santa Cruz is the most popular quarter in Seville and it has its origins in the old Jewish quarter of Seville. This quarter was inhabited by the Jews ever since Seville was recaptured by Ferdinand III, King of Castile, until these were ejected in the 15th century.
Located in the center of Seville, Santa Cruz quarter reaches down to the Cathedral, the gardens of the Alcázar (palace) and Jardines de Murillo (Murillo gardens). It is, therefore, a landmark and a touristic zone and it is accessible through Mateos Gago street, the most touristic and commercial street of the quarter.
While having a walk in this zone, you can get to know more about its history, by contemplating the Moorish and Jewish features that so characterize this place. Furthermore, you can go into the narrow streets, which run in an irregular criss-cross pattern and lead to the patios sevillanos (traditional Sevillian patios) or squares, such as Plaza de la Alianza or Plaza de doña Elvira.
During your stay in Santa Cruz quarter, you will feel like you belong here, Andalusia, since you will find yourself surrounded by Andalusian style houses and a pleasant and joyful atmosphere so typical of this region. Nearby places to visit are the Giralda tower, Patio de los Naranjos (orange tree courtyard), the Alcázar (palace), Archivo de Indias (archive of Indies) and the Palacio Arzobispal (archbishop's palace). On the adjacent streets Iglesia de Santa María la Blanca (Santa María la Blanca church), los Jardines de Murillo (Murillo gardens) y el Hospital de los Venerables (baroque hospital) can be found.
Availability
Apartment special conditions

- To formalise the booking is necessary the payment of the 30% of the total that has to be paid by credit card.

- The balance due will be charged from your credit card minimum fifteen days upon arrival.

- The damage deposit will be retained from a valid credit card whose details will have to be provided to the person who'll receive you.

- Check-in and Check-out time: in principle the check-in is from 15h and the check out until 11h. Time flexibility adjusts to availability.

* The Check –in team will charge a supplement of 30€ for entries after 21h and 50€ for entries after 24h.
Request more information
We are interested on your opinion

Tell us about your experience

We only accept reviews from real guests who have stayed in this apartment, so it must be indicated the e-mail which with you made ​​the booking.

Apartment Conde de Ibarra in Seville

Reviews

Average rating from

27

Reviews:

Leticia

▼




January 2019

Muy buena
El recibimiento y lo que nos faciltiaron fue excelente
que la los fusibles de uno de los departamentos se saltaban permanentemente y se trancaba el agua de la ducha. En el otro departamento se rompio la manguera del calefon y se inundo la sala

Denise

▼




November 2018

Die Betten sind unheimlich bequem und das Apartment ist sehr zentral gelegen.
Die Heizung hat nicht funktioniert.

Anónimo

▼




November 2018

Highly recommended. Great apartment in a quiet part of the city center. Would definitely return.

Anónimo

▼




November 2018

Todo muy bien acondicionado Trato amable

Cristina

▼




November 2018

Repetiremos. La ubicación. Limpieza. Amabilidad del personal. El apartamento precioso y muy nuevo. Me gustó todo.

AR88

▼




October 2018

Sevilla was super, appartement was wat spijtig.
locatie is erg goed.
kwaliteit, appartement werd verhuurd voor 4 volwassenen echter was er maar fatsoenlijke slaapplek voor 2. Verder wat het appartement verouderd, zeker de keuken. Zwembad was gevuld maar niet toegankelijk.

Fi

▼




October 2018

Great location
Internet issues, over priced

Isabel

▼




October 2018

Buen apartamento, aunque mejorable. Repetiría.
La ubicación es muy buena. En pleno barrio de Santa Cruz y a un paso de la Catedral y zona de bares. Tuve un pequeño problema con el sumidero de la ducha, pero lo arreglaron rápidamente. El personal es atento y está pendiente de ti en todo momento para que te sientas cómodo. He estado en unos días de muchísimo calor en Sevilla, pero al ser un bajo, el ambiente del apartamento se mantenía fresco. Finca muy tranquila. No se escucha ningún ruido.
Lo único que no me gustó es que tenía muy poca Luz. Mi apartamento estaba en Conde Ibarra, 15, era un bajo con ventanas a un patio interior y al patio central de la finca. La cocina sobretodo, muy poco iluminada. El aire acondicionado parece que es bastante antiguo y no funcionaba bien, pero lo suficiente para que refrescara el apartamento completo, incluido el dormitorio. Tiene piscina, pero las veces que fui a bañarme no estaba en funcionamiento la depuradora y el agua no daba la sensación de la limpieza que debería.

---

Genteel-Home

Estimada Isabel, muchas gracias por su comentario. Nos alegra saber que les ha gustado el apartamento en general, sobre todo gracias a su magnífica ubicación, y que la atención de nuestro personal también haya sido de su agrado. Tomamos en cuenta sus comentarios y sugerencias para poder mejorar en todo lo que está en nuestra mano, de manera que para la próxima, ya sea en éste o en otro de nuestros apartamentos Genteel Home, podamos ofrecerle una completa satisfacción y una estancia maravillosa. Saludos

Ignacio

▼




September 2018

La foto no lo es todo. Lo mejor la ubicación.
El apartamento estaba antiguo. La encimera de la cocina se levantaba, el aire acondicionado sonaba constantemente, un ruido tremendo y encima solo había un aparato en el salón.

---

Genteel-Home

Estimado Ignacio, gracias por su comentario. Lamentamos que no le haya gustado el apartamento. No estamos de acuerdo en que el apartamento sea antiguo, de hecho ha sido reformado parcialmente recientemente (como el baño), y pronto se reformará también la cocina par actualizarla. Informaremos a nuestro departamento de incidencias para que revise la encimera y el aire acondicionado, pero lamentamos que no nos haya informado de ello durante su estancia para poder solucionarlo inmediatamente, ya que no teníamos constancia de ningun problema y los clientes anteriores tampoco nos notificaron la existencia de los mismos. Ciertamente, sólo hay un aparato de aire acondicionado en el salón, pero siendo el apartamento que tenía reservado de 60 m2, creemos que es más que suficiente para enfriar el apartamento al completo. Saludos

Heloise

▼




September 2018

très bel appartement bien placé

Josu

▼




August 2018

Tuvimos una incidencia con la cerradura que nos hizo quedarnos fuera en dos ocasiones. Aunque al principio se puso en duda que estuviéramos abriendo bien la puerta, finalmente la segunda vez que ocurrió, se nos atendió correctamente, se llamó a un cerrajero y al cabo de 1h y 1/2 de espera pudimos entrar. En cualquier caso, el trato de la chica que nos atendió al momento fue muy cordial y respetuoso. Además, se disculpó varias veces por lo ocurrido. Por otro lado lado, las manillas de dos puertas y dos laminas del somier del sofá-cama estaban rotas. El mango de la sartén también andaba suelto. A destacar en positivo, la localización del apartamento y la disponibilidad de piscina. Un saludo.

---

Genteel-Home

Muchas gracias por dejarnos tu comentario Josu, siempre nos ayuda a mejorar! Primero de todo, agradeceros vuestra comprensión y ayuda durante la gestión de la incidencia con la cerradura. Con respecto a las incidencias que nos comentas, ya se le han comunicado al departamento de incidencias y estar en trámites de ser solucionadas. Genteel Home Team

Pol

▼




August 2018

El apartamento esta situado en un bajo con un patio interior muy bonito y está muy cerca del centro histórico de Sevilla, cerca de la Giralda y bares/restaurantes. La piscina perfecta para esquivar un poco el calor de verano. Repetiremos!

Pippa

▼




August 2018

Great central Seville location with rooftop pool!
The apartment was in a brilliant location, walking distance to everything to see in Seville with supermarkets closeby for supplies. The wifi was consistent, the aircon was great to recover from the hot Seville weather. We were 3 people, so 2 in the bedroom and 1 on the pull out sofa bed. The hosts went above and beyond when I told them it was a special occasion and requested champagne on arrival. They helped organise this for me and also gave me a box of brand new champagne glasses! A great stay, and a bonus that they have a roof top pool (which we didn´t realise before going - it would have been excellent to have an afternoon dip). I highly recommend.
No complaints whatsoever, but if you get this apartment in particular, just note that the outside area is internal (there is no view and is shared with a neighbour). But otherwise it was great!

Christophe

▼




August 2018

Le meilleur la piscine sur le toit et la situation à 15 min à pieds de la cathédrale. De plus appartement spacieux et propre.
Dommage que la climatisation soit uniquement dans la salle et pas dans la chambre mais ventilateur sur pied disponible. Attention appartement situé dans la vieille ville accès délicat en voiture.

Guillermo

▼




June 2018

Faltaron elementos de limpieza para los baños.

James Doran

▼




October 2017

Excellent apartment and very kind service from Marilo upon our arrival.

Rob Burke

▼




May 2017

Nicely located apartment.Bit awkward to access due to driving restrictions in Sevilla

Rita Ghidoni

▼




January 2017

Nice flat for the location, suitabke to a couple or a family with young children (the bed sheets for the sofabed are for a single bed, non for a double one). Everything worked well

Ruth

▼




December 2016

Un poco más pequeño q la sensación de las fotografías, todo muy limpio y bien

Dave

▼




June 2016

The flat was very nice and quiet and based around a lovely patio. Pool was also a pleasure to cool off in, though it was, unsurprisingly, pretty busy whenever we went up there, and only a little over a metre deep at most. Despite both looking up the route from the airport in advance and using GPS on the phone, we struggled to find the right street in the maze of old, narrow, often one-way streets, but it was great that your representative tracked us down on the adjacent square! The approach to the onsite parking is down a very narrow street and we gave up on the idea of parking there beyond day one as we weren´t confident of finding our way there or avoiding damaging the car. Nonetheless, the flat was in a wonderful location for walking around Santa Cruz, about five minutes from lots of cafes and restaurants around Santa Maria, and an easy fifteen minutes to the area round the Cathedral. A great base for exploring Seville and the surrounding area!

Thomas Hanson

▼




June 2016

An excellent apartment in a lovely building near enough to all the major sites but still quiet and set apart. Benjamin met us on time and explained all the details about the apartment. It is far more lovely than in the pictures. It is large, well laid out, and spotless clean.

Nicole et Francois

▼




May 2016

appartement bien situé, correspondant aux photos et description. Nous avons pu visiter, manger, sortir le soir tout à pied. Merci à la personne qui nous a accueilli elle nous a bien renseigné sur des lieux de visite, des restaurants ,et
sur tous les renseignements que nous lui avons demandé. Résidence propre, calme comme l´appartement. Je vous recommande cet appartement pour sa situation, son calme et sa propreté

Böhme

▼




May 2016

very friendly staff

Kathleen de Jong

▼




February 2016

It was very nice. They were very helpful and they were helpful by providing us with maps and general information.

Buyse Joris

▼




October 2015

Nice apartment and great pool on a great location!
Clear indications to meet the contact person who handed over the keys.
Nice wellcome by staff.
On the pictures the apartment looks much brighter then it realy is, but this is a good choice to visit Sevilla.

Sandrine Fusin

▼




August 2015

Appartement tout neuf, très moderne et très confortable. Juste un peu sombre mais cela n´est pas très grave car nous n´y sommes quasiment pas en journée. Je recommande cet appartement pour un séjour très agréable avec le vrai plus de la piscine et de l´emplacement. Accueil très sympathique.

Reynaldo Guzman

▼




August 2015

Great property in an excellent location. The street leading to the apartment is very narrow if you plan to bring a car and parking is difficult in Sevilla.

The different payment methods Genteel-Home offers for booking and renting apartments are exposed above.