Characteristics

▪ 6 maximum of guests
▪ 80 sq meters area
▪ 2 Bedrooms
▪ 2 Bathrooms
▪ Ground floor
▪ Private Terrace
▪ Elevator
▪ Air conditioning
▪ Heating
▪ Internet
▪ Cot


Baños I Apartment in Seville

VFT/SE/05008

It is a design apartment, located on the ground floor of a small and beautiful building, with only one apartment per floor, and located in the heart of the old town of Seville.

The apartment has two bedrooms, both with double beds of 1.50 x 2.00 meters, two bathrooms with a shower, a modern and well equipped kitchen with everything you might need during your stay, a magnificent and spacious living room with a double sofa bed of 1.40 x 2.00, and a beautiful private patio furnished and decorated to enjoy your time outsite.

The apartment is located at Baños Street, where the old town of the city of Seville beggins. In the surroundings there are some of the most typical and authentic restaurants and bars in the city, where you will be able to enjoy the best tapas of Seville and the best dishes of Andalusian cuisine. In addition, it's close to the shopping area, supermarkets, and bid malls.

Of course all the important monuments of the city are just a few minutes walking from the apartment, so you won't need transportation of any kind.

Living room
Bathroom 1
Bathroom 2

▪

Dining room


▪

Side table


▪

Vintage chair


▪

Sofa bed


▪

TV


▪

Dining table


▪

Chair


▪

Bidet


▪

Shower


▪

Hair dryer


▪

W.C


▪

Washbasin


▪

Shower


▪

Bidet


▪

W.C


▪

Washbasin


▪

Ensuite bathroom

Bedroom 1
Bedroom 2
Garden

▪

Ensuite bathroom


▪

Double bed


▪

Wardrobe


▪

Shoe-removing chair


▪

Double bed


▪

Wardrobe


▪

Shoe-removing chair


▪

Outdoor furniture


▪

Dining room

Kitchen

▪

Wardrobe


▪

vacuum cleaner


▪

Cleaning products


▪

Mixer


▪

Coffee Maker


▪

Juicer


▪

Fridge


▪

oven-microwave


▪

Kettle


▪

Dish washer


▪

Washing machine


▪

Vitroceramic hob


▪

Clothes horse


▪

Toaster


▪

Flat iron and ironing board


▪

Cleaning products

Encarnación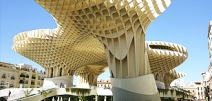 The centre of Seville is an outstanding place to stay in, not only because of how convenient it is, but because of its joyful and nice atmosphere that can be enjoyed at any time of the day. Furthermore, the wide offer of restaurants and pubs allows the tourist to taste our well-known tapas. The tapeo is a concept that everybody who comes to Seville should get used to with, and there is a wide variety of possibilities in the centre of this city so that you have the possibility to choose whatever suits you best.
The apartments located in this zone are very renowned and unique, since everything you may need, restaurants and pubs can be found there so that nothing stops you from finding the nature of the Andalusian lifestyle. Thanks to its location, this part of the city plays an important role during Semana Santa (Holy Week), since all the religious processions pass this zone because of it being one of the places included in the official itinerary. Furthermore, if you wish to go shopping, you can go from Plaza Nueva square to La Campana, and you will pass Sierpes street and its adjoining streets (Tetuán, Cuna, Rioja,…), where you can find a number of shops.
The streets located in the city centre display typical Andalusian features and having a walk down them is something that every single traveller who comes to Seville should experience. While having a walk, you can tell how the narrow streets lead into beautiful squares, which are meeting points for people from Seville. Worth mentioning are the Plaza del Duque square and Plaza de la Encarnación square, which make their way among the narrow streets that surround them. As for the latter, it is worth highlighting the Metropol Parasol, popularly known as the "mushrooms of the Encarnación square". This is a building that flies over the place and is home to several installations, such as the scenic overlook, where you can contemplate wonderful views of the city of Seville.
Within a few minutes, you will be able to visit other places of touristic interest, such as the Cathedral of Seville or the Giralda tower, that are places to be visited by every single tourist who comes to Seville, since both of them beside the "mushrooms" and the Torre del Oro tower define the skyline of Seville.
Availability
Request more information
We are interested on your opinion

Tell us about your experience

We only accept reviews from real guests who have stayed in this apartment, so it must be indicated the e-mail which with you made ​​the booking.

Apartment Baños I in Seville

Reviews

Average rating from

5

Reviews:

Christian

▼




February 2019

Très bien sauf le bruit ....
Situé près du centre, beaucoup d´espace. Equipement complet. Le patio de l´appartement du rez de chaussée
Une des douches était bouchée, de l´eau envahissait la pièce.Problème signalé et résolu très vite. Pour 4 personnes une petite cafetière à l´italienne (pour deux tasses) le matin .... Certains Espagnols sont très bruyants et confondent le jour et la nuit .Difficile de dormir quand le voisin du dessus en rentrant à 02.00 du matin met la musique à fond et doit crier pour parler...

Borja Ruiz Martinez

▼




January 2019

Uno de los duchas se inundaba. Habría que arreglar el desagüe o ponerle una puerta para que el agua no se saliera. Pero es el único pero.
El resto súper bien. Habitaciones amplias, cómodas y prácticamente a estrenar. El salón amplio y luminoso. Y la terraza muy acogedora. Y la localización muy buena. Muy céntrico y barrio tranquilo.

Yin Yin

▼




January 2019

推荐入住,家庭出游好选择
1/设施很新,空调很给力。基本晾着的衣服,靠空调一晚就能干,空调开到26度,房间里穿短袖就行。 2/房间很大,设计很干净,家庭入住非常方便,洗手间有两个。 3/工作人员很专业,会把一切跟你交代的很清楚。
1/酒店储水式热水,所以洗澡不太方便,一会儿水就没了,感觉是西班牙和葡萄牙公寓通病(巴塞罗那的公寓倒是没有这个问题)。 2/酒店的电磁炉不好用,真的非常不好用,按键不灵敏以外,常常自动跳停(并没有违规操作,自己家也是电陶炉,其他住的公寓也都是电磁炉,都没有这个问题) 3/位置有点偏,步行范围只有一个小广场,倒是旁边就是英国宫,但没什么好逛的。所有景点都要打车,步行太远了。

Francisco Manuel

▼




January 2019

FENOMENAL. VOLVERIA.
EL DISEÑO DEL APARTAMENTO, SU MOBILIARIO, SU CONFORTABILIDAD. EL EQUIPAMIENTO DEL APARTAMENTO. SU UBICACION ES BUENA.
DISPONER DE UNA CONSIGNA PARA EL EQUIPAJE INCLUIDA EN EL PRECIO TOTAL DEL APARTAMENTO Y PROXIMA A LA UBICACION DEL PISO SERIA UTIL.

Patricia

▼




December 2018

REPETIRÍAMOS ESTANCIA, SIN DUDARLO.
El alojamiento tiene una ubicación estupenda a 3 minutos de la plaza nueva. Es zona cómoda y sin ruidos. Cerca hay restaurantes, cafeterías y markets. La casa estaba muy limpia y tenía todo el menaje NUEVO. Colchones muy cómodos y ropa de cama buena. Un gusto excelente en la decoración. Cogimos el apartamento bajo con 2 dormitorios y patio. Uno de ellos más pequeño (pero bien de tamaño) y el principal más grande, con baño privado. Hay amenities en el baño y secador de pelo. El patio era amplio y cómodo, con mesa grande y zona de descanso.. Hay WI-FI en la casa. La cocina preciosa, moderna y con todo detalle, incluyendo mini dosis de aceite, café, azúcar y sal. A nuestra llegada, nos estaban esperando en el portal y nos dieron mapa con ubicación y recomendaciones de restaurantes. La chica que nos atendió fue muy simpática y amable. Fuimos 4 adultos con 2 niños y estuvimos muy cómodos, la verdad. Sin duda, repetiríamos nuestra estancia.
Al viajar 4 adultos con niños, nos hubiese gustado tener más televisiones en la casa. El alojamiento sólo cuenta con un TV en el salón (muy demandado por los niños).

The different payment methods Genteel-Home offers for booking and renting apartments are exposed above.