Characteristics

▪ 6 maximum of guests
▪ 80 sq meters area
▪ 2 Bedrooms
▪ 1 Bathroom
▪ 2 floor
▪ Private Terrace
▪ Agreement with a public parking nearby
▪ Air conditioning
▪ Heating
▪ Internet
▪ Cot


Transport nearby

Taxi: Pza. Nueva, Calle Adriano, Calle Reyes Católicos, Paseo Colón.

Bus: EA airport, C4, C5, 3, 40, 41.

Metro: Puerta Jerez

Tram: T1

Arfe Terrace II Apartment in Seville

VFT/SE/00753

This magnificent apartment is located at Arfe Street, in the neighborhood called El Arenal: a typical area with much from tradition in the center of Seville. It is a bright and charming place within a great atmosphere and surrounded by many traditional restaurants and little shops for artisan products. The Cathedral and the Giralda are just a few meters away from the apartment, as well as some other sights in the city like the Alcazar or the Maestranza Bullring.

It is an elegant accommodation with two small balconies facing outside and well soundproof in a bright, comfortable and spacious living room. There are a sofa-bed (120cm), another sofa and a nice dining area with a great table for up to six people. This area is connected with the kitchen, which is fully equipped with all the appliances and utensils. The apartment has two double bedrooms and a complete bathroom. One of the bedrooms also has an external window and there are two single beds. There is a double bed in the second bedroom, and there is a window facing an interior court with some vegetation. Finally, some stairs from the corridor give access to a great private terrace which is provided with some elegant garden furniture where our guests can enjoy a nice time with a stunning view of the Giralda and the Cathedral. It is an exceptional place to have an unbeatable stay in Seville.

Bedroom 1
Bedroom 2
Bathroom 1

▪

Double bed


▪

Wardrobe


▪

Bed linens and towels


▪

2 single beds


▪

Bed linens and towels

Living room
Kitchen

▪

Sofa bed


▪

Sofa


▪

Dining room


▪

Washing machine


▪

Microwave


▪

Dish washer


▪

Fridge

El Arenal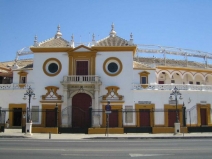 Located in the city centre and, at the same time, on the banks of Guadalquivir River, El Arenal quarter is one of the quarters of Seville with more Andalusian tradition. Since it can be found in the old part of the city, it has witnessed first-hand many events in Seville history, because of having had one of the most important ports in the world during the 16th and 17th centuries, thanks to the discovery of America and the resulting trade with India.
El Arenal is, without a doubt, one of the most traditional and characteristic quarters in Seville. Furthermore, it is nowadays a busy and meeting place for people from Seville, since it is the quarter par excellence devoted to bullfighting, religious devotion, religious brotherhoods and Semana Santa (Holy Week) and these constitute the most significant features of this place.
This zone is home to such symbolic buildings as the La Maestranza bullring, the Torre del Oro tower, the Arenal market, the Torre de la Plata tower and the La Maestranza theatre. In this zone you can enjoy leisure activities, mostly all the ones regarding the world of the Spanish bullfighting, opera, theatre and religious brotherhoods.
While walking around this quarter, tourist can take the opportunity to get to know better part of the history of our city by visiting other places of touristic interest, namely La Hermandad de la Santa Caridad church or the Atarazanas (medieval shipyard). Finally, thanks to its central location, you will be able to find within a very short walking distance the Cathedral and the Giralda tower, must-see places if you come to spend a few days in Seville.
Availability
Apartment special conditions

- To formalise the booking is necessary the payment of the 30% of the total that has to be paid by credit card.

- The balance due will be charged from your credit card minimum fifteen days upon arrival.

- The damage deposit will be retained from a valid credit card whose details will have to be provided to the person who'll receive you.

- Check-in and Check-out time: in principle the check-in is from 15h and the check out until 11h. Time flexibility adjusts to availability.

* The Check –in team will charge a supplement of 30€ for entries after 21h and 50€ for entries after 24h.
Request more information
We are interested on your opinion

Tell us about your experience

We only accept reviews from real guests who have stayed in this apartment, so it must be indicated the e-mail which with you made ​​the booking.

Apartment Arfe Terrace II in Seville

Reviews

Average rating from

39

Reviews:

Angel Tomas

▼




December 2018

Uauuuuu. Terraza. Situado en muy buen sitio. Céntrico pero tranquilo.

Jordi Garcia Frias

▼




November 2018

La ubicación es inmejorable

odette

▼




October 2018

48 steps to get to the apartment

Andy

▼




October 2018

Super Lage, schöne Dachterasse.
Zu wenig Ablagemöglichkeiten im Bad und im Zimmer ohne Schrank.

Jean-François Pirlet

▼




October 2018

Excellent emplacement Très propre Appartement très agréable La terrasse Parking a 5 minutes de marche et prix raisonnable, facile d´accès

Christian Gutowski

▼




October 2018

Tremendous location and quality. The apt was clean and provided great comfort. The coordination of the company was terrible however as I waited for an hour to receive the keys. I also didn´t receive a receipt or invoice for my stay and was given no explanation why. I was told after a week of waiting that the administration office would take a few days to prepare a receipt. In summary, the property is great, but the Genteel management company was not.

herve

▼




August 2018

Tout etait bien, mais il y avait une odeur persistante et désagréable d´eaux usées dans la salle de bain et la cuisine

Chantal

▼




August 2018

Quelle vue sur la cathédrale c'est juste superbe. L'emplacement est parfait dans un quartier dynamique mais calme.

Anthony

▼




July 2018

If you´re travelling light then this is the place to stay!
The location was perfect, so close to all the shopping, sights and restuarants!
Car parking is a bit far - about a ten minute walk so make sure you drop off your luggage at the apartment first before parking.

Yachine

▼




July 2018

Location and accommodation were great

Clizia

▼




June 2018

La migliore posizione e le dimensioni dell´appartamento, mobili.
La pulizia della terrazza potrebbe essere migliorata.

Mertxe Magariño

▼




June 2018

Muy bonito, limpio y con una terraza estupenda.
Algo ruidoso por la noche

Caroline Leu

▼




December 2017

Very nice and comfortable appartment. Everything you need is in Calle Arfe: little supermarkets and restaurnats (I love the restaurant "Bajo Guia" and the restaurant/bar "entre puertas" and bars like "Casa Matias"). Next time in Seville I´ll book it again :-).

De Caluwe Greet

▼




November 2017

good location (central) but a lot of noice in the evening and morning because of de tapasbars en cars

---

Genteel-Home

Thank you for taking the time to let us know your thoughts about our apartment. We are glad to know that you liked the location, in the very city center of Seville. Like in every big city, the most central and popular streets are always filled with life; that is why you noticed noise around you, but hopefully, nothing trully unconfortable. Regarding the issue you wrote about the towels, this is the first news we hear about this. For this matter, we have an 24h incident service, explained in the check-in, and be sure we would have fixed it if we had know you had any kind of problem. We hope to see you again someday in the city. It will be a pleasure to assist you again.

IBA

▼




October 2017

El apartamento esta genial, la terraza es impresionante, nos a enamorado. La ubicacion mejor imposible, cafeterias al lado para desayunar y bares para comer de todo tipo. Catedral, Real Alcazar a 2min andando. Estamos encantadas con el viaje, para repetir sin duda. Gracias!!

Garnier

▼




September 2017

The agency is perfect. The staff is dedicated, efficient and very pleasant. The apartment is exactly the same as on the pictures. I recommend this agency that I thank. If I come back, no doubt, I will call genteel-home!

SONIA

▼




August 2017

El apartamento es muy bonito, acogedor, tiene una terraza excelente, todas las comodidades, en pleno centro de Sevilla. Las personas que me han atendido son muy amables y te facilitan todo lo que necesitas.

Andrew

▼




July 2017

This is a great apartment located in the central, but not at all noisy area of El Arenal minutes from the Cathedral and many great tapas bars and restaurants.

We stayed in July 2017 with the weather sunny every day and the temperature between 36c and 42c in the day and 26c to 30c by night, so we were very happy with the roof terrace for late afternoon sunbathing and the aircon in the main rooms.

It has all the amenities one would expect and is an excellent size for two people, would be ideal for 2+2 or a small family but in our opinion, a stretch to house six adults comfortably.
Everything you want to see or visit is accessible on foot within minutes and the Mini-Mart is only five mins walk from the apartment with a good selection of food, drink, etc. at reasonable prices.

As regular travellers to European cities, this was our first time to Seville which is a food lover's destination with restaurants and bars pricing noticeably lower than Madrid, Valencia or Palma. We will return to Seville in 2018 and definitely book this apartment again.

Sophie Giroux

▼




July 2017

Lovely apartment! As pretty as in the pictures! A tad smaller than it seemed, but felt in no way cramped. We loved the air conditioning in each of the rooms.

The kitchen had everything we could have needed. The washing machine was easy to use, and we liked that we could hang dry clothes up on the terrace. There was even washing detergent.

Beds were a bit hard, as is usually the case in Europe, but didn´t impede on our sleep.

The apartment is on a quiet street, close to a nice supermarket and a pharmacy. Plenty of restaurants and shops around. As a woman, I felt safe walking around alone in the evening. Even though the catedral is very close, the neighborhood had a homely, local feel. Not overcrowded by tourists.
Plus, we could easily walk to all the major attractions. Very central.

One thing that may be a problem for some (but not us), the apartment is up 2 flights of stairs, with no elevator. To get to the terrace, there´s another staircase, from inside the apartment.
The terrace is lovely, although way too hot during a summer day! Very nice at night though.

Service from the company was excellent!! Speedy email response! Reasonable rates.

We LOVED our little apartment in Seville, and simply did not want to leave!
We´ve got loads of experience renting apartments in Europe, and this one was one of the bests!
Do not hesitate!

Parikh

▼




July 2017

We had a wonderful stay at this apartment. The location is perfect, just a few minutes walk from the cathedral and Alcazar. There are plenty of nearby restaurants and cafes. There is a carrefour express a couple of minutes away which is really well stocked and very reasonably priced.

The apartment itself is clean and has aircon in the lounge and both bedrooms which you definitely need in the heat! The lounge is a great space, with comfortable seating and a nice dining table which we used a lot during our stay. The master bedroom has loads of storage.

There is some room for improvement: the second bedroom in particular was a bit disappointing. There are no shelves or warbdrobes in there (as there isn´t any space!), so it is literally a room with 2 single beds in and a small chair. One of the beds appeared to be a fold out bed - though full size - but was quite creaky and felt a bit unstable.
The kitchen was adequately equipped, but considering that the apartment can accommodate up to 6, it was disappointing not to have some bigger pans. There were four of us staying and to cook pasta, we had to do it in two batches as the pans were too small.
Also, it would be good to have a full length mirror somewhere in the apartment and a bin in the bathroom.

These were relatively minor points and didn´t spoil our stay here so would definitely still recommend it.

---

Genteel-Home

Dear Parikh, Thank you very much for taking the time to evaluate your stay in our apartment. We are glad that you had great stay and enjoyed the perfect location. All our apartments are fully equiped, we are sorry to hear that there were some details that didn´t meet your expectations. We always try to make our guests to feel comfortable during their stay. We appreciate your suggestions very much and will consider them to keep improving our services. Hope welcoming you again in our apartments in near future.

OLATZ

▼




May 2017

Apartamento muy acogedor con una terraza muy agradable con vistas a la catedral y a la Giralda.
Ubicación ideal. Todo perfecto. Repetiremos.

Guy Bijnens

▼




April 2017

Great location great clean appartment, the terrace is a real value add.

Mylo Cade

▼




November 2016

My husband and I and our 3 boys ages 1, 4, 6 just returned from a 5 week stay in this apartment. The apartment was big enough for all five of us and comfortable. The apartment is in the best location...super close to everything yet seems more local and less touristy. The bars on Arfe street get really crowded on Friday and Saturday nights. People are packed on the sidewalks. It´s noisy but a fun, jubilant noise. It made me happy to hear it. The noise at night did not bother us or the children because we use noise machines for sleep. The apartment does not have a dryer just a washer. This may not be a problem to some, but it was difficult for a family of 5...especially when it rained. People use a drying line which can take a few days to dry. We ended up using a laundromat a few steps from the apartment. They washed, dried, and folded a bag of laundry for 6 euros. Also, if you have small children please note that this apartment has a steep stairwell the leads up to the terrace. We had our luggage blocking it but by the end of our trip our 1 year old figured out how to climb it. The apartment below, Arfe Terrace 1, does not have direct terrace access so you don´t have to contend with the staircase inside the apartment. For that apartment you have to go up 2 flights of stairs outside the apartment. We didn´t use the terrace so that probably would have been a better option for our family. Also, for Americans, please note that the deadbolts in Seville don´t work the same as in the US. You cannot leave a key in the deadbolt, close the door, and use the other key to get in like you can with deadbolts in the US. As Americans, we will leave a key in a deadbolt for safety reasons...you don´t want to be trying to find a key in case of a fire or something. Anyway, my husband made this mistake in this apartment. We were leaving and he knew I had my keys so he left his in the door. We were locked out even though I had my keys. Luckily, the Genteel office is around the corner so we went and told them what happened. They had a locksmith come out quickly. It cost us 50 euros for that mistake. The pick up service is outstanding. Mariano and Georgette are lovely people and safe drivers. I highly recommend that you use this service. Overall, the stay was magical. We will return to Seville and this apartment. I was sad to say goodbye.

---

Genteel-Home

Dear Mylo, thank you for your kind words. It´ll be a pleasure for us as well having you as a customer and we really hope to see you soon. I just wanted to point out that the centre of Seville in general is lively. Only the living room and small bedroom overlooks Arfe street, the main bedroom overlooks an interior patio. In any case the living room and bedroom are well aislated and there isn´t any bar or pub just down the property so noise shouldn´t bother tenants in general even without a noise machine.

Hans-Joachim

▼




September 2016

Sehr empfehlenswertes, ruhiges, aber sehr zentrales Apartment. Ca. 500m bis zur Alcazar, die meisten Sehenswürdigkeiten zu Fuß erreichbar. Parken vergünstigt im Parkhaus 500m. Sehr sauber und geschmackvoll eingerichtet. Klimatisiert. Dachterrasse mit netter Aussicht, aber Lärm von der Klimaanlage. Freundliche, pünktliche, hilfsbereite Mitarbeiter. Würden es in Sevilla wieder buchen.

Ásdís Rósa

▼




March 2016

Overall a nice apartment and the location is very good. The privite terrace is really nice.

Pepa

▼




February 2016

Apartamento estupendo y espacioso, muy cómodo, acogedor y luminoso. La ubicación es inmejorable, cerca de todo y en una calle con muchos bares y restaurantes. El dormitorio principal es muy tranquilo porque da a un patio interior. Dispone de una gran terraza en la que se puede disfrutar del buen tiempo. Repetiremos sin duda.

Fulvio Tettamanti

▼




December 2015

We had good time in Sevilla and the apartment was really nice

AURORE

▼




November 2015

Appartement extraordinaire dans un lieu extraordinaire.
Excellents moments passés dans cet appartement idéalement situé avec une vue imprenable sur la cathédrale.
Merci à toute l´équipe pour tout nous reviendrons les yeux fermés!

Dan Baker

▼




October 2015

Great apartment with ideal location, would definitely return. Great service from genteel; when we accidentally turned off our hot water and couldn´t figure out the problem we called our contact person. When she didn´t respond we called the genteel main office and they arrived in 15 minutes, found the right switch and the problem was solved! Kudos for their quick and effecient response!

Bill Mallory

▼




August 2015

Great location, very clean apartment. I could have stayed there for a month. The private roof top terrace is a big plus. Short walk to most attractions, shopping and restaurants. I would stay here again if traveling to Seville. Very smooth booking and follow-up e-mails. They also arranged to have someone meet me at the airport.

CHID

▼




August 2015

Tres bel appartement, belle terrasse, super emplacement! Excellent sejour en famille (2adultes et 3enfants). La location vaut le coût. Point negatif: nous avons tentez d´utiliser le parasol mais il etait tres difficile à deplacer. De plus, il n´est pas orientable. Du coup, la terrasse etait surtout agreable la nuit sauf pour les amateur de bronzage.
Merci à Maria pour son accueil et ses conseils.

Guy DeConte

▼




July 2015

Wonderful location, awesome apartment, friendly and accommodating service. Highly recommended!!

Carol Barry

▼




June 2015

Excellent! Maria was very friendly and helpful. The apartment was clean and in a great location. We loved having the roof top deck.

Nancy


May 2015

We had excellent communication with Maria who is easily reachable by phone and email. She met us at the entrance when our cab pulled up. She showed us the apartment which is two long flights up, so be aware that there is no elevator. She gave us a thorough tour and instructions, and quickly resolved a glitch with how the bed in the secondary bedroom was made up. The photos were 100% accurate.
The living/dining area is spacious with two comfortable sofas (which I believe could be made into a bed) and a large dining table. The kitchen is more than adequate and well supplied with utensils, dishes, cutlery and equipment.
The master bedroom faces a courtyard and is a good size with plenty of storage and a queen bed. The secondary bedroom facing the street is compact and has a comfortable single bed which has a second single that can be pulled out from beneath. It really can only be set up as two single beds as when pushed together there was no means of disguising the join and they are made up separately. When both beds are made up it is a tight squeeze and there are no drawers or storage in the room. As a single room it is fine, as you can live out of your suitcase; however, two people will struggle. The big pluses were air conditioning in the room, as all the rooms are and windows that are very soundproof. All the rooms have excellent solid shutters to make the rooms pitch black even during the day if you want to snooze.
The bathroom was large and spotlessly clean and adequate linen is provided. The roof top deck is great with lots of seating, cushions and an umbrella, as well as a bit of view of the cathedral. The location is perfect with easy walking distance to the cathedral and many excellent restaurants in the immediate vicinity. The area is quite quiet and the windows easily deal with any street noise.
Overall I am very happy with our stay and will gladly return.

Ruud


May 2015

The apartment is situated in the center of the city. Close to all the attractions within walking distance. The apartment is spacious and well equipement. The furniture and beds are of good quality. The roof top terrace was ideal and great view of the Cathedral.
We highly recommend this apartment.
We stayed with 4 adults.

Gretchen Turner


March 2015

My family and I went there in Seville during a week. We stayed at this apartment and honestly, it was a great decision we made. It's really well located in the center of the city, in the Arenal neighborhood. The amazing Cathedral and the Giralda are a few meters away from it so you can see them from the lovely private terrace. And there are a lot of good restaurants in the area where you can eat the famous 'tapas' while drinking a glass of wine. We saw almost every place of interest while walking along the streets, which was a great experience as those streets are lively and charming, full of musicians, painters, art, horse drawn carriages...

The entire apartment was clean and it is decorated with taste. Also the beds were really comfortable and we liked the open-concept kitchen because we love spending time together as a family.

I would recommend this apartment to anyone who wants to have an unforgettable stay in Seville.

Camille B.


March 2015

L´appartement est très grand et chalereux, avec des chambres lumineuses. L´appartement a une décoration très moderne, avec des machines dans la cuisine qui avaient un bon fonctionemment. On a bien dormi dans les lits grâce à leur solidité.
La salle de bain est complètement équippé et les vues sont inoubiables, parce qu¡on puvait voir la Cathédrale de Séville sans problème, avec aucun bâtiment qui nous gênait de la voir.
Je recommends a tout le monde d´y aller et de profiter le séjour à Séville dans cet appartement.

JOSEPH DANIS


March 2015

Great location.
Great terrace with private access.
Had an espresso coffee maker - would have been nice to have a regular coffee maker.
Recommend that you advise your clients to make sure the front door is unlocked before leaving the keys in the apartment on departure.

Cécile Duchêne


February 2015

Un appartement excellent, très bien placé et très propre. Nous avons surtout adoré la terrasse, les vues sont magnifiques. Absolument recommandable !

The different payment methods Genteel-Home offers for booking and renting apartments are exposed above.