Characteristics

▪ 6 maximum of guests
▪ 80 sq meters area
▪ 2 Bedrooms
▪ 1 Bathroom
▪ 1 floor
▪ Private Terrace
▪ Agreement with a public parking nearby
▪ Air conditioning
▪ Heating
▪ Internet
▪ Cot


Transport nearby

Taxi: Pza. Nueva, Calle Adriano, Calle Reyes Católicos, Paseo Colón.

Bus: EA airport, C4, C5, 3, 40, 41.

Metro: Puerta Jerez

Tram: T1

Arfe Terrace Apartment in Seville

VFT/SE/00739

Arfe Terrace is a beautiful place with private terrace. It is located in the very center of Seville, at Arfe street, a few meters from the Cathedral and the historical building Archivo de Indias. El Arenal is one of the most selected and expensive areas of Seville; it is a completely safe district and a cheering, funny area with plenty of bars, terraces, restaurants and many little shops for food.

The appartment is designed with neutral, elegant colors, and it consists of two bedrooms. In the first one there is a double bed which is 1,50 meters large x 2 meters long, it is facing out to a little and beautiful courtyard furnished with some big wardrobes. In the second bedroom there are two single beds folded in a modern and twin structure easily convertible. There is also a big window and a balcony facing outside. The living room is roomy and comfortable, there are other two balconies facing outside and much natural light coming into the whole room. There is a convertible sofa which provides the appartment with capacity for 6 people(120cm). There is a spacious kitchen connected to the living room and it is well equiped with many appliances and utensils. Finally there is a big, independent bathroom provided with both a bath and a shower. The terrace is about 20 sqm and there are a garden table, many plants and all the rest of facilities. This terrace, whose access is outside the apartment ( 2 floor above), offers a perfect view of the Cathedral and the Giralda tower.

Living room
Bedroom 1
Bedroom 2

▪

Plasma TV


▪

Sofa bed


▪

Wardrobe


▪

Dining room


▪

Double bed


▪

Bed linen


▪

Bed


▪

Bed linen

Bathroom 1
Kitchen

▪

Bathtub


▪

Shower


▪

Towels


▪

Hair dryer


▪

Coffee Maker


▪

Toaster


▪

Washing machine


▪

Dish washer


▪

Microwave


▪

Refrigerator and freezer

El Arenal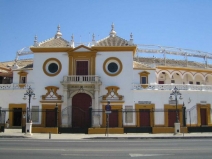 Located in the city centre and, at the same time, on the banks of Guadalquivir River, El Arenal quarter is one of the quarters of Seville with more Andalusian tradition. Since it can be found in the old part of the city, it has witnessed first-hand many events in Seville history, because of having had one of the most important ports in the world during the 16th and 17th centuries, thanks to the discovery of America and the resulting trade with India.
El Arenal is, without a doubt, one of the most traditional and characteristic quarters in Seville. Furthermore, it is nowadays a busy and meeting place for people from Seville, since it is the quarter par excellence devoted to bullfighting, religious devotion, religious brotherhoods and Semana Santa (Holy Week) and these constitute the most significant features of this place.
This zone is home to such symbolic buildings as the La Maestranza bullring, the Torre del Oro tower, the Arenal market, the Torre de la Plata tower and the La Maestranza theatre. In this zone you can enjoy leisure activities, mostly all the ones regarding the world of the Spanish bullfighting, opera, theatre and religious brotherhoods.
While walking around this quarter, tourist can take the opportunity to get to know better part of the history of our city by visiting other places of touristic interest, namely La Hermandad de la Santa Caridad church or the Atarazanas (medieval shipyard). Finally, thanks to its central location, you will be able to find within a very short walking distance the Cathedral and the Giralda tower, must-see places if you come to spend a few days in Seville.
Availability
Apartment special conditions

- To formalise the booking is necessary the payment of the 30% of the total that has to be paid by credit card.

- The balance due will be charged from your credit card minimum fifteen days upon arrival.

- The damage deposit will be retained from a valid credit card whose details will have to be provided to the person who'll receive you.

- Check-in and Check-out time: in principle the check-in is from 15h and the check out until 11h. Time flexibility adjusts to availability.

* The Check –in team will charge a supplement of 30€ for entries after 21h and 50€ for entries after 24h.
Request more information
We are interested on your opinion

Tell us about your experience

We only accept reviews from real guests who have stayed in this apartment, so it must be indicated the e-mail which with you made ​​the booking.

Apartment Arfe Terrace in Seville

Reviews

Average rating from

32

Reviews:

Jose Luiz

▼




February 2019

A localização era excelente e o o apartamento estava bem equipado para a nossa estadia. A decoração do apartamento é moderna e nós curtimos a vista da cathedral a noite do terraço do 3 andar.
O sofá cama era pequeno e não foi confortável para dormirem duas pessoas. A água quente do chuveiro era insuficiente para todos tomarem banho. Nós tivemos que tomar banhos em horários alternados para tomar banhos quentes.

Dominic

▼




November 2018

Short and sweet and the host was very helpful.
Excellent clean modern apartment situated in the historic part of the city with easy parking nearby and close to a tram stop.

Kristin

▼




October 2018

A great spot to explore Sevilla from. Loved feeling a bit like a local w/ own apt!
Loved having our own apartment in such a great location! The terrace was a bonus for people watching. Great coffee and everything you need right downstairs!
Bed was a little uncomfy. Temp control...very chilly and couldn't figure out how to adjust the units mounted toward the ceiling.

Anita Hessel

▼




October 2018

Meget central beliggenhed, dejlig indretning til familien eller 2 par på storbyferie. Hvis I vil nyde solen er der en skøn solterrasse

Tim Valstar

▼




September 2018

Nice appartement with roof terrace
Roof terrace was very Nice. Kitchen was complete. Location Excellent. And they gave us excellent information about pick up and bagage drop off. The babage drop off came in handy because we flew Back in the evening.
Minor things like about leaking airconditioning. We have informed the owner about this. And for four people a little bit Small, but for price and location its ok.

Charlie

▼




September 2018

Apparemment est légèrement plus vieux que sur les photos...

Chantal

▼




August 2018

Quelle vue sur la cathédrale c'est juste superbe. L'emplacement est parfait dans un quartier dynamique mais calme.

Kevin

▼




August 2018

Located in an amazing location in the old town. Loved the little balcony to watch the busy street life below. Nice and spacious for our family of 6. We were met promptly by the representative.
We had an issue with the plumbing and hot water was leaking from a broken tap (this was fixed as soon as we reported the issue). The aircon was also leaking.

Morgane

▼




July 2018

Super location au centre de Séville
Tout était parfait : l´accueil, l´emplacement, le confort, l´équipement.... super logement! Sans oublier la terrasse! Comme sur la photo!

Clizia

▼




June 2018

La migliore posizione e le dimensioni dell´appartamento, mobili.
La pulizia della terrazza potrebbe essere migliorata.

Jennifer

▼




June 2018

We loved our stay at this property in Seville. The location and neighborhood are great! Great wine/meat/specialty goods right next door...a huge plus! Be sure to stop in for some tasty Spanish delights. Many great boquerias and even a grocery store within a few blocks. The terrace is private but up a flight or two of stairs-great spot to sip cava and take in the views! I didn´t think of this before but it was a huge bonus to have a washing machine in the unit (no dryer-which I don´t think is common) but a large drying rack like which was handy. Also, our neighborhood favorite was Boqueria Romero...we went 3 times!

Glaess Ruediger

▼




October 2017

The apartment is best located in the center of El Arenal, was tidy and good for our stay in Sevillia. The terrace was rooftop, a little uncomfortable and not directly reachable from the apartment, but that didn´t matter because we liked to go out at night. We didn´t need the second bedroom, but it was very simple and really not luxury.

Ursula

▼




April 2017

Das Apartment liegt optimal mitten in der Altstadt. Die Einrichtung ist modern und komfortabel und die Terrasse mit Blick auf die Kathedrale lädt abends zum entspannen ein. Ich empfehle es und würde es jederzeit wieder buchen. Auch die Organisation hat problemlos geklappt.

katia SAUTERET

▼




April 2017

Quartier très vivant surtout la nuit, dans les bars de la rue un client prend une guitare, un autre tape sur une caisse en bois et d´autres dansent le flamenco ! nous nous avons adoré

françoise jeanne

▼




December 2016

le personnel est génial et à l´écoute de nos problèmes BRAVO !! juste dans une des chambres aucun placard c´est la seule chose un peu négative

A BIENTOT ET MERCI A TOUS

Dadich

▼




November 2016

Loved this gem of an apartment within walking distance to the Seville sites. The terrace was perfect place to start with our coffee each morning and relax at end of day looking out to the beautiful Cathedral. Appreciated the private car transfer to and from the train station. Teresa welcomed us to apartment. Genteel Home is professional company and we look forward to renting again!

Wim

▼




September 2016

The Arfe I apartment is on an excellent location for visiting the center center of Sevilla. It is very well equipped, including products for dishwasher etc. It was very clean and well provided with bed and kitchen linen. Very good wifi. Airco in living and both bedrooms, easy adjustable.
All contacts with Genteel-Home were effective and friendly. The airport shuttle was more than excellent. Everything was well organized.
Recommendable!

Caroline Canning

▼




August 2016

Lovely apartment, air conditioning very welcome at the time of our stay. Ideally located for site seeing as only 5 minute walk from Cathedral. Lots of interesting and good places to eat nearby.

Anthony Naughton

▼




August 2016

A great apartment in a great location. We were given a very friendly welcome by the Genteel Homes representative, and the property has everything you need to enjoy your stay. It´s so close to the cathedral and city centre, but still off the beaten track. Calle Arfe is a lovely street with lots of bars and restaurants, and in a perfect position from which to explore Seville.

Sarah Durrant

▼




June 2016

Wonderful central apartment in a great location very close to the main tourist sights but in a lively, vibrant Arenal street which feels authentic and untouristy. Plenty of space, very clean and everything you need for a short or longer stay. The modest roof terrace is functional rather than super-attractive but the cathedral views are lovely. The apartment overall is cool, spacious and hugely relaxing. A perfect place from which to explore this amazing Spanish city. The staff at Genteel Home were absolutely outstanding: polite, friendly, knowledgeable and genuinely keen to help. Especially nice touches included a welcome bottle of wine and (our contact person) Reya´s personal recommendations of tapas bars. Being able to leave our luggage in the nearby office on our last day was incredibly helpful. I have no hesitation in recommending this outstanding company.

Anne Haynes

▼




March 2016

We experienced a remarkable Semana Santa 2016 in Sevilla for which the location of Apartment Arfe could not have been bettered! With as many as six highly elaborate, dramatic parades going by on one day alone we enjoyed privileged access from the apartment´s two elegant balconies - a memorable experience. The accommodation is comfortable, bright and airy. Well-located for key sites of interest like the Cathedral and riverside, it is also close to a number of excellent, non-touristy restaurants and bars, whilst being quiet and secure with all the necessary facilities for a comfortable stay. The roof terrace in particular was a bonus - sun-filled, well-equipped and private for enjoying city views and alfresco dining. The staff at Genteel Home were helpful and easy to deal with throughout. Rebeca met us on arrival and and was both reassuring and informative. The company also made trouble-free arrangements for transfer by car to and from the airport which was a great benefit, particularly given the traffic disruption during this festival week. All-in-all a unique holiday in an excellent location.

Andrea Hopkins

▼




February 2016

Very nice apartment, superb location within walking distance of all the sights. Situated in a a thriving local neighbourhood with lots of Spanish atmosphere. Plenty of tapas bars nearby and places to enjoy a beer or coffee. Easy booking and greeting staff very helpful. Contact for airport pick up service was most reasonable and helpful.

Sylvie

▼




October 2015

L´appartement est merveilleusement bien situé et des plus agréables. Les nombreux balcons, la terrasse sur le toit, le mobilier confortable, l´ambiance chaleureuse, en font un endroit parfait. Juan et Maria sont fort sympathiques et offrent un service hors pair. Nous sommes véritablement tombés sous le charme de Séville.

Sarah - Jane

▼




June 2015

An Excellent apartment, with a beautiful roof terrace, it has everything you need for a fantastic stay. Great location, and the genteel staff were always very easy to get hold of with any questions.

I shall recommend to all my friends and family.
Thanks again.

George Raymond


May 2015

This unit is beautiful. It´s exactly as it looks in the pictures. It´s in a very nice area. Maria from Genteel was wonderful to deal with when I met with her to pick up the keys. The private terrace was wonderful. We used it 3 times during our stay. I would highly recommend this property and will stay there again the next time I visit Seville. Feel free to email me with any questions or concerns. George

Nancy


April 2015

This was everything we hoped it would be: great location, very clean and well-maintained apartment - would definitely stay here again. The agency was helpful in directing my husband to a medical clinic, even spoke with them because very little English is understood in Sevilla!

Leslie


December 2014

Great location, comfortable beds and nice terrace!

Pat Jones


December 2014

Excellent location, very clean and comfortable apartment. Everything we required was supplied, although we didn´t need to use the cooking facilities as the choice of local restaurants is huge. Calle Arfe is a lively street on Fridays and Saturdays with a great atmosphere, but the excellent soundproofing of the windows meant we could still cut out all the noise, if required. Central to all the important visitor attractions, the apartment is only a few minutes away from the cathedral, palace and river.

Excelllent, easy booking arrangements, including parking discount in a nearby car park. We had a very warm welcome from Maria who ensured that our arrival and departure arrangements were hassle free.

The use of the apartment meant made us feel as close as we could get to being residents of the lovely city of Sevilla!

We would strongly recommend this apartment and Genteel Homes.

Anna


November 2014

Very nice apartment bright, cozy and comfortable. Excellent location all you need surrounding you.

Tammy Capaldi


October 2014

We had a lovely time at Apartment Arfe Terrace. It was beautifully clean and very comfortable and the location was fantastic - a stone´s throw from tapas bars and restaurants as well as the Alcazar and Cathedral. We enjoyed both breakfast and a glass of wine in the evening on the rooftop terrace. Highly recommended!

Kristine Weber


September 2014

My two friends and I stayed at 32 Arfe and we were delighted with our apartment! It was sparkling clean, feels very Spanish and the location cannot be beat! I highly recommend this property to anyone!

Anne Pickering


September 2014

A lovely apartment in a wonderful location for visiting Seville. We were able to walk to all major sights from here. We cannot comment on the kitchen facilities as we ate all meals (including breakfast) out! Bar El Ninos opposite does lovely and g

The different payment methods Genteel-Home offers for booking and renting apartments are exposed above.