Characteristics

▪ 8 maximum of guests
▪ 180 sq meters area
▪ 3 Bedrooms
▪ 3 Bathrooms
▪ 3 floor
▪ Elevator
▪ Air conditioning
▪ Heating
▪ Internet
▪ Cot


Constitución III Apartment in Seville

VFT/SE04018

The Constitución III apartment has been renovated, redistributed, decorated and furnished to the detail, seeking the maximum comfort and well-being of our guests. The result is a large property inaugurated in October 2018, with more than 200 m2 in size, distributed in 3 large bedrooms, all with two single beds of 1,05 m x 2,00 m, three bathrooms (two of them ensuite), a large living room with plenty of natural light facing the Constitución avenue, with a dining area and a large double sofa bed of 1,35 mx 2,00 m.
There is also an independent kitchen, equipped with everything you need.

The apartment is located on the Constitution Avenue, the best known and most special of Seville, sharing the location with the Cathedral of Seville and Archivo de Indias, both of them located only few meters from the apartment. Also you will find other must-see attractions and points of interest in a very short walking distance from the apartment – Alcázar Palace, Giralda tower, Santa Cruz neighborhood etc..

The apartment is in privileged surroundings where you can find small stores, supermarkets, branded clothing stores and of course the best bars and restaurants where you can enjoy the best Andalusian and Sevillian cuisine.

Living room
Bedroom 1
Bedroom 2

▪

Dining room


▪

Dining table


▪

Vintage table


▪

reading chair


▪

Sofa


▪

Sofa bed


▪

TV curved screen 42


▪

2 single beds


▪

Built-in closet


▪

Reading luminaire


▪

2 single beds


▪

Built-in closet


▪

Reading luminaire


▪

Vintage chair


▪

Ensuite bathroom

Bedroom 3
Bathroom 1
Bathroom 2

▪

2 single beds


▪

Built-in closet


▪

Vintage chair


▪

Ensuite bathroom


▪

Bathtub


▪

Bidet


▪

W.C


▪

Hair dryer


▪

Bidet


▪

W.C


▪

Shower

Bathroom 3
Kitchen

▪

Bidet


▪

W.C


▪

Bathtub


▪

Wardrobe


▪

vacuum cleaner


▪

Cleaning products


▪

Mixer


▪

Coffee Maker


▪

Freezer


▪

Juicer


▪

Fridge


▪

Kettle


▪

Oven


▪

Washing machine


▪

Dish washer


▪

Microwave


▪

Flat iron and ironing board


▪

Cleaning products


▪

Toaster


▪

Vitroceramic hob

El Arenal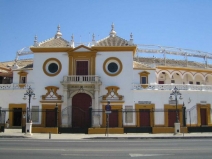 Located in the city centre and, at the same time, on the banks of Guadalquivir River, El Arenal quarter is one of the quarters of Seville with more Andalusian tradition. Since it can be found in the old part of the city, it has witnessed first-hand many events in Seville history, because of having had one of the most important ports in the world during the 16th and 17th centuries, thanks to the discovery of America and the resulting trade with India.
El Arenal is, without a doubt, one of the most traditional and characteristic quarters in Seville. Furthermore, it is nowadays a busy and meeting place for people from Seville, since it is the quarter par excellence devoted to bullfighting, religious devotion, religious brotherhoods and Semana Santa (Holy Week) and these constitute the most significant features of this place.
This zone is home to such symbolic buildings as the La Maestranza bullring, the Torre del Oro tower, the Arenal market, the Torre de la Plata tower and the La Maestranza theatre. In this zone you can enjoy leisure activities, mostly all the ones regarding the world of the Spanish bullfighting, opera, theatre and religious brotherhoods.
While walking around this quarter, tourist can take the opportunity to get to know better part of the history of our city by visiting other places of touristic interest, namely La Hermandad de la Santa Caridad church or the Atarazanas (medieval shipyard). Finally, thanks to its central location, you will be able to find within a very short walking distance the Cathedral and the Giralda tower, must-see places if you come to spend a few days in Seville.
Availability
Request more information
We are interested on your opinion

Tell us about your experience

We only accept reviews from real guests who have stayed in this apartment, so it must be indicated the e-mail which with you made ​​the booking.

Apartment Constitución III in Seville

Reviews

Average rating from

3

Reviews:

Yihua

▼




February 2019

good hardware and facilities with bad service experience
The aparment location for tourist is really perfect. very close to the Sevilla Cathedral and other main views. the room is new and big one with nice facilities inside.
A service apartment with good facilities but without good service means nothing. Felt no hospitality from start. always get email to remind you must do ...must do... When we advise service center what shall we drop lugage or park car first, we was told it is up to me. however, there is no parking site nearby the apartment and the parking site they book for us is far away from apartment . 15mins on driving and 10 mins on walk. but they denied that they had said it was up to me when I drove to apartment and found even no tamperary parking to drop my family with lugages. It is really rediculous and unacceptable. during 3 nights staying , we called 24hrs service call they providing once. but always no one answer. only thanks to Lora, the girl checked in for us. she help me to contact service department and let them call me back. but I never get the call !!! I really will not recommend GH service apartment for holiday staying assumed all GH service was like that level !!!

---

Genteel-Home

Dear guest, we are very surprised by your comment. When you requested information on where to park, we informed you of the two public parking lots with which we have agreement, so you can decide which one you prefer to reserve (both are approximately the same distance from the apartment), and you were informed of the street where you are and the distance to the apartment. The apartment is located on Avenida de la Constitución, the main avenue in the center of Seville, next to the Cathedral, which is pedestrianized. On the other hand, the phone you provided us in your reservation did not work, so we could only contact you by email. We take the criticism of our guests because they help us to improve, but in your case, unfortunately we could not do anything else to help you because it is not possible to park on the avenue where the apartment is. We are glad that, at least, the apartment has pleased you. Regards

Diane

▼




January 2019

My family and I loved the apartment. The location could not have been better. We were able to look out our window at the wonderful Christmas festivities happening on our street. The place was immaculate and Pablo was always quick to answer any questions I had. Seville is a such a special city and our stay at the apartment made it that much more memorable.

Josefa

▼




November 2018

Departamento muy bueno y amplio!! Y la ubicación increíble!! Fuimos 3 parejas + 2 bebés y disfrutamos!! Lo recomiendo 100%

The different payment methods Genteel-Home offers for booking and renting apartments are exposed above.