Characteristics

▪ 6 maximum of guests
▪ 120 sq meters area
▪ 3 Bedrooms
▪ 2 Bathrooms
▪ 3 floor
▪ Private Terrace
▪ Agreement with a public parking nearby
▪ Elevator
▪ Air conditioning
▪ Heating
▪ Internet
▪ Cot


Transport nearby

Taxi: Pza. Nueva, Calle Adriano, Calle Reyes Católicos, Paseo Colón.

Bus: EA aeropuerto, C4, C5, 3, 40, 41.

Metro: Puerta Jerez

Tranvía: T1

Antonia Díaz Apartment in Seville

VFT/SE/01203

Antonia Díaz is an apartment in which everything is taken care to the smallest detail, making it a cozy space in where to feel at home.
Its more than 100m2 extension and high ceilings give it a present in each of the rooms in the property scale.
The living room has two comfortable sofas and dining area. The large windows give plenty of light, creating a very pleasant atmosphere.
The first bedroom has a double bed and a large built in wardrobe, and a complete bathroom en suite with bathtub; The second bedroom also has a double bed and the third one, two single beds.
The second bathroom is independent and fully equipped, like the kitchen where you can find all the necessary utensils.
The private terrace with access outside the apartment was perfectly accommodated with table and chairs, sun loungers and an umbrella. From it, you'll have the privilege to enjoy a coffee or a fine wine watching the Cathedral and Giralda.
The Antonia Díaz street in the neighborhood of El Arenal is quiet and peaceful in spite of being a few metres from Constitution Avenue, one of the main roads in central Seville where such iconic sights as the Cathedral is located. Also in this area, you'll find many restaurants and bars to relax.

Living room
Bedroom 1
Bedroom 2

▪

Sofa


▪

Plasma TV


▪

Dining room


▪

Library


▪

Double bed


▪

Wardrobe


▪

Double bed


▪

Wardrobe

Bedroom 3
Kitchen
Bathroom 1

▪

2 single beds


▪

Wardrobe


▪

Vitroceramic hob


▪

Oven


▪

Dish washer


▪

Washing machine


▪

Microwave


▪

Coffee Maker


▪

Flat iron and ironing board


▪

Refrigerator and freezer


▪

Bathtub

Bathroom 2

▪

Bathtub


▪

Hair dryer

El Arenal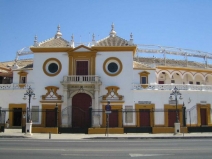 Located in the city centre and, at the same time, on the banks of Guadalquivir River, El Arenal quarter is one of the quarters of Seville with more Andalusian tradition. Since it can be found in the old part of the city, it has witnessed first-hand many events in Seville history, because of having had one of the most important ports in the world during the 16th and 17th centuries, thanks to the discovery of America and the resulting trade with India.
El Arenal is, without a doubt, one of the most traditional and characteristic quarters in Seville. Furthermore, it is nowadays a busy and meeting place for people from Seville, since it is the quarter par excellence devoted to bullfighting, religious devotion, religious brotherhoods and Semana Santa (Holy Week) and these constitute the most significant features of this place.
This zone is home to such symbolic buildings as the La Maestranza bullring, the Torre del Oro tower, the Arenal market, the Torre de la Plata tower and the La Maestranza theatre. In this zone you can enjoy leisure activities, mostly all the ones regarding the world of the Spanish bullfighting, opera, theatre and religious brotherhoods.
While walking around this quarter, tourist can take the opportunity to get to know better part of the history of our city by visiting other places of touristic interest, namely La Hermandad de la Santa Caridad church or the Atarazanas (medieval shipyard). Finally, thanks to its central location, you will be able to find within a very short walking distance the Cathedral and the Giralda tower, must-see places if you come to spend a few days in Seville.
Availability
Apartment special conditions

- To formalise the booking is necessary the payment of the 30% of the total that has to be paid by credit card.

- The balance due will be charged from your credit card minimum fifteen days upon arrival.

- The damage deposit will be retained from a valid credit card whose details will have to be provided to the person who'll receive you.

- Check-in and Check-out time: in principle the check-in is from 15h and the check out until 11h. Time flexibility adjusts to availability.

* The Check –in team will charge a supplement of 30€ for entries after 21h and 50€ for entries after 24h.
Request more information
We are interested on your opinion

Tell us about your experience

We only accept reviews from real guests who have stayed in this apartment, so it must be indicated the e-mail which with you made ​​the booking.

Apartment Antonia Díaz in Seville

Reviews

Average rating from

33

Reviews:

Weiguo

▼




February 2019

Location OK, rooms OK, but service not good enough.
Rooms are big enough, enough for family of 4people.
Not much service, they cannot print documents for the guest; they cannot call a taxi for you; coffee machine not workable; beds very hard

---

Genteel-Home

Dear Weiguo, we are sorry we could not have helped you in everything you needed during your stay. We have taken action on these problems and something like this will not happen again in the future. Our goal is always to help our guests in everything they need. On the other hand, we will check the coffee machine to fix it or replace it, because we did not know it would not work. We do not understand what exactly does not work, because it is a traditional Italian coffee maker. We are glad to at least know that the apartment has pleased you in all aspects. We hope you enjoyed your stay. Regards

Alexandra

▼




January 2019

Very shabby accommodation. In the photos the apartment looks very nice, but in reality it is old and in bad conditions, especially the bathrooms, the bathtubs are in very poor condition. It is the third year that we stayed in Seville with Gentlehomes and the two previous ones were very successful. This year we were advised by company and they recommended this apartment for our stay, and so far this has been our worst experience with Genteelhome. It is not acceptable that such a professional company offers apartments in so bad conditions.

It is important to mention that the location was great and the staff was very attentive and helpful as always.

Olatz

▼




January 2019

La ubicación y la terraza.

Camila

▼




December 2018

Estancia cómoda. Las camas cómodas. La decoración.
Los baños necesitan una reforma.

Knut

▼




November 2018

Lelligheten var bra, men kloakklukten drog ned inntrykket.
Veldig sentral beliggenhet i forhold til severdigheter og restauranter. Forholdsvis rolig gate, noe trafikk, men hørte lite til støyen. Godt utstyrt leilighet, med alt det nødvendige utstyret vi trengte,
Var en kloakklukt i leilighet, noe som var til sjenanse, Utleier skyldte på at det hadde regnet mye i forveien! Adgangen til uteplassen på taket var avlåst, noe som gjorde at vi ikke fikk bruke den (skyldte også her på at det hadde regnet noen dager i forveien.

Dvir

▼




October 2018

The apartment´s location was excellent, very close to the cathedral. It was roomy and comfortable. It was equipped with books and card games - always a nice touch.

Rob

▼




September 2018

De ligging is goed. Dicht bij de kathedraal etc. alles bijna op loopafstand. Meubilair en bedden waren prima in orde. Weinig geluidsoverlast. De ruimten waren goed schoon.
De accommodatie is wat verouderd en verlichting defect (schemerlampen). Dakterras op een hogere verdieping zwaar verouderd.Hierdoor gen gebruik van gemaakt. Trapverlichtingschakelaars zijn onverlicht en in het donker niet te vinden. Levensgevaarlijk.

ZN

▼




August 2018

Great location! The hot water was very finicky. Barely got a good shower!

---

Genteel-Home

Dear Zafreen, thank you very much for your comment. We are glad to know that you have enjoyed the wonderful location of the apartment. We are sorry to read that they had problems with the shower, but our incident department did not receive any notice of this during your stay. If we had known, we could have acted immediately and send a technician to solve it. After your check out it has been verified and solved so that the shower has more water current. Regards

Lei Wang

▼




July 2018

值得体验的公寓!
员工服务态度好,房间干净,用具齐全,位置到周边景点便利
临街房间噪音大

Monique

▼




November 2017

Très bel appartement correspondant aux photos et très bien place pour les visites
On retiens l adresse et on´la revommande
Le plus la terrasse avec vue

Roberta Sangster

▼




October 2017

Great apartment in a perfect location!

florence

▼




May 2017

appartement trés agréable et trés bien situé.

Robin Bailey

▼




February 2017

Apartment Antonia Diaz is a great apartment centrally located and close to the Cathedral and some great restaurants. Street noise in the front bedroom is an issue however we found the same in the apartment we had in Barcelona and therefore it is just part of city living. The heating and hot water were a bit of a mystery but seemed to work ok most of the time. The wi-fi was excellent. We really enjoyed sitting out on the roof terrace. The staff were really helpful. One really nice touch was that essentials like toilet paper, kitchen towel, salt pepper, coffee filters, oil, a few dishwasher tabs and washing machine powder were left for your use and you did not have to buy a box leaving a load behind wasted as we have elsewhere which we really appreciated. The flat was spotlessly clean when we arrived.

Ryan

▼




December 2016

We found the Apartment to be just what was advertised. The location was perfect.

ann cross

▼




October 2016

We enjoyed our stay at this apartment. Well equipped, close to attractions, friendly driver, undated appliances.

Sonja Lunderskov

▼




September 2016

Lovely apartment, very tastefull decorated. Lots of light.

pascale

▼




August 2016

SUPER EMPLACEMENT POUR VISITER SEVILLE À PIEDS. TRES BON ACCUEIL AVEC EN PRIME UNE BOUTEILLE DE VIN GENTILLEMENT OFFERTE. APPARTEMENT SPACIEUX ET TRÈS CONFORTABLE.

David Harvey

▼




June 2016

We rented this apartment as a couple and it more than met all our expectations and needs. Light and airy, plenty of room, very clean and great beds, extremely well situated. The Genteel staff were also delightful and extremely quick resolving our queries.
We will certainly look to use Genteel apartments again.

David Harvey

▼




May 2016

We rented this apartment as a couple and it more than met all our expectations and needs. Light and airy, plenty of room, very clean and great beds, extremely well situated. The Genteel staff were also delightful and extremely quick resolving our queries.
We will certainly look to use Genteel apartments again.

LOURDES

▼




December 2015

Super céntrico. Bien cuidado. Decorado con gusto.
hemos estado cómodos.

Peter K

▼




November 2015

Great place in a very good location. We would return any time!

Apartment:
Very bright, very clean, very nice view from the roof terrace. Real beds (no cheap cots). All appliances and installations worked well, we felt very comfortable and had absolutely no reason to complain.

Location:
Calle Anonio Diaz is located very centrally, with many bars and restaurants around.
The apartment is perfect for exploring the city on your own. Cathedral, Giralda and Palace are literylly down the street. Most other sights are also in walking distance, including Encarnacion/Parasol and Santa Cruz behind the Cathedral (see terrace photo), but also Triana market across the river. Also, the tram and buses are nearby (and very reasonably priced) if you don´t want to walk to Plaza de Espana.

Company:
We had a very friendly mail contact and received a warm and punctual welcome, everything seemed well organized.

Cons:
We (a group of four adults) loved both the apartment and the location.
If anything, I could point out two general things:
(1) The nearest supermarkets (Spar and MAS) are a few minutes away (might be irrelevant for most visitors). Drinks for the apartment can be bought in a small store right around the corner.
(2) One bedroom faces the front. During the week, the street bustle calms down after midnight. On weekends, don´t expect any street in the center to be calm at night, at least if you sleep with an open window.
However, the two bedrooms facing the lightwell were perfectly quiet at any time.

Maria de la cruz


May 2015

Apartamento estupendo ,limpio ,camas comodas y muy centrico

Tina


May 2015

Lovely apartment in a great location. Walking distance to loads of great sites. Clean and modern. The kitchen was a bit basic but we were probably unusual in wanting to do much cooking with so many great restaurants around!

Hugues


May 2015

Très agréable séjour. Appartement propre et fonctionnel.
Belle prestation et confortable.
Séjour en famille à 6 personnes.

Juste pour dire ou conseiller au loueur : Des modes d´emplois , climatisation, poubelles et commerces proches.

Sinon je recommande c´était parfait.

Raquel


May 2015

Todo estupendo, ninguna pega, súper céntrico.
Volveré.

Alexandra ospina


January 2015

Nos gustó mucho el apartamento. La ubicación es excelente así como la decoración y equipamiento del mismo.

Eloisa


November 2014

I had the real pleasure of staying in this apartment for approximately 2 months during the summer 2014 – and I've been raving about it since I arrived there. The apartment was newly painted and furnished and incredibly clean and well appointed. It is located in a quiet residential building with very few untis. All the amenities were in working order, including the air conditioner clothes washer, and internet. If I needed anything (even something as minor as a corkscrew for my red wine), the realtor, Ignacio, was there immediately.

The apartment is centrally located, within waling distance of the Cathedral, shopping district, Triana, the river, and the tram, and only a few steps from the bullring. You have views of the city from the upper floor private terrace, and the Cathedral is particularly spectacular when lit. The staff at the delicious neighborhood restaurants were very friendly.

I stayed alone for the first month and felt very safe and comfortable. Overall, it felt like a home away from home. It surpassed my expectations! I'm looking forward to staying there again next summer.

Paola


November 2014

Siamo stati nell´appartamento Antonia Diaz per due settimane a settembre. L´appartamento è esattamente come si vede dalle foto. Luminoso, centrale, spazioso, arredato benissimo e con gusto, dotato di tutti i comfort e tutti gli accessori necessari. Non manca assolutamente nulla.
La posizione centralissima poi aumenta ancora di più il giudizio favorevole sull´appartamento. E inoltre ha una terrazza (esterna all´appartamento) con una vista bellissima sulla Cattedrale.
Ci torneremo sicuramente!

Juliet


September 2014

A wonderful apartment for a stay in Seville. Good location with easy access to main sites. Beautifully furnished and well equipped. We felt the terrace was a bit disappointing by proximity to building work next door - would expect this is a temporary issue.

Brigitte


August 2014

Je n´ai que des louanges à faire à l´ensemble de l´équipe de l´agence pour la qualité de l´accueil et de la prise en charge et sa réactivité à toute question de notre part.
Concernant l´appartement, tout était simplement parfait.
Un lieu spacieux et très élégant avec une terrasse où il fait bon prendre le petit déjeuner et le diner face à la Cathédrale et la Giralda illuminées.
L´appartement est idéalement situé au cœur de ville, jouxtant l´arène mais également à quelques pas de la Cathédrale de l´Alcazar et des rues commerçantes.
Le petit plus: possibilité d´un abonnement en parking surveillé pour environ 6 €/jour.
Je reviendrai en toute certitude vers ce lieu lors d´un prochain voyage.
Encore merci à l´agence qui nous a permis de passer un merveilleux séjour.

Marta C.


July 2014

EL apartamento Antonia Díaz cumplió con todas nuestras expectativas no solo por su gran ubicación en el centro de todo, solo a minutos de los lugares más importantes de Sevilla, sino también por los Excelentes restaurantes, caferías, almacenes etc. a solo pasos del lugar.
El apartamento como tal, absolutamente NUEVO, perfectamente bien equipado. Un aire acondicionado fabuloso para calmar las temperaturas extremas del verano, las habitaciones perfectamente dotadas, cocina completa, dos baños muy amplios, algo raro de encontrar en Europa, excelente servicio de internet, lavadora de ropa y sin dejar de mencionar el trato fabuloso de los miembros de Geentel homes para todas nuestras preguntas . Sin duda, fue el mejor apartamento que nos hemos quedado en toda Andalusia.
Gracias a Ignacio y Remedios por siempre estar ahí para ayudarnos. Nuestras vacaciones no pudieron ser más agradables sin vuestra ayuda.

Joel F. Dixon


July 2014

We had a perfect stay here. All is completely new, quality furnishment, the beds are really comfortable,... Undoubtedly one of the best apartment we´ve been to. Thank you very much to the Genteel team for their constant attention and quick resolution with the keys issue. We hope to return to Seville very soon and of course we´ll get back to this apartment!

John M.


June 2014

One thing I´d highlight of this apartment is that everything was taken care to the finest detail and perfectly clean, something really welcome. The terrace is also great and the neighbourhood has lots of magnificent restaurants and it´s very centrical, in less than five minutes on foot I could arrive to The very same Cathedral!

The different payment methods Genteel-Home offers for booking and renting apartments are exposed above.