Characteristics

▪ 6 maximum of guests
▪ 110 sq meters area
▪ 3 Bedrooms
▪ 2 Bathrooms
▪ 1 floor
▪ Private Terrace
▪ Public parking near
▪ Elevator
▪ Air conditioning
▪ Heating
▪ Internet
▪ Cot


Amor de Dios Apartment in Seville

VFT/SE/00573

It's a fantastic apartment placed at Amor de Dios street, just in the city centre, a few metres away from Plaza de Duque and La Campana, also close to The Cathedral and Giralda.

The environment is placed at "Metropol Parasol" from where you could enjoy of the best views of seville, also in best commercial area of seville, as well as endless restaurants and bars where you could enjoy the best gastronomy of the city.

The apartment is composed of three bedrooms, each one with two individual beds, two complete bathrooms, an independent kitchen, fully equipped, and a beautiful living room completely exterior and a great balcony facing the street. In addition the apartment disposes of a great private terrace, totally private, with access from outside the apartment on the top floor accesible by elevator, too. It's furnished with garden furniture (chairs, table, loungers,...). It's ideal to sunbathe and enjoy Sevilla's weather having dinner, eating or just reading and enjoying a gladd of the best Spanish wine.

The building has maintained its vintage classic style although it has been completely renovated. It only disposes of apartments and two floors, being Amor de Dios apartment placed on the second one and the private terrace on the third one.

Living room
Bedroom 1
Bedroom 2

▪

Sofa


▪

Plasma TV


▪

2 single beds


▪

2 single beds

Bedroom 3
Bathroom 1
Bathroom 2

▪

2 single beds


▪

Bed linens and towels


▪

Bathtub


▪

W.C


▪

Shower

Kitchen

▪

Washing machine


▪

Dish washer


▪

Microwave


▪

Refrigerator and freezer


▪

Vitroceramic hob


▪

Coffee Maker


▪

Kettle


▪

Toaster

Encarnación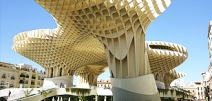 The centre of Seville is an outstanding place to stay in, not only because of how convenient it is, but because of its joyful and nice atmosphere that can be enjoyed at any time of the day. Furthermore, the wide offer of restaurants and pubs allows the tourist to taste our well-known tapas. The tapeo is a concept that everybody who comes to Seville should get used to with, and there is a wide variety of possibilities in the centre of this city so that you have the possibility to choose whatever suits you best.
The apartments located in this zone are very renowned and unique, since everything you may need, restaurants and pubs can be found there so that nothing stops you from finding the nature of the Andalusian lifestyle. Thanks to its location, this part of the city plays an important role during Semana Santa (Holy Week), since all the religious processions pass this zone because of it being one of the places included in the official itinerary. Furthermore, if you wish to go shopping, you can go from Plaza Nueva square to La Campana, and you will pass Sierpes street and its adjoining streets (Tetuán, Cuna, Rioja,…), where you can find a number of shops.
The streets located in the city centre display typical Andalusian features and having a walk down them is something that every single traveller who comes to Seville should experience. While having a walk, you can tell how the narrow streets lead into beautiful squares, which are meeting points for people from Seville. Worth mentioning are the Plaza del Duque square and Plaza de la Encarnación square, which make their way among the narrow streets that surround them. As for the latter, it is worth highlighting the Metropol Parasol, popularly known as the "mushrooms of the Encarnación square". This is a building that flies over the place and is home to several installations, such as the scenic overlook, where you can contemplate wonderful views of the city of Seville.
Within a few minutes, you will be able to visit other places of touristic interest, such as the Cathedral of Seville or the Giralda tower, that are places to be visited by every single tourist who comes to Seville, since both of them beside the "mushrooms" and the Torre del Oro tower define the skyline of Seville.
Availability
Apartment special conditions

- To formalise the booking is necessary the payment of the 30% of the total that has to be paid by credit card.

- The balance due will be charged from your credit card minimum fifteen days upon arrival.

- The damage deposit will be retained from a valid credit card whose details will have to be provided to the person who'll receive you.

- Check-in and Check-out time: in principle the check-in is from 15h and the check out until 11h. Time flexibility adjusts to availability.

* The Check –in team will charge a supplement of 30€ for entries after 21h and 50€ for entries after 24h.
Request more information
We are interested on your opinion

Tell us about your experience

We only accept reviews from real guests who have stayed in this apartment, so it must be indicated the e-mail which with you made ​​the booking.

Apartment Amor de Dios in Seville

Reviews

Average rating from

27

Reviews:

Anónimo

▼




February 2019

Great location.
It was cold, we were there in February and the apartment was quite cold during the night

---

Genteel-Home

Dear guest, thank you for your comment. We are happy to know that you liked the apartment, especially for his central location. We will check the heating, in case there is an undetected problem. We apologize if due to this the confort was not the expected, but we hope that despite this you have been able to enjoy your stay. Regards

E. Aldunate

▼




February 2019

Muy buena ubicación, todo muy limpio, buenos espacios. Tiene entretención para niños y jóvenes.

Guy

▼




February 2019

Je tiens à remercié Esther pour la location de ce beau apartamment un lieu magnifique, spacieux, lumineux, propre, entretenu avec tout ce qu´il faut pour y vivre. A proximite des restaurants, musés des commodités de vie. Nous avons pu passé un très bon séjour sportif confortablement installé. Merci pour sont aimabilité si souriante de sont accueille à notre arrivé. c´est un lieux que je recommande vivement

Guillermo

▼




January 2019

Confortable y muy bien ubicado (pero no de lujo!)
La ubicación (centro Sevilla). Las camas son súper cómodas. Muy bien equipado (cocina, baño).
La calefacción del salón no funcionaba bien (nos alojamos en enero). El apartamento se encuentra en el centro, donde los fines de semana es algo ruidoso.

Teresa

▼




December 2018

Estancia regular. La ubicación estaba bien. Todo estaba muy sucio, nos encontramos hasta ropa interior sucia en los cajones. El aparato de aire del comedor no funcionaba bien. La entrega de llaves fue bastante dificultosa ya que la persona que nos atendió tenía mucho trabajo y tuvimos que llamar varias veces.

---

Genteel-Home

Estimada Teresa, sentimos mucho leer que su estancia no ha sido la deseada. Sobre la limpieza, le pedimos disculpas si no se encontraba completamente limpio. Es un aspecto muy importante para nosotros y en el que ponemos especial cuidado para que todo esté impoluto a la llegada de nuestros clientes, por lo que nos extraña mucho lo que nos indica (más aún lo de la ropa interior encontrada en los cajones) pero hablaremos con la limpiadora y tomaremos medidas para que no vuelva a ocurrir algo así. Sobre la entrega de llaves, normalmente nuestras compañeras esperan a los huéspedes puntualmente a la hora convenida con antelación, pero hay algunas contadas ocasiones en que ciertos retrasos sean inevitables por causas ajenas a nosotros. En su caso su estancia coincidía con el Puente, coincidiendo la mayoría de llegadas de nuestros clientes en horas muy próximas entre sí en todos nuestros desplazamientos, y estando la ciudad abarrotada, por lo que los desplazamientos entre un punto del centro a otro por parte de nuestras compañeras conllevaban más tiempo del habitual. A pesar de ello, le pedimos nuevamente disculpas por el retraso. Nos alegra saber que, al menos, la ubicación del apartamento fue de su agrado. Saludos

Lisa

▼




December 2018

This is a very clean and convenient place to stay near the heart of Sevilla and is walking distance to all the major sites. The Alameda neighborhood feels like a locals, non-touristy neighborhood with lots of great restaurants, cafes and shops. Thank you for the lovely stay

Lucía

▼




November 2018

La ubicación perfecta, la atención de la anfitriona muy bien, el check-in rápido y cómodo. Apartamento ideal, terraza muy bonita, cumple perfectamente su cometido, limpio, dejaron desayuno, las camas son muy cómodas y hay un supermercado muy cerquita.
Si vas en fin de semana es bastante ruidoso ya que está en una calle con varios bares y pub´s, pero eso para nosotras no fué un inconveniente. Repetiríamos.

Anne

▼




November 2018

Loved it. Location and facilities. Loved the rooftop terrace.

Jean Michel

▼




October 2018

Appartement très bien situé proche du centre et de toutes les commodités. Climatisation très appréciable vu les températures extérieures. Par contre la terrasse est d´accès séparé et d´utilisation peu pratique.

Liz

▼




September 2018

Die Lage zur Stadt ist super und die Wohnung ist super für 6 Personen, da es zwei Badezimmer gibt
Die Straße ist etwas laut, da dort die Busse durchfahren Einige Möbel waren Defekt sowie eine Toilettenspülung (man hatte uns Angeboten diese während des Aufenthalts zu reparieren!).

Elmar

▼




September 2018

Die Wohnung liegt in der Nähe der Altstadt und ist modern eingerichtet. Empfehlenswert!

Sahika

▼




August 2018

Location is just great to walk every attractions. Her house was clean and fully equipped for a big family with two kids. Terrace is just great. I would reccomend this house to everyone. Only problem was about parking as there is no parking in the building as mentioned on details and already informed to Esther. We had to park to closest parking located in El Corte Ingles and paid extra fee about 93 eur for 3 days. Regards, Sahika

---

Genteel-Home

Thank you very much for your review Sahika, it always help us to improve and grow. We are happy you and your group have enjoyed your time in our apartment. About what you have commented, first of all we want to apologize again for the misunderstanding about the parking, our intention on the advertisment was to publish that there is a parking near by the apartment, not on the same building. We have made the changes needed on the information we give. Genteel Home Team

Susana

▼




July 2018

La casa de Esther está muy bien situada, por las noches en las habitaciones exteriores se nota el ruido dada la cercanía de la zona de marcha y céntrica. La casa y la terraza muy cómodas.

---

Genteel-Home

Muchas gracias Susana por dejarnos su comentario. Estamos encantados de saber que han tenido una feliz estancia y han estado cómodos. Como usted bien dice, al ser un piso exterior, un poco de ruido es a veces el precio a pagar por estar tan bien situados. Quedamos a su entera disposición. Genteel Home Team

Gillian

▼




June 2018

Excellent location - walking distance to everywhere. Great restaurants nearby. The apartment was clean and perfect for the 6 of us, we had a great time. Communication with the hosts was excellent, we loved the apartment and had a great experience.

Bataille

▼




April 2017

I think the flat was very nice and comfortable. The beds are really good. However I would not say it is a luxury apartment.
The terrace is two floors upper thus it´s not really easy to access it.
Most importantly, beyond the bedrooms, where indeed you have 6 real beds, it is not equipped to accomadate 6 people. You have only 4 chairs around the dining table, and the terrace is not equipped for 6 people neither. .

Jackie gwilliam

▼




September 2016

Lovely and clean location right close to centre lots to do transfers to and from the airport went very smooth and lads were very helpful on places to visit would highly recommend

Ethel Maryak

▼




September 2016

good location, clean and spacious

KERRY JAMES

▼




June 2016

Perfect location , wonderful roof terrace , ideal space for two couples . Seville is a maze of streets so it took us a while to get orientated but we loved the quiet location of the apartment and would certainly recommend the restaurant behind the apartment (looking from the terrace to the right hand corner) .

antonio

▼




April 2016

ottimo appartamento. Ideale per un gruppo di persone. Ottima posizione. Consigliatissimo

Royce Gregerson

▼




March 2016

The apartment is very nicely appointed and comfortable. The beds are very comfortable and the furniture is all very nice. It was perfectly clean when we arrived. The stafd were very helpful and flexible about our particular needs for check in. They responded very quickly to emails. The kitchen has everything needed to prepare food for your stay. A large grocery store is just a three minute walk away too. The location is fantastic and easily allows you to visit all of Seville´s major sites. The neighborhood is very safe. We enjoyed having this apartment as our home base for our time in Seville and would highly recommend it.

Catherine Smith

▼




March 2016

A smart and clean apartment in an excellent location for visiting all the sites. The additional luxury of a private roof terrace meant we could relax after a long day´s walking and savour local wine and sunshine.

Vanessa

▼




March 2016

We were welcome by Maria who very nicely explained everything about the appartement. The appartement was modern, absolutely clean and well furnished. We enjoyed the terrace on the roof top for sunny lunch. The area is great (Carrefour express at the end of the street, great tapas cafés, kids places at La Alameida de los Hercules). Everything walking distance. Would recommend Genteel appartements to my friends. Great service, thanks.

xabier

▼




February 2016

Hemos estado muy bien en el apartamento. No nos faltó nada y pudimos disfrutar de Sevilla perfectamente por la buena ubicación del mismo.
Muchas gracias.
Xabi

James Birkhead

▼




January 2016

My family and I had a MOST ENJOYABLE stay at Amor de Dios. Great location so near to many things to see and do. We thoroughly enjoyed our stay.
Jim, Kathy, Mandi, and Cyndi Birkhead

Francis Chu

▼




December 2015

Apartment well located - easy access to all the main attractions Seville has to offer, all within walking distance.
Carrefour Express supermarket a couple of minutes walk away.
Free WiFi included - very useful.
Apartment nice & clean.
Discounted car parking at the nearby car park, but it was a bit of a maze to locate the car park, even with sat nav.
Would happily stay in the same apartment again.

stephen sheridan

▼




November 2015

excellent apartment. really smooth arrival great staff.would differently use genteel-home again

Daniel

▼




August 2015

Tres bon séjour à Séville dans ce bel appartement tres tres bien placé au centre ville. Nous avons été très satisfaits de l´accueil de genteel home qui sont tres arrangeants et très sympathiques

The different payment methods Genteel-Home offers for booking and renting apartments are exposed above.