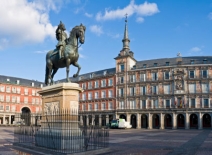 Renting an apartment in the
Sol district
is the same that spending a holiday in the heart of Madrid. This area is located between Gran Vía and Puerta del Sol, and is one of the most popular neighborhoods of the Spanish capital either for tourism or business. Find out everything you'll be able to do if you rent your apartment in the Sol area in Madrid!
Get into the History of Madrid
Sol quarter is the place that keeps the history of the city
. The famous Puerta del Sol is located in the
'zero kilometer'
from where all Spanish roads are born. Here is one of the most iconic buildings in the country: the 'Casa de Correos', and the famous monument
'El Oso y El Madroño
representing the Big Dipper.
In the Sol area there's also the
Plaza Mayor
, where you'll find 'La Casa de La Carnicería y Panadería', and many traditional bars where taste the best stew of Madrid, tripe and tapas.
Sol quarter: perfect for shopping and leisure
In its traditional picturesque streets has grown an important
commercial pole of the city
. In addition to the bars, restaurants and most exclusive accommodations, highlight the fashion and accessories shops of the trendiest designers of Madrid and the most famous Prêt-à-porter international stores.
On the other side,
Sol district also has great suggestions for leisure and nightlife
, with some of the best locals to go out as a couple or with friends.
Another areas in Madrid
Barrio de Sol
Barrio de Chamberí
Barrio de Malasaña
Barrio de Las Cortes
Barrio de Chueca
Barrio de Cuzco
Barrio de Embajadores
Barrio de Palacio
Barrio de Salamanca