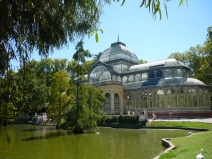 There are several reasons for what
stay in Retiro area in Madrid
to spend some days on holiday. We start explaining the History of this neighbourhood, as it's one of the most emblematic ones of the city, with thousands of attractions and placed just in the centre of the city.
Some of this attractions are, for example, the Botanic Gardens or The Retiro Park, which is a great park which occupy a wide part of this neighbourhood, and where we can walk and enjoy a fresh air and calm just in the centre of Madrid.
What to see in the centre of Madrid
The Retiro neighbourhood sets the limit with the centre district of the city through the Prado Promenade, so we could visit the
Prado Museum
, one of the best picture gallries of the world.
In the neighbourhood is also located the
Madrid Stock Exchange
, a really important building of the capital city.
Another places of this area of
Madrid
you can't miss are Plaza de Cibeles, The Velázquez Palace, Palacio de Cristal and the famous Puerta de Alcalá, which is one of the five royal gates that allowed, formerly, the access to Madrid.
Luxury apartments in The Retiro
An important thing of this neighbourhood is that, apart from its monuments and attractions, is really well placed being just in the centre of the city. Booking
luxury apartments in the Retiro neighbourhood
will open us the gates to visit not only this quarter, but the whole city.
Gastronomy of The Retiro
The retiro is a luxury neighbourhood of the city, and in its streets are placed clothes shops of prestigious brands and also famous restaurants in
Madrid
. Although there are also premises and bars where you can eat well and in a more economical way.