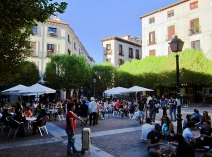 This neighbourhood is placed just in the centre of Madrid. The true name of the quarter is
Universidad
, and also known as
Barrio de Las Maravillas
.
The personality of Malasaña neighbourhood
It's a neighbourhood with personality and spirit, famous for its atmosphere and night life.
Malasaña
was and keeps on being the rocker quarter of Madrid, as in the 70s and 80s led the 'Movida Madrileña', alternative and counter-cultural which made many rock bands and music venues famous.
What to do in Malasaña?
In Malasaña there's also a strong commercial area with famous brands shops and several bars, cafeterias and restaurants where taste and enjoy the most traditional gastronomy of Madrid.
Monuments and historical places
Must-see placed and monuments are
Plaza del Dos de Mayo
, the
Artillería de Monteleón park
, the
Arco del Antiguo Cartel
and
Plaza Luna
.
Your stay in Madrid in the luxury apartments
Visiting Madrid en one of the
lucury apartments in Malasaña neighbourhood
, you'll enjoy the rocker and alternative atmosphere of the most exclusives areas in the quarter and delight in the 'tapas', restaurants and shops which identify the capital city the most.
Another areas in Madrid
Barrio de Chamberí
Barrio de Las Cortes
Barrio del Retiro
Barrio de Chueca
Barrio de Cuzco
Barrio de Embajadores
Barrio de Palacio
Barrio de Salamanca
Barrio de Plaza del Sol
Barrio de Chamartín