Characteristics

▪ 4 maximum of guests
▪ 50 sq meters area
▪ 1 Bedroom
▪ 1 Bathroom
▪ 6 floor
▪ Public parking near
▪ Elevator
▪ Air conditioning
▪ Heating
▪ Internet


Lista Apartment in Madrid

It's a design penthouse placed in the most exclusive area of Madrid. It's placed in the corner of the famous Claudio Coello and Ortega y Gasset streets, place where there are the best shops in the capital city, premium labels, the best restaurants, etc. In addition, it's just a step from Retiro Park, Prado Museum and the central area of Madrid. Although Salamanca neighbourhood is considered by many the centre, for its proximity with all places of tourist interest.

The apartment is around 50m2 distributed over a beautiful living room with kitchenette included and totally equipped, a cosy bedroom with a double bed (135 W and 190 L) and a complete bathroom. The living room includes as well a double sofa bed giving the apartment capacity until for four people.

Living room
Bedroom 1
Bathroom 1

▪

Plasma TV


▪

Sofa bed


▪

Dining room


▪

Double bed


▪

Bed linens and towels


▪

W.C


▪

Shower


▪

Washing machine

Kitchen

▪

Coffee Maker


▪

Toaster


▪

Kettle


▪

Oven


▪

Microwave


▪

Fridge


▪

Vitroceramic hob


▪

Flat iron and ironing board

Salamanca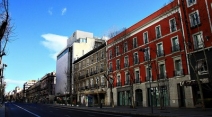 Salamanca neighbourhood is
the most exclusive
of the Spanish capital. It's the perfect place to those who look for
luxury holidays in Madrid
. Here, there are the best worldwide famous brads along indinity of high cuisine restaurants or charming bars, in addition to be an
emblematic and historical zone
, full of beautiful buildings and monuments.
Discover all you can do if you rent one of our luxury apartments in Salamanca neighbourhood and be seduced by Madrid.
Shopping in 'La Milla De Oro'
The
haute couture shopping area
by excellence is the know as 'Milla de Oro', placed around the the famous Ortega y Gasset, Serrano and Claudio Coello streets. Shopping lovers will find the
most glamourous and exclusives brands
, besides the first national and international brands. The 'Milla de Oro' is undoubtely a cosmopolitan place, full of celebrities from all over the world
attracted by the luxury
of commerces in Madrid.
All delicacy of the gastronomy in Madrid
Salamanca neighbourhood highlights as well for the
quality and diversity of gastronomic proposals
which we find in its stoves. In addition to the best restaurants awarded with Michelin Guide stars -like Kabuki Wellington, there's an endless range of homemade restaurants, traditional tapas bars or singular establishments with lots of History, which will
delight the most moderns and sybarites
Ideal for cultural leisure lovers
Those who wnjoy visiting
emblematic constructions
will fall in love with Salamanca neighbourhood. Here there are such representative buildings like the Amboage Palace, The National Library, Columbus Towers o Marqués de Salamanca square. This district is the
ideal place to walk and get lost in the culture of Madrid
, resting in the famous Retiro Park.
Discover Madrid in our luxury apartments
All our
apartments in Salamanca neighbourhood
are at ideal locations to discover madrid, a step from all tourist attractions and with good transport conexions.
Our luxury apartments are
wide and luminous
, with extraordinary facades in the stately style of the Capital, with quality finishes,
comfortables
and with all details that being in the
most distinctive quarter of Madrid
demands.
Another areas in Madrid
Chamberí area
Malasaña area
Las Cortes area
Retiro area
Chueca area
Cuzco area
Embajadores area
Palacio area
Sol area
Chamartín area
Availability
Request more information
We are interested on your opinion

Tell us about your experience

We only accept reviews from real guests who have stayed in this apartment, so it must be indicated the e-mail which with you made ​​the booking.

Apartment Lista in Madrid

Reviews

Average rating from

16

Reviews:

pilar

▼




December 2018

muy buena la ubicacion.
para fregar la loza no habia ni un trapo y no tenias donde poner la loza limpia, muy mal aprovechada el espacio para dejar las cosas limpias k acababbas de fregar. la cama supletoria se separaba los modulos, para el sito en el que esta lo normal es k fuese mas comoda y practica.

Elena Ines

▼




November 2018

Este departamento , esta en un edificio muy bien ubicado , ya que esta en la milla de oro de Madrid , Es un barrio elegante , distinguido con marcas internacionales , el Corte ingles muy cerca , muy agradable . con respecto al departamento en si tiene todo lo necesario para pasarla muy bien . En lo personal eramos dos adultos que nos quedaba holgado la superficie del departamento . Es una semibohardilla pero muy agradable y con ascensor , este dato lo hace interesante , tiene ademas buen sistema de calefaccion y cuenta con un lavarropas .
Con respecto a lo que no me gusto es que la cama era muy corta para nosotros mi marido mide 2,04 m de altura y esto hace que la cama deba ser king size ,otra pequeña queja es que una de las veces que nos bañamos el agua se enfrio bastante , pero solo sucedio una vez .

Beatriz

▼




November 2018

Agradable y mejorable
la ubicación y tamaño del apartamento, es perfecto
Necesita un poco de puesta a punto, el sofá necesita urgentemente cambiarse, esta roto y no se puede utilizar como cama, la mitad de ella se va. la limpieza tampoco era excesiva y respecto a las fotos había algún cambio, que justamente eran los toques especiales, como la lámpara de pie, los taburetes de piel, las mesillas de noche.. todo esto se ha sustituido por cosas más sencillas. Con esos pequeños retoques el apartamento sería perfecto.

---

Genteel-Home

Estimada Beatriz, gracias por su comentario. Nos alegra saber que al menos la ubicación y la amplitud del apartamento fue de su agrado. Ciertamente, hay prevista realizar una reforma y redecoración del apartamento para adecuarlo a las expectativas de nuestros clientes y poder ofrecer una mejor experiencia a nuestros huéspedes. Por ello, le pedimos disculpas si no cumplió con sus expectativas y esperamos que en su próxima visita a Madrid vuelva a darnos una segunda oportunidad alojándose en alguno de nuestros apartamentos para poder ofrecerle una plena satisfacción durante su estancia. Saludos

Salah

▼




October 2018

The apartment was quiet and simple and fully equipped. I needed to buy extra toilet paper though.

Jose Antonio

▼




October 2018

La ubicación, barrio de Salamanca justo al lado de calle Serrano.
Que no abriera bien las llaves de entrada a portal ni puerta de vivienda casi nos quedamos en la calle al no poder abrirla de madrugada, ya esto el personal lo sabía de antemano ya que la chica que nos hizo la entrega de las llaves nos lo advirtió. Que el apartamento a pesar de ser el mismo no se correspondiera a las fotos mostradas en la web, que no estuviera más limpio, mobiliario y estado general más cuidado y no con tantísimos desperfectos en general, con mal olor, cama matrimonio pequeña a persona de algo más de 180cm e incómoda, sofá cama insoportable y horrible tapicería mal cuidada, sábanas de cambio para sofá cama mal lavadas, ducha con puertas correderas sin poderse abrir bien debido a que por una parte chocaba con el techo abuhardillado y embellecedor de grifo colgando, techo a un palmo de cabeza por la buhardilla en interior de ducha ,tiene dos pequeñas ventanas en salón y dormitorio que entra muchísima claridad e impide descansar algo más y las que intentan tapar algo con papel adhesivo el cual claramente está acusando el paso del tiempo ante falta de limpieza, en el salón existe un armario de espejos a medida donde se encuentra guardado amontonado los enseres del apartamento teniendo en su interior una cajonera la cual es como si no estuviera ya que no pueden abrirse sus cajones al encontrarse frente a otro mueble consola, que también está roto, ya que éste se lo impide. A su favor la tranquilidad al ser la zona trasera del edificio por lo que no se escucha ruido alguno y ante tanta falta de limpieza me sorprendió que el menaje de la cocina, vasos en concreto estuvieran limpios, si bien no hicimos uso de nada ya que tomamos la decisión de tan solo ir por la noche a dormir y nuestra hija quedarse en casa de familiares ante tal horrible sofá cama.

---

Genteel-Home

Estimado Jose Antonio, lamentamos mucho que el apartamento no cumpliera con sus expectativas. No sabemos por qué menciona que lo comercializamos como "apartamento de lujo" porque no lo hacemos ya que no lo es, solamente se tarta de un apartamento sencillo de un dormitorio ideal para estancias cortas en la ciudad. Lamentamos todos los problemas que comenta y hemos tomado nota para informar a nuestro departamento de incidencias y limpieza y tomar medidas para solucionar todos los aspectos que necesiten ser reparados. Por otro lado, hemos informado al propietario de la necesidad de mejorar las prestaciones del apartamento y tenemos prevista realizar una reforma y redecorar el apartamento, con lo que esperamos poder ofrecer las condiciones y servicios que nuestros clientes esperan. Le reiteramos nuestras disculpas por no haber podido disfrutar de su estancia como esperaba. Saludos

Ana Paola

▼




October 2018

Demasiado viejo y descuidados los muebles, las fotos no tienen nada que ver con lo que realmente es. No había ni papel de baño. Sucio el piso.

---

Genteel-Home

Estimada Paola, gracias por su comentario. Nos sorprende su comentario, ya que nuestra principal motivación es conseguir la plena satisfacción de nuestros clientes en todos los aspectos, y hasta ahora nuestros anteriores clientes nunca nos han comentado nada acerca de la limpieza o el estado del mobiliario, siendo siempre los comentarios muy positivos como se pueden comprobar. Igualmente nos extraña que no hubiera papel de baño, debió deberse a un lamentable olvido puesto que jamás ha pasado con anterioridad. Igualmente revisaremos todo para asegurarnos que no vuelve a ocurrir nada similar y que todo está en perfecto estado, para que nuestros próximos clientes queden plenamente satisfechos. Saludos

Dustin

▼




September 2018

Great location! The apartment is located in a very nice part of town with lots of great shops nearby and plenty of restaurants within walking distance.
There are some windows in the bedroom and living room that let a good deal of light in in the mornings, so sleeping in can be a bit difficult. We also weren´t able to find an iron to iron our clothes. These are small issues though, overall a great place to stay.

Bailey´s family vacation

▼




September 2018

Gentiles vacaciones en Madrid
La atención de Virginia y del grupo Genteel en general muy pendientes. La ubicación, lo limpio y bien dotado con todo lo necesario.
El único aspecto negativo sería eue no tenga alfombra antiresbalante en la ducha ni lugar donde colgar las toallas

Valeria

▼




August 2018

Excellent location. Modern decoration.
The sofa bed in the living room is uncomfortable. Could be cleaner.

---

Genteel-Home

Dear Valeria, thank you very much for your comment. We are glad to know that you have enjoyed the apartment, especially his central location and ihis decoration. We appreciate your suggestions and we will work to improve these aspects with the goal that our guests get a perfect experience. Thanks for having stayed with us. Regards

Humad

▼




July 2018

Excellent location and very clean. We really enjoyed living here and look forward to reserving this place again next time we visit Madrid.

Lucas

▼




June 2018

L´appartement convenait parfaitement

Laura

▼




June 2018

Ubicación excelente.

M Luisa Gayan

▼




December 2016

piso muy bien situado!!!

Barbara Knight

▼




June 2016

It was a great apartment, great building, great location.

Inge

▼




February 2016

Limpio y bien ubicado

Ian Tomlinson

▼




October 2015

This is a comfortable apartment in an excellent location. The company was very efficient and helpful. Thoroughly recommend.

The different payment methods Genteel-Home offers for booking and renting apartments are exposed above.