Characteristics

▪ 6 maximum of guests
▪ 180 sq meters area
▪ 3 Bedrooms
▪ 2 Bathrooms
▪ 5 floor
▪ Private Terrace
▪ Public parking near
▪ Elevator
▪ Air conditioning
▪ Heating
▪ Internet
▪ Cot


Penthouse Plaza Nueva in Granada

Magnificent penthouse with private terrace and dream views to The Alhambra located in the center of the city, a few meters from the Cathedral.

It is a high quality apartment recently furnished and equipped to the smallest detail. It consists of 3 double bedrooms, 2 complete bathrooms, one with whirlpool bath, a bright and exterior living room with private terrace and a separate kitchen and equipped with everything you need for your stay.

From the living room you can access the private terrace with wooden pergola and equipped to spend an unforgettable stay and enjoy unparalleled views of the city.

The Plaza Nueva is located just a few minutes walk from the most emblematic places of Granada such as La Catedral, the Chapel of the Catholic Monarchs, Gran Vía de Colón, El Albaicín .... an unbeatable strategic location to get to know the city on foot.

Living room
Bathroom 1
Bathroom 2

▪

Plasma TV


▪

Sofa


▪

Dining table


▪

Bathtub


▪

Washbasin


▪

Towels


▪

W.C


▪

Hair dryer


▪

Shower


▪

Towels


▪

Washbasin


▪

Hair dryer

Bedroom 1
Bedroom 2
Bedroom 3

▪

Double bed


▪

Wardrobe


▪

Bed linen


▪

2 single beds


▪

Wardrobe


▪

Bed linen


▪

2 single beds


▪

Wardrobe


▪

Bed linen

Kitchen

▪

Mixer


▪

Coffee Maker


▪

Freezer


▪

Juicer


▪

Fridge


▪

Vitroceramic hob


▪

Microwave


▪

Oven


▪

Dish washer


▪

Washing machine

Centro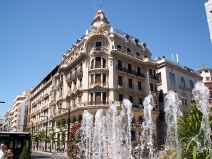 Visiting the
Centre
of Granada offers all the amenities to the visitor, since he can enjoy the historic area as well as the commercial area, because it includes not only the
monuments
and the more emblematic places, but also the
commercial part
full of the best boutiques.
Besides, it has a lot of
restaurants and tapas bars
that allow you to taste the gastronomy of Granada, characterized by its large amount of products. In this way, the tourist will feel comfortable in a cosy atmosphere surrounded by close people of all ages, while visualising and capturing the essence of this wonderful area of Granada.
There are two interesting tourist buildings: the
Cathedral
and the
Royal Chapel
. The first one is an important work of the Spanish Renaissance that cannot be missed when visiting the city. Its Royal Chapel is characterised by being the place where the remains of the Catholic Monarchs of Spain, their daughter Joanna of Castile, known as Joanna the Mad, and her husband Philip I of Castile, known as Philip the Handsome, lie. Besides, there are important paintings of such famous artists as Roger van der Weyden and Hans Memling.
The
Town Hall
, the
Alcaicería
(traditional neighborhood of the Muslim culture), the
plaza de las Pasiegas
or the
plaza Bib-Rambla
are other important monuments, since all of them reflect and allow us to appreciate the history of the city.
Most of the shops of the city are situated in the
Centre of Granada
: little shops with their unique charm as well as the best international firms. You can visit this area walking through the streets
Gran Vía de Colón, Reyes Católicos, Recogidas, Mesones, Alhóndiga and Puentezuelas
.
For this reason, a walk through the Centre of Granada will make the tourist fall in love not only since its charm and the magic hidden behind each monument, but also since the opportunity to have a good shopping day and to relax while eating a delicious
tapa
of Granada.
Availability
Request more information
We are interested on your opinion

Tell us about your experience

We only accept reviews from real guests who have stayed in this apartment, so it must be indicated the e-mail which with you made ​​the booking.

Penthouse Plaza Nueva in Granada

Reviews

Average rating from

22

Reviews:

Dana

▼




November 2018

Wow - the patio space and view of the Alhambra cannot be beat. Pictures do not do it justice. Our whole group was wowed and we loved sitting on the patio with a glass of wine or our coffee. The apartment is beautiful - many nice touches. Our group of 5 very comfortable there. The location is perfect - a short walk to anywhere you want to go. We loved it!

Jeff

▼




November 2018

We had a lovely time in Granada, it´s a beautiful city. Highly recommend a visit!
The location and views from the apartment were excellent. The apartment was well equipped, everything we needed for a short stay. It was freshly decorated with modern décor. It is a residential block so local people going about their business and no excessive noise.
We had two sets of keys for the apartment which was good but only one main door key for entry to the building; two of them would have been helpful. I was surprised to see we had quilts wrapped in sheets; would have expected quilt covers.

---

Genteel-Home

Thank you very much for your review! It's great to know you had a pleasant stay and enjoyed your time in our apartment! We are sorry about no leaving 2 complete set of keys, I know it´s not an excuse but we had an issue with our last guests whos by mistake forgot to leave the keys at the apartment and they had to send them to by postal mail. And about the quilts, you found them that way because we didn´t have any covers available on your arriving day due to a problem of supplying on the laundry, so we had to solve it the best way we could at the moment, but it´s no the way we use to dress the beds. We really appreciate your understanding, and hope you enjoyed Granada and your time with us. Genteel Home Team

Carla

▼




October 2018

Overall an amazing holiday mostly due to Granada having everything we wanted for a weeks
The view was amazing and fantastic terrace and location.
The 2 rings on the hob didn't work the fat fryer didn't work The sun beds on the terrace very old and finally fell apart The bed in the main bedroom was ok but the other beds in the apartment were very hard and ended up with bad back . We had a confirmed late check out while we could still cancel booking but the minute the refund policy was not available 4 days before travel they then sent a refused email causing 3 phone calls and a lot of stress before the holiday,not what I needed .

---

Genteel-Home

Thank you very much for your review Carla, it really helps us to imporve and be better hosts. First of all we want to apollogize for the incoviniences we might have suffered during your stay. We want to thank you for letting us know so we have been able to solve them. We have checked all the issues you have told us abour the kitchen, and they same to work, but we have made a technitian to come and make sure everything works properly. About the bed it´s always a question of taste, each person has a preference for bed, and what in heavy form some, could be to soft for others. About the late check out, what we told yu was that in case there was no reservation for your check out day, you could stay longer at the apartment without extra cost, but a new reservation was made for that dtae, and we have to offer check ins from 3 pm, so it was not possible to finally offer you the late check out. We are a team of young people giving all our best to offer the greatest service we are able to our guests, so it´s very important to us your opinion and impresions so we can grow and succeed in our enterprise. It´s good to know you have enjoyed the time in Granada. Genttel home Team

Larissa

▼




October 2018

Very spacious apartment in the best location.

Barbara

▼




October 2018

appartamento bellissimo e curato, con particolari eleganti, molto ben tenuto, pulito e attrezzato. Ha un terrazzo eccezionale con vista Alahmbra che invita a cenare in casa. L´accoglienza è stata ottima, la signorina Rocio ci ha aspettato nonostante avessimo ritardato ed e6stara gentile e cordiale. da consigliare. Grazie! soggiorno stupendo

Bj

▼




October 2018

Great view and location. The evenings on the deck can not be beat.

Emily

▼




October 2018

Juan Jose´s apartment was amazing! This bright and comfortable space is situated right in-between the old and new section of Granada. Just steps away from shops, restaurants, bars, and historical sights. Best of all is the view of the Alhambra from the terrace. The communication with both Juan Jose and his associates was very quick and efficient. Rocio met us at the parking garage since we had a car, and led us to the apartment a few minutes away. She showed us a map of the area with popular places to eat and historical sights. The apartment was clean and spacious enough for our group of five adults; without feeling crowded. I would 100% recommend Juan Jose´s apartment!

Dave

▼




October 2018

A fantastic, central location with one the of the best views in town!Really enjoyed our stat.

Laura

▼




August 2018

Amazing views and location. Truly in the heart of everything. Very spacious, bright and clean. We loved the terrace!

Alain

▼




July 2018

This place is incredible. The terrace gives you a magnificent view of the Alhambra. It´s particularly beautiful at 9pm (sunset) and at night, perfect with a glass of wine! The apartment is situated right off Plaza Nueva, at the very beginning of Albayzin, so it´s very convenient for reaching restaurants, shops and monuments. The hosts are extremely good communicators, we had several delays and they wait for us very patiently, gave us a map and some good advice. The bedrooms are very comfortable, the bathroom are top notch, kitchen is very well equipped. Great living room with views of the Alhambra. It´s a really treat to stay in this place for a visit to Granada. Highly recommended. Note: one warning, do not attempt to reach the building by car, it´s impossible due to the fact that all the streets leading to Plaza Neuva are restricted to locals and taxis. Park at the San Augustin Parking, 5 minutes walking distance. The hosts will give you discounted daily parking tickets (you will never need the car while in Granada)

Kathy

▼




July 2018

Great location and an extremely clean house! The bedrooms were good size and a roof top deck off one of the rooms made for a wonderful view for parts of the city.

Brian

▼




July 2018

Our stay in Granada was amazing. The views from this apartment are breathtaking, we wish we could have stayed longer. Location is great!

Jeff

▼




July 2018

We had a great stay at the apartment. There was plenty of space for two adults and two young kids, along with a large kitchen. The views of Alhambra are fantastic, with a huge deck from which to enjoy them. Very centrally located and easy to get around. We highly recommend.

Oscar

▼




February 2018

Amazing location and view. Excellent flat with plenty of room and brilliant terrace. Our host Carlos was really helpful in advising us and making us feel very welcomed. 100% recommended!

William Howe

▼




October 2017

the apartment is excellent, well situated with great views of the Alhambra and easy walking distance from restaurants

emma marshall

▼




July 2017

We loved our stay in the penthouse. The views were just as amazing as the photos had promised and the apartment was very clean and cool in the summer heat. Despite the central location it was very quiet in the apartment and all the neighbours were very sweet. Genteel staff were very efficient and helpful and we will come and stay again!Thank you!

John Heaton

▼




July 2017

Our apartment was just perfect. An amazing location in the centre of Granada but so peaceful also. The apartment itself was perfect for our family with everything in good working order and very clean. Everything worked and the wi-if was first class. Carlos our host was highly professional and very attentive to our stay. Excellent service thank you.

Sarah Savage

▼




June 2017

I studied in Granada years ago, fell in love with the city, and have since visited many times. This time my husband and I stayed in Plaza Nueva Apartments with his sister and her fiancé. We all agreed that this is the best apartment we´ve had the pleasure to experience in Granada. The location is amazing, just off Pl Nueva but surprisingly quiet. You have a huge variety of tapas bars and restaurants within a 10 minute walk. But best of all, the view from the terrace is absolutely stunning. We spent every afternoon enjoying the shaded terrace with tinto de verano, looking at the Alhambra, listening to the swallows and church bells, and later at night you can hear strains of flamenco float down the valley from the Sacromonte. Magical. The interior is clean, modern and has every convenience. If you are traveling with other couples, be aware the spacious main bedroom has a double (queen, I think) bed and the other two rooms are noteably smaller and have two single beds. There is no clothes dryer but we put ours in a rack in the sun and they dried in just a few hours. We are already dreaming of a return visit!

Mercedes

▼




May 2017

Todo ha sido perfecto.
Carlos fue super amable y nos hizo buenas recomendaciones.
Repetiríamos.

Claude

▼




April 2017

We had a wonderful stay in Granada. The location of the apartment was perfect, in the center, on the boarder of the Albaycin. The terrace was just incredible.

Gregg Kreizman

▼




March 2017

Location and view are obviously the main attraction for this apartment. Kitchen was well equipped and the living room was comfortable and modern.

Internet was awful, and almost non-existent.
The beds were rock-hard. I know this is common in Spain, but the other genteel home apartemento we stayed in in Savilla had really nice and comfortable beds. These were the things that led to the 5 score for total apartment quality.

Inés

▼




February 2017

Inmejorable ubicación, instalaciones fabulosas, con todas las comodidades necesarias para hacer la estancia perfecta. La terraza tiene unas vistas a la Alhambra y a todo el casco antiguo preciosas. Relación calidad-precio inmejorable. Trato con Luis y Carlos muy fluido y amable. Estuvieron en todo momento solícitos y dispuestos para que nuestra estancia fuera de 10 y, sin duda alguna, lo consiguieron. En definitiva: una casa para disfrutar y un lujo
Para los sentidos. Nos hemos quedado encantados.

The different payment methods Genteel-Home offers for booking and renting apartments are exposed above.