Characteristics

▪ 8 maximum of guests
▪ 140 sq meters area
▪ 4 Bedrooms
▪ 2 Bathrooms
▪ 4 floor
▪ Public parking near
▪ Elevator
▪ Air conditioning
▪ Heating
▪ Internet
▪ Cot


Isabel la Católica II Apartment in Granada

VFT/GR/00436

Magnificent apartment placed in the heart of Granada, in El Realejo neighborhood. It has 140 square meters distributed in 4 bedrooms, 2 bathrooms, a toilet, a spacious living room and a fully equipped kitchen.
The two main rooms have double beds and spacious wardrobes and the other two rooms have two single beds each one. The living room has room equipped for 8 people, with lots of light and fully equipped to feel at home. The kitchen is fully equipped with amenities you'll need during your stay. The bathrooms have whirlpool tub for a stay as relaxed as possible.
It has a cozy exterior balcony with wonderful views of the city.
The property is surrounded by a shopping area of ​​high prestige and is located in one of the best dining areas of the city. Without doubt an excellent choice to explore the delights that the city offers.

Bedroom 1
Bedroom 2
Bedroom 3

▪

Double bed


▪

Wardrobe


▪

Bed linens and towels


▪

Double bed


▪

Wardrobe


▪

Bed linens and towels


▪

2 single beds


▪

Wardrobe


▪

Bed linens and towels

Bedroom 4
Bathroom 1
Bathroom 2

▪

2 single beds


▪

Wardrobe


▪

Bed linens and towels


▪

Bathtub


▪

Towels


▪

W.C


▪

Bathtub


▪

Towels


▪

W.C

Toilet
Living room
Kitchen

▪

Plasma TV


▪

Sofa


▪

Mixer


▪

Coffee Maker


▪

Freezer


▪

Dish washer


▪

Vitroceramic hob


▪

Fridge

Laundry

▪

Washing machine

Centro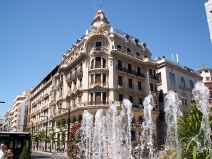 Visiting the
Centre
of Granada offers all the amenities to the visitor, since he can enjoy the historic area as well as the commercial area, because it includes not only the
monuments
and the more emblematic places, but also the
commercial part
full of the best boutiques.
Besides, it has a lot of
restaurants and tapas bars
that allow you to taste the gastronomy of Granada, characterized by its large amount of products. In this way, the tourist will feel comfortable in a cosy atmosphere surrounded by close people of all ages, while visualising and capturing the essence of this wonderful area of Granada.
There are two interesting tourist buildings: the
Cathedral
and the
Royal Chapel
. The first one is an important work of the Spanish Renaissance that cannot be missed when visiting the city. Its Royal Chapel is characterised by being the place where the remains of the Catholic Monarchs of Spain, their daughter Joanna of Castile, known as Joanna the Mad, and her husband Philip I of Castile, known as Philip the Handsome, lie. Besides, there are important paintings of such famous artists as Roger van der Weyden and Hans Memling.
The
Town Hall
, the
Alcaicería
(traditional neighborhood of the Muslim culture), the
plaza de las Pasiegas
or the
plaza Bib-Rambla
are other important monuments, since all of them reflect and allow us to appreciate the history of the city.
Most of the shops of the city are situated in the
Centre of Granada
: little shops with their unique charm as well as the best international firms. You can visit this area walking through the streets
Gran Vía de Colón, Reyes Católicos, Recogidas, Mesones, Alhóndiga and Puentezuelas
.
For this reason, a walk through the Centre of Granada will make the tourist fall in love not only since its charm and the magic hidden behind each monument, but also since the opportunity to have a good shopping day and to relax while eating a delicious
tapa
of Granada.
Availability
Apartment special conditions

• Amount to book

• Payment balance due

• Deposit: 200€. In the case the deposit had to be paid in cash, it will be refunded in cash too. If it could be paid by credit card this deposit will be refunded to the same card the payment was made with. The deposit will always be refunded on the same day of your departure.

• Cancellation policy: the reservation deposit is refunded if we find a replacement for your reservation.

• Extra charges

• Check-in and check-out hours: in principle the check-in is from 3 pm and the check-out until 11 am. It is possible to do the check-in early in the morning while there are no clients leaving on that day, as well as it is possible to do the check-out later with no extra charge if there are no other clients entering on that day.

• Parking San Agustin 250 meters with special rates for guests Genteel 15 € / day. You should go directly to the car park (Plaza San Agustin) that access by car to the apartment can be fined for traffic

• Other extra services:

- Internet FREE
- Crib FREE
- Transfer (to check it with Genteel Home)
Request more information
We are interested on your opinion

Tell us about your experience

We only accept reviews from real guests who have stayed in this apartment, so it must be indicated the e-mail which with you made ​​the booking.

Apartment Isabel la Católica II in Granada

Reviews

Average rating from

22

Reviews:

Luis

▼




January 2019

La ubicación, la comodidad y la amabilidad de Elvira. Todo impecable

Daniel

▼




January 2019

Posición, el trato de la señora de cheking muy bueno
Mobiliario y aseos de baño antiguo y desgastado, decoración sobria

Nicola Irace

▼




January 2019

L' appartamento mi ha deluso, nonostante la posizione centrale le tre camere da letto con due bagni in cui in uno, anche il bidet, cosa difficile da trovare in Spagna, si presenta datato, divano da cambiare, elettrodomestici in cucina, tipo bollitore, da cambiare. Ho dovuto comprare le mollette

Isabel

▼




December 2018

Adecuado

Thomas

▼




December 2018

It was nice

Teresa

▼




December 2018

Lovely short break spent with friends.
The central location, easy access to bars, restaurants, Alhambra, cathedral and shops.

Laura

▼




December 2018

Consigliato
Posizione centrale. vista sulla via principale. Bar/minimarket/trasporto pubblico/ATM tutto a due passi dall´abitazione.
Qualche guasto di poco conto in casa. (Lampadine, tende oscuranti) Proprietari comunque disponibili a risolvere il problema, in giornata.

Elsa

▼




November 2018

El mejor lugar para conocer Granada
Ubicación perfecta¡¡¡¡ y el apartamento amplio, comodo y limpio. Hemos ido 8 amigas y ha sido perfecto. La coordinación en la llegada también muy bien a pesar de venir cada una de un sitio. Para repetir sin dudarlo

Francisco

▼




October 2018

Buenas instalaciones a las que le faltan bastantes detalles de mantenimiento y relación con el clien
La ubicación y amplitud del apartamento es excelente. Buena comunicación y disposición sobre hora de salida del apartamento
Para que el apartamento sea de lujo o excelente además de las instalaciones los detalles de mantenimiento y con el cliente influyen: 8 adultos durante tres días y solo dejan 4 rollos de papel higiénico, ninguna servilleta o papel cocina, puerta de la terraza del salón rota, bombillas fundidas en alguna lámpara, wifi en el suelo de un dormitorio. A pesar de indicarlo en dos ocasiones, no se nos deja tarjeta para el aparcamiento, resultado 25 € al día siguiente. Se nos informa de corte de agua el día que no se hace, la cortan el siguiente. La hora máxima de entrada sin penalización la recortan el día de antes. Tarjeta de crédito que no funciona y llamando directamente a la empresa se arregla. Vamos, muchos detallitos.

---

Genteel-Home

Muchas gracias por su comentario Francisco. Nos encanta saber que usted y su familia han tenido una estancia agradable y que han disfrutado de nuestro apartamento. Con respecto a lo que nos comenta, dejamos unos básicos como cortesía en el apartamento, tales como papel higiénico o gel, para que a la llegada dispongan de ellos hasta que puedan ir a comprar. Es una pena que lo de las luces no nos lo haya comentado durante su estancia porque lo habríamos solucionado inmediatamente. Y sobre el parking, sentimos el malentendido, no teníamos constancia de que usted necesitara los tickets para obtener la tarifa especial que tenemos con el parking de Plaza San Agustín, sino por supuesto se los hubiéramos hecho llegar. Esperamos que hayan disfrutado de su tiempo en Granada. Quedamos a su disposición. Genteel Home Team

Ping

▼




October 2018

房间大,位置好,出行方便,到那个景点不坐车走路都很近,设施也很好

Yuliya

▼




September 2018

Расположение супер!
Местоположение лучше не придумаешь!
Снимали апартаменты 4 комнаты, а туалета было всего 2, при этом 1 на три семьи. В описании этого нет. Было не очень удобно

---

Genteel-Home

Thank you very much for you review Yuliya! It´s great to know you had a pleasant stay and enjoyed your time in Granada. About your comment, as you were able to check when you made your reservation, the apartment has 4 bedrooms and 2 bathrooms, so I don´t really understand the issue you had during your stay about it. We are happy you loved the wonderful location of our apartment and hope to have you back. Genteel Home Team

Maelle

▼




August 2018

L´appartement est très bien situé dans la ville. Très confortable, très bien climatisé, et insonorisé.
La quantité de vaisselle était un peu juste pour 8.

Ana

▼




August 2018

LA UBICACIÓN, LOS APARTAMENTOS SE ENCUENTRAN JUSTO EN EL CENTRO DE LA CIUDAD.
LAS CAMAS UN DEMASIADO DURAS

Estela

▼




August 2018

Bien situado pero solo para grupos. Muy caro. Mala atención. Me sentí engañada y el precio no es barato Decepcionada. Cogí el piso por un motivo en concreto que me aseguraron por teléfono y luego se fueron pasándo la pelota unos a otros. El chico que me atendió resultó no trabajar más allí (según me dijeron) y no hubo ningún tipo de compensación (quedarme un día más cuando ya tenia mi plan cerrado). Decepcionada. No repetiría.

---

Genteel-Home

Estela, para nosotros es muy duro que haga esas observaciones. Sabe usted perfectamente que el apartamento estaba impecable en todos los aspectos, y que es un gran apartamento en todos los sentidos. Su problema fue que quiso reservar otro (el más pequeño) y entiendo que sin querer reservó usted el más grande. Como sabe, el grande ya no estaba disponible en el momento de su llegada. A pesar de ello nos hemos desvivido por hacer su estancia todo lo agradable posible, sólo por complacerla y ayudarla, pues para nosotros es imposible saber que usted quería un apartamento distinto al que reservó. Nos sentimos muy disgustados pues todo el equipo estuvimos volcados con ustedes durante toda su estancia, incluso renunciando a parte de nuestros honorarios y por supuesto fuera de horario para lo que necesitaban. Parece en cualquier caso que nada ha podido paliar su disgusto. De nuevo lo sentimos, pues intentamos poner cuerpo y alma día a día en nuestro negocio. Esperamos poder seguir mejorando y no cesaremos en nuestro empeño de hacer de las vacaciones de nuestros clientes la mejor experiencia que puedan tener. Genteel Home Team

Jiang

▼




August 2018

位置极佳
在我们短信联系了老板以后,一位美女居然直接在我们下车的buss站接到我们,然后领我们到房间!房间的位置绝佳,阳台外就是伊莎贝拉·卡托利亚广场,公共交通便利。(后面附的照片上雕像后面那栋楼就是我们入住的地方)

Tracey Teagle

▼




April 2018

Fantastic apartment in a fabulous location. We could walk everywhere. The Alhambra is up hill, but you could walk it in 30 mins. Or get the bus. The bus stop is literally around the corner 2 minutes walk away and then a 5 minute bus trip.
We were lucky enough to be the first ones to be using a brand new fitted kitchen. Carlos met us at the apartment to greet us. He gave the keys showed us around the apartment and gave us lots of recommendations for restaurants and trips etc. I had also requested some fresh bread, butter, wine etc to be ready for us to use & that was done. I would recommend this apartment and would stay
there again. Thankyou Genteel Home's.

Francisco de la Torre

▼




November 2017

Perfecto para disfrutar del centro de Granada en familia.

Nicole

▼




October 2017

Great apartment, great location. You are in the heart of Granada, walking to Alhambra, restaurants, etc is easy. Secure building, very large and clean apartment. I would stay here again!

María Lara

▼




February 2017

La ubicación perfecta, el apartamento muy bueno, el personal con el que tratamos antes de llegar fenomenal, sólo la persona que nos recibió estaba un poco despistada.

Anna Hales

▼




October 2016

3 of us ladies stayed here for four days last week. The location is just terrific. City centre and close to the bus stop and many bars. We loved the apartment and were glad of the lift as it´s on the 4th floor. We were met by Carlos, who was just delightful and so helpful. He recommended places to eat- Do go to Olivers, it was great. The company was very easy to deal with and responsive to all queries. There is a balcony but not one to sit outside on

Jose

▼




October 2016

This flat was really above our expectations. Location superb, for families extraordinary and the staff superb as well
we will repeat for sure

Deanna

▼




July 2016

The apartment was great! It´s in a fantastic location with shopping and restaurants everywhere. It is also conveniently located next to several bus stops including; the airport bus and the bus that takes to the Alhambra. If I´m ever back in Spain, I will be look at this company for my accommodations again.

The different payment methods Genteel-Home offers for booking and renting apartments are exposed above.