Characteristics

▪ 6 maximum of guests
▪ 200 sq meters area
▪ 3 Bedrooms
▪ 3 Bathrooms
▪ Private Terrace
▪ Private parking
▪ Air conditioning
▪ Heating
▪ Internet
▪ Cot
▪ Swimming pool


Transport nearby

-Taxi stop

-Urban bus stops: line C1, line C2, line N8.

-Airport bus stop:'Catedral' stop, coinciding with line C1.

-Train station: 2km

-Airport 20km Granada (GR)

Mirlo's House in Granada

VFT/GR/00223

Detached house for six people with a solid contemporary construction, bright and very comfortable, fully equipped, offers an easy and fascinating stay.
Beautiful and nice out, but also beautiful and nice inside.
On the ground floor: hall, spacious living room, bathroom, dining room and kitchen.
Upstairs: distributor, three bedrooms, each with one pleasant and suggestive views and two complete bathrooms, one of them also with bathtub.
Swiss, Italian and Spanish contemporary production furnishing and luminaires- DePadova, USM, Santa & Cole, Flos, Luceplan…- pieces of artist friends and antiques in perfect conditions.
Possibility of providing an extra bed and chair for toddlers.
-Bulthaup fully equipped kitchen : dishwasher, oven, microwave, refrigerator, small appliances, and all necessary kitchen utensils and crockery.
Washing machine and iron.
Linen beds and towels are 100% cotton.
Wifi. Tv with international channels reception. Stereo.
Central Heating.
Shading in summer and sunny in winter courtyard -the best room of the house.
Small garden with fruit trees.
Small pool.
Private garage and authorized access to downtown if needed.
A great choice for your visit to Granada.

Located in a small square of high Albaicín, its living core not touristy, yet Albaicín people, gypsies and old Granada people residence, more easily accessible and with all basic necessities two minutes away: pharmacy, supermarket, cafes and bars, four minutes from Casa pasteles,'Plaza Larga' market, the international press kiosk.
All required visits to Granada can be made giving a nice stroll, you can forget about the car for a few days.
Within fifteen minutes walking we can decide between strolling in the quarter, with its bars, squares and viewpoints; the Alhambra and its surroundings; cultural visits to the classical, historic and commercial Granada; small nature tours along the paths of Sacromonte and the Generalife pasture leading into the Sierra Nevada Natural Park, hiking for all levels-very recommendable.

Alhambra, Generalife and Albaicín, a World Heritage Site since 1984, and other lesser known monuments of great interest.

In addition, various activities for each season in museums and cultural centers in the city: exhibitions, lectures, concert series which culminate with the International Festival of Music and Dance.

Golf, tennis, biking, skiing, swimming, diving.

In an environment of 200 meters:

Bars - cafes - restaurants
Pharmacy
supermarkets
banks
Taxi stops

Living room
Bedroom 1
Bedroom 2

▪

Sofas


▪

Pouf


▪

Reading luminaire


▪

Desk chair


▪

TV TFT


▪

Music


▪

Books


▪

Stereo


▪

Ambiance luminaire


▪

Side table


▪

Double bed


▪

Shoe-removing chair


▪

Vintage chest of drawers


▪

Chavari chair


▪

Reading luminaire


▪

Dressing room


▪

Bed linens and towels


▪

Ambiance luminaire


▪

Side table


▪

Double bed


▪

Shoe-removing chair


▪

Vintage chest of drawers


▪

Chavari chair


▪

Ambiance luminaire


▪

Reading luminaire


▪

Dressing room


▪

Bed linens and towels


▪

Side table

Bedroom 3
Bathroom 1
Bathroom 2

▪

2 single beds


▪

Shoe-removing chair


▪

Vintage table


▪

Chair


▪

Wardrobe


▪

Reading luminaire


▪

Ambiance luminaire


▪

Bed linens and towels


▪

Side table


▪

Washbasin


▪

Shower


▪

Bathtub


▪

W.C


▪

Hot air impeller


▪

Washbasin


▪

Shower


▪

W.C


▪

Hot air impeller

Toilet
Kitchen
Laundry

▪

Washbasin


▪

W.C


▪

Fridge


▪

Oven


▪

Dish washer


▪

Coffee Maker


▪

Microwave


▪

Washing machine


▪

Washing machine


▪

Flat iron and ironing board


▪

Cleaning products

Albaicín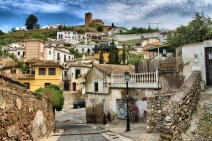 The
Albaicín
is one of the most representative areas of Granada. Through the walk of its narrow streets, you can get lost in that charming sinuous maze and discover the traditional
cármenes
, that is to say, isolated houses surrounded by a high wall and that have a small garden.
This neighbourhood is situated at 700-800 metres above sea level; it extends from the highest area (
San Nicolás
) to the
Darro river
and the
calle Elvira
, which meet at
Plaza Nueva
.
It was court of the Zirid dynasty in the 11th century and it is considered as the last Muslim stronghold before being expelled of Granada. Its heyday was in the past few years of the Nasrid power, with a population of over forty thousand inhabitants and thirty mosques.
The Albaicín mixes the medieval constructions with the traditional Mediterranean architecture, giving rise to a harmonious combination of different styles. It exhibits a lot of examples of its Moorish origin and of its Muslim spirit, because there are remains of the
medieval wall
, of the different access, such as the
Puerta de Elvira
(Gate of Elvira) or the
Puerta de Fajalauza
(Gate of Fajalauza). Besides, there are
minarets, mosques
, some
Almohad mansion
or even
Hispanic-Muslim cisterns
that distributed the drinking water. For this reason, its streets full of history and art allow you to take you back to another period in history.
The
miradores de San Nicolás y de San Cristóbal
make it possible to enjoy the beautiful views not only of Granada, but also of the Alhambra. Besides, some interesting tourist places are
El Bañuelo
(wonderful public baths), the illuminated and intimate squares, such as the
Plaza de Porras
,
Plaza de las Azucenas
and
Plaza de San Miguel Bajo
, or some
flamenco venues
(
tablao flamenco
in Spanish) for enjoying the unique pure art in the
cradle of the flamenco
.
Thus, this area gets that the person who walks on it notice the
essence
of the past time in the present itself, while admiring this architectural
contrast
and having a good time in a
flamenco spectacle
that cannot fail to move you.
Not surprisingly, it was declared a
UNESCO World Heritage Site
, like the Alhambra and the Generalife.
Availability
This apartment is part of a building with several similar, so it may not be available. Please, check the availability for your dates or if we have already confirmed it, continue with the reservation process.
Request more information
We are interested on your opinion

Tell us about your experience

We only accept reviews from real guests who have stayed in this apartment, so it must be indicated the e-mail which with you made ​​the booking.

House Mirlo's in Granada

Reviews

Average rating from

20

Reviews:

Dr Chrissie Gale

▼




November 2017

This is the most fabulous house in the most amazing setting. The thought and consideration put into the chic decor, the wonderful atmosphere in the house and the comfort of guests cannot be overstated. Everything is so charming. The bedrooms - especially the master bedroom - are comfortable and spacious. The master bathroom is incredible. The kitchen is amazingly equipped and everything is of very high quality. The setting in the old streets of El Albaicin means there is peace and serenity in the house and in the charming garden. We loved staying there and would recommend it highly to anyone wanting a spacious, luxurious and quiet place to stay in Granada.

Gilda Obeso

▼




October 2017

Thank you to Rosario and Genteel Homes for offering such a wonderful property and service. Although my husband and I were not able to make this trip due to a family emergency our friends who did were very happy and could not have asked for better accommodations and service!

Lynn Nichols

▼




June 2017

Stunning, beautiful house. The garden and plunge pool are perfect for shade with just the right amount of sun. Extremely accommodating host. Ideally situated and spotless !

Chantal

▼




April 2017

Nous avons été accueillis par Rosario (la propriétaire ) qui nous a transmis toutes les indications nécessaires pour découvrir Grebade ( Restaurants, panederia où trouver dec a pata negra etc...)
Un cocon superbe, décoré avec un très bon goût et très bien équipé. Cette maison est située dans le quartier de l´Albaicin non loin des petits commerces, du centre historique et de l´ Alhambra
Un jardin très joli et très bien aménagé avec une vue sur une partie de l´Alhambra et la sierra Nevada.
Une maison parfaite et merci à Rosario

Víctor

▼




February 2017

Todo perfecto!! Repetiremos seguro. Un lujo

Jill

▼




February 2017

The house had great location and design. It was very comfortable and Rosario was wonderful. We would stay again and recommend to friends. The streets are very narrow and winding so if you drive make sure you have a small car.

Arturo Fernandez Barnes

▼




January 2017

Vinimos a Granada con nuestra hija de 8 meses. La casa estaba perfectamente situada, cerca del mirador de san nicolas. El diseño interior de la casa era exquisito y muy bien pensado. Un lugar donde se puede venir sin nada ya que hay de todo.

El servicio con gentil home fue muy bueno y amigable.

Rebecca Kuruvilla

▼




September 2016

This is a lovely house in the perfect setting. The house is so well laid out with three bedrooms and lots of living space. The outdoor space is beautiful. The views of the Albaicin and the Alhambra are spectacular. Our daughter was taking a Spanish course nearby and she walked to school each morning. We could walk to so many restaurants and to the Alahmbra which we visited 3 times. This is the perfect base to explore Granada from. Rosario the owner is lovely is and so helpful. we would love to return.

Mick Smith

▼




August 2016

Fantastic home with vistas maravillosas. Rosario is the perfect host. Go there and be enchanted.

Michael Huber

▼




August 2016

Our family of four stayed here for 6 months and had a wonderful time. Regardless of the season, Granada is a joy and this apartment is the perfect place to experience the city. The views of the Alhambra and Albaycin are great, and the apartment allows you to enjoy the best of the albaycin while still being private and off the beaten path of tourists. The apartment itself is a great blend of modern design and old fashion Spanish architecture with a beautiful patio, complete with shady fig tree, and comfortable rooms.

The owner Rosario is a pleasure to deal with and is genuinely concerned that the her guests experience the best of Granada. She is a great ambassador for the city. While we didn´t need much from Genteel home, when we did, they were prompt, professional and courteous.

As others have noted, the Albaycin neighborhood is quite hilly and steep. You don´t need a car to explore the city from here - its much easier to walk and take taxis, but the walks are vigorous. Everything you need for day to day living can be found 2 blocks away at Plaza Larga, and one of the city´s best flamenco houses is down the street (Jardines de Zoraya).

There are also fantastic day and weekend trips from Granada. Whether you go for a weekend or a few months as we did, you will have a great time, and this apartment is a great place to immerse yourself in the rich history of Spain.

TPN

▼




December 2015

Beautiful house in the great neighbourhood of Albaicin.
Cozy and comfortable house.
Great owner.

Janelle Dubos

▼




November 2015

Lovely home, beautifully decorated and well located. The owner was very helpful and gave us great advice on places to go. Wish we had had more time.

John Craig

▼




October 2015

Magnificent house. Mirlo´s house is a truly fantastic place to stay in Granada. The house is perfectly situated - a beautiful oasis in the magical Albercain quarter. Rosario is the most charming host - she helped us with everything (even parking our car for us !) and made sure that our stay was so enjoyable.
We would definitely stay at Mirlo´s house again and recommend the house without reservation. Thank you for sharing your beautiful home with us Rosario !

Oliver Haug

▼




October 2015

A total of 4 friends stayed at House Mirlo´s the end of September and we absolutely loved everything about the house, location and especially Maria was super helpful explaining everything about the house and neighborhood.
Extremely clean and well maintained and we would come back in a heartbeaqt.

Patricia Silva

▼




June 2015

Linda casa, divinamente localizada. Vista espectacular. Pasamos muy contentos. Rosario la dueña muy atenta y pendiente de todo.

Harvey


June 2015

We recently stayed at this home and cannot say enough about how wonderful it was. The beautifully decorated and well equipped house felt like home after a few days & our 3 week stay could not have been better. The owner was very pleasant, responsive and helpful in every way. I would definitely return to this location. The Albaicin location was ideal and everything we needed was a short walk from our front door.

Toril Hennig


May 2015

This is a wonderfull house that fullfilled all our expectations. The rooms are clean and tidy, the kitchen has all you need, and the garden is really lovely and also offers calm shade under a fig-tree. The surroundings are really charming with the narrow streets and many piazzas. We felt lucky to stay close to both Alhambra and the town, just a stroll away. I highly recommend this house.

Emmanuelle


April 2015

Séjour parfait dans une très jolie maison avec vue imprenable sur la colline de l´Alhambra. Elle plaira les amateurs d´architecture, de déco raffinée et d´objets design. La propriétaire, Rosario nous a très gentillement accueillis et renseignés de très bonnes adresses à Grenade. Nous recommandons vivement cette maison.

collet


March 2015

Nous avons adoré notre séjour à la Casa Mirlo qui a été une occasion unique de vivre dans la partie haute du quartier de l´Albaicin moins touristique et plus tranquille et de profiter des vues exceptionnelles sur Grenade et l´Alhambra depuis le 1er étage.
La maison est splendide et très agréable à vivre. Ses volumes intérieurs sont très bien pensés et son aménagement a été réalisé avec beaucoup de goût. Le jardin ensoleillé est un havre de paix dont on a pu profiter après nos visites.
La propriétaire Rosario est charmante et a été parfaite que ce soit pour nous accueillir lors de notre arrivée ou lors de notre départ.

Barbara Anderson


January 2015

Beautiful, well-equipped home in the heart of the Albayzin. Rosario was gracious and helpful, and we loved our stay in Casa del Mirlo! driving to the house in narrow Albayzin streets could be intimidating for some.

The different payment methods Genteel-Home offers for booking and renting apartments are exposed above.