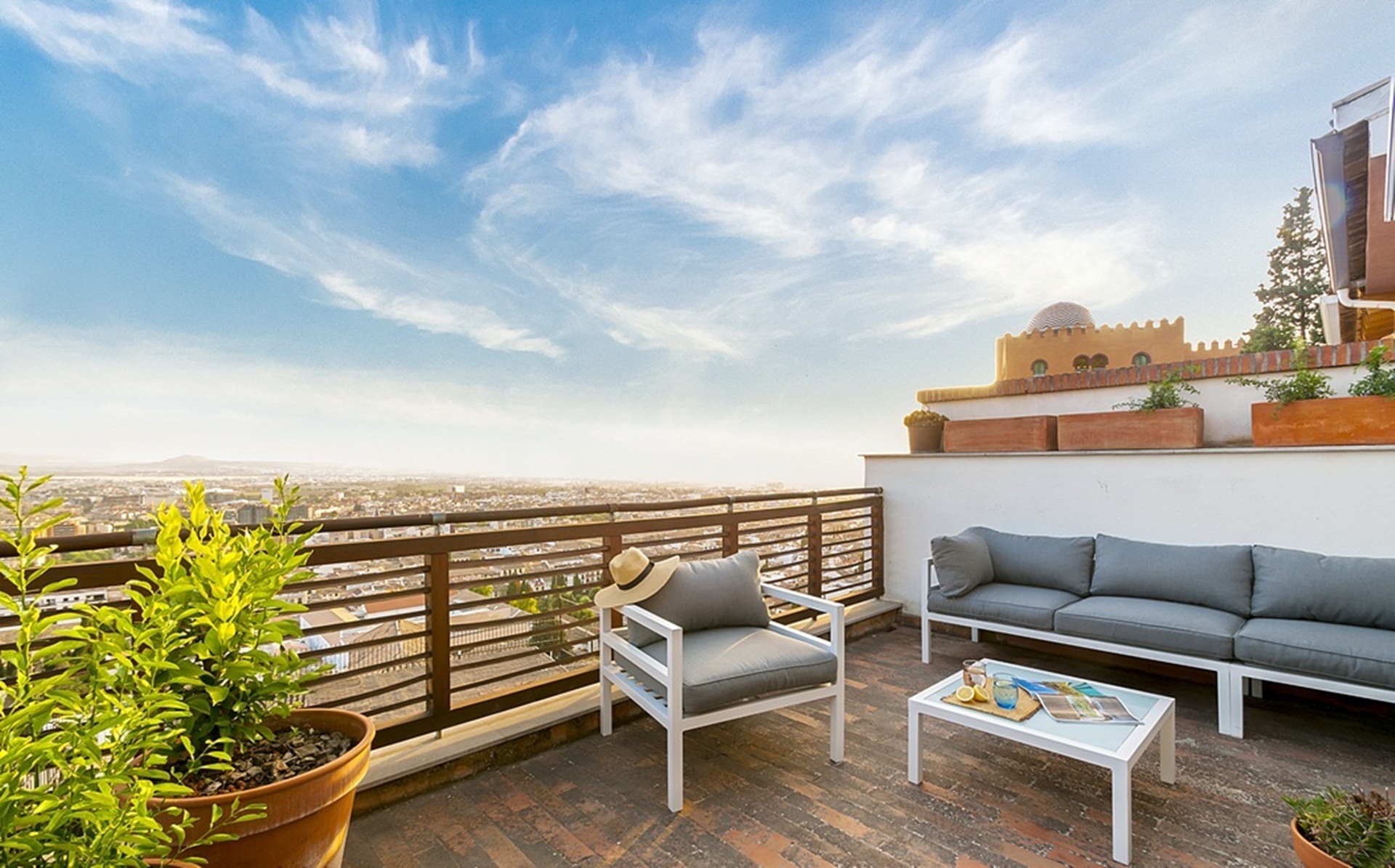 Characteristics

▪ 5 maximum of guests
▪ 140 sq meters area
▪ 3 Bedrooms
▪ 2 Bathrooms
▪ 1 floor
▪ Private Terrace
▪ Public parking near
▪ Heating
▪ Internet
▪ Cot


de La Alhambra House in Granada

VFT/GR/00482

It is a privilege to stay in this spectacular two-story house. In addition to quality and a magnificent location within the Alhambra district, it has terraces with views and a magnificent courtyard on the same wall of the Alhambra.

Because of all this, it is the perfect option to enjoy unforgettable days in the beautiful city of Granada. It should be noted that it is located in the exclusive neighborhood of La Alhambra, there are hardly any houses within this enclosure.

House with avant-garde design and modern, luxury furnishings, including contemporary designer furniture.

In addition to a room with double bed, dressing room and bathroom, a room with two single beds and a room with a single bed and desk. All have double closet and everything you need to make your stay wonderful.

Finally, on the upper floor, if there is something that stands out in this beautiful house is its bright living room and its large terrace with magnificent views of the city, as well as its exclusive private garden with Japanese decor.

In addition, it has the kitchen to provide a more comfortable stay. The outdoor space where you will find sun loungers, tables and chairs. Ideal for relaxing outdoors at any time of the year. The whole house has a comfortable underfloor heating system.

Kitchen
Living room
Bathroom 2

▪

Dish washer


▪

Freezer


▪

Mixer


▪

Coffee Maker


▪

Dining room


▪

Kettle


▪

Oven


▪

oven-microwave


▪

Washing machine


▪

Flat iron and ironing board


▪

Vitroceramic hob


▪

Juicer


▪

Wardrobe


▪

Shoe-removing chair


▪

Books


▪

Dining table


▪

Desk chair


▪

Ambiance luminaire


▪

Chair


▪

Sofa


▪

TV


▪

Stereo


▪

W.C


▪

Cleaning products


▪

Towels


▪

Washbasin


▪

Bathtub

Bathroom 1
Bedroom 1
Bedroom 2

▪

W.C


▪

Towels


▪

Washbasin


▪

Hair dryer


▪

Bathtub


▪

Double bed


▪

Wardrobe


▪

Books


▪

Bed linens and towels


▪

Chair


▪

2 single beds


▪

Wardrobe


▪

Books


▪

Bed linens and towels


▪

Chair

Bedroom 3

▪

Bed


▪

Wardrobe


▪

Bed linens and towels

Alhambra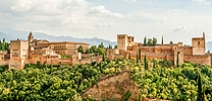 The neighborhood of La Alhambra is one of the most emblematic areas of the city where you can enjoy a magnificent journey through the past centuries have been part of the history of Granada. Starting with the magnificent monument that has this city, you can stroll around the neighborhood know the different granadinos cármenes (granadinas typical houses with attached green area and garden). Guests can also enjoy the Casa-Museo Manuel de Falla that will transport you to the golden age that most influenced the city of Granada.
Also, you can enjoy one of the best dining areas in the city where you can taste the best local foods Granada, enjoy the Arab baths preserved as in his time and enjoy superb views of the city.
For all this, it is no wonder, it is the neighborhood and the most visited monument in Spain. All this does not leave you indifferent customer passing through the wonderful neighborhood of La Alhambra.
Availability
Apartment special conditions

• Amount to book

• Payment balance due

• Deposit: 200€. In the case the deposit had to be paid in cash, it will be refunded in cash too. If it could be paid by credit card this deposit will be refunded to the same card the payment was made with. The deposit will always be refunded on the same day of your departure.

• Cancellation policy: the reservation deposit is refunded if we find a replacement for your reservation.

• Check-in and check-out hours: in principle the check-in is from 3 pm and the check-out until 11 am. It is possible to do the check-in early in the morning while there are no clients leaving on that day, as well as it is possible to do the check-out later with no extra charge if there are no other clients entering on that day.

• Public Parking 14 euros/day

• Other extra services:

- Internet FREE
- Crib FREE
- Transfer (to check it with Genteel Home)
Request more information
We are interested on your opinion

Tell us about your experience

We only accept reviews from real guests who have stayed in this apartment, so it must be indicated the e-mail which with you made ​​the booking.

House de La Alhambra in Granada

Reviews

Average rating from

5

Reviews:

Jan Deane

▼




February 2018

Great location, clean and spacious. The apartment was close to the Alhambra Palace. The walk into town was downhill so ok but was a bit of a hike back up. However, taxis were only €4/5 so we used those occasionally.
The balcony was not as big as it appears on the photograph but was big enough. The wi-fi was not great when on the top floor in the living area so unable to use our music app.
The lady who met us,Barbara, was really helpful and responded to our questions promptly.
Overall we had a great time and would definitely stay there again.

ana moreno santamaria

▼




January 2017

Absolutamente recomendable. La casa es verdaderamente bonita, y con una decoración excelente. Super acogedora, con absolutamente todo lo necesario, y más.
Parece que estás en tu casa.
Las personas de Genteel-home con las que contacté para el alquiler y la estancia fueron absolutamente profesionales para resolver con todo eficacia los pequeños incidentes que surgieron debido a la premura de tiempo con el que contraté la casa, pero lo mejor de todo fue la enorme amabilidad y atención que recibimos.
Muchos más que un 10 para ellos.
Un millón de gracias por todo, y mi más sincera enhorabuena.

Leslie Shammas

▼




January 2017

This home was wonderful. It is beautifully decorated with a warm personal history. It is perfectly situated next to the Alhambra! We would stay here again

Beth Stevens

▼




September 2016

Excellent house in a fantastic location. the view from the balcony was truly breathtaking. We were particularly impressed by the facilities, whereby everything was available and catered for. We will certainly come back again to this beautiful house.

Valentina

▼




September 2016

The house is great: great location, wonderful view and very well equipped. We have been there with all our four boys and girls and we all enjoyed our stay.
Also the support and response before departure was very prompt and professional.
Highly recommended!!

The different payment methods Genteel-Home offers for booking and renting apartments are exposed above.