Characteristics

▪ 8 maximum of guests
▪ 130 sq meters area
▪ 4 Bedrooms
▪ 2 Bathrooms
▪ 5 floor
▪ Private Terrace
▪ Public parking near
▪ Elevator
▪ Air conditioning
▪ Heating
▪ Internet
▪ Cot


Gran Capitán Penthouse in Granada

VFT/GR/02070

Magnificent penthouse with private terrace located in the center of the city, 5 minutes from the Cathedral.

It is a high quality apartment recently furnished and equipped to the smallest detail. It consists of 4 double bedrooms, 2 complete bathrooms, one with bath and the other with shower, a bright and exterior living room with private terrace and a kitchen equipped with everything you need for your stay.

From the living room you can access the private terrace equipped to spend an unforgettable stay and enjoy unparalleled views of the city.

The apartment is located just a few minutes walk from the most emblematic places of Granada such as La Catedral, the Chapel of the Catholic Monarchs, Gran Vía de Colón, El Albaicín .... an unbeatable strategic location to get to know the city on foot. Also, you will find a supermarket in the same building.

The Parking Hermanos Maristas is just one minute from the apartment, with easy access from the motorway ring road.

Living room
Kitchen
Bedroom 1

▪

Books


▪

TV


▪

Sofa


▪

reading chair


▪

Stool


▪

Side table


▪

Dining table


▪

Chair


▪

Coffee Maker


▪

Fridge


▪

Kettle


▪

Toaster


▪

Dish washer


▪

Washing machine


▪

Oven


▪

Microwave


▪

Vitroceramic hob


▪

2 single beds


▪

Wardrobe


▪

Shoe-removing chair

Bedroom 2
Bedroom 3
Bedroom 4

▪

2 single beds


▪

Wardrobe


▪

Shoe-removing chair


▪

2 single beds


▪

Wardrobe


▪

Shoe-removing chair


▪

2 single beds


▪

Wardrobe


▪

Shoe-removing chair

Bathroom 1
Bathroom 2

▪

Shower


▪

W.C


▪

Bathtub


▪

W.C

Centro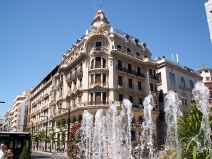 Visiting the
Centre
of Granada offers all the amenities to the visitor, since he can enjoy the historic area as well as the commercial area, because it includes not only the
monuments
and the more emblematic places, but also the
commercial part
full of the best boutiques.
Besides, it has a lot of
restaurants and tapas bars
that allow you to taste the gastronomy of Granada, characterized by its large amount of products. In this way, the tourist will feel comfortable in a cosy atmosphere surrounded by close people of all ages, while visualising and capturing the essence of this wonderful area of Granada.
There are two interesting tourist buildings: the
Cathedral
and the
Royal Chapel
. The first one is an important work of the Spanish Renaissance that cannot be missed when visiting the city. Its Royal Chapel is characterised by being the place where the remains of the Catholic Monarchs of Spain, their daughter Joanna of Castile, known as Joanna the Mad, and her husband Philip I of Castile, known as Philip the Handsome, lie. Besides, there are important paintings of such famous artists as Roger van der Weyden and Hans Memling.
The
Town Hall
, the
Alcaicería
(traditional neighborhood of the Muslim culture), the
plaza de las Pasiegas
or the
plaza Bib-Rambla
are other important monuments, since all of them reflect and allow us to appreciate the history of the city.
Most of the shops of the city are situated in the
Centre of Granada
: little shops with their unique charm as well as the best international firms. You can visit this area walking through the streets
Gran Vía de Colón, Reyes Católicos, Recogidas, Mesones, Alhóndiga and Puentezuelas
.
For this reason, a walk through the Centre of Granada will make the tourist fall in love not only since its charm and the magic hidden behind each monument, but also since the opportunity to have a good shopping day and to relax while eating a delicious
tapa
of Granada.
Availability
Request more information
We are interested on your opinion

Tell us about your experience

We only accept reviews from real guests who have stayed in this apartment, so it must be indicated the e-mail which with you made ​​the booking.

Penthouse Gran Capitán in Granada

Reviews

Average rating from

9

Reviews:

Samuel Sabatell Canales

▼




February 2019

La localización del apartamento junto con su sencillez y confort. Que el edificio no tuviese un parking (privado). Eso facilitaría muchas cuestiones.

---

Genteel-Home

Gracias por su comentario Manuel, nos alegra que tuviera una buena estancia en el apartamento y que haya sido de su agrado. Desgraciadamente, el apartamento no cuenta con parking y eso es algo que se escapa de nuestras manos. De todas formar, al hacer su reserva pudo ver que el apartamento no incluía parking. Genteel Home Team

Marina carrillo

▼




January 2019

El piso es espectacular tal cual las fotos. Muy amplio y muy cerca de todo. La decoración nos encanto. Tiene supermercado Justo en la puerta y la catedral está a menos de 5 min andando. Repetiremos seguro!!

Lai

▼




January 2019

I would book this place again :)
The apartment is great for families and the location is superb. Restaurants, supermarkets, private car parking area, and lots of shops close by. Just 10-15 mins walk away from the center.
There was a slight smell coming from the toilets. There hot water seems to stop around 11pm and therefore and late night showers are with trepid water.

David

▼




December 2018

A really great location for visiting Granada.
The apartment is so spacious and bright. Loved the terrace and had no problem sleeping. The rooms are all sound proof. THe kitchen is great with the island and the dining table. It was great for us as agroup of friends . The small supermarket right next door was handy and the apartment is close to cafés , bars, bakeries and shops.

M Angeles

▼




December 2018

La decoración es acogedora.
Hacia un frío inhumano un 23/25 de noviembre y l calefacción no existía en un piso cerrado de 8 personas 6 estamos enfermas por enfriamiento .

---

Genteel-Home

Muchas gracias por tomarse su tiempo en dejarnos un comentario que nos ayudará a mejorar. Primero de todo queremos pedirle disculpas por los inconvenientes sufridos durante su estancia con la calefacción. Sentimos mucho si el calor proporcionado por los radiadores de la calefacción centralizada del edificio, más (como le explicó posteriormente mi compañera Rocío) la bomba de calor del los splits de todas las habitaciones del apartamento, no fue suficiente. Sentimos que su experiencia no haya sido positiva. Nuestra máxima es dar el mejor de los servicios a nuestros clientes, y nos esforzamos mucho para que así sea, por lo que le ruego acepte nuestras mas sinceras disculpas. Esperamos que este problema no haya enturbiado el recuerdo que se llevan de Granada. Genteel Home Team

Sophia

▼




November 2018

if you are looking for charm and authenticity, thaïs appartment is not for your taste : very clean and practical, thaïs appartment lacks charm and comfort. The bright and néon lightening as well as plastic plants are not the decor I would have chosen. But hosts were pro, flexible and reactive, the appartment was super clean. I was very desappointed with the location : in a modern no charm area, 40mn by foot from the alhambra... Airbnb standing is more grooming too in my experience : more than one dose for the washing machine as well as minimum welcome kit such as coffee tea sugar etc would have been appreciated.

---

Genteel-Home

Thank you very much for your review Sophie. It's great to know you had a pleasant stay and enjoyed your time in our apartment! We are sorry if you didn´t like the way we present our apartment, we are going to take very seriously what you say and improve it from now on. About the locartion, our apartment is very good located in Granada, but not close to the Alhambra, which althoug is the most important monuments, has almost nothing close. We hope you loved Granada

Javier

▼




October 2018

Casa amplia, comoda y centrica
La ubicacion, muy cercano al centro Casa y terraza muy amplias Disponibilidad de salir a la hora que quisieramos (porque no habia ninguna entrada ese mismo dia) Parking a escasos metros en la misma acera Croissanteria Javier que esta al lado
El tener que comprar papel higienico y pastillas de lavavajillas ya que pedimos mas papel higienico y pastillas de lavavajillas y nos contestaron que dejaban dos rollos por cortesia. (Eramos 8 personas, 4 dias). Teniendo en cuenta el coste del apartamento, deberia de estar incluido. La limpieza bien, pero mejorable.

---

Genteel-Home

Muchas gracias por su comentario! Nos encanta saber que usted y su familia han tenido una estancia agradable y que han disfrutado de nuestro apartamento y su ubicación! Tal y como le explicó mi compañera, lo que dejamos en el apartamento de pastillas del lavavajillas, jabón o papel higiénico, es una muestra de cortesía, ya que entendemos que nuestros clientes comprarán todo aquello que necesitarán durante su estancia, pero para que a la llegada dispongan mientras que van a comprar, dejamos suficiente para un día. Esperamos que hayan disfrutada de Granada. Quedamos a su disposición.

Gmeris

▼




October 2018

Posizione con tutti in negozi a pochi passi, ristoranti, bar, pasticceria, market farmacia,ecc Terrazza fantastica, appartamento arredato in stile moderno e piacevole, camere spaziose e bagni puliti. Nel complesso ci siamo trovati bene tranne i piccoli disagi descritti nel "cosa non mi è piaciuto"
Su 4 camere solo 2 erano provviste di armadio e questo è risultato molto scomodo. Mancavano asciugamani per la cucina e una sola capsula per lavastoviglie è davvero poco, almeno 3/4 bastavano. Frigo vuoto Una bottiglia di acqua in frigo al nostro arrivo sarebbe stata gradita. Su 5 notti non sono stati fatti cambi di biancheria e asciugamani e questo è stato un disagio. C´era una lavatrice ma di sicuro in vacanza non ci mettiamo a lavare asciugamani e lenzuola!!! Ho scritto alla persona dell´agenzia che mi ha dato le chiavi e non mi ha nemmeno risposto!!

---

Genteel-Home

Thank you very much for your review Gmeris! It's great to know you had a pleasant stay and enjoyed your time in our apartment! We are sorry about the issues you have told us about the kitchen rag, it was suppouse to be at the apartment, it´s a pity you didn´t tell us because we would be able to send you one. About the capsueles for the washing maching, it is courtesy we left usually 2 of them, it must be a mistake if there was only one. We didn´t have any noticed about your mesagge for the extra sheeds and towels, the change of them is not inluded on the price you paid, but we would be pleasant to sent you a few extra towels, or offering the change service fee. We hope you loved your time in Granada. Genttel Home Team

Nina

▼




August 2018

Le calme de l´appartement. La proximité des supermarchés, pharmacie, boulangerie et autres commerces. La proximité avec le centre-ville pour faire du tourisme et se balader pour faire du shopping. Belle ville touristique.
En plein centre-ville, beaucoup de trafic automobile et pollution. Pas d´airco dans une des 3 chambres que nous occupions. Pas de planche à repasser, seulement 3 petites cuillères pour le petit déjeuner. Surcharge électrique en cas d´utilisation des aircos et machine à laver ou lave-vaisselle. Au delà de minuit, bruits non autorisés et pourtant les espagnols vivent plutôt le soir et le début de la nuit, constat que nous avons fait quand nous allions nous balader.

---

Genteel-Home

Merci beaucoup pour vos commentaire Nina. Nous voulons savoir que vous avez apprécié l´emplacement de l´appartement. En ce qui concerne les incidents que vous nous racontez, nous sommes attristés de savoir que le bruit de la rue a été tellement ennuyant; Grenade est une ville avec beaucoup de vie et peut être trop dynamique si vous n´avez pas l´habitude de dormir avec les fenêtres fermées. Et ce qui nous a parlé des ustensiles de cuisine est déjà résolu. Genteel Home Team

The different payment methods Genteel-Home offers for booking and renting apartments are exposed above.