Characteristics

▪ 6 maximum of guests
▪ 140 sq meters area
▪ 3 Bedrooms
▪ 2 Bathrooms
▪ 3 floor
▪ Public parking near
▪ Air conditioning
▪ Heating
▪ Internet
▪ Cot


Romanilla Apartment in Granada

VFT/GR/01860

High quality apartment equipped and furnished to the smallest detail. Totally renovated in a building from the 19th century without elevator, it transports us to another era thanks to its hydraulic floors, moldings and original carpentry and furniture.

It consists of 3 double bedrooms (two of them with balcony overlooking the Cathedral), 2 complete bathrooms, and 2 independent living rooms. In addition, it has a kitchen equipped with everything you need to make your stay an unforgettable experience.

From the entrance, you can access the main hall, very bright.
To the right of the entrance we find a room with two single beds and a balcony overlooking the Plaza de la Romanilla and the Cathedral.

If we continue through the gallery, we find the main bathroom and the summer lounge, indoor and cooler for the warmer seasons. Then the second bathroom and the kitchen, equipped to the smallest detail. A second bedroom with a double bed.

Finally we arrive from the living room to the master bedroom en suite, with a double bed and sitting area with sofa and chaise longue.

Kitchen
Living room
Living room

▪

Microwave


▪

Dish washer


▪

Fridge


▪

Nespresso coffe maker


▪

Kettle


▪

Oven


▪

Toaster


▪

Washer dryer


▪

Flat iron and ironing board


▪

Side table


▪

Books


▪

Chair


▪

Sofa


▪

Dining table


▪

Dining room


▪

TV


▪

Sofa


▪

Chair


▪

Vintage chest of drawers


▪

Reading luminaire

Bathroom 1
Bathroom 2
Bedroom 1

▪

W.C


▪

Shower


▪

Hair dryer


▪

W.C


▪

Shower


▪

Hair dryer


▪

Chair


▪

2 single beds


▪

Reading luminaire


▪

Wardrobe

Bedroom 2
Bedroom 3

▪

Double bed


▪

Shoe-removing chair


▪

Wardrobe


▪

Double bed


▪

Dressing room


▪

Reading luminaire


▪

Side table


▪

Sofa

Centro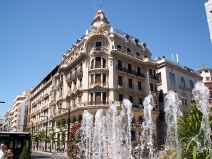 Visiting the
Centre
of Granada offers all the amenities to the visitor, since he can enjoy the historic area as well as the commercial area, because it includes not only the
monuments
and the more emblematic places, but also the
commercial part
full of the best boutiques.
Besides, it has a lot of
restaurants and tapas bars
that allow you to taste the gastronomy of Granada, characterized by its large amount of products. In this way, the tourist will feel comfortable in a cosy atmosphere surrounded by close people of all ages, while visualising and capturing the essence of this wonderful area of Granada.
There are two interesting tourist buildings: the
Cathedral
and the
Royal Chapel
. The first one is an important work of the Spanish Renaissance that cannot be missed when visiting the city. Its Royal Chapel is characterised by being the place where the remains of the Catholic Monarchs of Spain, their daughter Joanna of Castile, known as Joanna the Mad, and her husband Philip I of Castile, known as Philip the Handsome, lie. Besides, there are important paintings of such famous artists as Roger van der Weyden and Hans Memling.
The
Town Hall
, the
Alcaicería
(traditional neighborhood of the Muslim culture), the
plaza de las Pasiegas
or the
plaza Bib-Rambla
are other important monuments, since all of them reflect and allow us to appreciate the history of the city.
Most of the shops of the city are situated in the
Centre of Granada
: little shops with their unique charm as well as the best international firms. You can visit this area walking through the streets
Gran Vía de Colón, Reyes Católicos, Recogidas, Mesones, Alhóndiga and Puentezuelas
.
For this reason, a walk through the Centre of Granada will make the tourist fall in love not only since its charm and the magic hidden behind each monument, but also since the opportunity to have a good shopping day and to relax while eating a delicious
tapa
of Granada.
Availability
Request more information
We are interested on your opinion

Tell us about your experience

We only accept reviews from real guests who have stayed in this apartment, so it must be indicated the e-mail which with you made ​​the booking.

Apartment Romanilla in Granada

Reviews

Average rating from

29

Reviews:

Antonio

▼




January 2019

La casa es muy bonita, con luz y una decoración excelente. Amplia y tranquila. Muy bien ubicada
No hay ascensor y es una 3ª Planta. Las bombas de calor que tiene la casa, no son suficientes para tener una temperatura agradable. HAce frio en las estancias.

---

Genteel-Home

Gracias por su comentario. Nos alegra saber que han disfrutado de la decoración y ambientes de nuestro apartamento, Con respecto a lo que comenta de las escaleras, en nuestra propiedad ya se informa que no costa de ascensor, por lo que es una información de la que usted ya disponía previo a su reserva. Con respecto a las calefacciones, sentimos mucho que no nos lo comentara durante su estancia, ya que, aunque no hemos tenido ese problema antes, les habríamos facilitado calentadores extras si para su gusto la casa no estaba suficientemente cálida. Nos apena mucho la puntuación que nos ha dado, ya que nuestra máxima es dar el mejor de los servicios. Genteel Home Team

Luisa

▼




January 2019

Casa preciosa, limpia, céntrica y llena de detalles.
La limpieza, la ubicación, la decoración muy cuidada, el check in muy fácil, los detalles navideños como el árbol...el papa noel...las plantas de pascua...los chocolates para las niñas....lo recomiendo al 100x100. Volvería sin duda.
Quizás que hacía frío. La casa tiene calefacción de bomba de calor, de aire acondicionado caliente. Personalmente prefiero radiadores pero se estaba bien.

Higinio Martí

▼




January 2019

L´edificio è imponente, del XIX secolo. La casa è decorata con gusto squisito. Dispone di tutti i comfort che si possono immaginare. Si trova nel centro di Granada, proprio accanto alla Cattedrale. La cucina è moderna con tutti gli utensili necessari. Ha due saloni, uno interno e l´altro con balconi sulla piazza e sono davvero molto belli e con alcuni mobili che fanno venire voglia di comprarli. Combina il moderno con il classico. Una grande scelta per soggiornare a Granada.

Javier Romeo

▼




January 2019

Es una maravilla de casa. Estuvimos pasando el Fin de Año y estuvo genial. La casa es aún mucho mejor que lo que esperábamos. La ubicación es perfecta, ubicada en el centro y junto a la Catedral. La casa está perfectamente equipada y nos sorprendió que hubiera dulces para el desayuno, café, aceite, sal, etc. En los baños (por cierto, preciosos) champú y gel. La limpieza es de 10. Las camas y almohadas muy cómodas. Carlos es genial, siempre pendiente de si necesitábamos algo. En fin, todo un acierto para alojarse en Granada.

It´s a wonder of home. We were having New Year´s Eve and it was great. The house is even better than we expected. The location is perfect, located in the center and next to the Cathedral. The house is perfectly equipped and we were surprised that there were sweets for breakfast, coffee, oil, salt, etc. In the bathrooms (by the way, beautiful) shampoo and gel. The cleanliness is 10. The beds and pillows very comfortable. Carlos is great, always looking to see if we needed anything. In short, a real success to stay in Granada.

Es ist ein Wunder des Zuhauses. Wir hatten Silvester und es war toll. Das Haus ist immer noch viel besser, als wir erwartet haben. Die Lage ist perfekt, direkt im Zentrum und neben der Kathedrale. Das Haus ist perfekt ausgestattet und wir waren überrascht, dass es Süßigkeiten zum Frühstück, Kaffee, Öl, Salz, etc. gab. In den Bädern (übrigens kostbar) Shampoo und Gel. Die Sauberkeit ist makellos. Die Betten und Kissen sind sehr bequem. Carlos charmant, immer auf der Suche, ob wir etwas brauchen. Kurz gesagt, ein echter Erfolg, um in Granada zu bleiben.

Angel

▼




December 2018

Todo bien

Adriana

▼




December 2018

Nice stay in general

Idoia

▼




December 2018

El apartamento es muy amplio, Preciosa decoración, camas muy cómodas, cocina muy nueva y completa. Perfecta ubicación. Trato del Carlos, excepcional, resolviendo de inmediato una duda sobre la calefacción y recomendándonos sitios para ir. Rocio también muy atenta y eficaz. Sin duda repetiremos en el resto de apartamentos que tiene Genteel Home.

Yvone

▼




November 2018

Yvonne
Yvonne Leezer
Very good location, stylish decorated, clean and very nice welcome. Communication was very good and helpful!

Rocio

▼




November 2018

Lo mejor la ubicación y casa bonita y decorada con gusto. La decoración lo más original de la casa. Espacio amplios.
Echamos de menos calefacción y persianas, pero en general la estancia muy positiva.

---

Genteel-Home

Muchas gracias por su comentario Rocío. Nos encanta saber que han disfrutado de la magnífica ubicación de nuestro apartamento. Respecto a lo que nos comenta, en el apartamento tienen calefacción en todas las estancias, por lo que no deberían haberla echado en falta, y con respecto a las persianas, todas las ventanas disponen de foscuris, que dan la misma oscuridad que puede dar una persiana, por lo que hasta ahora no habíamos tenido ninguna queja al respecto. Esperamos que hayan disfrutado mucho de Granada. Genteel Home Team

Davide

▼




November 2018

La posizione e il carattere dell´appartamento
Casa freddissima, riscaldata solo con condizionatori in alcune stanze, che se accesi contemporaneamente facevano scattare gli interruttori dell´elettricità. Non molto pulita. Alcune luci non funzionavano.

---

Genteel-Home

Thank you very much for your review Davide! It's great to know you had appreciated the location of our apartment We have to admit we are quite surprised about your comments, due to we have a 9.3, earned throught the quality of the experience we offer in our appartment. Our appartment could be perfectly warmed by using the splits located in every room, and they can be turn on at the same time without any problem, but of course, as it happens in every home, you shouldn´t be using at the same time the washingmachine, the hairdrier, the oven etc, because there is a maximum of electricity that can be use at the very same time. We are very sorry if our appartmente didn´t fulfill your expectections, but we are absolutky proud of the service we provide. Genteel Home Team.

Ken

▼




October 2018

It was delightful, we enjoyed the location and the comfort of the apartment.
The apartment is decorated in a wonderful manner, it is not filled with Ikea decorations. The host was very helpful, we so much appreciated his extra efforts to help us.

和水

▼




October 2018

超级喜欢的公寓
因为喜欢公寓相片就定了,没有想到房间非常大,也很舒适。从厨房到餐厅需要推车送菜,很有意思的体验。地理位置很好,旁边就是大教堂,楼下很多餐厅,街角有水果店,食品店,买了很多点心和水果。
除了没有电梯没任何毛病

Anne Maria

▼




October 2018

Rocio our host was so lovely and helpful. She organised that we could leave our luggage at apartment when we arrived in Granada. This was much appreciated. Thank you. Our luggage was taken upstairs by the very friendly cleaning staff. Thank you so much!!

Matlas

▼




October 2018

Magnifique
La décoration sublime de l´appartement. Une situation géographique exceptionnelle. Vraiment très bien à tout point de vue.
Pas d´ascenseur. Si vous avez des grosses valises c´est un peu compliqué... et manque de rideaux dans une chambre.

---

Genteel-Home

Merci beaucoup pour votre commentaire Matlas. Nous sommes heureux de savoir que vous avez apprécié votre séjour dans notre appartement. En ce qui concerne ce qu'il nous a dit à propos des rideaux, il a déjà été signalé que la solution serait immédiate. Nous espérons vous accueillir à nouveau! Genteel Home Team

回来

▼




September 2018

房东小哥哥仔细讲解了去阿尔罕布拉宫的乘车方式、乘车地点,并推荐了回来的步行路线以及周围好吃的地方~~

Imsad

▼




September 2018

La qualité de l´appartement La décoration est géniale. Les équipements du logement. L´emplacement est parfait.
Intervention d´un technicien afin de réparer la climatisation durant notre séjour. On aurait aimé une intervention entre deux clients... Incompréhension sur l´heure du check out. En effet, on nous avait dit qu´on pouvait quitter les lieux à 12h maximum. A 11h, une femme de ménage avait sonné afin de nous dire de partir. De plus, l´eau chaude a été coupé à partir de 11h...

---

Genteel-Home

Merci beaucoup pour votre commentaire Imsad, nous sommes heureux de savoir que vous avez apprécié votre séjour, l´emplacement magnifique de l´appartement et la belle décoration. En ce qui concerne ce que vous nous dites, nous essayons toujours de résoudre les incidents plus rapide qu´on peu, et plus encore dans le cas d'un climatiseur compte tenu de la chaleur que vous avez subie pendant votre séjour et de l'heure de départ de l'appartement. Votre réservation, l´heure de départ est toujours à 11 heures. Nous espérons que vous avez apprécié Grenade. Genteel Home Team

Nathalie

▼




August 2018

L'appartement est situé au pied de la cathédrale, donc très central et bien connecté pour rejoindre l'Alhambra. C'est un lieu merveilleusement décoré, joli mélange de moderne et de vintage. Les carreaux au sol sont splendides et d'époque. L'appartement est parfait pour 6, très bien rénové et agencé, la décoration murale est magnifique. Cuisine super bien équipée, les lits sont confortables. C'est une très belle adresse pour quiconque souhaite visiter Grenade à pied. On a littéralement adoré ! Je recommande l'appartement de Juan José à 100% !!

Wael

▼




August 2018

The apartment is simply sublime! It is well located at a walking distance from all the touristic places and from the square where you can take the bus to alhambra palace. Restaurants are right downstairs. Within 300m you can also find a supermarket, a pharmacy, a parking and all kind of shops. The check in and out were so easy. The communication with the host can't get better! He was kind and attentive if we had any concern. He also gave us a map with all the recommendations of where to go while staying in Granada. Totally recommended to all groups and families.

Gabi

▼




July 2018

This is a stunning apartment in the best possible location. The kitchen is well equipped to prepare simple meals if you enjoy buying fresh products from the nearby market and eat at home. It was the perfect place for our family with grownup children, there's space to lounge around and the location is perfect to explore the city on foot.

Yan

▼




July 2018

非常非常满意。
房间超大,位置超好,下面吃的餐馆很多,而且味道非常好,边上不远处就是景点,真的太方便了。(Muy muy satisfecho. La habitación es muy grande, la ubicación es súper buena, hay muchos restaurantes para comer debajo, y el sabor es muy bueno, no muy lejos de los lugares de interés, es realmente conveniente.)

Marcelo

▼




July 2018

Todo más que bien, el departamento con estilo, la recepción exelente

Irina

▼




July 2018

Romanilla apartment is just fantastic! Very stylish, just like in the pictures. The location is unbeatable. The whole team were very easy to communicate with & super friendly. Would definitely stay there again.

Zrinka

▼




July 2018

Romanilla apartment was great and I would recomend it to everbody! Great style, great location and they were very fast in communication!

Radoslava

▼




July 2018

Beautiful, spacious and light apartment. Amazing decor and attention to detail. Lovely comfortable beds. Located in the city centre with plenty of restaurants and bars in the area. Walking distance to all sights. We only stayed for three nights and didn´t want to leave. :)

Steve

▼




July 2018

Fashionable and spacious.

Annie

▼




July 2018

The location and the timeless feel of the apartment was excellent. Totally worth the money !

Radoslava

▼




July 2018

Beautiful, spacious and light apartment. Amazing decor and attention to detail. Lovely comfortable beds. Located in the city centre with plenty of restaurants and bars in the area. Walking distance to all sights. We only stayed for three nights and didn´t want to leave. :)

Jenny Penberthy

▼




January 2018

This is an exquisite apartment and we were very contented and comfortable. The decor is a stylish blend of old and new and the tiled floors are particularly beautiful. Highly recommended.

María José Saura Lasheras

▼




November 2017

Excelente apartamento, justo en el centro y cerca de todo. No es necesario usar el coche. La zona es tranquila por la noche, y sin ruido.
El apartamento cuenta con todas las comodidades para la estancia, y la decoración es magnífica.
Recomendable 100%.

The different payment methods Genteel-Home offers for booking and renting apartments are exposed above.