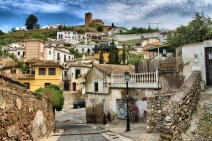 The
Albaicín
is one of the most representative areas of Granada. Through the walk of its narrow streets, you can get lost in that charming sinuous maze and discover the traditional
cármenes
, that is to say, isolated houses surrounded by a high wall and that have a small garden.
This neighbourhood is situated at 700-800 metres above sea level; it extends from the highest area (
San Nicolás
) to the
Darro river
and the
calle Elvira
, which meet at
Plaza Nueva
.
It was court of the Zirid dynasty in the 11th century and it is considered as the last Muslim stronghold before being expelled of Granada. Its heyday was in the past few years of the Nasrid power, with a population of over forty thousand inhabitants and thirty mosques.
The Albaicín mixes the medieval constructions with the traditional Mediterranean architecture, giving rise to a harmonious combination of different styles. It exhibits a lot of examples of its Moorish origin and of its Muslim spirit, because there are remains of the
medieval wall
, of the different access, such as the
Puerta de Elvira
(Gate of Elvira) or the
Puerta de Fajalauza
(Gate of Fajalauza). Besides, there are
minarets, mosques
, some
Almohad mansion
or even
Hispanic-Muslim cisterns
that distributed the drinking water. For this reason, its streets full of history and art allow you to take you back to another period in history.
The
miradores de San Nicolás y de San Cristóbal
make it possible to enjoy the beautiful views not only of Granada, but also of the Alhambra. Besides, some interesting tourist places are
El Bañuelo
(wonderful public baths), the illuminated and intimate squares, such as the
Plaza de Porras
,
Plaza de las Azucenas
and
Plaza de San Miguel Bajo
, or some
flamenco venues
(
tablao flamenco
in Spanish) for enjoying the unique pure art in the
cradle of the flamenco
.
Thus, this area gets that the person who walks on it notice the
essence
of the past time in the present itself, while admiring this architectural
contrast
and having a good time in a
flamenco spectacle
that cannot fail to move you.
Not surprisingly, it was declared a
UNESCO World Heritage Site
, like the Alhambra and the Generalife.