Characteristics

▪ 5 maximum of guests
▪ 80 sq meters area
▪ 2 Bedrooms
▪ 1 Bathroom
▪ Ground floor
▪ Private parking
▪ Air conditioning
▪ Heating
▪ Internet


Aixa Apartment in Granada

Situated in the heart of the centre of he city, in the authentic district of San Matías-Realejo, is located this magnificent 80m2 apartment composed of lounge, two bedrooms, kitchen, bathroom and courtyard.
The living room has a dining space and a comfortable sofa bed. The master bedroom has a double bed and a dressing room and the second bedroom has two single beds. Meanwhile, the kitchen and bath have all the equipment you might need.
In the master bedroom there's access to a nice private patio accommodated with garden table and chairs.
Thanks to its privileged location you can visit the main monuments of the city without a way of transport: Cathedral, Capilla Real, Alcaicería, etc. The property is also surrounded by a large area of renowned shops and restaurants. A few metres away are different stops of buses which leads to celebrated monuments such as The Alhambra or The Albaicin.
Undoubtedly, Aixa apartment is a perfect choice if you plan to visit Granada and discover the delights this wonderful city offers.

Living room
Bedroom 1
Bedroom 2

▪

Dining room


▪

Sofa bed


▪

TV


▪

Double bed


▪

TV


▪

Wardrobe


▪

Bed linens and towels


▪

2 single beds


▪

Wardrobe


▪

Bed linens and towels

Kitchen
Bathroom 1

▪

Fridge


▪

Vitroceramic hob


▪

Microwave


▪

Coffee Maker


▪

Toaster


▪

Flat iron and ironing board


▪

Washing machine


▪

Shower


▪

Hair dryer


▪

W.C

Centro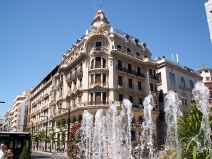 Visiting the
Centre
of Granada offers all the amenities to the visitor, since he can enjoy the historic area as well as the commercial area, because it includes not only the
monuments
and the more emblematic places, but also the
commercial part
full of the best boutiques.
Besides, it has a lot of
restaurants and tapas bars
that allow you to taste the gastronomy of Granada, characterized by its large amount of products. In this way, the tourist will feel comfortable in a cosy atmosphere surrounded by close people of all ages, while visualising and capturing the essence of this wonderful area of Granada.
There are two interesting tourist buildings: the
Cathedral
and the
Royal Chapel
. The first one is an important work of the Spanish Renaissance that cannot be missed when visiting the city. Its Royal Chapel is characterised by being the place where the remains of the Catholic Monarchs of Spain, their daughter Joanna of Castile, known as Joanna the Mad, and her husband Philip I of Castile, known as Philip the Handsome, lie. Besides, there are important paintings of such famous artists as Roger van der Weyden and Hans Memling.
The
Town Hall
, the
Alcaicería
(traditional neighborhood of the Muslim culture), the
plaza de las Pasiegas
or the
plaza Bib-Rambla
are other important monuments, since all of them reflect and allow us to appreciate the history of the city.
Most of the shops of the city are situated in the
Centre of Granada
: little shops with their unique charm as well as the best international firms. You can visit this area walking through the streets
Gran Vía de Colón, Reyes Católicos, Recogidas, Mesones, Alhóndiga and Puentezuelas
.
For this reason, a walk through the Centre of Granada will make the tourist fall in love not only since its charm and the magic hidden behind each monument, but also since the opportunity to have a good shopping day and to relax while eating a delicious
tapa
of Granada.
Availability
Apartment special conditions

• Amount to book: 30% of total price

• Payment balance due: by cash on arrival

• Deposit: 200€

• Cancellation policy: The reservation deposit is refunded if is found e replacement for your reservation

• Extra charges: Supplement of 25€ for checkins after 12 pm.

• Check-in and check-out time: in principle the checkin is from 15h and the checkout until 11h. Time flexibility provided that any other reservation were affected (consult with the owner)

• Parking: private place at the same building. The price is 10€/day.
• Other extra services:

- Internet
- Crib
- Transfer
Request more information
We are interested on your opinion

Tell us about your experience

We only accept reviews from real guests who have stayed in this apartment, so it must be indicated the e-mail which with you made ​​the booking.

Apartment Aixa in Granada

Reviews

Average rating from

25

Reviews:

sondes

▼




November 2018

we spent a great holiday in the appart which is close for many think monument restaurant and shops.
THE appart is very clean we find every think we need it

Isabelle PEROL

▼




March 2018

Appartement propre et fonctionnel

José Manuel Contreras Martín

▼




August 2017

Estupendo apartamento solamente tiene un fallo
los colchones son excesivamente blandos.

RAUL PITHON BARRETTO NETO

▼




June 2017

The apartment is very nice and well located. The only problems identified were the heavily deformed mattress, causing me to sleep on one of the twin beds and the fact that I was charged for the use of the building´s garage, which was not described in the apartment announcement. If I had known I would need to pay, I would probably have chosen another apartment.

Nicole Bélanger

▼




June 2017

Apartement très bien situé, moderne, bien équipé propre mais bruyant.

noemi heredia

▼




March 2017

El apartamento muy limpio y la ubicación inmejorable.Salimos encantadisimas de nuestra experiencia allí y si vuelvo no dudaré en coger este apartamento tan coqueto y encantador

Andrea

▼




February 2017

A lovely apartment very centrally located which had everything we needed for a family of four. A well equipped kitchen with a lovely little outdoor courtyard. Conveniently located for bars, restaurants, sights and shops. There is taxi rank about 2 mins walk, and a stop for the city tour vehicle at the top of the street. Buses from the city centre to The Alhambra are about 10 mins walk away. We made use of neighbouring garage to park our car for a small fee per day. Thoroughly recommend this apartment.

Diego

▼




December 2016

100% Recomendable, ubicacion del apartamento en pleno centro para ir andando a cualquier lugar sin mover el coche, nos atendió Carlos a nuestra llegada, muy profesional y amable , nos ayudo en todas nuestras dudas , sin duda repetiremos

Monique

▼




November 2016

Belle propreté des lieux. Espace restreint dans la cuisine mais condiments (sel, sucre...) disponibles. Malgré un léger retard justifié, le contact avec Carlos s´est très bien déroulé et il a fourni les informations nécessaires. En novembre, les nuits sont fraîches à Grenade, il est important que le système de chauffage fonctionne bien.

Thomas Thorson

▼




November 2016

The apartment is very well located, within walking distance of most of the major sights. It is a good size and immaculate. Carlos easy to deal with and accommodating. Only complaint was we had no sheets for the second bedroom and no kitchen towels or wash rags and the kitchen could be a bit better equipped. Highly recommended.

Isabelle

▼




June 2016

appartement bien situé, tout confort.

Hendry Iso

▼




May 2016

Perfect appartment, well equiped, we enjoyed and we recommend it

Roland

▼




May 2016

A great, clean and beautiful apartment that´s smack in the middle of Granada. All the main sights are in easy walking distance and there is even a garage to park you car. Carlos is a great host and he was very helpful!

RAFAEL

▼




March 2016

hemos pasado un fin de semana muy agradable cumpliendo nuestras expectativas

Ryan Sniatecki

▼




January 2016

This is probably the best vacation rental we have ever had. The apartment was well decorated, the furniture was in great shape, and despite being in the center of the city was very quiet. The blinds in the bedrooms kept things completely dark, and the little patio was quite nice. Having parking was a must, and it was very convenient.

We were close to everything and had a great time. If we find ourselves in Granada again, we will definitely rent this apartment.

Nancy


May 2015

The Aixa apartment was just perfect for our needs. It was very quiet and yet just a short walk from the main sites. It was just steps from a lively square where the tourist bus made a stop. The beds were very comfortable and the apartment was very clean. We only had a tiny problem getting the garage door to open on the day we left. Luckily workmen nearby helped us open it.

Mark


May 2015

This is a fabulous apartment located in the middle of the action yet in a quiet location. Everything you need for a great stay in Granada. The apartment is immaculate, beds are great, you won´t go wrong staying here.

Martine


May 2015

Appartement propre, bien équipé et refait avec gout, avec une petite terrasse sans vis à vis. Il y a également un garage, ce qui est un plus car la rue est vraiment étroite et sans possibilité de se garer. Situé en centre ville où tout peut se faire à pied. Carlos nous a bien accueilli et renseigné sur les magasins, restaurants...

Gypsy


April 2015

Great apartment in a prime location. Everything was within walking distance. The patio was a lovely spot in which to escape the city.

Alessandro


January 2015

Ho soggiornato con la mia famiglia ai primi di gennaio.
La casa è in posizione centrale, con posto auto ( indispensabile se si ha un´auto). Il giudizio sulla casa è ottimo, è arredata con molto gusto, pulita e accogliente.
La persona che ci ha accolto è stata molto gentile e disponibile a risolvere ogni nostra richiesta come nella riconsegna delle chiavi.
Ritornerei di nuovo in questa casa e la consiglio per un soggiorno a Granada.

Victoria Coates


October 2014

Excellent location, very comfortable and conveniently located. we walked back from the Alhambra palace thru the old town. Great location food, cafes and shopping.

Susanna Zabatta


October 2014

Fue una experiencia inolvidable. Todo perfecto. El trato inmejorable. El apartamento esta en el mejor sitio de la ciudad, en pleno centro y completamente equipado. Repetiremos sin duda.

Nisrine


July 2014

Our stay at Apartment Aixa was very comfortable and convenient. The apartment is very stylish, modern and clean. The kitchen was well stocked and they even had a bottle of champagne for us in the fridge. We liked that the apartment was set in a regular neighborhood as opposed to the touristy parts of town. It was a quick walk away from some nice cafes and restaurants. Overall, a great place to stay in Granada.

Sabina Freedman


July 2014

A wonderful apartment with elegant furnishings and every comfort. We stayed with our family and kids and thoroughly enjoyed our stay. The owner was ready for us on arrival to assist. The location is central with easy access to restaurants, plazas and the cathedral. Barrio Albaicin is an easy walk from here. The booking staff was very helpful. We highly recommend this apartment.

Carmen González


June 2014

Nuestra estancia en Granada fue increíble, no solo por la ciudad, sino también por el apartamento. Mi marido y yo queríamos un apartamento cómodo y acogedor y, definitivamente, no pudimos haber elegido uno mejor. Lo que más nos impresionó y llamó la atención fue su moderna decoración, pues le da armonía y un toque chic al apartamento. Además, aprovechamos mucho su pequeño patio, ya que se convirtió en un espacio ideal para leer o tomar un café, completamente relajante.
La zona en la que se encuentra es perfecta, no necesitamos transporte para dirigirnos a los puntos clave de la ciudad. No dudéis en elegir este apartamento, es perfecto para cualquier viaje a Granada!

The different payment methods Genteel-Home offers for booking and renting apartments are exposed above.